Reader Request : Black Bridesmaids Dresses
A few weeks ago, I mentioned a fun reader request for a bridesmaid-to-be who needed to find a black dress for a wedding. The bride-to-be asked her ladies to pick out their own black dresses and red shoes! I can happily report this reader found her red shoes (Badgley Mischka Salsa) from this collection I put together. And now, we only have to help her find a dress!
While it sounds  like it could be simple to find a black bridesmaids' dress, I remember struggling to find one once myself! Sometimes the perfect black dress is so hard to find. For my searching purposes, the bridesmaid-to-be shared that this dress is for a November evening wedding on a golf course in Florida. This bridesmaid gave me free rein; I had only to find a dress that would be black, available in her size, and fun to wear with red shoes!
To help, I've created a shop-able post below filled with black dresses that are available off-the-rack from online retailers as well a few below that that can be ordered through Weddington Way, Dessy, or at traditional bridesmaids boutiques.  Without further ado, here are my picks.  Bridesmaid-to-be, please let me know if you find a dress here you like, and I'll do a styled post featuring your final look, complete with red shoes and accessories!
Black Dress for a Bridesmaid
More Black Dresses for Bridesmaids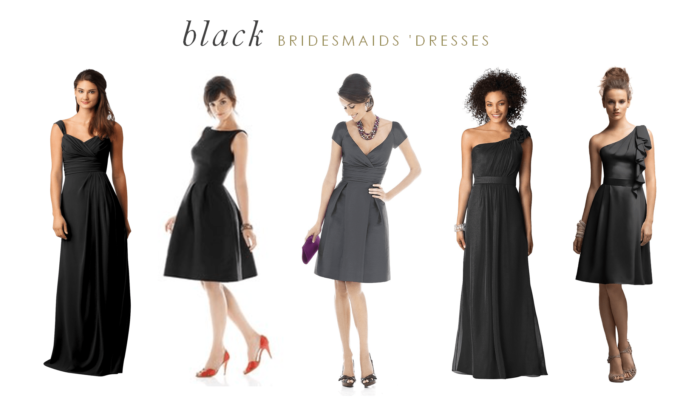 More style ideas you might enjoy :