Black Dresses Under $100
Loads of little black dresses for all sorts of events... and all for under $100! With updated picks for this season!
Affiliate links are used in the shopping links in this post, meaning this blog may receive a commission from our sponsors at no cost to you, if a qualifying purchase is made.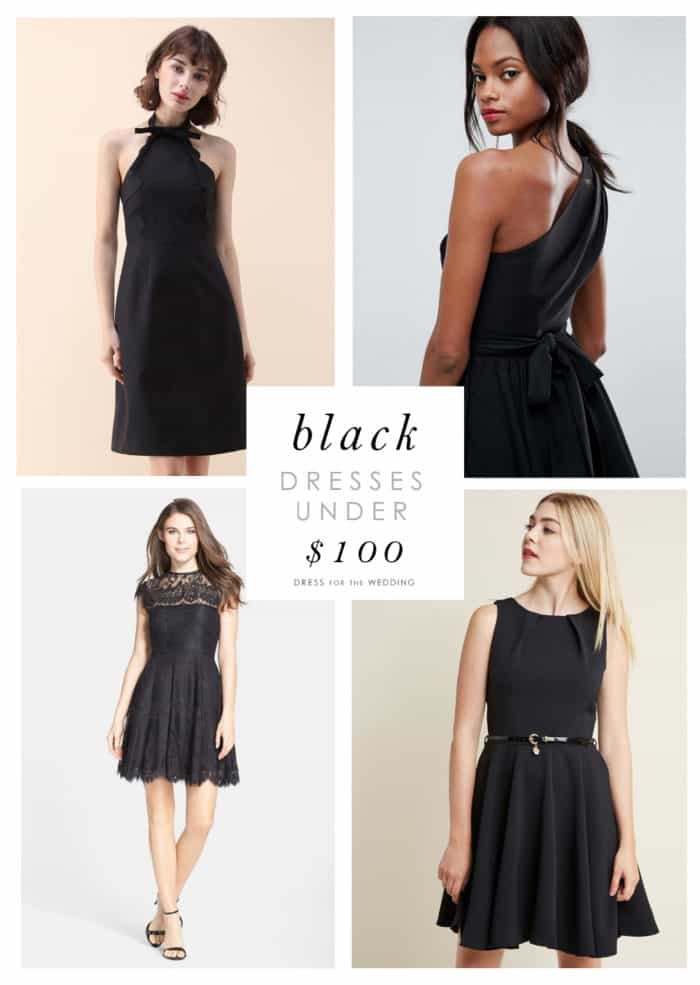 Image and shopping sources 1// Latest Infatuation Halter Neck Dress in Black from Chicwish 2// ASOS One Shoulder Tie Waist Midi Prom Dress 3// 'Rhianna' Illusion Yoke Lace Fit & Flare Dress 4// Closet London Luck Be a Lady A-Line Dress in Black
This post about black dresses has been updated with new picks for black dresses, since some of the original dresses may have sold out since the original post.
Little Black Dresses that are Under $100
We keep this section updated with the latest black maxi dresses, midi dresses and little black cocktail dresses for under $100. These are great to wear to bachelorette parties, weddings, or special occasions like cocktail parties or homecoming dances. Black is such a chic color that no one will ever know these aren't expensive designer styles!

More Affordable Little Black Dresses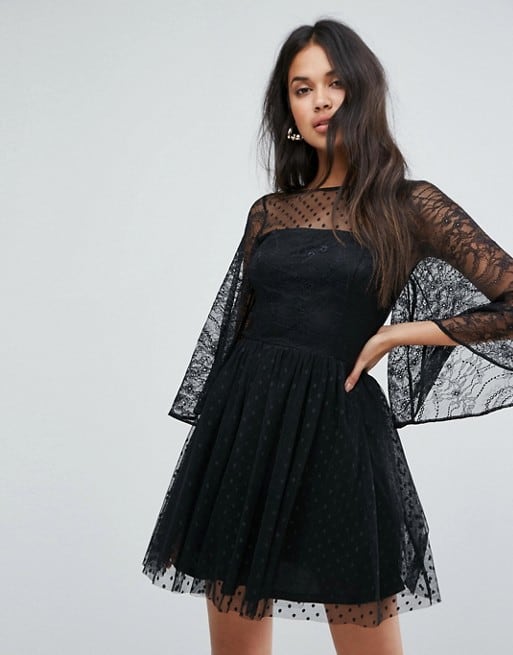 Sweet lace and statement sleeves. ASOS Flutter Sleeve Dobby Mix Mini Dress - $72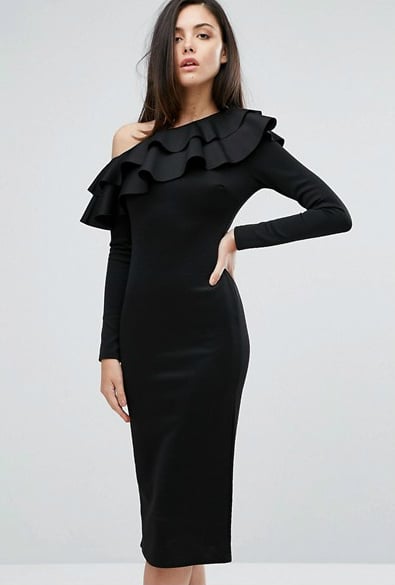 Trendy, yet classic, one-shoulder style! Club L One Shoulder Dress from ASOS- $48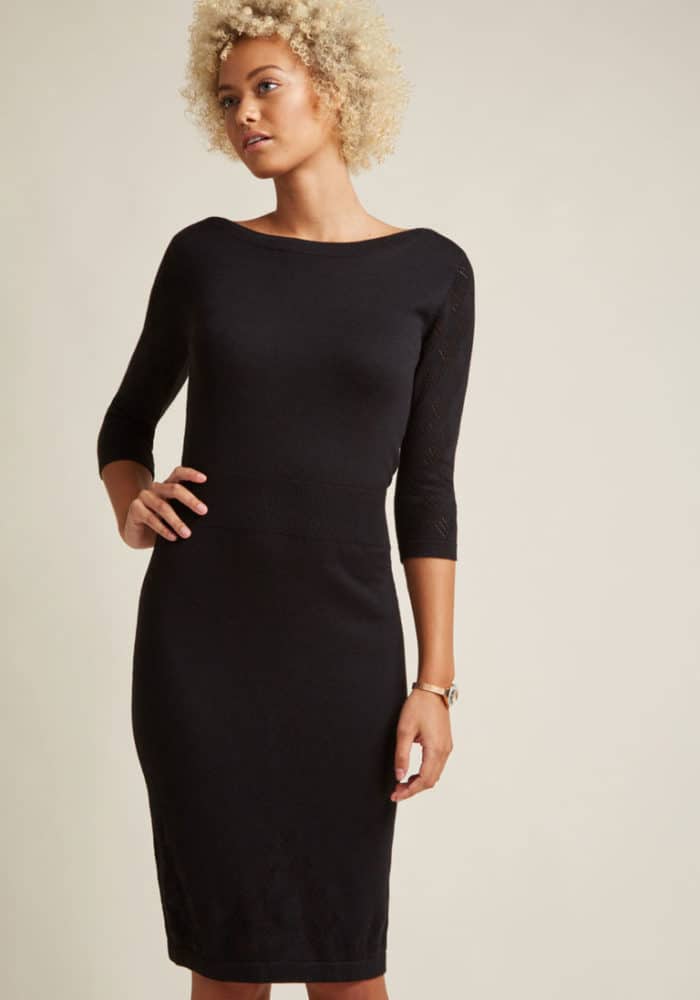 A chic long sleeve fitted sheath dress. Banned Hearts So Good Sheath Dress from ModCloth - $69.99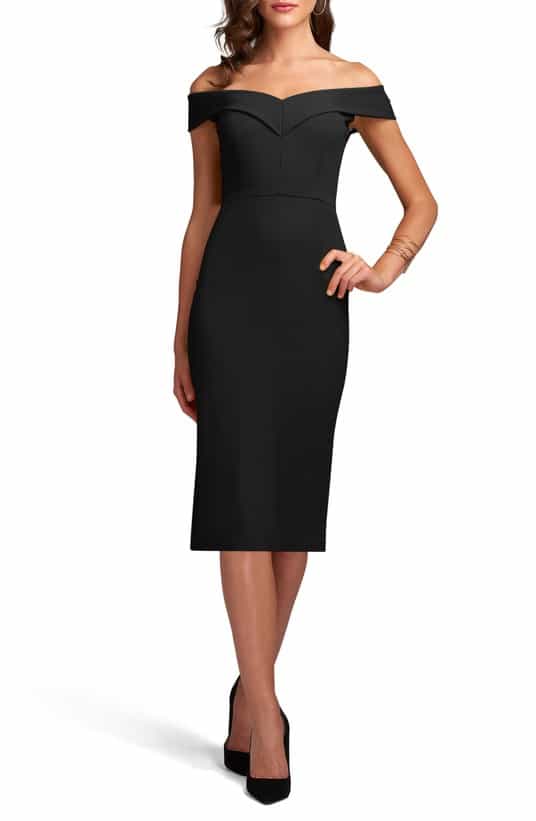 A classic cocktail dress you'll wear again and again!Off the Shoulder Sheath Dress from Nordstrom - $88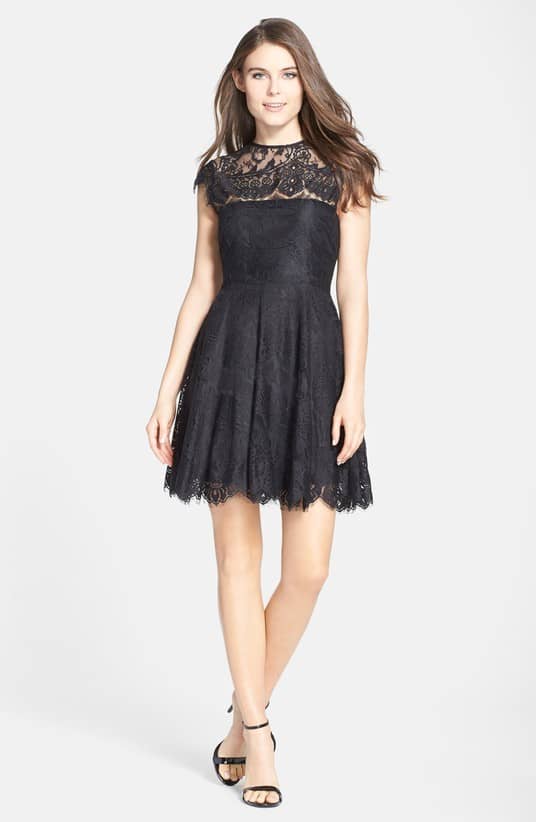 Sweet lace party dress (comes in other colors too!) 'Rhianna' Illusion Yoke Lace Fit & Flare Dress - $98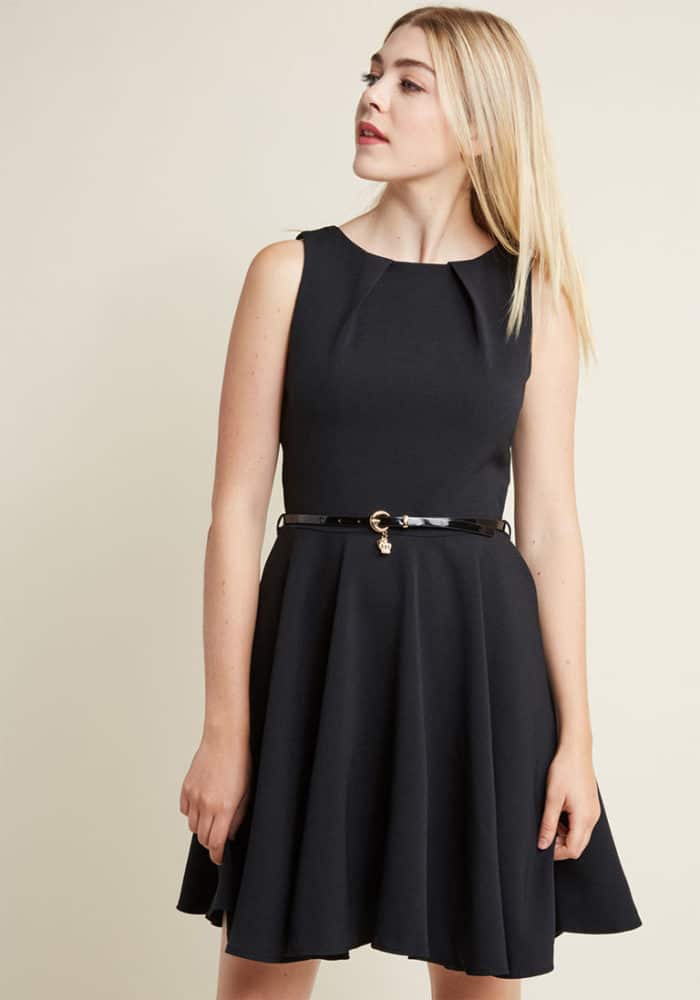 The sweetest fit and flare dress. ( I have this one and love it!) It has pockets - need I say more? Closet London Luck Be a Lady A-Line Dress in Black from Modcloth - $79.99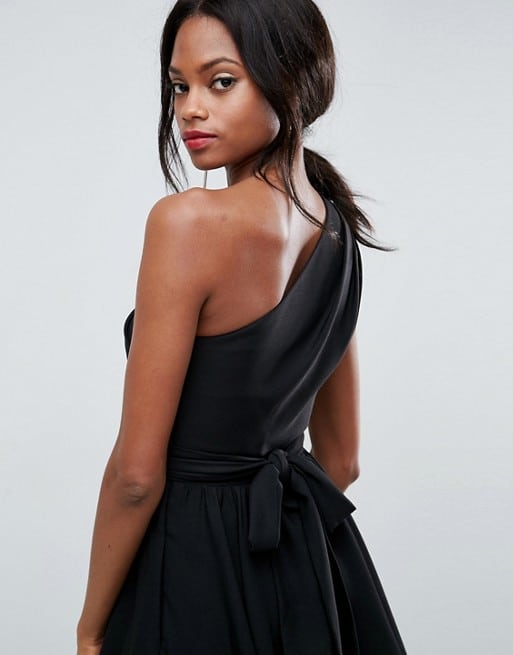 Sweet one-shoulder style and full skirt. ASOS One Shoulder Tie Waist Midi Prom Dress - $83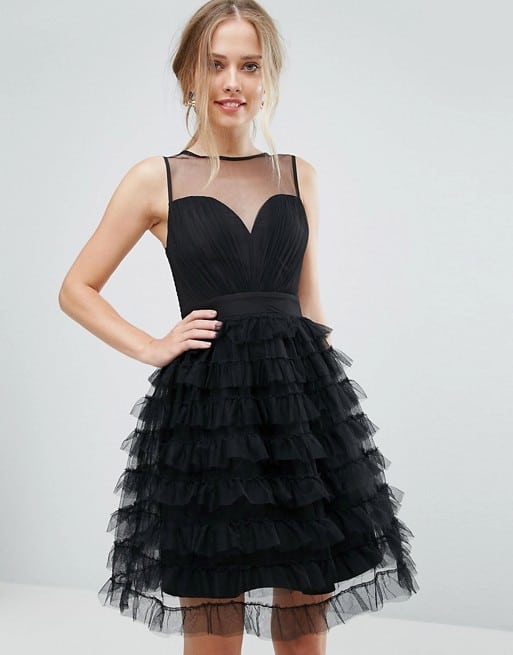 Ok, I know I said UNDER $100, but if you have just $3 more, or if it's on sale, (which it is right now! 20% off with code October for the next 24 hours on 10/30/2017) this dress sort of qualifies. It's too cute not to include! Little Mistress Tiered Tulle Mini Dress from ASOS - $103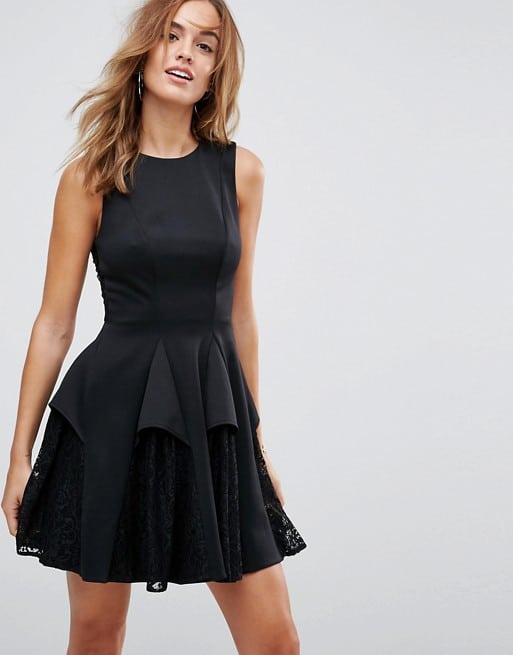 The featured fit and flare in a fun scuba fabric. ASOS Scuba Lace Godet Mini Dress - $76
Cute and Affordable Little Black Dresses
I commented last week that orange seems to be the reigning color of October, but if you think about it, black is pretty prominent this time of year too. ( Did I just kind of say black is the new orange? Hmm.) The little black dress never goes out of style or season, but in the fall and winter there is often a flurry of evening parties, events, and holiday celebrations that make the little black dress just the thing to wear. You can also wear a little black dress to a wedding--just be sure to make it festive, not gloomy.
Cute and Affordable Little Black Dresses
I've been happy to see that these 'under $100' dress posts have been popular--it's good to know my readers love bargains as much as I do! These dresses are also great if you're a bride who is asking her bridesmaids to wear a black dress of their own choosing. Just have your ladies pick one of these and they'll love you for saving them money, and for letting them choose a dress they'll absolutely wear again. So whether you're hoping to channel Audrey Hepburn, or want stripes, lace, or modern shapes, you have plenty of choices. And in typical form, I couldn't just stop at 9 during my search, so I have a few more in the shop section below. Have fun in these LBDs!
Where to find Affordable Little Black Dresses
You might also find some more cute black dresses in this price range or lower at Target, H&M, or Old Navy!
More posts you might like:
Black Dresses in the Bridesmaid Dress Shop
Little White Dresses under $100
Black Dresses for Wedding Guests
SHOP THE LOOK

Older dresses from the original feature!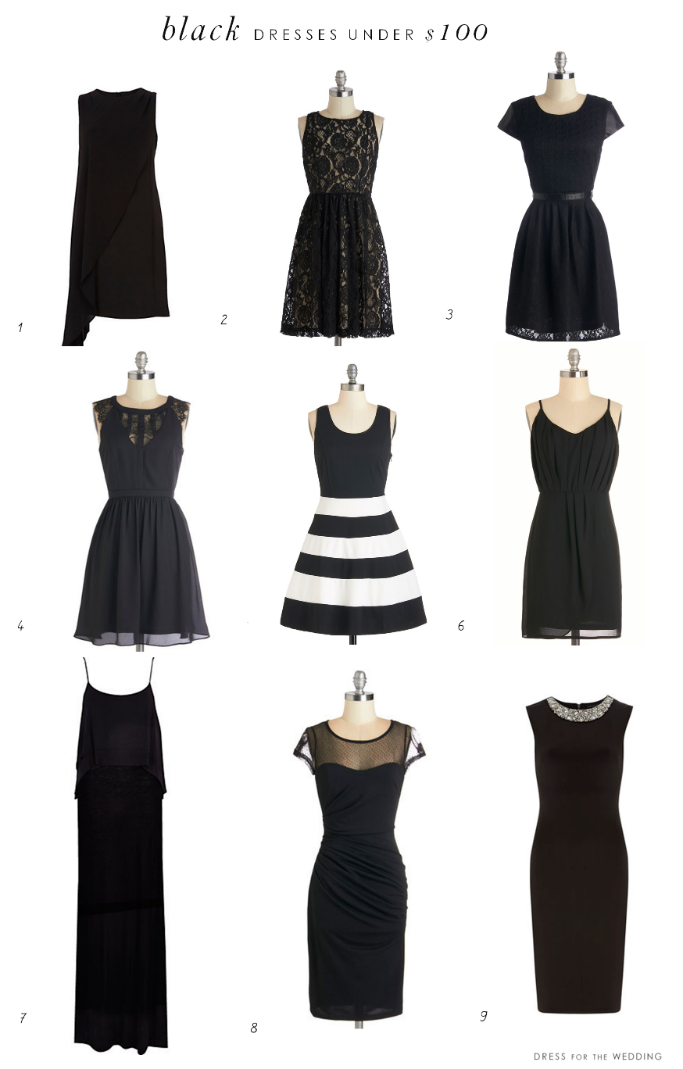 1. Black Draped Dress from River Island // 2. Tracy Reese 'Dinner with a Darling' Dress ( was $147, on sale for $43.99!) // 3. Networks like a Charm Dress at ModCloth //4. 'Bringing Fancy Back' Dress from ModCloth // 5. Demure Dame Dress from ModCloth // 6. 'Everlasting Elegance' Dress from ModCloth // 7. Black layered Cami Dress // 8. 'Fete for a Queen' Dress from ModCloth // 9. Embellished pencil Dress from Dorothy Perkins