This shopping post will help you find places to buy bridesmaid dresses for under $100. These pretty, stylish, and affordable bridesmaid dresses for under $100 are sure to make your wedding party happy!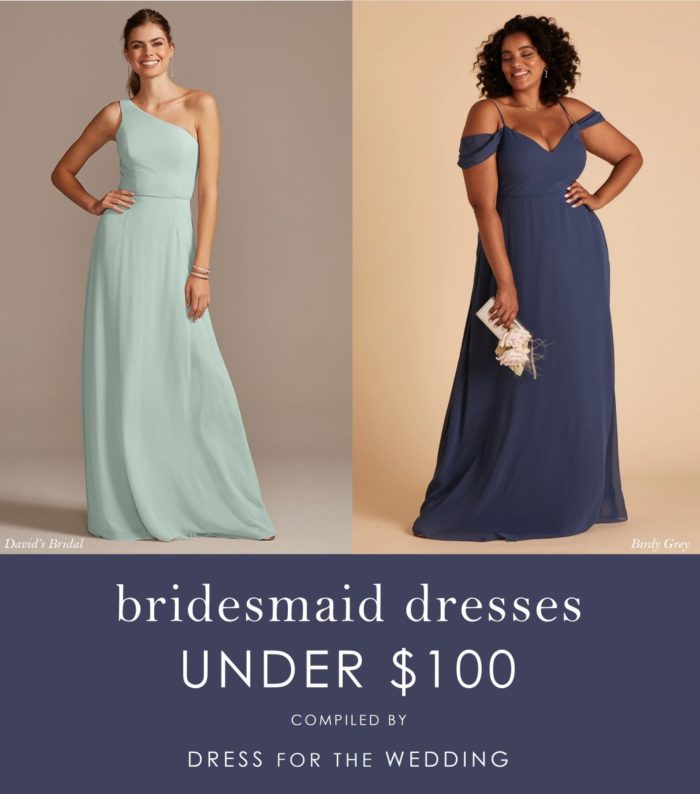 Image credits and shopping sources: One Shoulder Bridesmaid Dress in Dusty Sage from David's Bridal | $99.95 | Devin Convertible Dress in Slate Blue from Birdy Grey | $99.00
Bridesmaid Dresses Under $100
If you were recently asked to be a bridesmaid, or if you're planning your wedding and hoping to offer affordable dress choices for your wedding party, this guide is for you! In recent years, we've seen some designer bridesmaid dresses creep up into the $200-$300 range, which may not be affordable for every member of your wedding party. Couples who are trying to be conscious of the expenses for their bridesmaids can help lower the expenses by finding bridesmaid dresses for less! Thankfully, many retailers and bridesmaid dress companies are starting to realize the need for affordable bridesmaid dress options. There are now several wedding shops and bridesmaid dress retailers who have found the sweet spot of offering bridesmaid dresses under $100. We'll show you the options!
Affiliate links are used in this shopping guide to affordable dresses for bridesmaids. All prices are subject to change but were current as of the publication date.
Birdy Grey

This entire company was founded on the idea that bridesmaid dresses should be pretty, stylish, Instagram-worthy, and under $100! Just to be even more awesome, they also offer gorgeous colors, beautiful convertible style dresses so you can switch up the neckline. They also offer plus sizes, and have tons of bridesmaid dresses with pockets! See more in our review of Birdy Grey!
Lulus

Lulus is just one of the best spots for dresses under $100 in our opinion! They always get rave reviews, you can see how the dress looks on other people thanks to their great feed of reviews. Best of all Lulus often stocks hundreds of formal bridesmaid dress styles, and almost all of them are under $100
ASOS Bridesmaid Dresses

ASOS has really done a wonderful job of offering unique attire dresses for weddings for both guests and the wedding party. ASOS takes some of the top trends, and translates them into wedding attire! The ASOS Design label is right around the $100 mark - sometimes just a smidge over - but under $100 when there's a sale. The TFNC label is between $85 and $120, and embellished dresses from Maya, are around $120, but are often on sale for less than $100.
Baltic Born

This is a new dress company that we love for their boho style velvet maxi dresses, floral prints, and long sleeve maxi dresses. They offer maternity friendly styles, and have a large number of bridesmaid dress offerings under $100 as well.
Azazie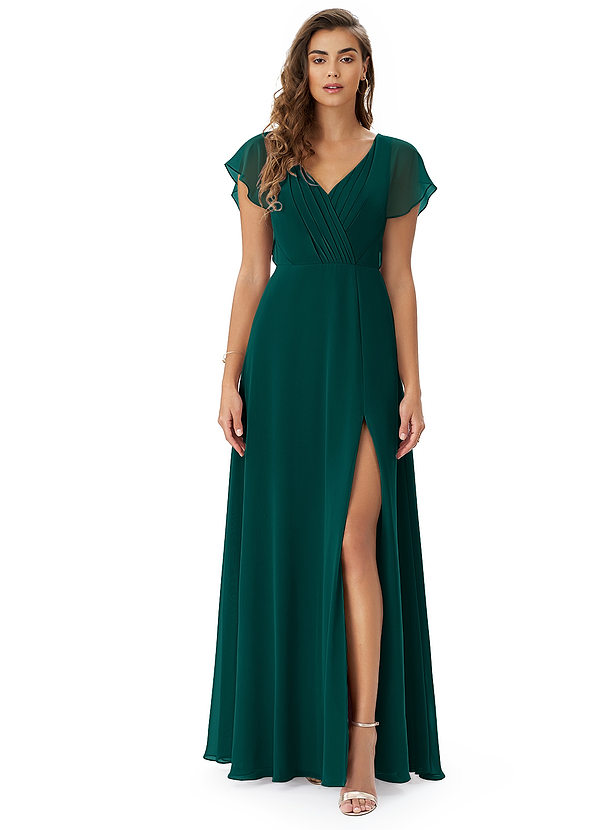 Rylee Bridesmaid Dresses | Azazie
Azazie specializes in made-to-measure bridesmaid dresses, and they also specialize in having nearly every color and dress silhouette a bridal party could want! While not all Azazie bridesmaid dresses are under $100, most of them are. The made-to-measure styles also mean you'll save on tailoring costs. Need more info on the process? See our review of Azazie bridesmaid dresses!
More Under $100 Dresses from Azazie
Amazon

Amazon has some pretty decent bridesmaid dress offerings, and reviews to go along with those! It's always a good idea to comb through reviews and see pictures, but thanks to the test we did with some wedding guest dresses from Amazon, we can see that some sellers on Amazon do offer some formal bridesmaid dresses that are under $100 and even under $50!
Shop The Look
Here are the latest bridesmaid dresses under $100 we've found!


More Tips for Finding Affordable Dresses for Bridesmaids
You might be able to find bridesmaid dresses on sale. This is great if you have a small wedding party. If you want a fast way to check out potential sales, check out our wedding attire on sale page, where we link you to the sale pages for each major retailer.
Also, think outside the label of the traditional "bridesmaid dress" you can find dresses at stores like Marshalls or Nordstrom Rack or at department stores like Nordstrom and Dillards, for less than $100. If you have a small wedding party, it's usually easy to find 3-4 of the same dresses. You can also try some of the really affordable shopping sites like Chicwish, or Shein We have not ordered from there, but we know people who do and have been relatively successful, but certainly, some super-fast fashion shops like that have dome uncertain reviews.
You also might be able to find some bridesmaid dresses on Etsy for less than $100. There is also a good crop of dresses on Amazon for less than $100. You will want to read the reviews, but you can get some ideas on this post we did about Amazon wedding guest dresses for under $100!
See more affordable wedding attire picks, wedding guest dresses under $100, or browse bridesmaid dresses by color!
This post was originally published on September 10, 2012, and has been updated and republished on November 12, 2020. Old product references and images have been removed because the previously published article had references and products that are out-of-date and are no longer available.