Wedge Wedding Shoes and Sandals
Wedge wedding shoes are the perfect wedding footwear, if you want a combination of style, comfort, and stability! I know first-hand, because I wore a pair of wedding wedge sandals on my own wedding day!
In today's post, I've rounded up the best wedges for weddings and where to find even more pairs of these cute and comfortable wedding shoes!
Shopping sources on this site use affiliate links, which means this site may earn a commission if you make a purchase from our links.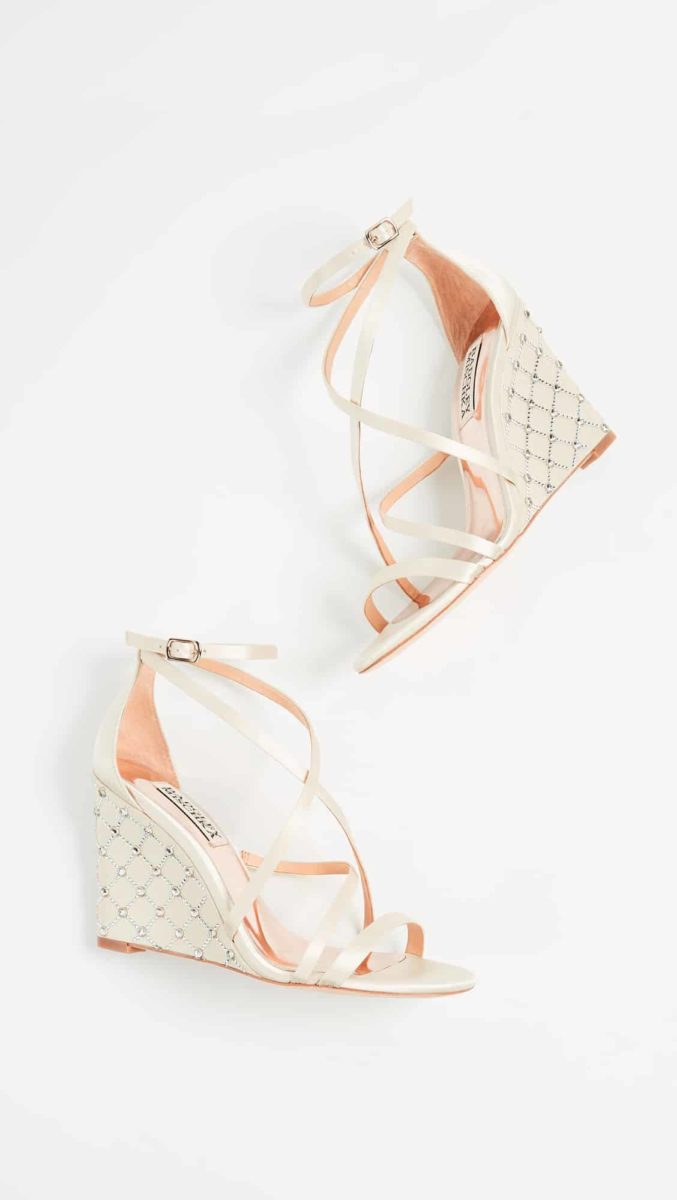 Shelly Wedge Sandals by Badgley Mischka from Shopbop
Wedge Sandals are the Best Shoes for Outdoor Weddings!
If you are having an outdoor wedding -- where you will be walking on grass or otherwise porous material -- if your wedding dance floor in an outdoor tent has little mesh drainage holes in it, if you are at all uncomfortable or wobbly in a stiletto heel, or if you want to get through the day without aching feet - a wedge wedding shoe might be the perfect choice for you!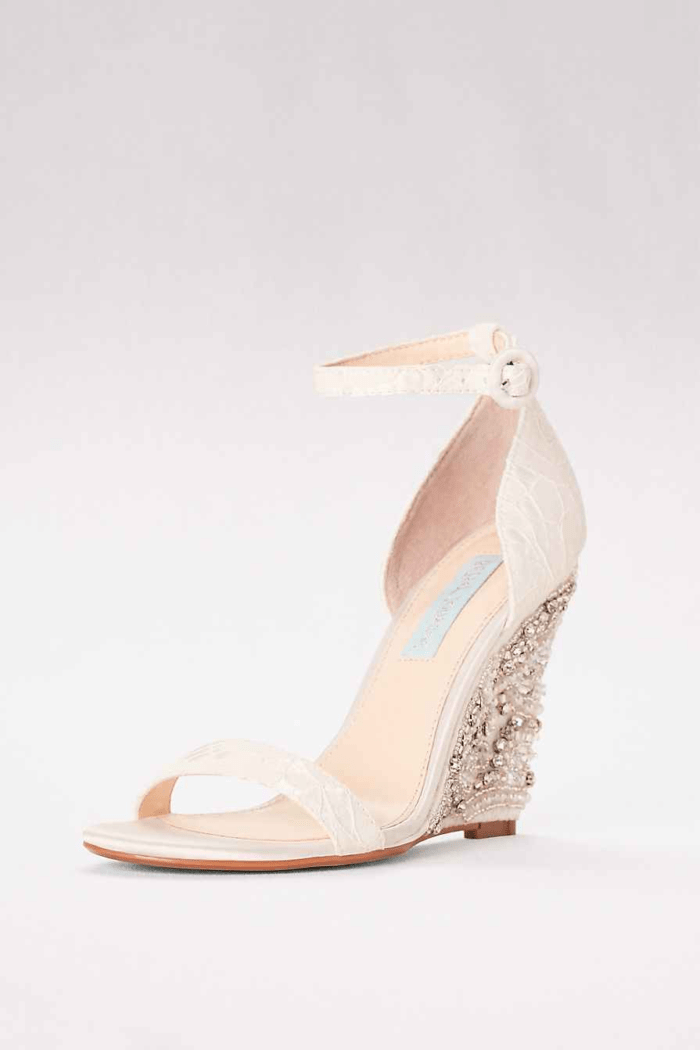 Love the embellishment on these. High Heel Embellished Wedges with Ankle Strap by Blue by Betsey Johnson from David's Bridal.
Shop for Wedding Wedges
Ready to find your own pair of wedding wedges? This little shop section has all the wedge bridal shoes I could find! Click through on the image of the pair you like for more details or to purchase.

Where to Find Wedge Bridal Shoes
These are a few of the wedge bridal shoes that have recently caught our eye! Shopping sources below the image.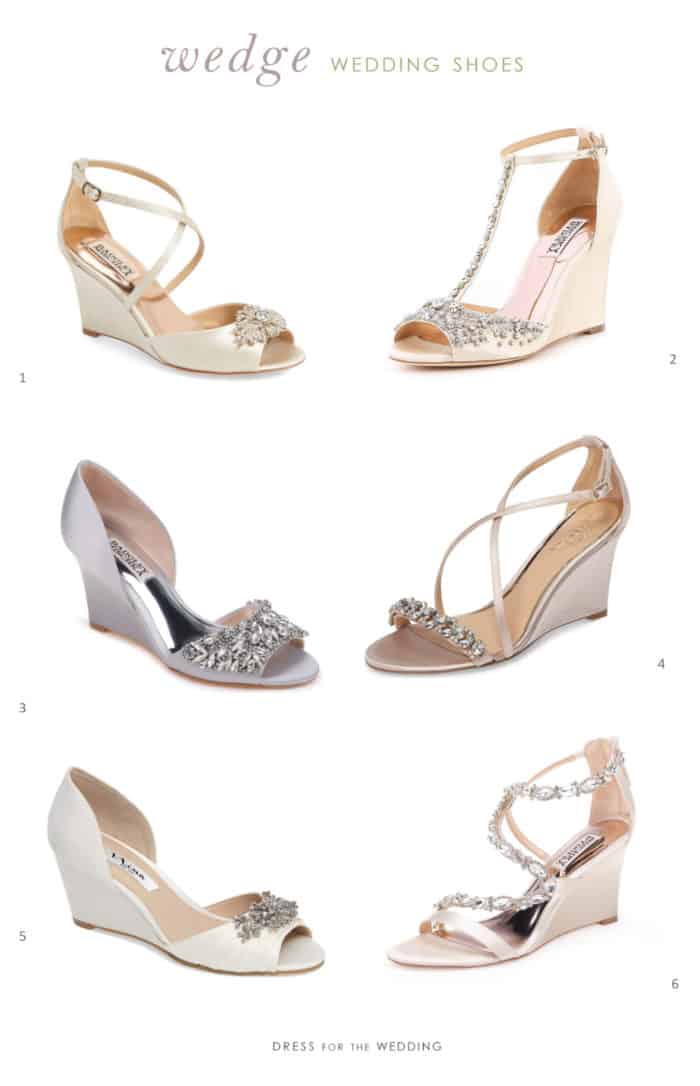 1/ 'Abigail' Peep Toe Wedge Ivory Satin Sandals from Nordstrom
2/ 'Sarah' T Strap Sandals by Badgley Mischka from D illard's 3 / 'Hardy' Embellished Wedge in Silver Satin - comes in Ivory and Blush too. 4 / Embellished Strappy Wedge Sandals by Jewel Badgley Mischka from Nordstrom 5/ Emiko D'Orsay Wedge Heels from Nordstrom 6 / 'Simona' Wedge Sandal by Badgley Mischka at Nordstrom
Finding Stylish Bridal Wedges
Still looking for more wedding wedges? I love the selection at Dillards or Nordstrom for wedge wedding shoes. For designers; Badgley Mischka and their more affordable secondary label, Jewel Badgley Mischka label have really the most amazing selection! Nina also has several nice pairs of bridal wedges!
Wedges for Weddings Under $100
For affordable wedding wedges, DSW and David's Bridal and Zappos and Nordstrom seem to have the best selection of wedge wedding shoes for under $100.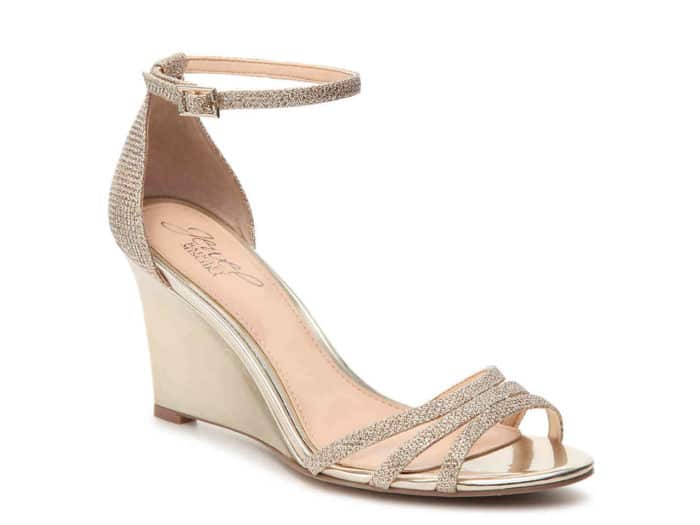 JA gold wedding wedge under $50 Jewel Badgley Mischka Antoinette Sandal from DSW for $49.99
Why Wear Wedge Sandals for Your Wedding?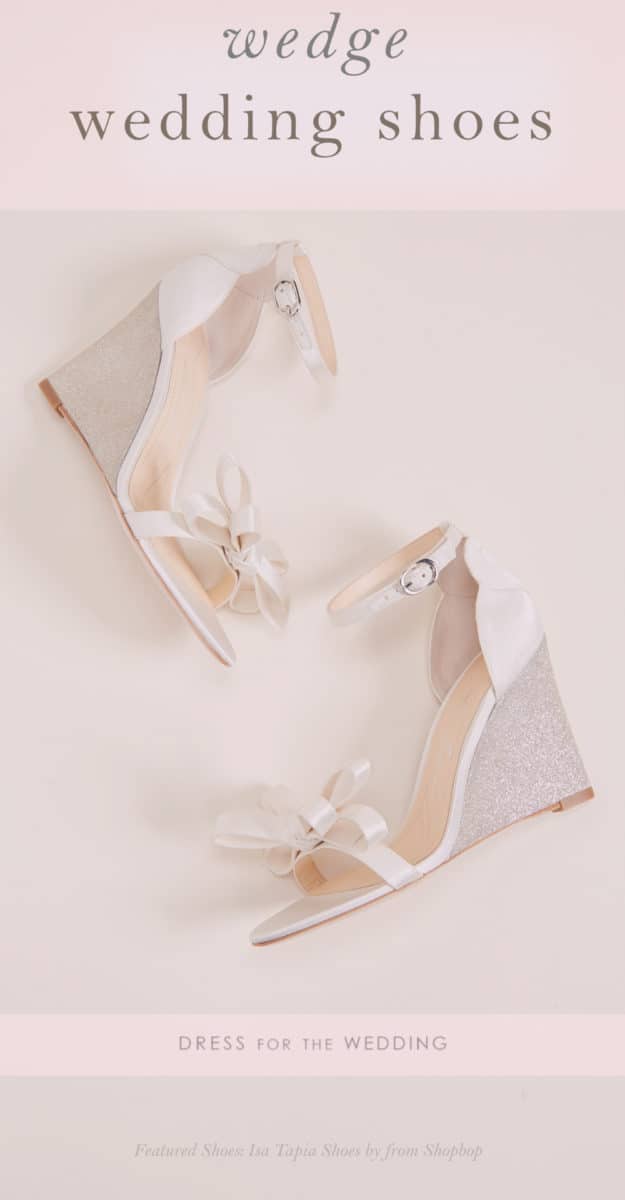 Pictured: Ella Wedge Sandals from Shopbop
For my own wedding, I decided on the wedge sandal pretty early on in the shoe purchasing process.
I'll be honest, at first I wasn't thrilled with wearing a wedge, since aesthetically I love the lean look of a thin strappy heel.
However, I was supposed to be getting married outside (It rained, so I didn't, but I was in a tent with a rubber mesh floor so the wedges were still a lifesaver!) and I knew I didn't want to contend with heels into the grass. I'm also not always sure-footed in heels, and I could imagine that wear a big dress, veil, and other moving parts, a thing heel would be just one more thing to worry about. It was also before theses little wonders - Solemates High Heelers - were invented, which are a great product that I wear now, and a great alternative if you need to wear heels in firm grass. I have worn them several times with no issues, but if the grass is really, really soft and wet, your heels will still sink. That happened at my last wedding and I lost the High Heeler, but I'll definitely be re-purchasing! They are just great for a little more stability even on dry land!
Wedges Are Comfortable Wedding Shoes!
So, back to wedges! As I was trying on heels and wedges, it also became really clear that wedges were just so much more comfortable, supportive, and stable than other heels. Aesthetically, I soon grew to love them as well. My gown was floor-length, and so if my shoes peeked out at all, they just looked like regular ivory satin wedding shoes, no one was the wiser that I was wearing comfortable wedges! They also actually made my size 10 feet look smaller somehow, because of the high angle of the wedge.
Picking the Perfect Wedge Sandal
If you're nodding your head in sympathy or agreement to any of these shoe comfort condundrums I'm mentioning, definitely give a wedge a try!
If you are still sure you don't want to wear wedges, there is another option; I've got my eye on some block heels for weddings like these for an upcoming post!
For more comfortable wedding footwear, check out our beach wedding shoes, and our Badgley Mischka Wedding Shoe picks!
More Posts You Might Like:
Still looking for a dress? See all of the wedding dresses we've featured.
Have you figured out what your bridesmaids wearing? If not, browse our bridesmaid dress ideas!
More style ideas you might enjoy :