This metallic black and silver maxi dress is a black knit evening gown that has threads of silver throughout. It makes a fantastic wedding guest outfit for a black-tie optional fall wedding!
Black and Silver Maxi Dress for a Black Tie Optional Wedding Outfit
Yes, you can wear black to a wedding, and this metallic knit evening gown is one stylish way to do that! We created this wedding guest outfit with a style that can go to formal, semi-formal, and black tie optional weddings easily!
Affiliate links are used in the shopping links in this post. This means this blog may earn a small commission if a qualified purchase is made.
Black Tie Optional Outfit for a Fall Wedding Guest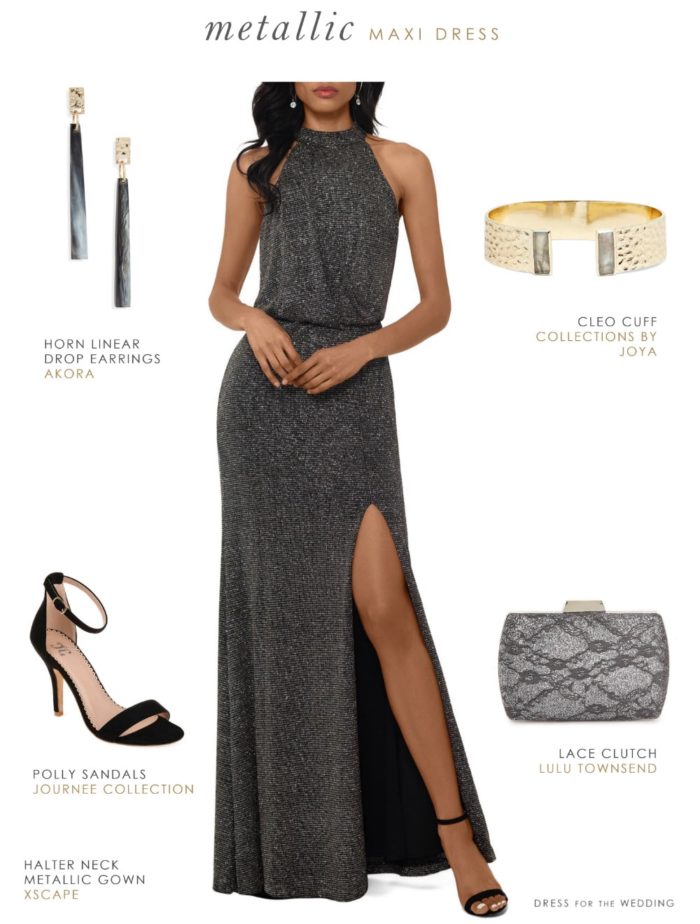 Dress: Halter Neck Metallic Knit Evening Gown by Xscape from Macy's | Earrings: Horn Linear Drop Earrings by Akora from Nordstrom | Bracelet: Cleo Cuff Collections by Joya from Nordstrom | Shoes: The Polly Sandal from DSW | Clutch: Lace Minaud Clutch from DSW
Earlier this month, we showed off some ideas for what to wear to a fall wedding by dress code, but what about dress codes that fall in-between the lines, like black-tie optional? For black-tie optional men have the option of a tuxedo, but can also wear a dark suit and darker colored or black tie, as long as the look is formal in appearance.
Women should wear a formal style as well, and this maxi dress is the perfect look to go to a black-tie and black-tie optional event. I love the high neckline and the knit fabric which seems it would give the gown some nice weight and substance for fall and winter events.
Black Maxi Dress with Gold and Black Accessories
Because this evening gown has threads of silver in the knit, one can pull from that gray tone to accessorize. We also added some gold metal here to warm up the tone, the mix metallic style gives a nice contrast. We also love this similar evening gown style in the same fabric done in a sleek off-the-shoulder style gown.
Shop The Look
Here are more black and gray dresses for wedding guests.

Also, check out posts on affordable dresses for black tie weddings and formal dresses for fall weddings.