Mismatched bridesmaid dresses are a wedding styling trend that shows no sign of stopping any time soon. Here, we style a look with blush pink and burgundy red bridesmaid dresses to mix and match.
Affiliate commission links are used in the shopping links in this post about blush and burgundy bridesmaid dresses. This means this blog may earn a commission if a qualified purchase is made.
Mix and Match Blush and Burgundy Bridesmaid Dresses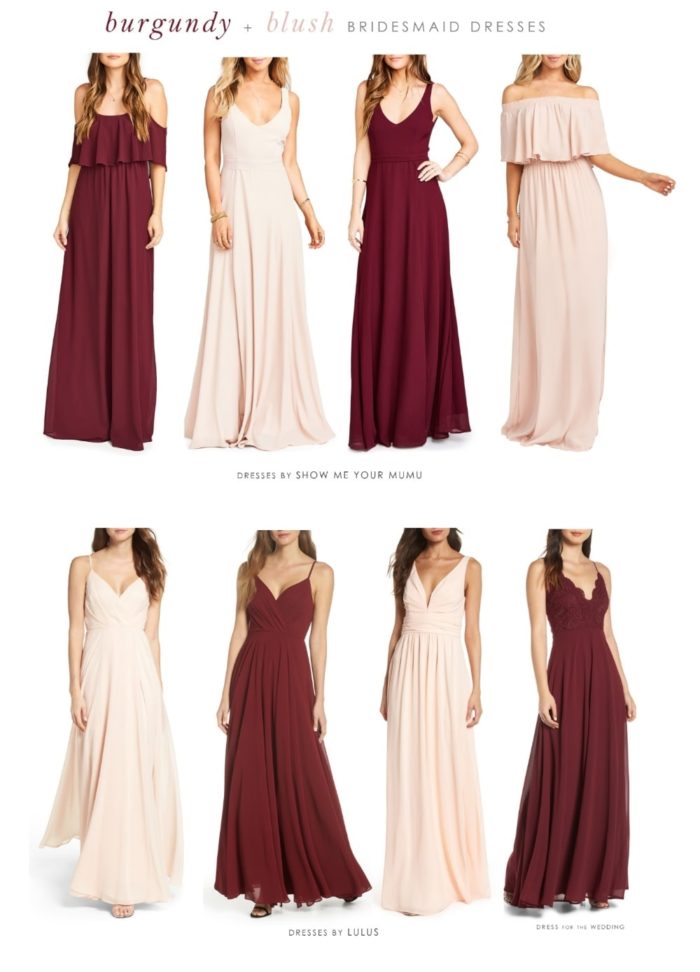 Top Row all Dresses by Show Me Your Mumu from Nordstrom 1. Caitlin Cold-Shoulder Chiffon Gown in Merlot 2. Jen Maxi Dress in Dusty Blush 3. Jen Maxi Dress in Merlot 4. Hacienda Dress in Dusty Blush
Bottom Row: 1. Surplice Chiffon Gown Blush 2. Surplice Chiffon Gown 3. V-Neck Chiffon Gown 4. Madalyn V-Neck Lace & Chiffon Evening Dress
With Valentine's Day right around the corner, we decided to share a mismatched styling idea playing on the pink and red theme with burgundy and blush bridesmaid dresses. This high contrast look of mixing a pastel color -- like blush-- with a jewel tone color -- like burgundy red-- especially looks great for the transitional seasons, like late winter into spring, or early fall weddings.
How To Do Mismatched Burgundy and Blush Bridesmaid Dresses
We've written a few posts on how to do mismatched bridesmaid dresses, and it mainly comes down to a few options. One way is picking a single color and fabric and allowing your bridesmaids to pick the neckline or silhouette they like for a unified look. There's also the option of picking one general dress style and getting it in related shades with a subtle mix of colors for a more ombre look. There's also the option of really doing a full mismatched look, where each dress is very unique and just has some small unifying element of color, but you might mix silhouettes, necklines, even hemlines and brands of dresses to get a more eclectic look.
This burgundy and blush look is more of a contrast than some mismatches, but these two or deep wine and pale pink colors will go together well especially when florals and other elements of the wedding as a backdrop.
In this post, we've highlighted two labels you might choose for this mix and match look. The top row is Show Me Your Mumu dresses in Merlot and Blush Chiffon. You can find these dresses at Nordstrom, or directly through Show Me Your Mumu.
The second row of dresses shows dresses from Lulus which are also available at Nordstrom, with a greater range of colors and styles available directly from Lulus.
We also love the idea of mixing and matching the blush and burgundy styles from Birdy Grey bridesmaid dresses. Choose from Cabernet and a pink like Blush or Rose Quartz, as seen in the example below! One could also do a mix with the range of all the shades of pink and red they offer.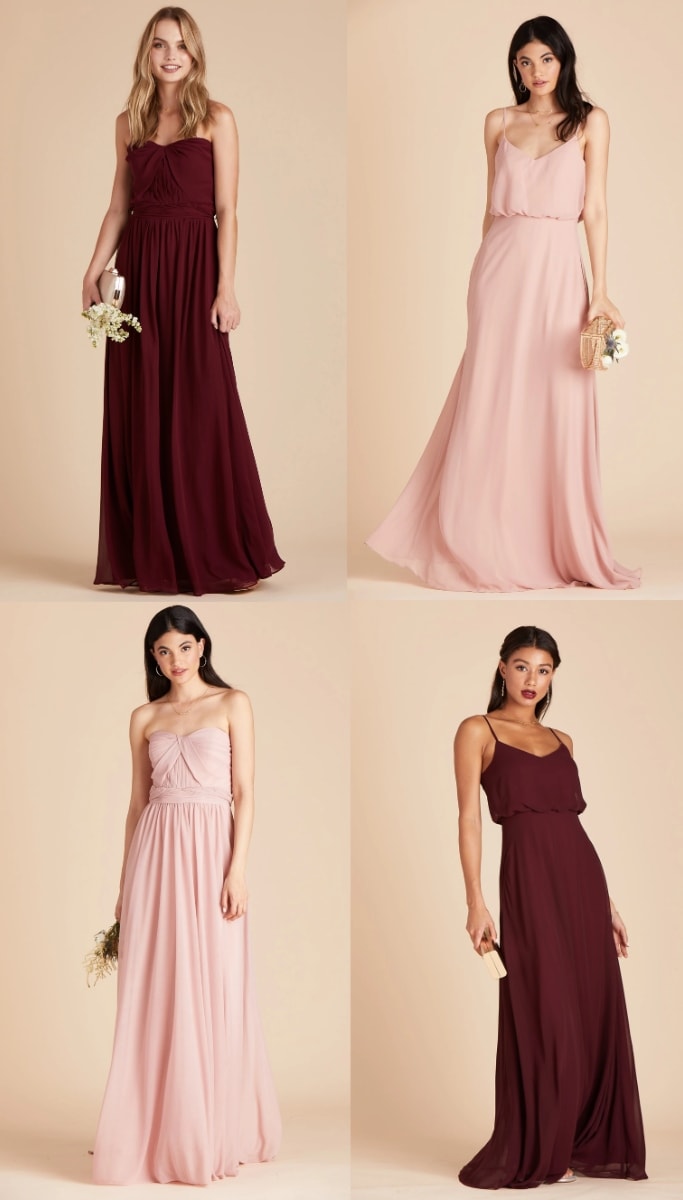 All dresses from Birdy Grey 1. Chicky Convertible Dress - Cabernet 2. Gwennie Dress -Rose Quartz 3. Chicky Convertible Dress - Rose Quartz 4. Gwennie Dress - Cabernet
More Red and Pink Bridesmaid Dresses to Mix and Match
For more thoughts on how to mix and match bridesmaid dresses, you might like these other posts that go into more detail and in different colors. Mismatched Neutral Bridesmaid Dresses, Light Blue, Floral, and Sage Green Mix and Match Bridesmaid Dresses, or Pink Bridesmaid Dresses for Weddings and Red and Burgundy Bridesmaid Dresses You can also check out these styles below from our affiliated retailers.
Affiliate commission links are used in this shopping section. This means this blog may earn a commission if a qualified purchase is made.