Casablanca Bridal has generously sponsored this post, which highlights the wedding dresses and collections featured in the Casablanca Bridal Spring 2017 runway show.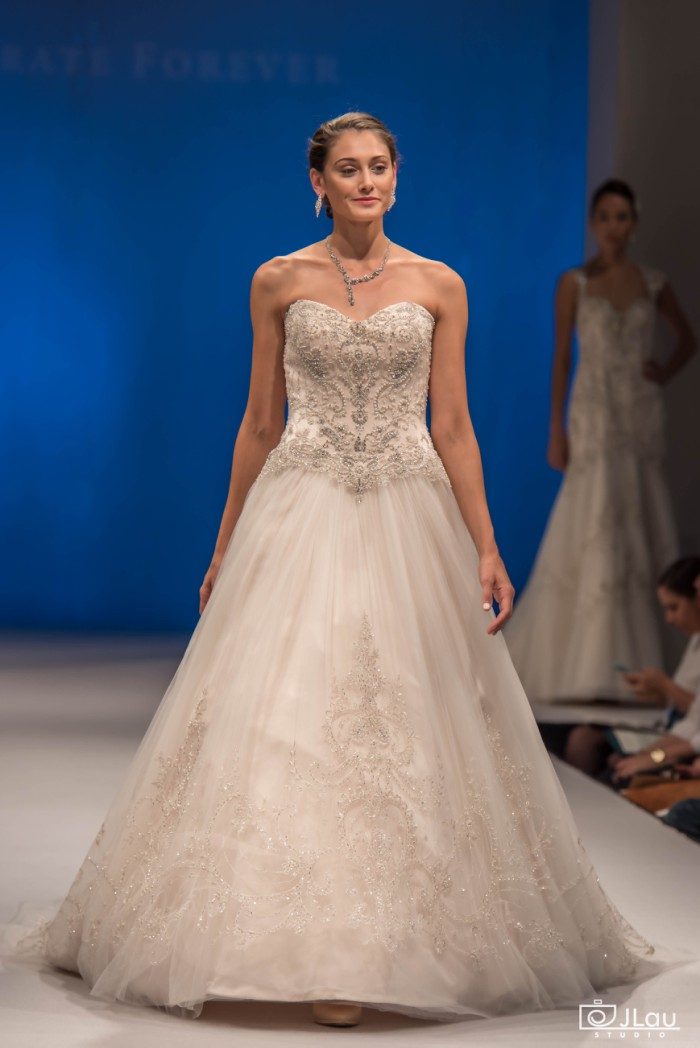 Ambrosia, is a beautifully detailed ball gown wedding dress, part of Casablanca Bridal's Spring 2017 Collection
Wedding Dresses for 2017 from Casablanca Bridal
The holiday season from late autumn through Valentine's Day, is prime engagement time with happy couples everywhere announcing their plans to say, "We do!" And while the thrill of finding your perfect love match and admiring your new engagement ring is exciting enough, it is also a wonderful time to start looking at wedding dresses.
As you start the search for your perfect wedding dress, getting a glimpse of the latest styles is important. Seeing a press preview right from the runway is a wonderful way to find up-to-date looks and to discover your ideal style! That's why we're so excited to share with you this look at the Casablanca Bridal Spring 2017 runway show.
Casablanca Bridal Spring 2017 Collections
The Casablanca Bridal Spring 2017 runway show featured over 40 bridal gowns from the three lines offered by Casablanca Bridal. First, was the Secret Garden collection from Casablanca Bridal, followed by the Awaken collection from Beloved by Casablanca Bridal line. The show closed with couture wedding dresses from The Elizabeth Collection, part of the Amaré Couture line.
Thanks to these images captured by Jason Lau Photography, we have wedding dresses from all three collections to share with you today. Enjoy your look at the Casablanca Bridal Spring 2017 runway show. After seeing these gowns, we feel sure that you'll be many steps closer to finding your perfect wedding dress!
Casablanca Bridal Secret Garden Collection
The Casablanca Bridal Secret Garden Collection featured 21 bridal gowns with floral namesakes, which were full of feminine and romantic inspiration. Unique touches were found in the key details: pockets, matching veils, rich beading, delicate embroidery, and sumptuous fabrics. Here is your look at The Casablanca Bridal Secret Garden Collection.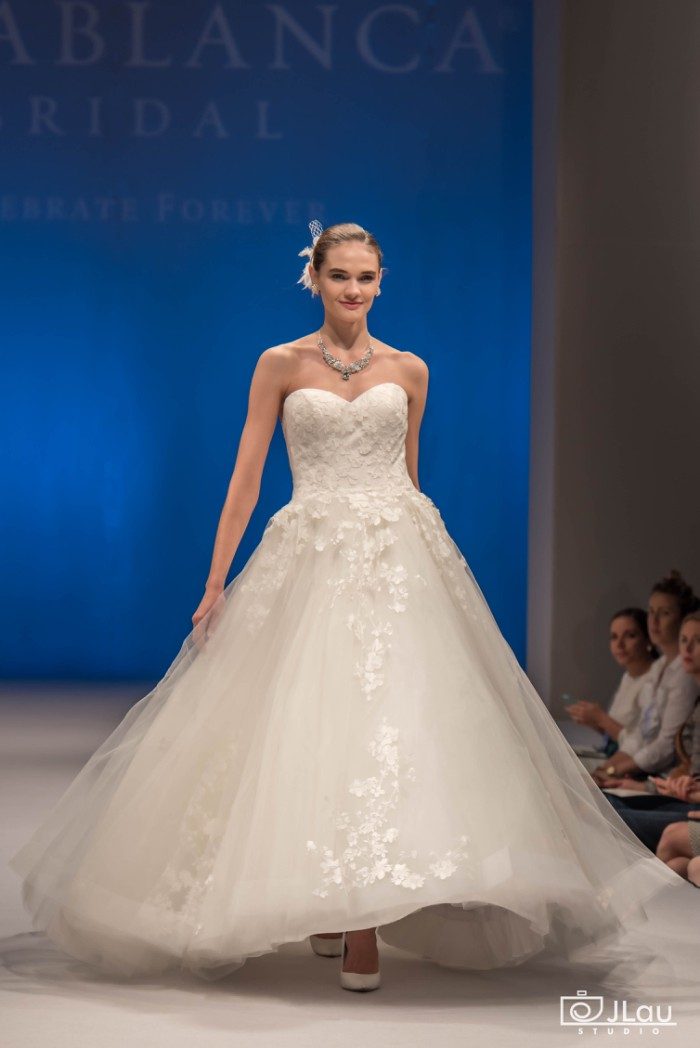 Style 2267, is called Morning Glory. Morning Glory is a ball gown style wedding dress with a sweetheart neckline, and fitted bodice that flows into a full skirt. Scatters of dimensional butterfly lace add a whimsical and flirty touch.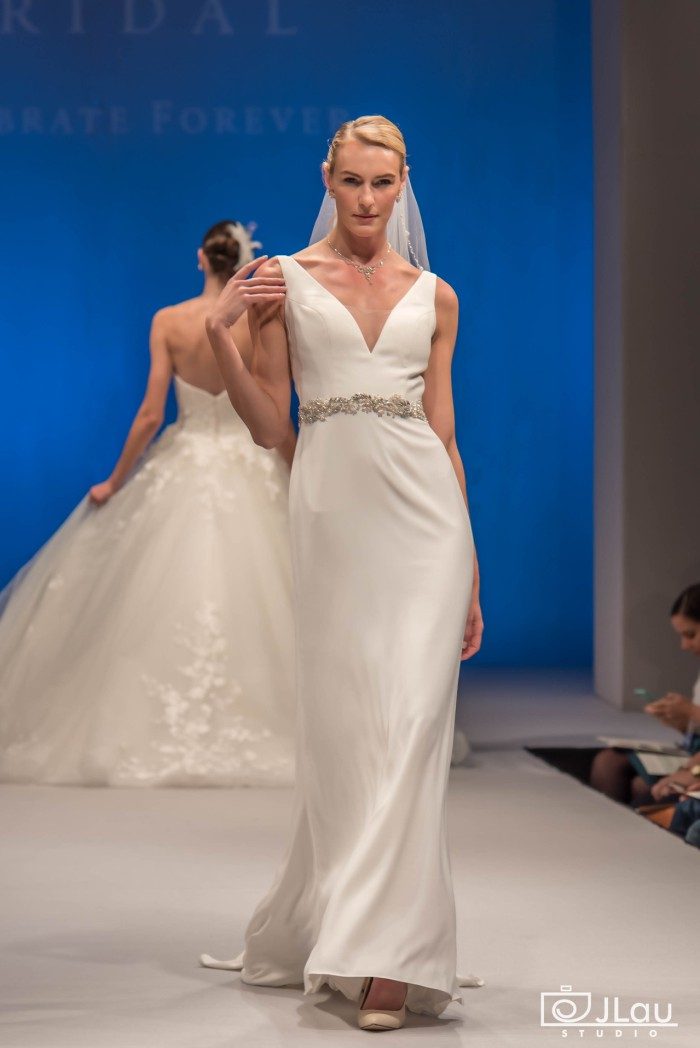 Style 2268 is known as Delphinium. Delphinium is a wedding gown with classic, clean lines, constructed from a stretch georgette fabric. Delphinium features a deep illusion V-neckline which is echoed in the back. A beaded belt accentuates the natural waistline.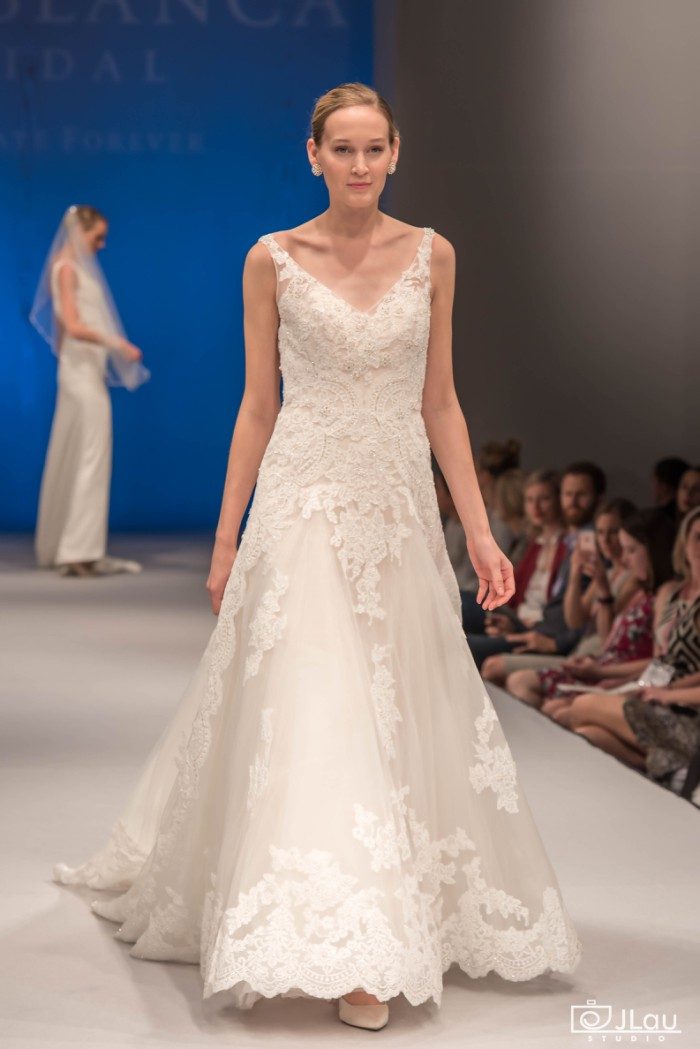 Alençon lace, tulle and organza combine to create a dreamy A-line silhouette of Style 2269, known as Plumeria. The Plumeria bridal gown features a flattering dropped waist and train with a scalloped lace edge.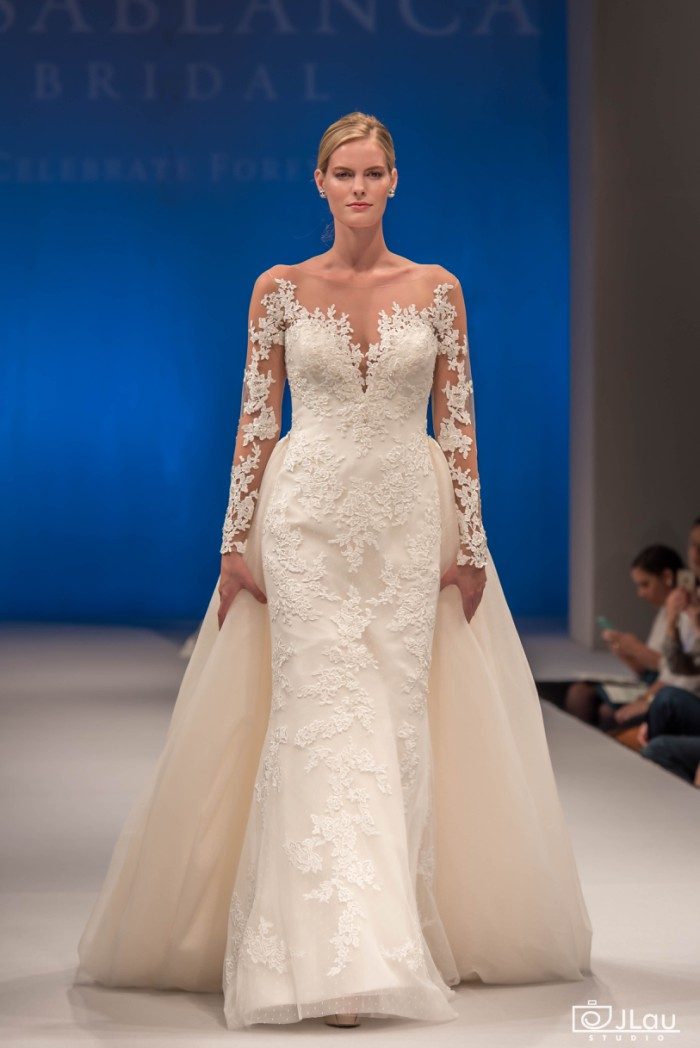 Style 2270 is known as Wisteria. This stunning wedding gown displays an elaborate lace pattern that covers the illusion bateau neckline, cascades down the sleeves, and accents the plunging V-shaped neckline. Wisteria features a detachable overskirt option, giving this gown two possible silhouettes.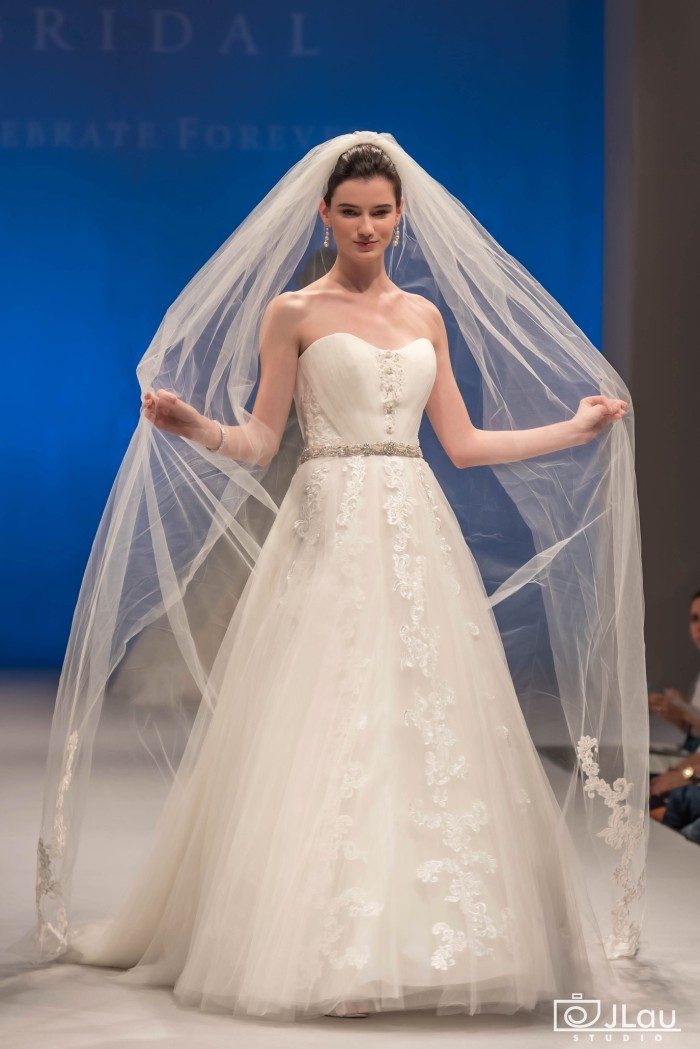 Style 2271 is called Mayflower. Mayflower is a strapless, scoop-neck, ball gown wedding dress. Her layers of tulle and silky satin are accented by vertical panels of lace appliques. A beaded belt and inset beaded neckline offer subtle sparkle.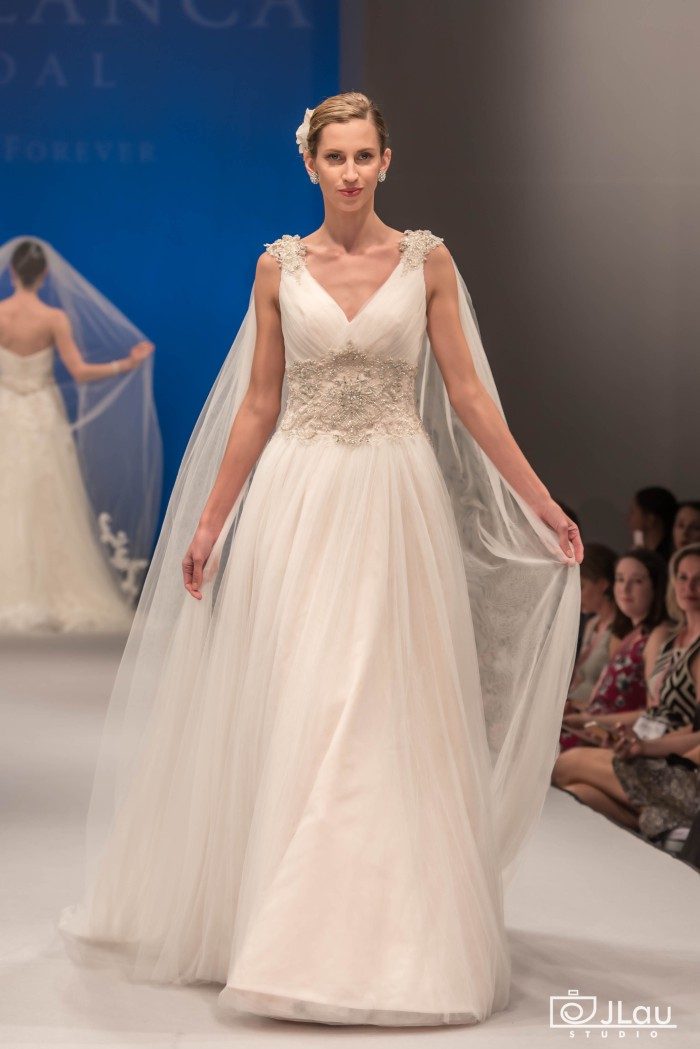 Style 2272 is Dahlia. Dahlia is a goddess-style bridal gown. This soft, A-line shaped wedding dress features a dramatic train that flows from the shoulders of this Grecian style gown. The draping is exquisitely accented by a beaded band around the waist.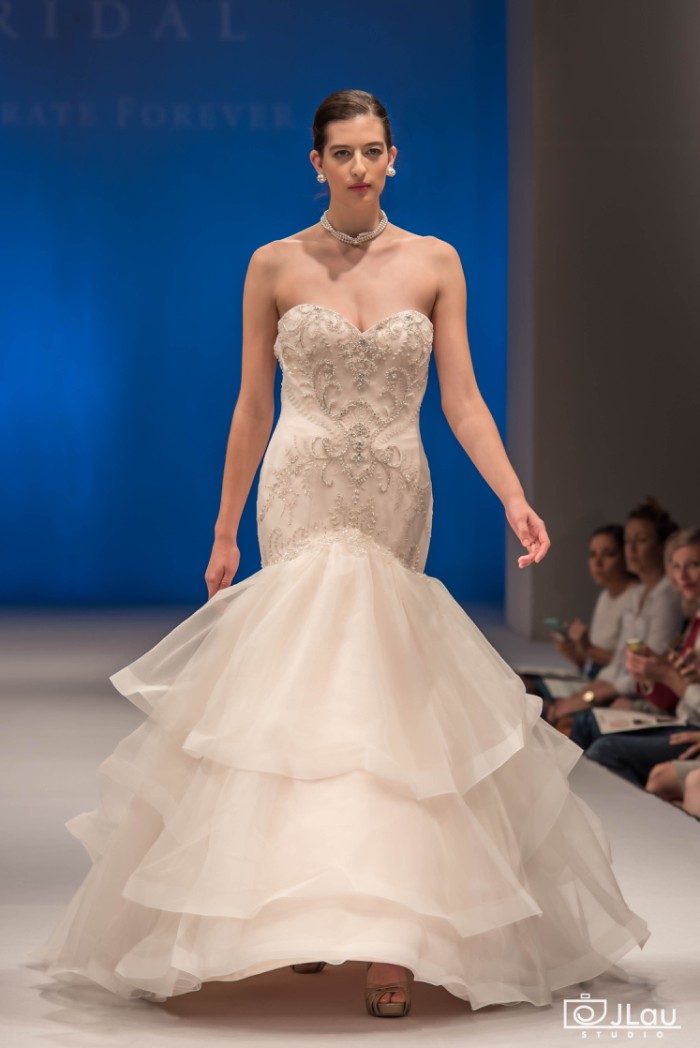 Style 2273 is called Poppy.  Poppy's eye catching design features a flirty, layered ruffle skirt, and heavily beaded, scrolling bodice. The illusion back of this wedding dress adds to the drama and style of this bridal gown.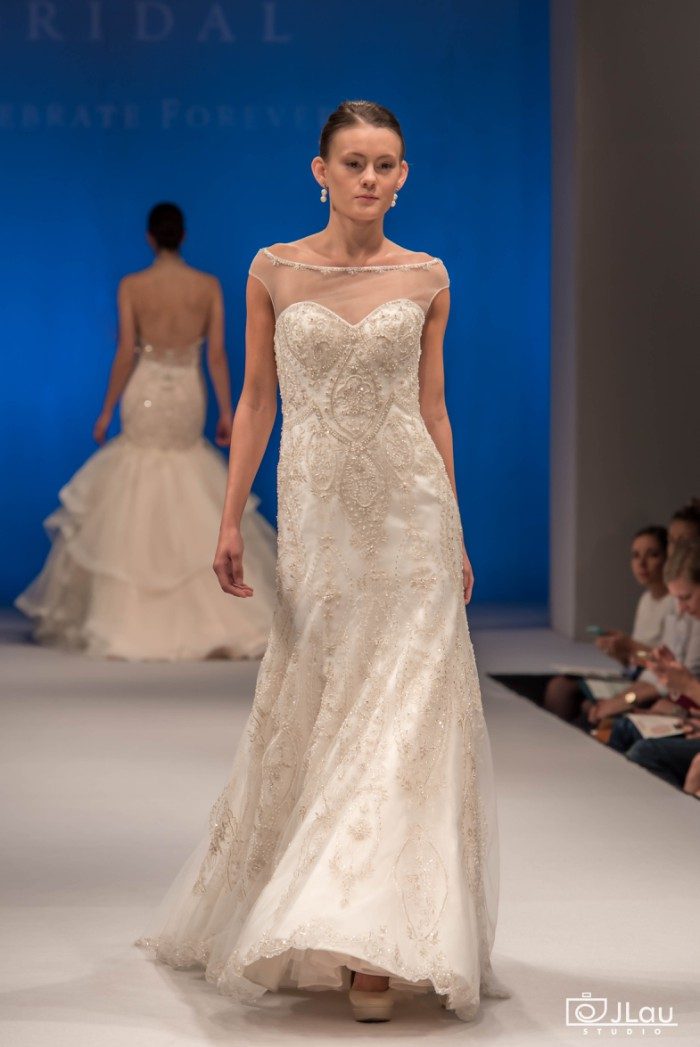 Style 2274 is called Lavender. Lavender is a fit and flare wedding gown, with an illusion neckline and heavily beaded bodice. Beading flows to the skirt of the gown and ends in an intricately scalloped and beaded hemline.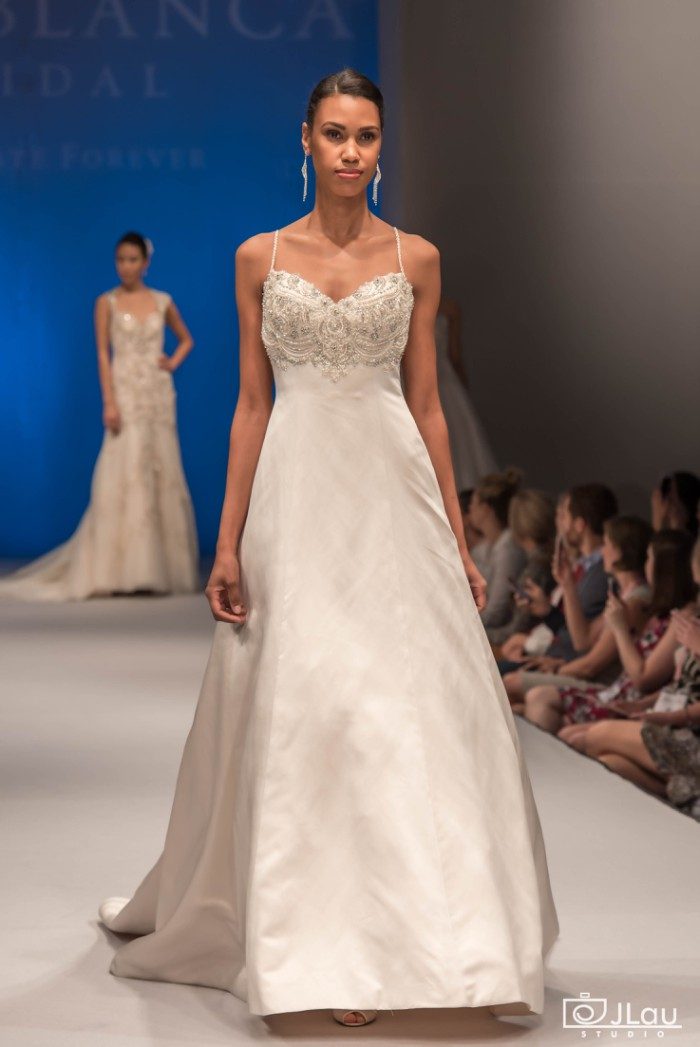 Style 2275 is known as Bluebell. Bluebell is an elegant wedding dress with spaghetti straps and an elaborately beaded bodice. The back of this wedding gown features a low, illusion beaded back. Bluebell is a stunning and sophisticated wedding gown.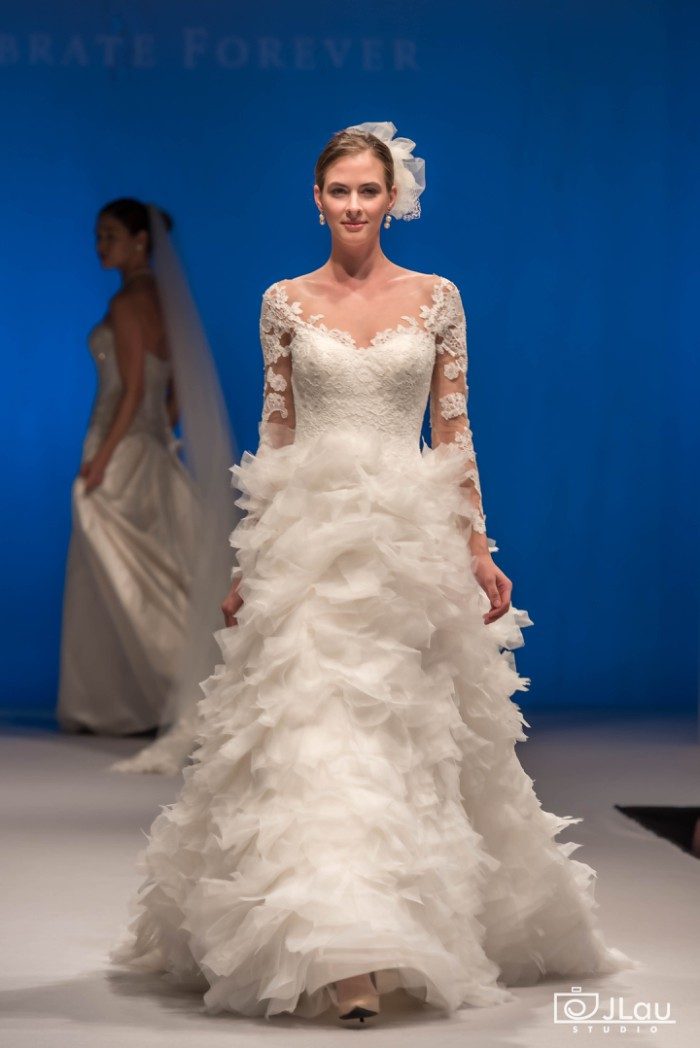 Style 2279 is called Fuchsia. Fuchsia features layers of ruffles which conjure visions of the dresses worn by flamenco dancers. The long sleeve lace top provides coverage, balance, and structure.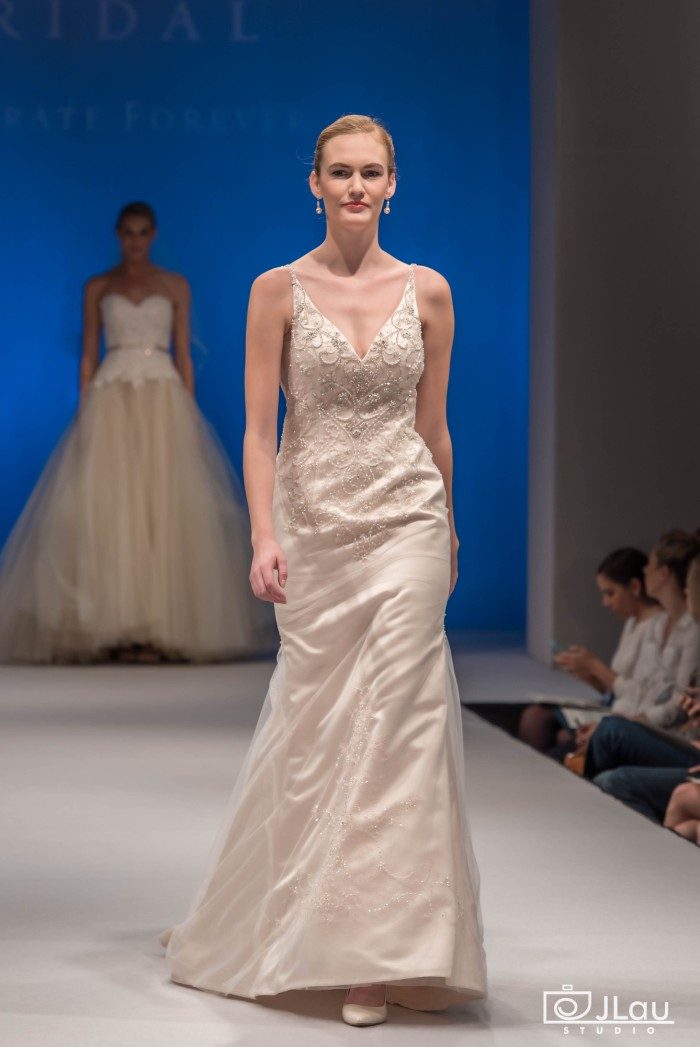 Style 2280 is Buttercup. Buttercup is a wedding gown with a low V-neckline and a deep V-back accented by delicately beaded spaghetti straps. Small scrolling patterns of beads and embroidery cover this gown's satin fit and flare shape.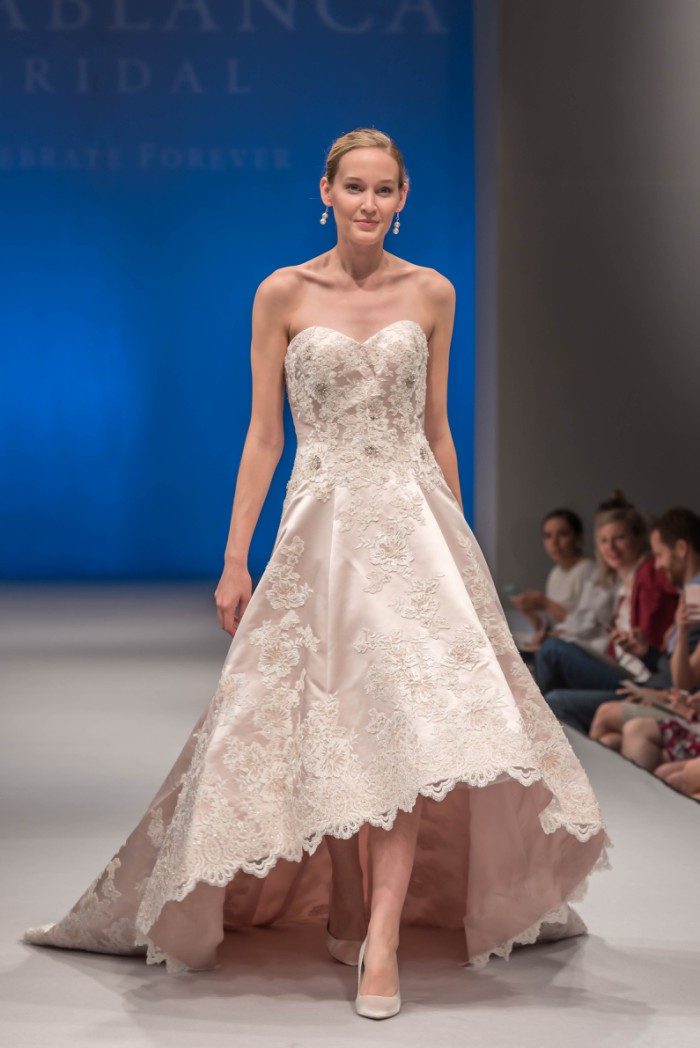 Style 2283 is Clover.  Clover is a sweet, hi-low hemline wedding dress. The blush satin of this gown is adorned with rose lace appliques, which are dotted with beading.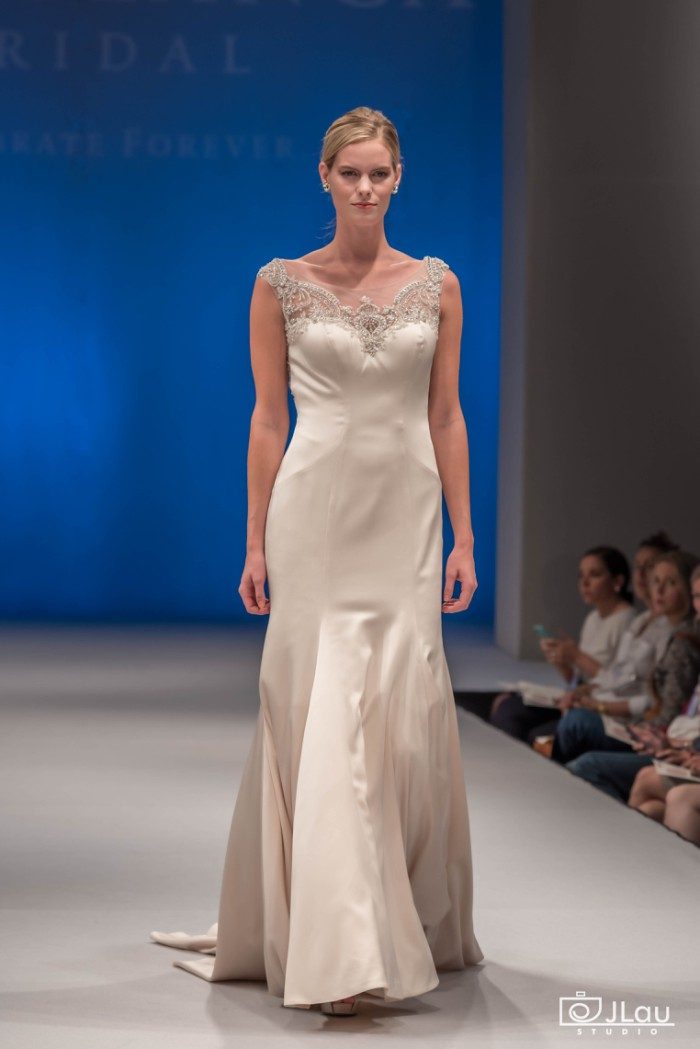 Style 2284 is Petunia. Petunia is a sleek, satin bridal gown with princess seams that accentuate the figure. The illusion bateau neckline flows into a scoop back with clusters of heavy beading, finishing with a trail of beautiful buttons.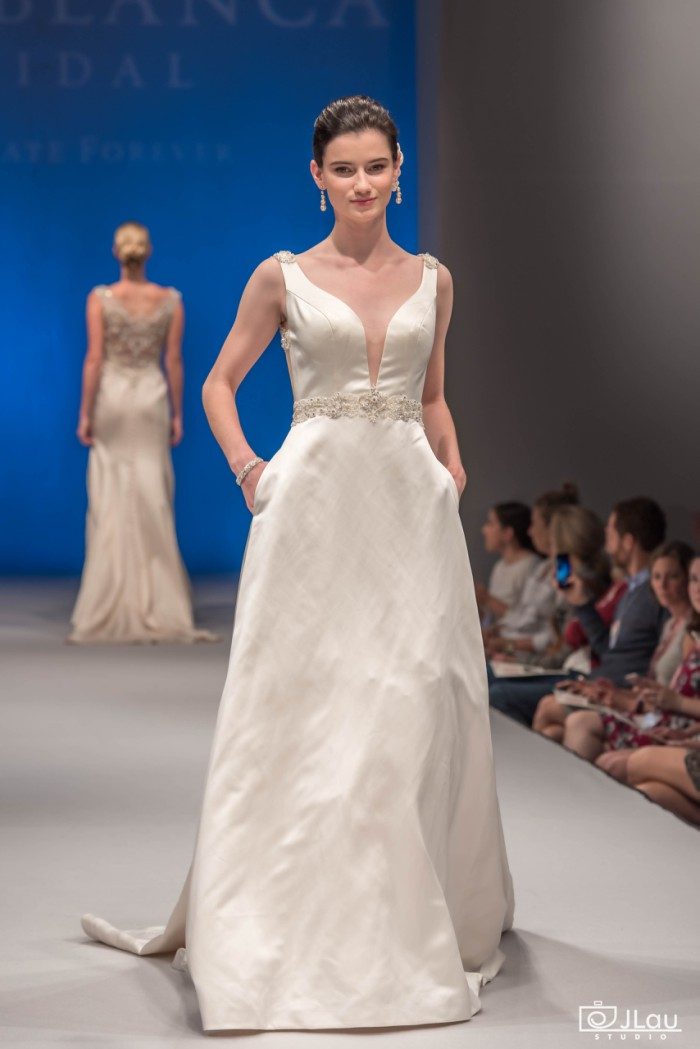 Style 2285 is known as Viola. Viola is a regal duchess satin wedding gown with a clean A-line silhouette. This sleek fabric is the perfect canvas to showcase the illusion neckline that plunges to the natural waistline, where it meets a waist-accentuating band of beading. The back of Viola features a stunning V-shaped illusion back, also surrounded by elegant beading.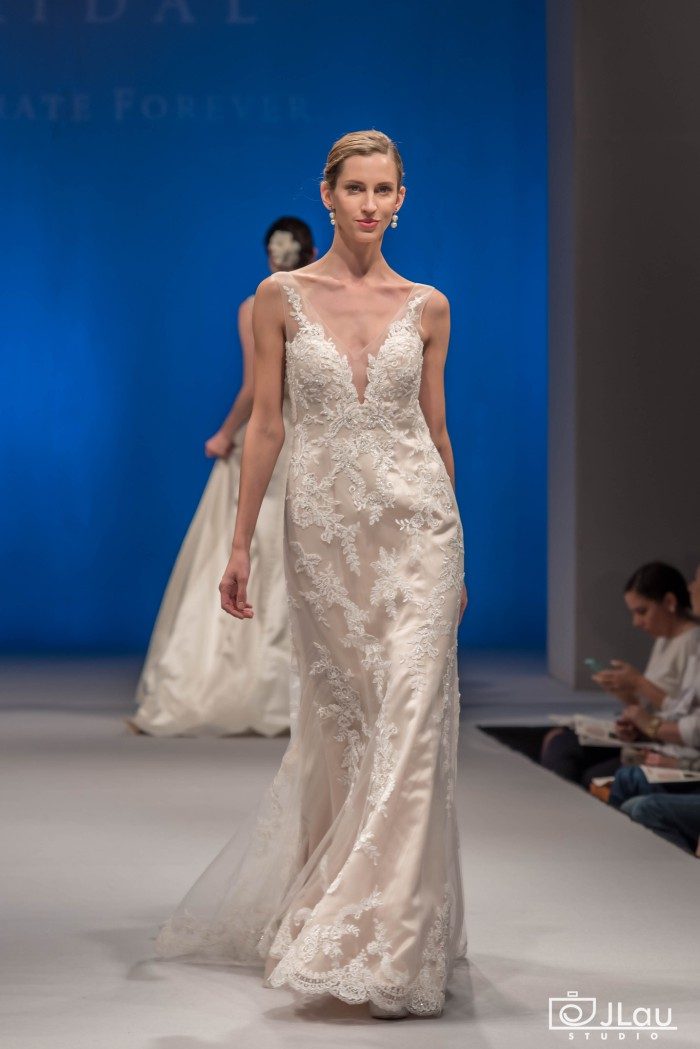 Style 2286 is called Ivy. Ivy is a flattering satin fit and flare sheath wedding dress with a lace appliqued overlay, scalloped lace hemline, and an illusion V-neckline. Ivy's wide illusion straps flow into an illusion V-shaped back.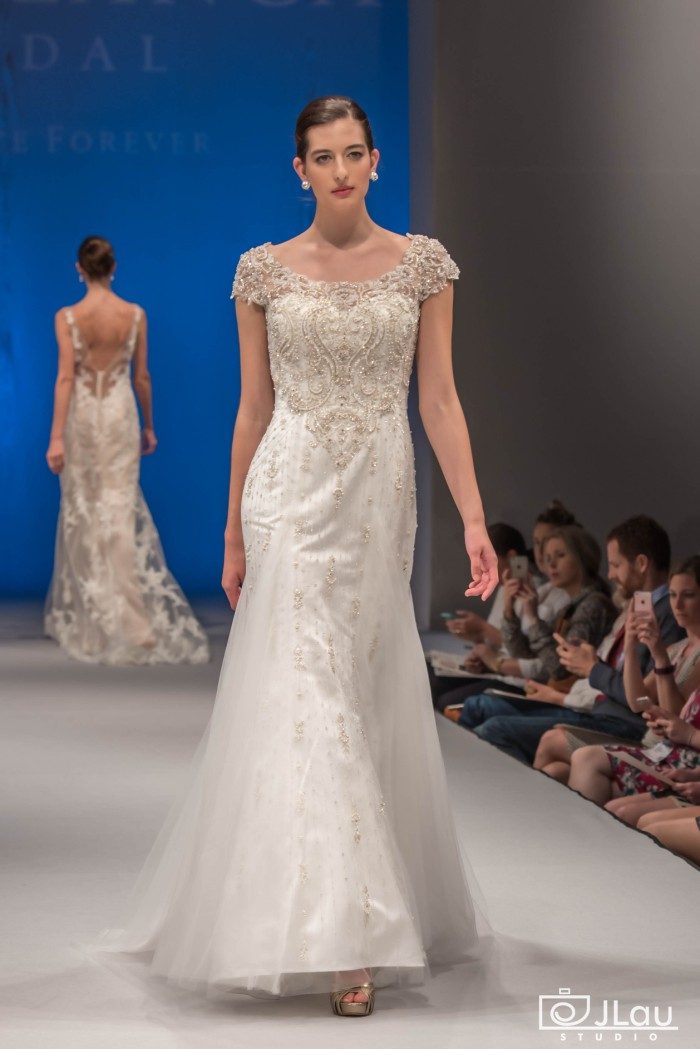 Style 2287, Gloriosa. Gloriosa is a sophisticated wedding dress with a heavily beaded bodice and scoop neckline. The beaded bodice ends in a keyhole back, while tulle godets provide texture and volume for the skirt.
Beloved by Casablanca Bridal: 'Awaken' Spring 2017 
Beloved by Casablanca Bridal is the newest addition to the Casablanca Bridal design house, created as a budget-conscious option that still reflects the quality and aesthetic Casablanca Bridal is known for. The wedding dresses in this collection are imminently affordable; with prices at or below $1,000. This line displays a youthful sensibility which is translated into comfortable ease, clean minimalism, and fashion-forward details.
The Beloved by Casablanca Bridal gowns for Spring 2017 feature highlights such as romantic blush accents and sophisticated detailing. See a few of our favorites from the Awaken collection for yourself!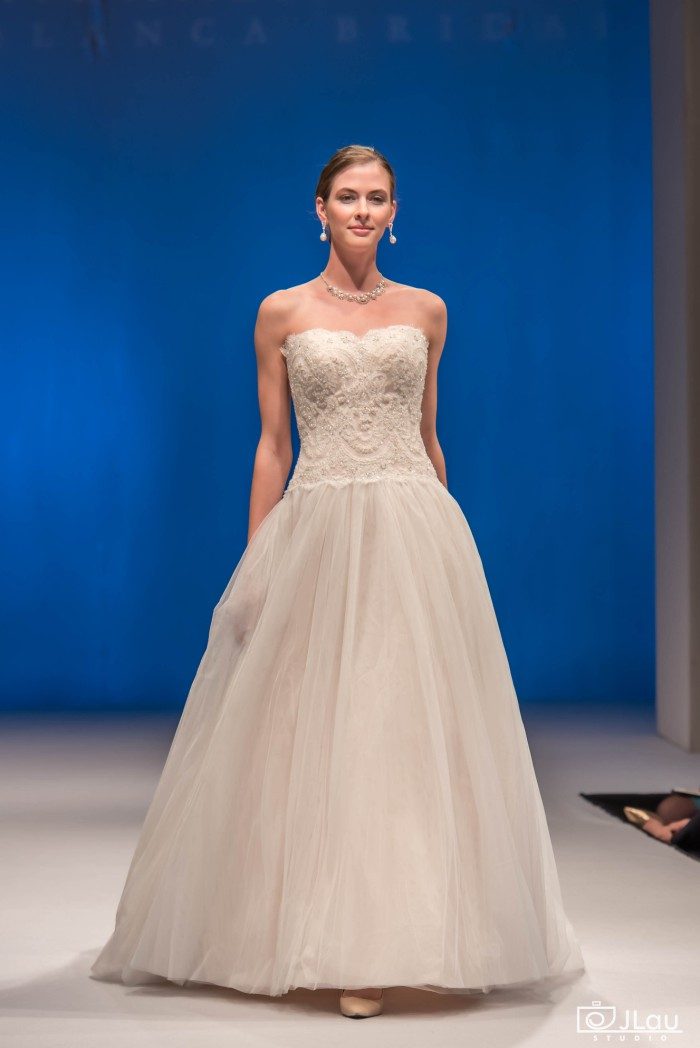 BL217 Patience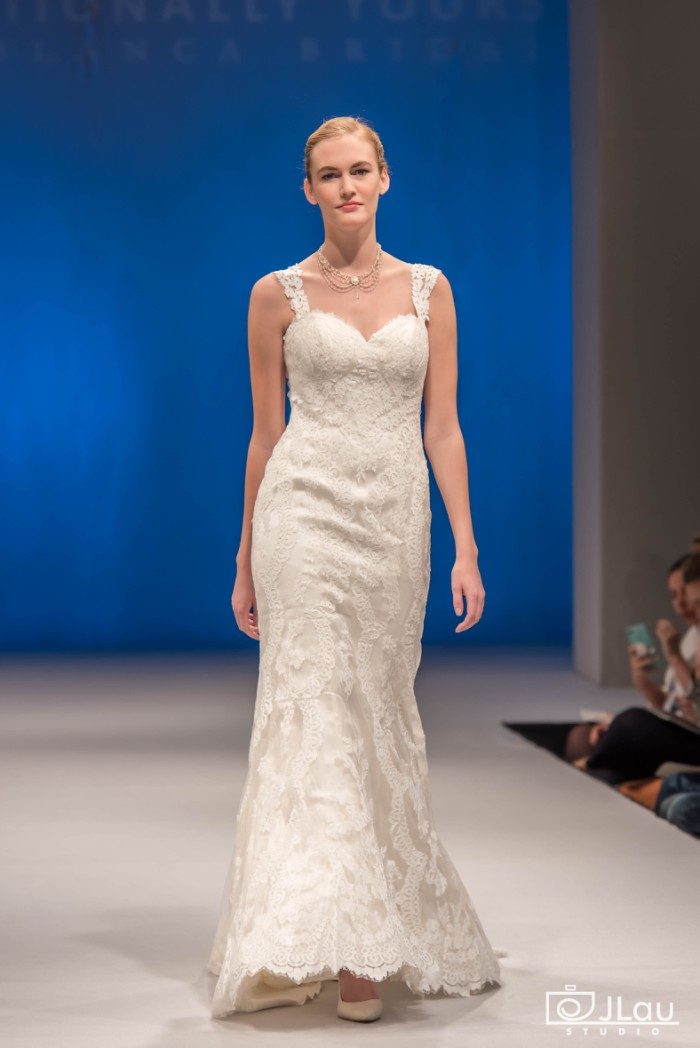 BL218 Harmony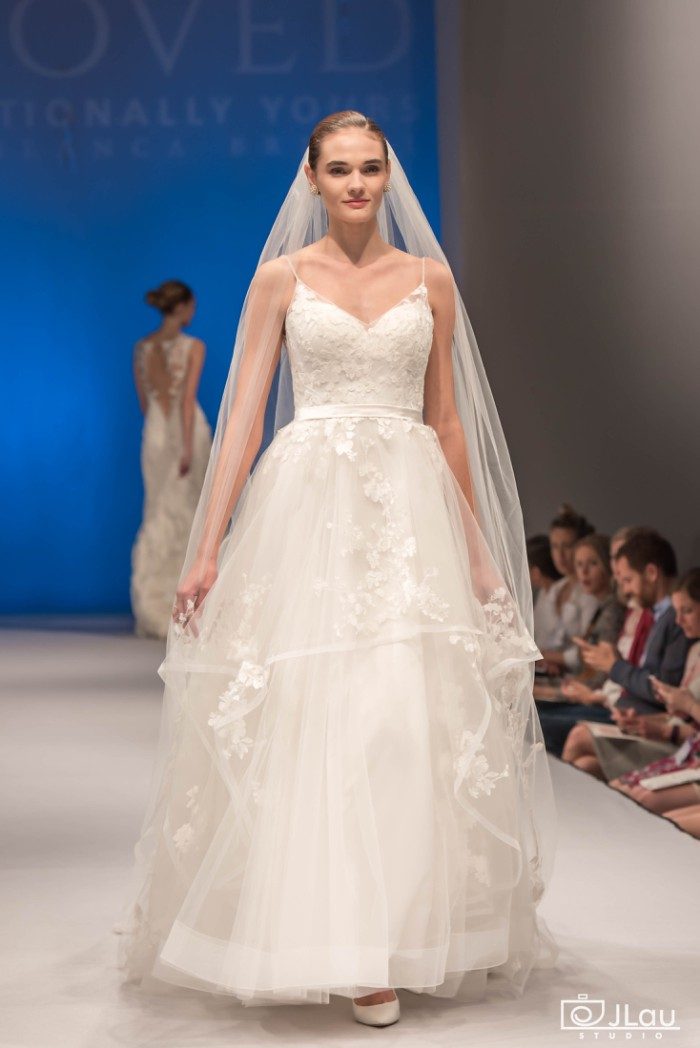 BL219 Sweet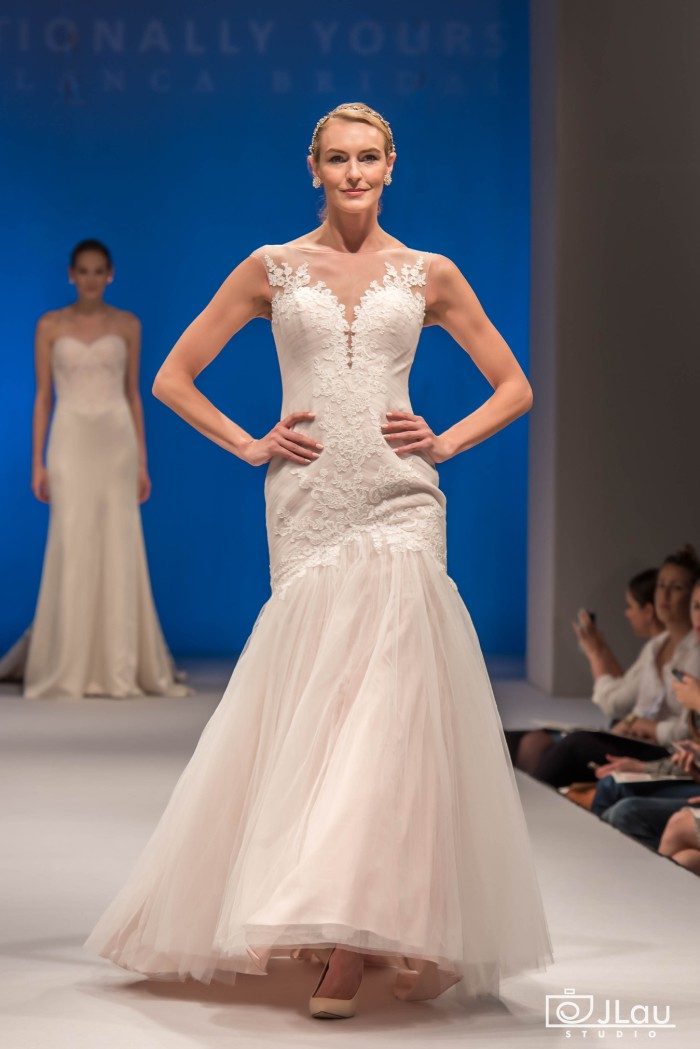 BL220 Bliss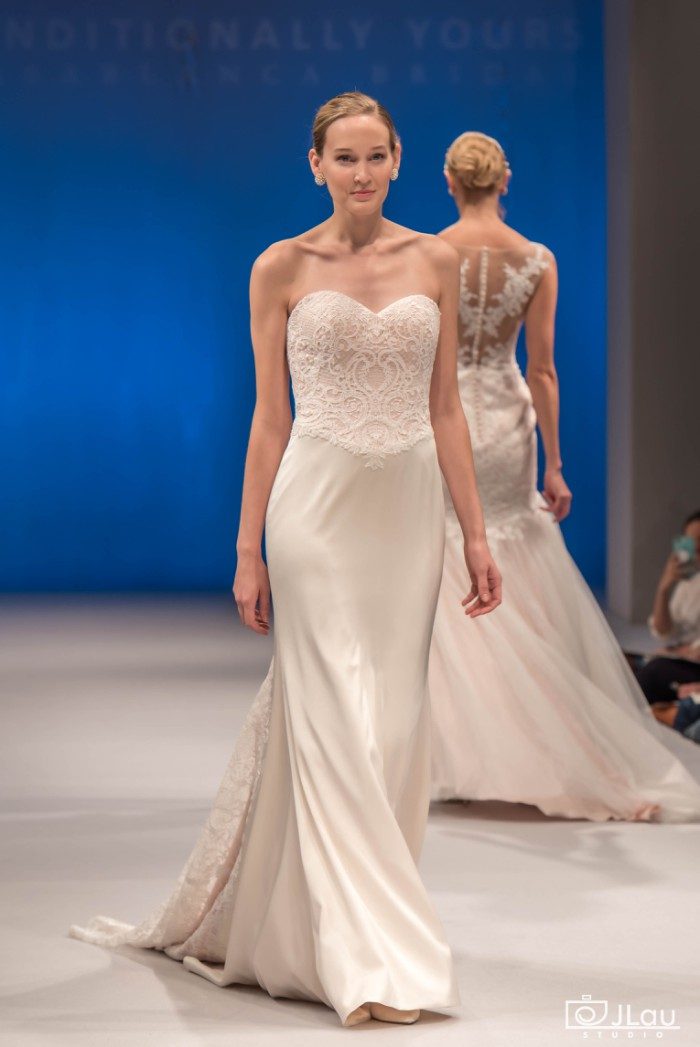 BL221 Affection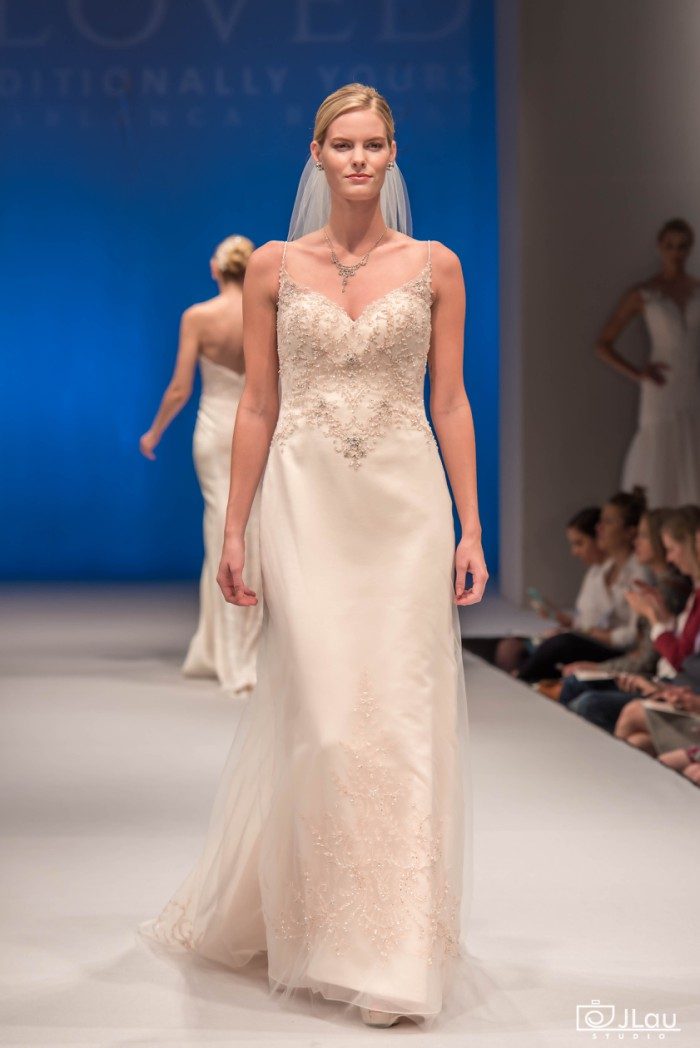 BL222 Rosy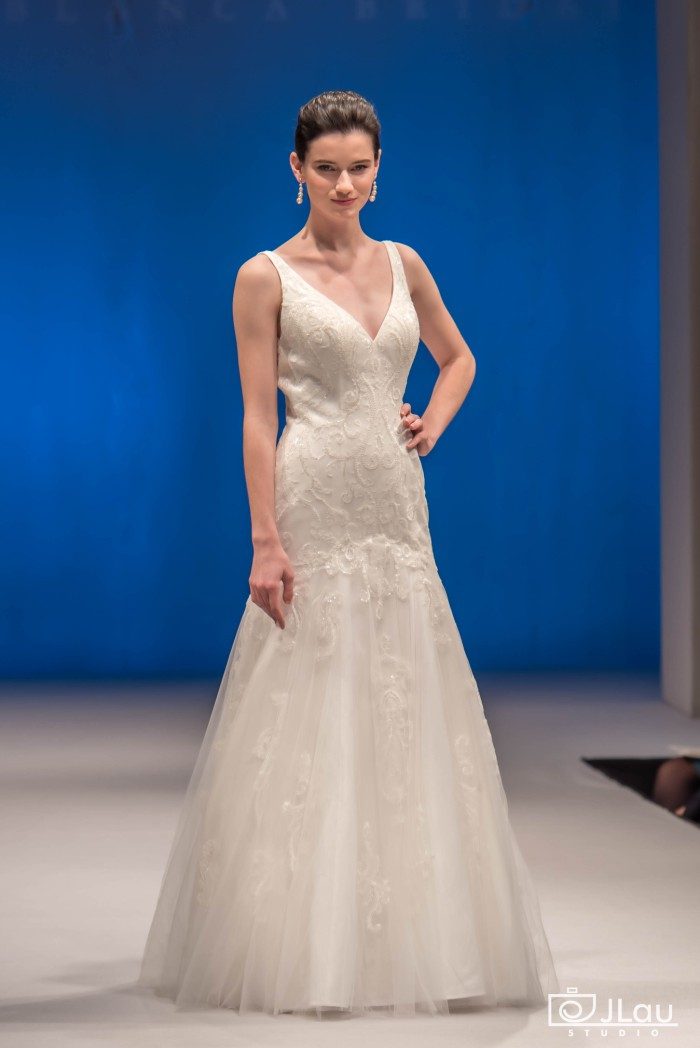 BL223 Ardency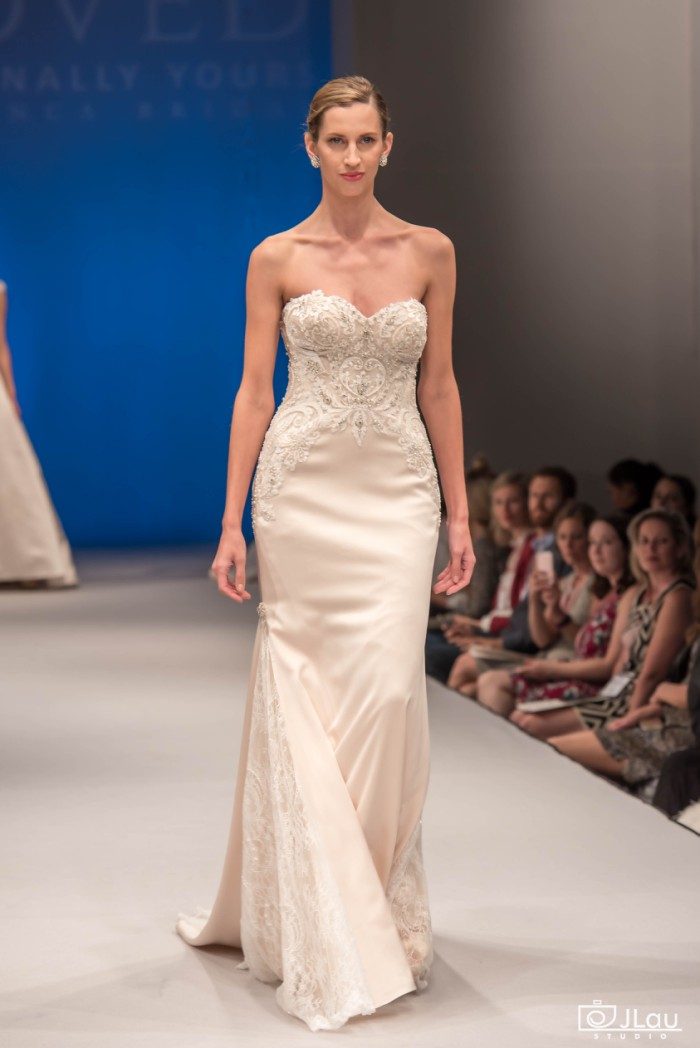 BL224 Confidence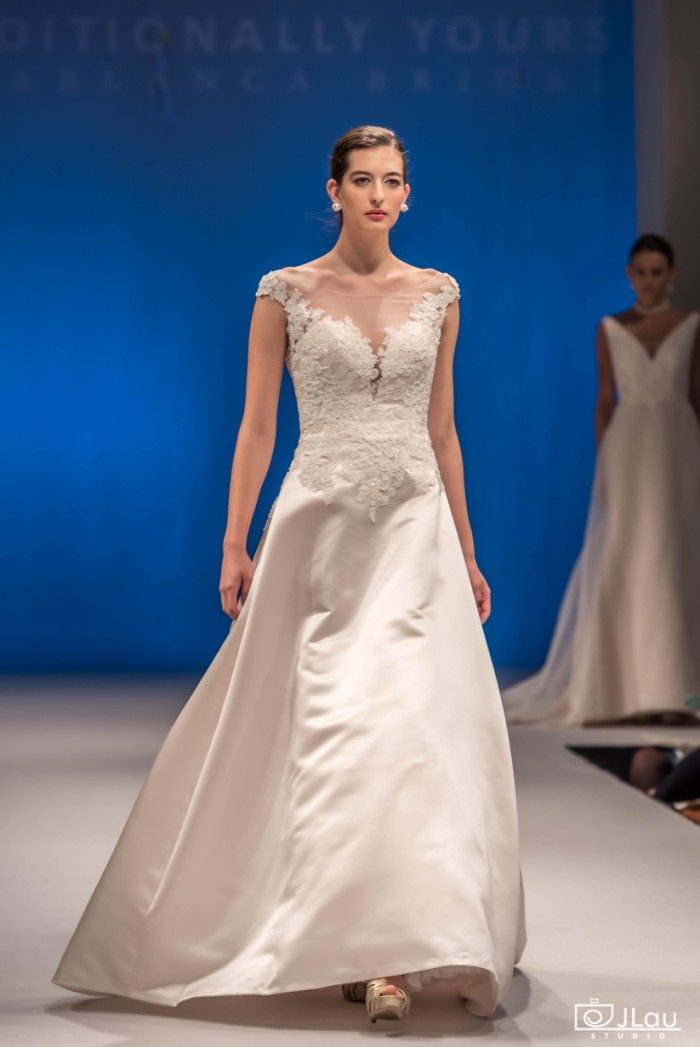 BL225 Dignity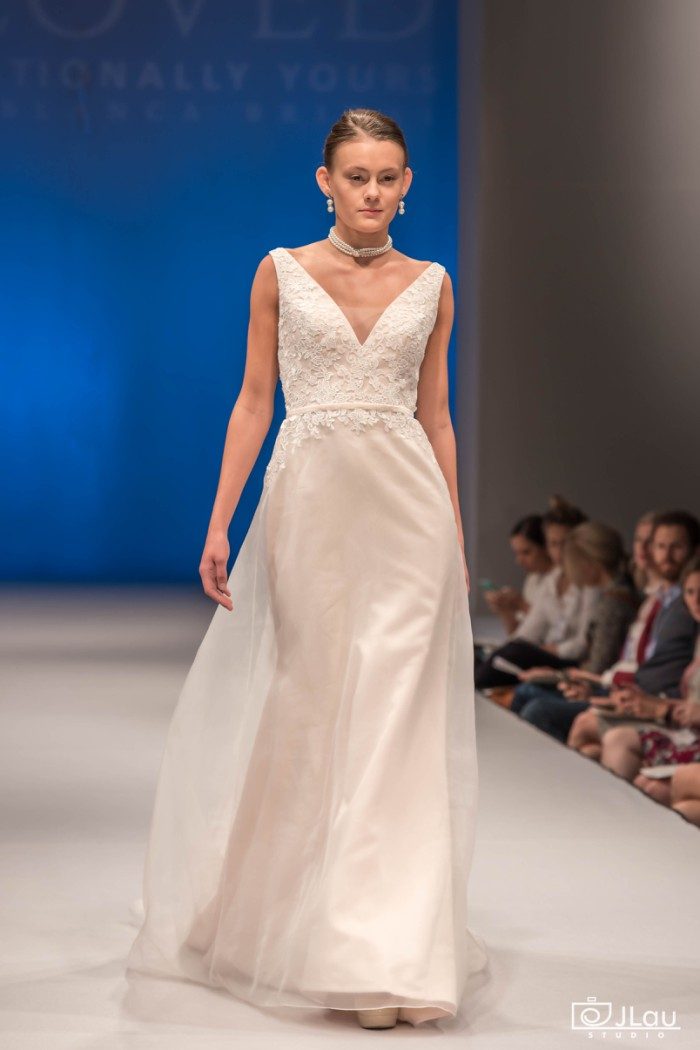 BL226 Devotion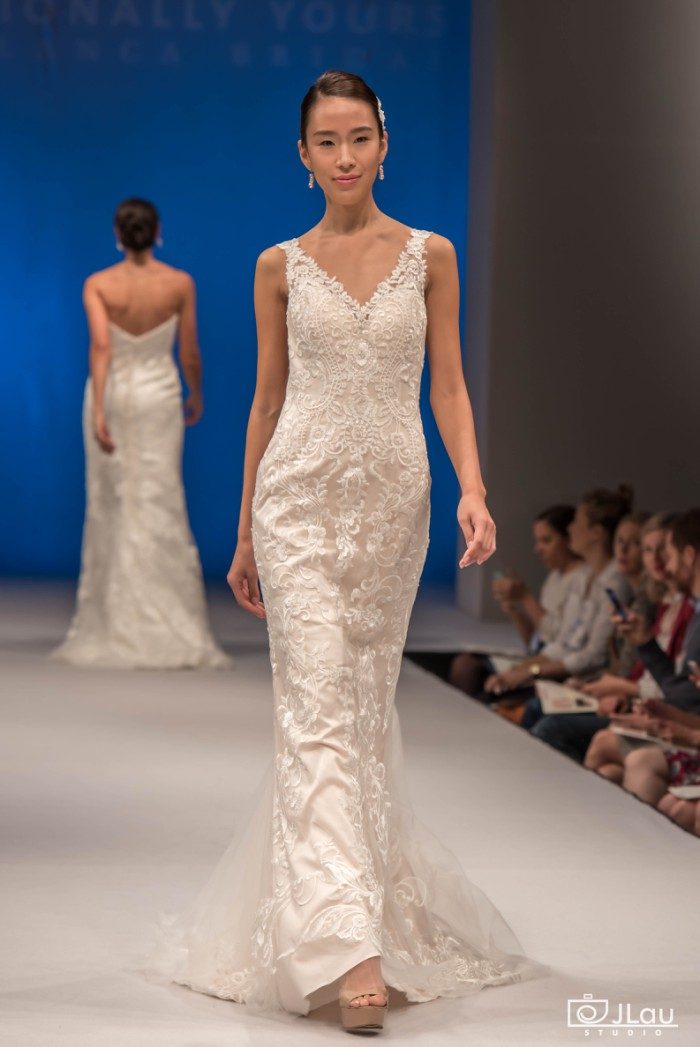 BL229 Intrigue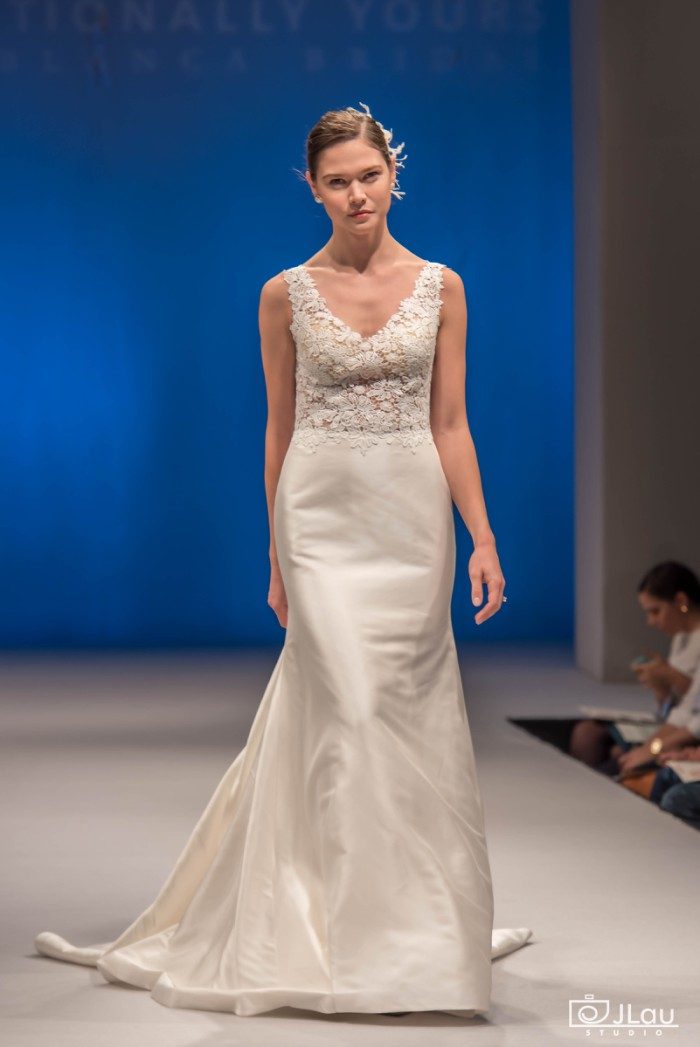 BL230 Darling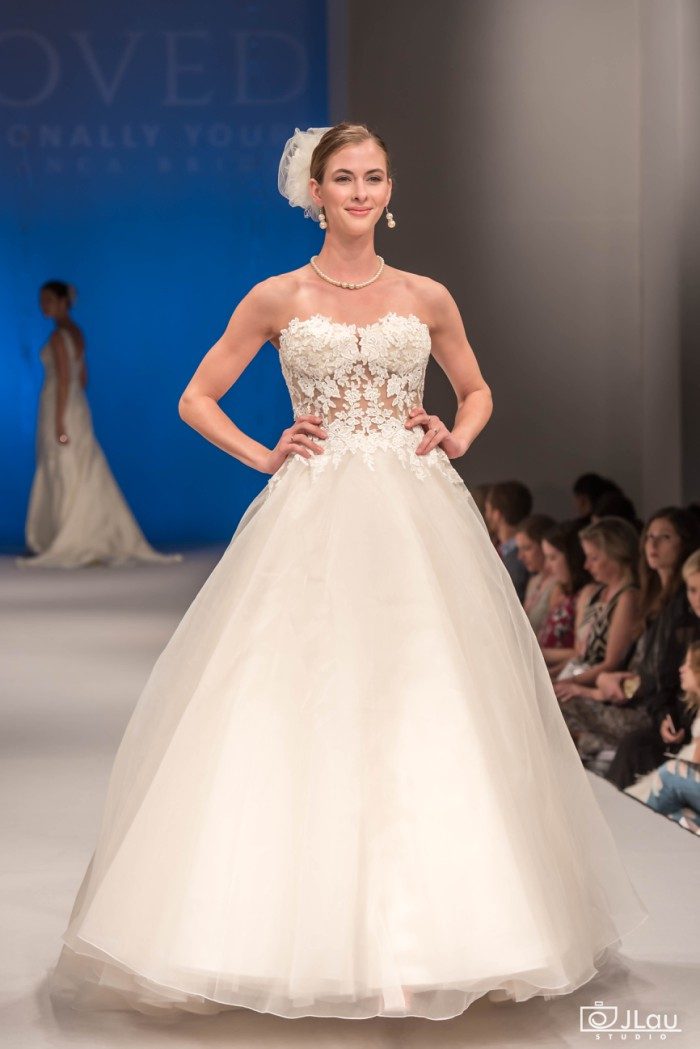 BL231 Wonder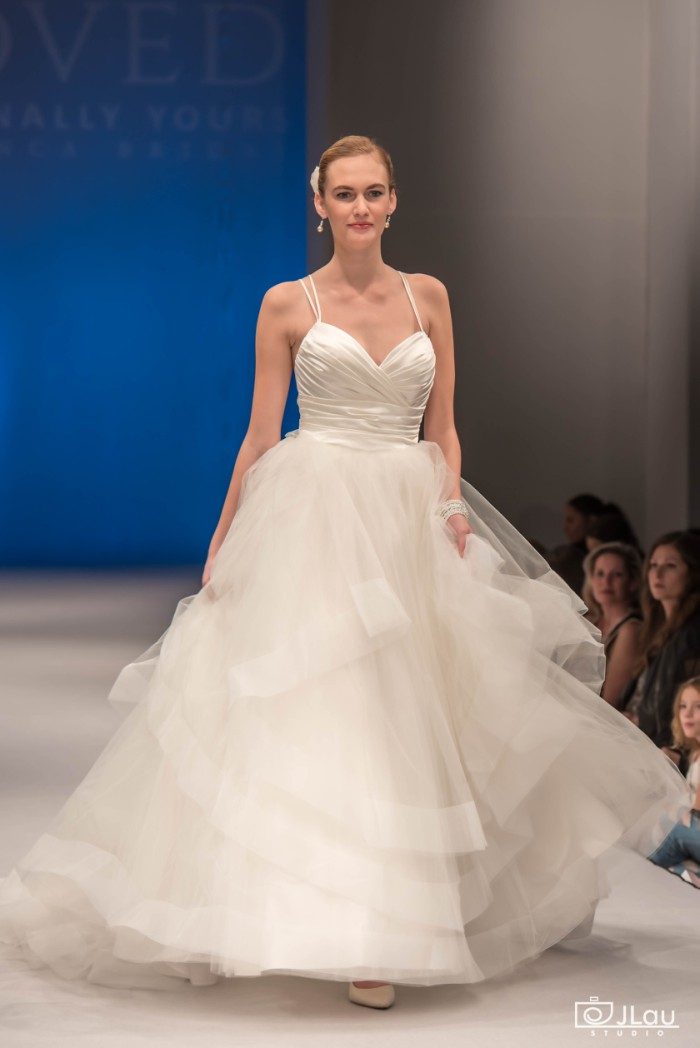 BL232 Delight
Amaré Couture Spring 2017 Collection
The Amaré Couture line is Casablanca Bridal's high end line, designed with rich fabrics and couture details. The line celebrates its 10th anniversary with The Elizabeth Collection for Spring 2017. The collection and the dozen gowns it contains are all named after notable, strong women. Details such as royal length trains, mandarin collars and exposed bodices show off the sophisticated confidence this line is known for. We hope you enjoy a look at a few of the beautiful couture bridal gowns from the Amaré Couture Spring 2017 Collection.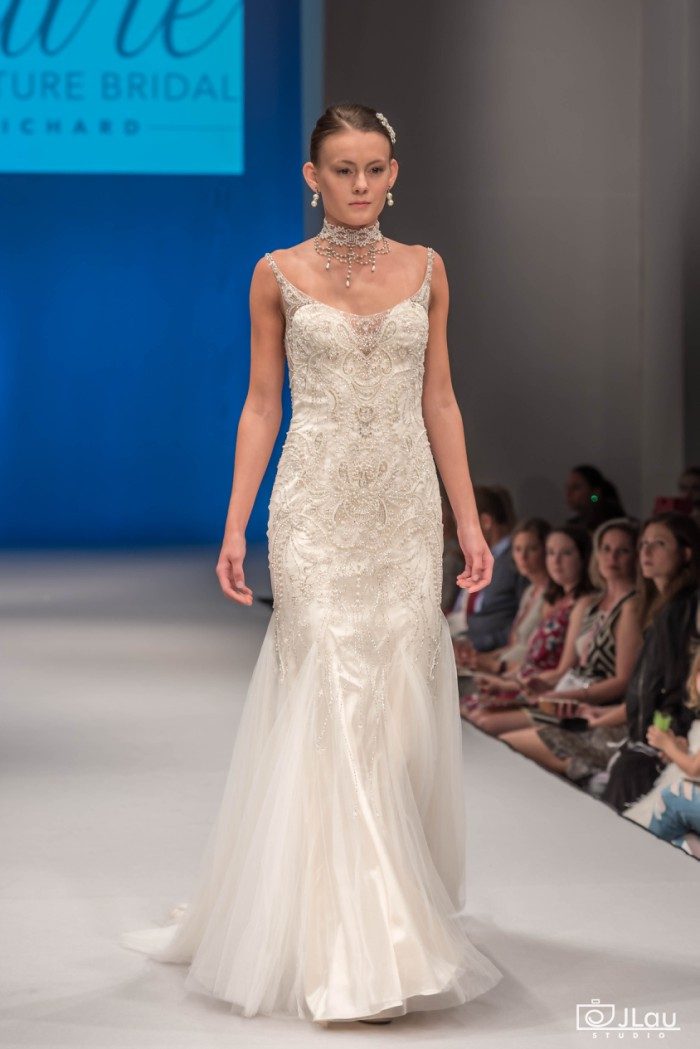 C113 Evangeline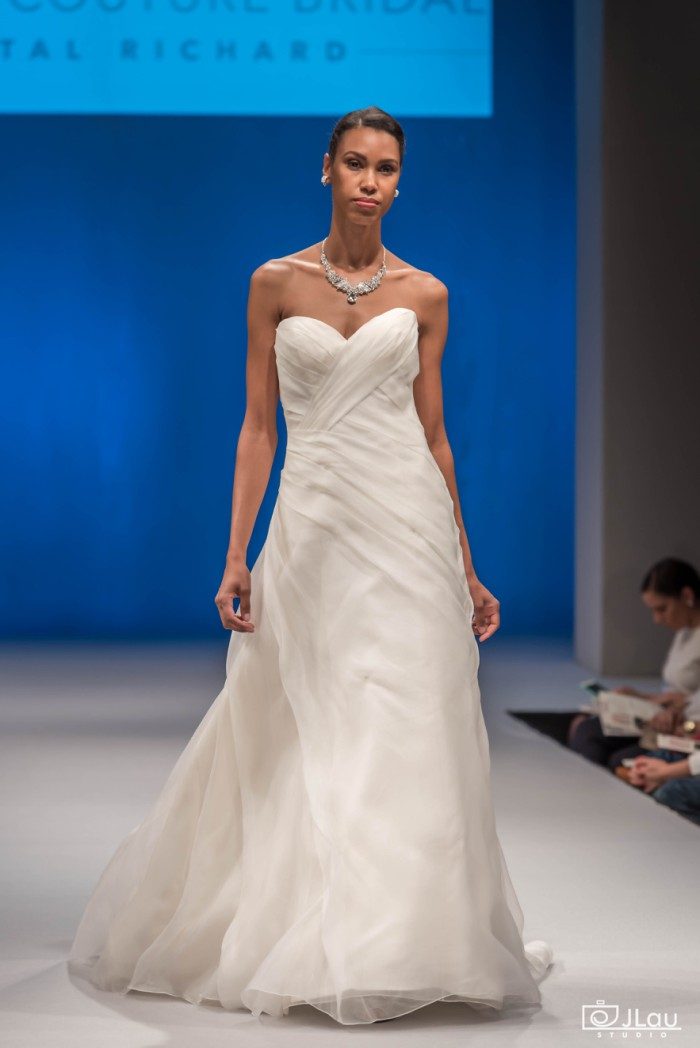 C114 Daniella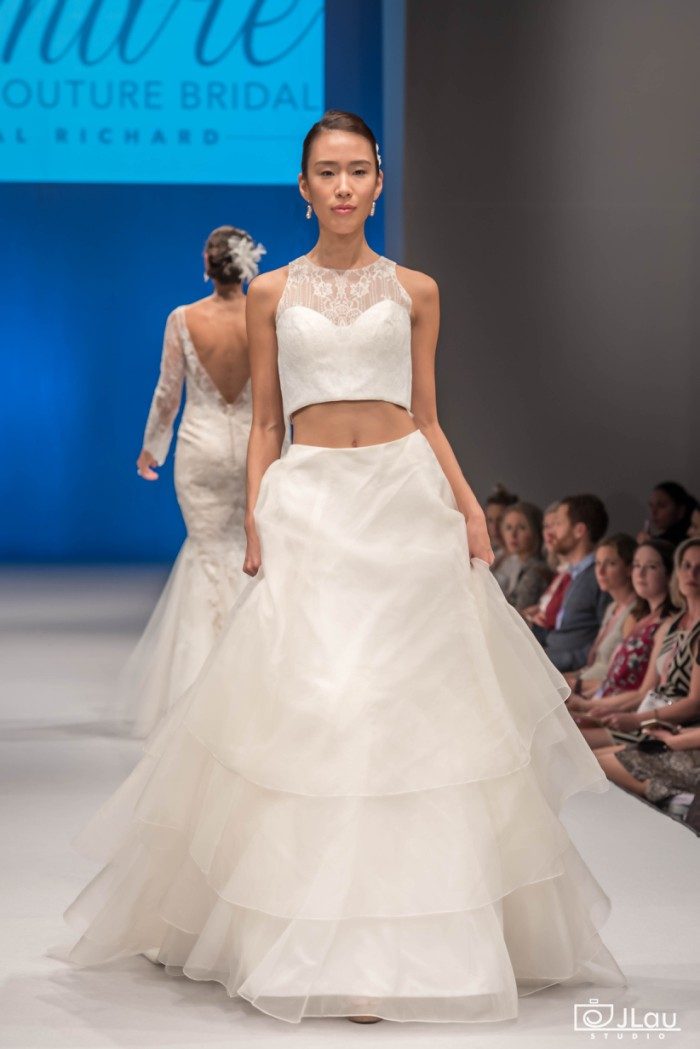 C116 Isabelle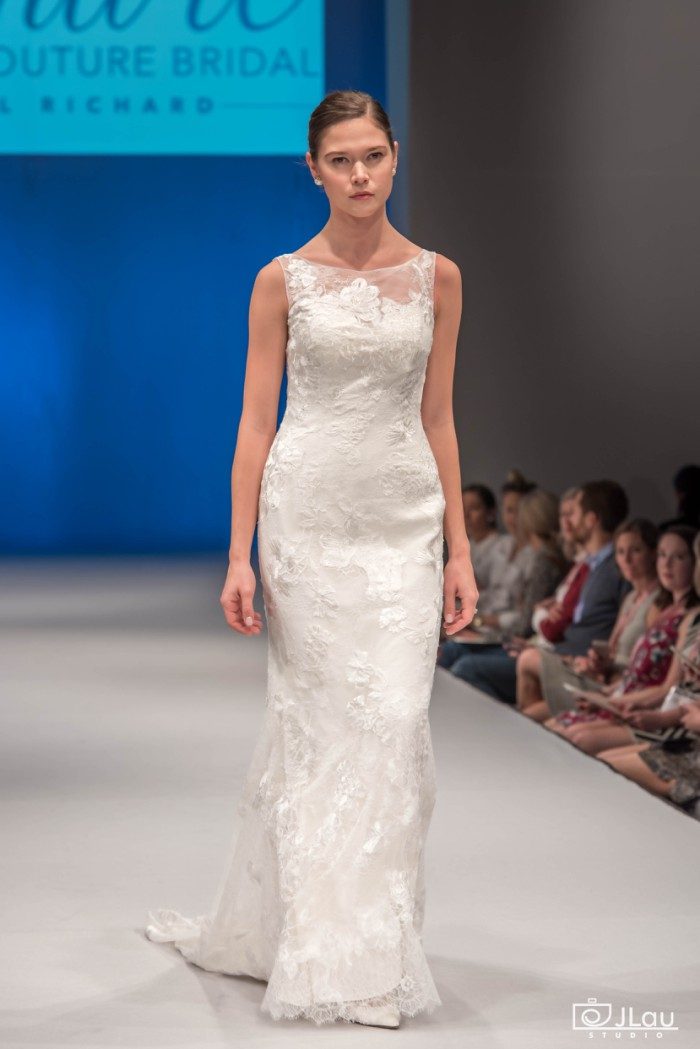 C117 Natalia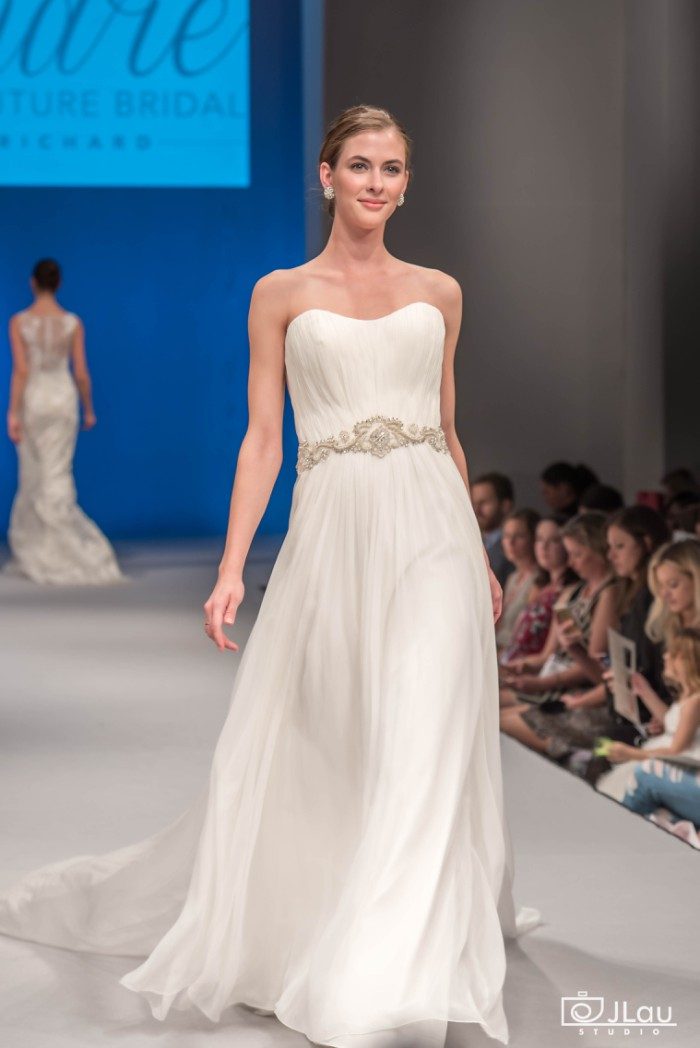 C118 Sofia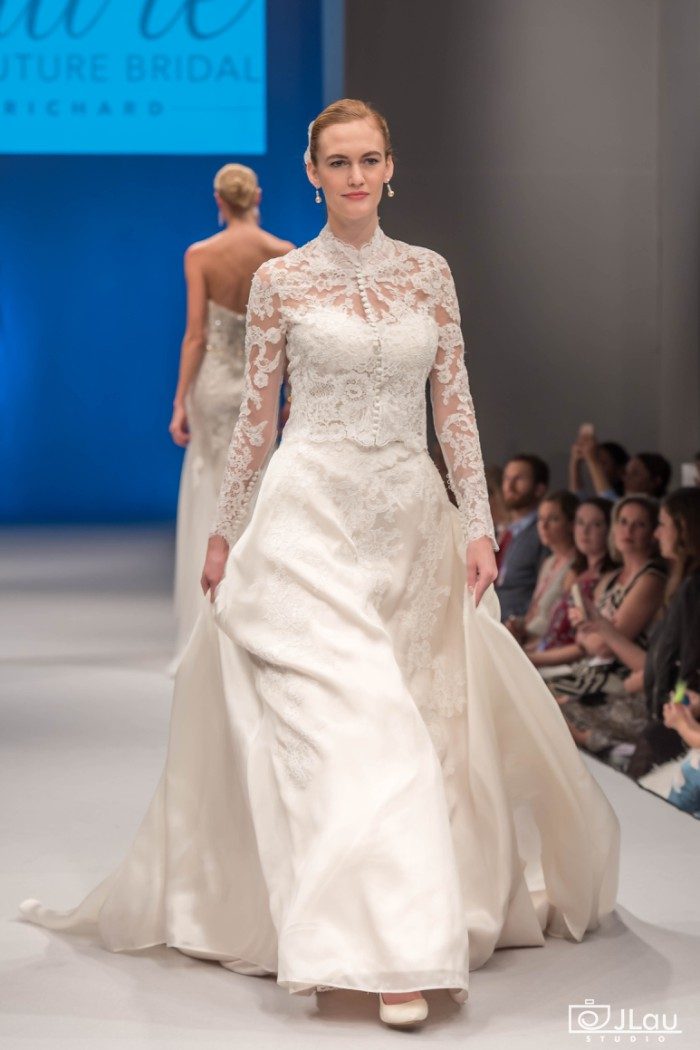 C119 Aurelia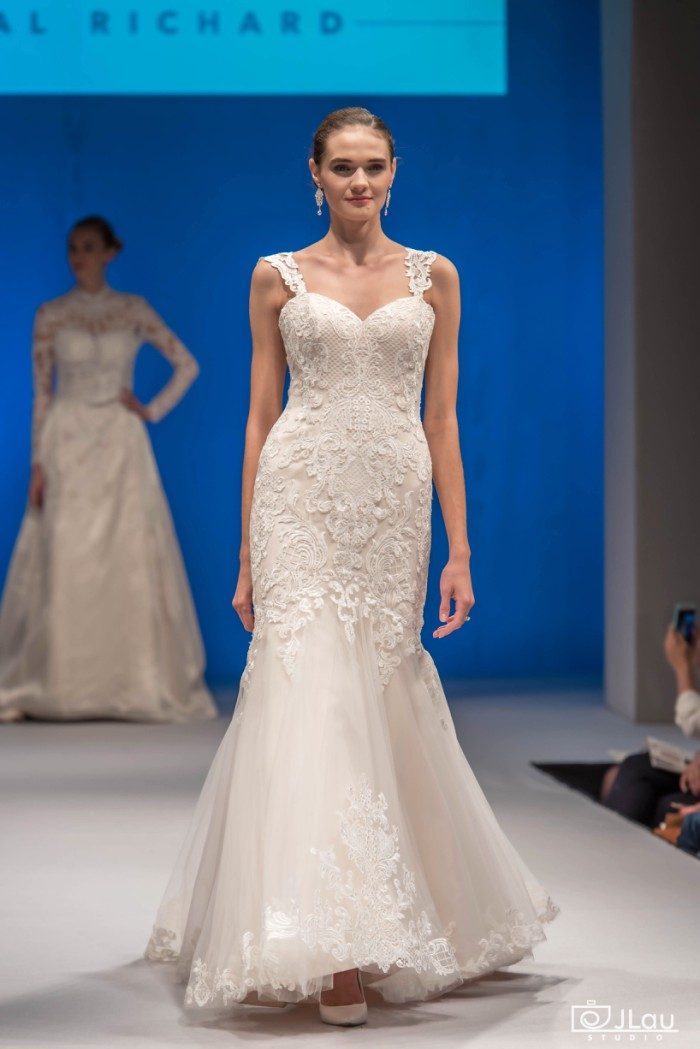 C120 Juliana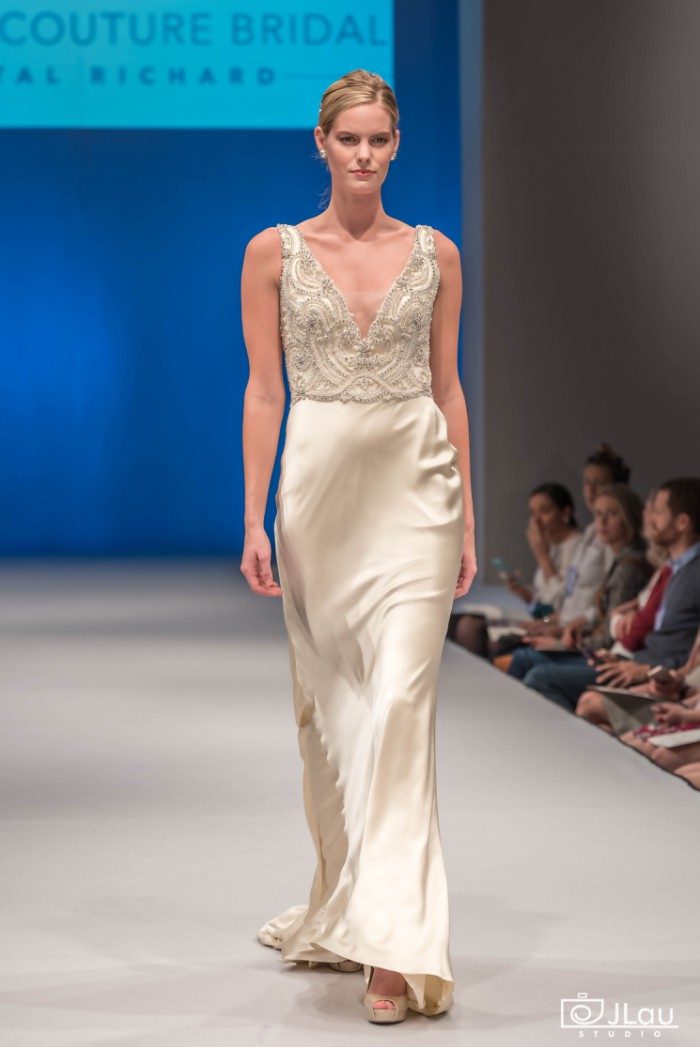 C123 Charlotte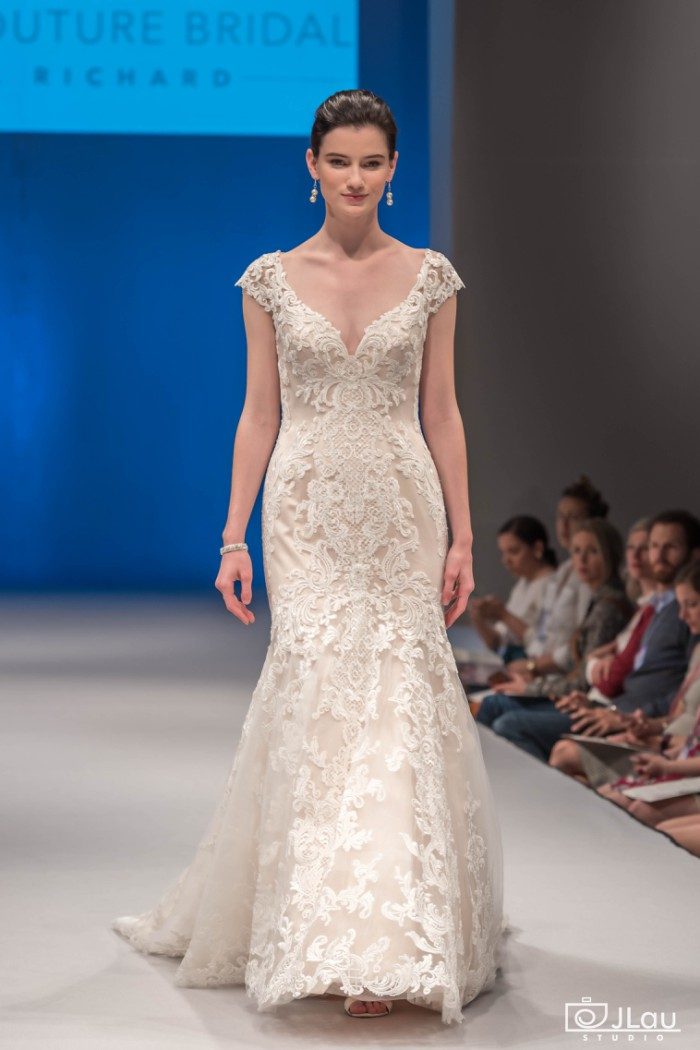 C124 Anastasia
For more information on any of these gowns, including a list of the fine boutiques nearest you that carry these wedding dresses, please visit Casablanca Bridal, Beloved by Casablanca Bridal, and Amaré Couture Bridal.
Thanks to Casablanca Bridal for their sponsorship of Dress for the Wedding, and to Jason Lau Photography, for the images for this post.