Wedding Headbands, Halos and Headpieces
Affiliate links are used in the shopping links in this post, meaning this blog may receive a commission from our sponsors, if a qualifying purchase is made.  Featured Wedding Headbands: 1. 'Kassia' Halo from BHLDN 2. ASOS BRIDAL Floral Vine Hair Crown 3.  'Odette' Crystal Headpiece by Bride La Boheme from Etsy  4. Crystal Burst Ribbon from David's Bridal
Bridal Headbands
Whether you're planning to rock long or short wedding hairstyle, or something in between, I feel confident in saying that there's a bridal headband for you!
There are many reasons why I think wedding headbands are so fabulous. Firstly, they are an easy and secure way to accent your wedding hairstyle. They also offer a lot of styling options - they run the gamut of styles from boho, romantic, to all-out decadent bling. Bridal headbands are slightly less showy than a bridal crown, but they still add just the right amount of spectacle, especially if you aren't wearing a veil.  (If you are, many headbands pair perfectly with drop veils, and make for a beautiful look that goes easily from ceremony to reception.)  Some bridal headbands do double or triple duty - there are some that can be worn like a vine, woven through the hair, or other that can double as a sash or necklace.  These versatile pieces also have wear-again possibilities - to be re-purposed as a belt or necklace.
Headbands for Weddings
Remember, wedding headbands aren't just for brides - they are a lovely way to  set off your bridesmaids' hairstyles as well.  Here are a few over our favorite picks for bridal head pieces spanning the regal to the delicate, and everything in between. There's also some great hairstyle and makeup styling inspiration to be had as you look through these pretties!
Gold Bridal Headband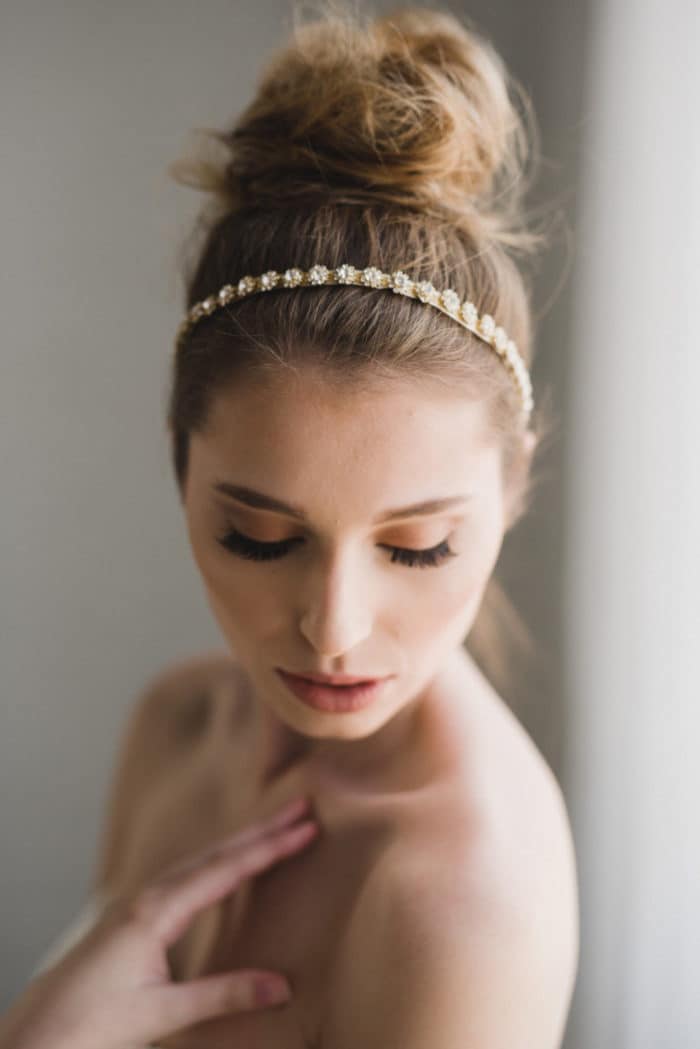 Neat rows of small crystal stones against an golden band, give a beautiful way to accent a bridal topknot like this. Gold Bridal Headband By  GlamHerBands on Etsy 
Beaded Hair Vine for Brides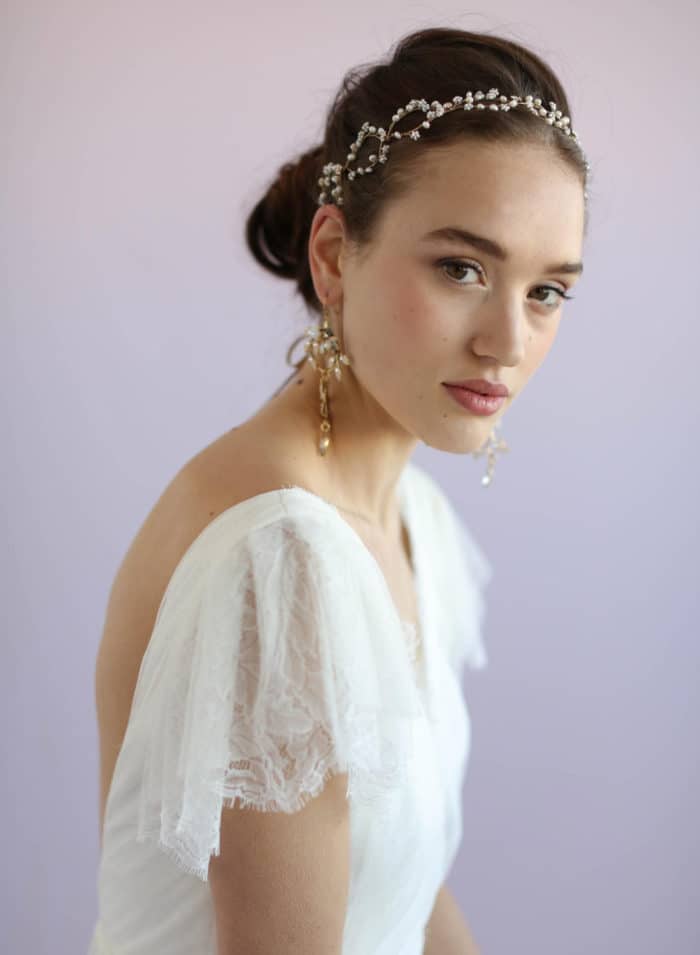 These pearly beads twisted into a pretty vine, make for a nature-inspired look.  Beaded Hair Vine by Twigs and Honey (MyraKim on Etsy) Photo by Elizabeth Messina
Boho Bridal Headband
The small floral details in crystal accented flowers on this headband make for the perfect boho or garden wedding hairstyle. 'Giselle' Boho Style Bridal Headband by Tania Maris on Etsy. Photo by  Jarred Tyers Photography
Delicate Floral Crystal Headpiece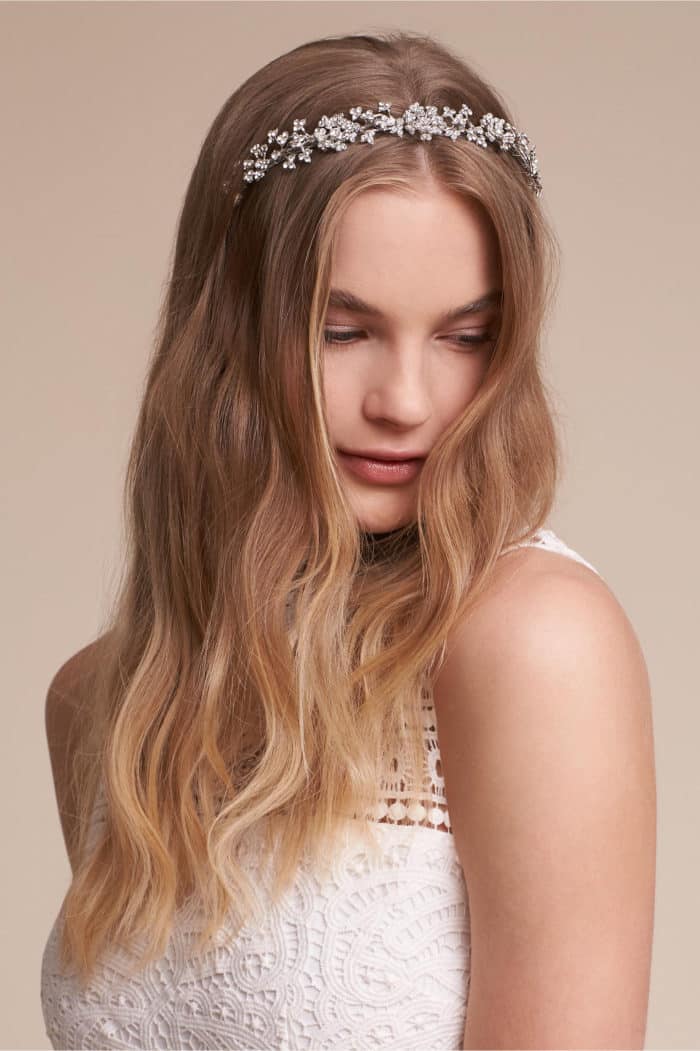 This wedding headband offers luxe sparkle on a delicate scale. 'Lucella' Crystal Bridal Headband  from BHLDN
Crystal Bridal Headpiece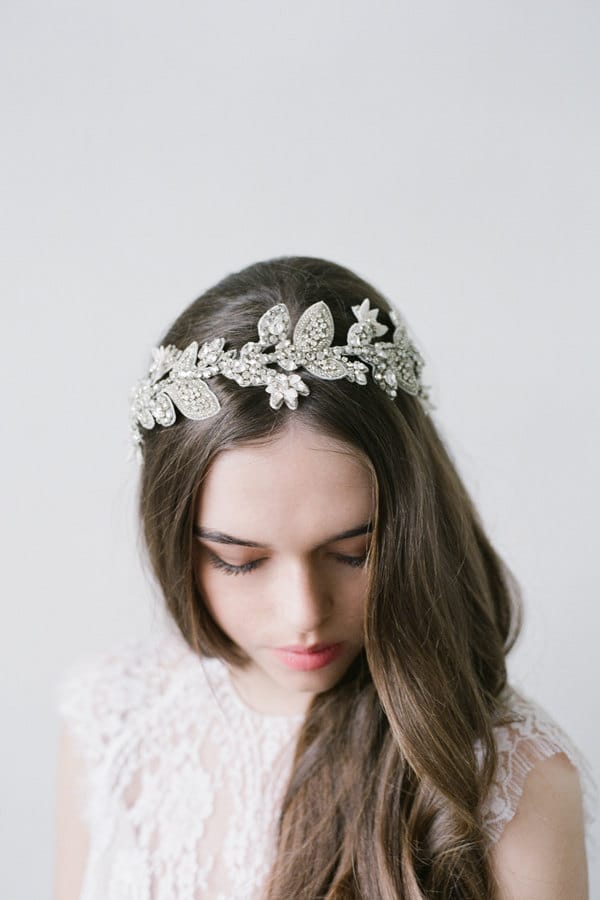 Hand-stitched embellishments on a beautiful wide silver band make for a statement headpiece. 'Odette' Crystal Headpiece by BrideLaBoheme on Etsy 
Long Hair Vine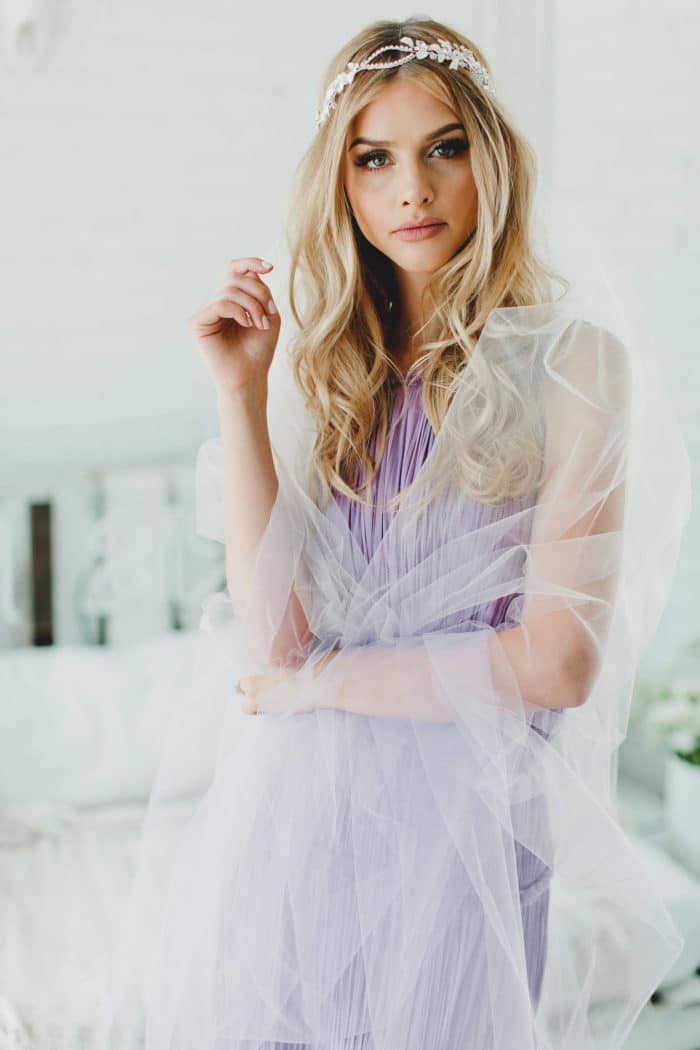 Bejeweled and full of ornate detail, this bridal head piece can be worn as a vine, or set off as a hand or topper to a drop veil. Extra-Long Hair Vine by Veiled Beauty on Etsy. Shown with Veiled Beauty's Purple Ombre Veil
Crystal Halo Headpiece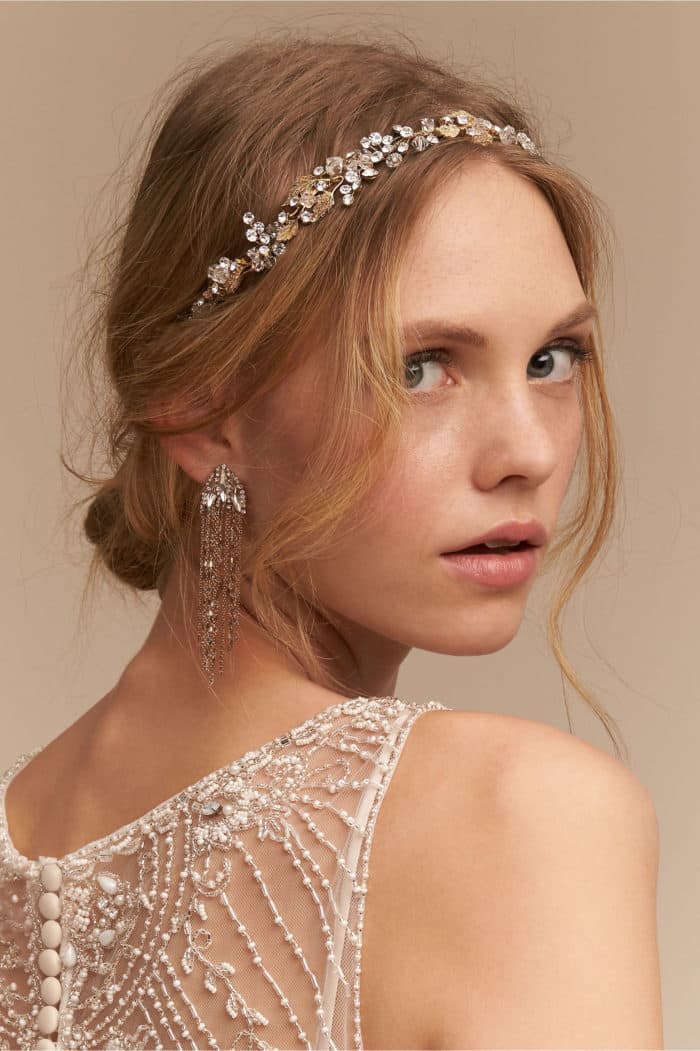 A beauty made of mixed metals with gold and crystal detail and plenty of sparkle.'Kassia' Halo from BHLDN
Affordable Embellished Headband for Brides or Bridesmaids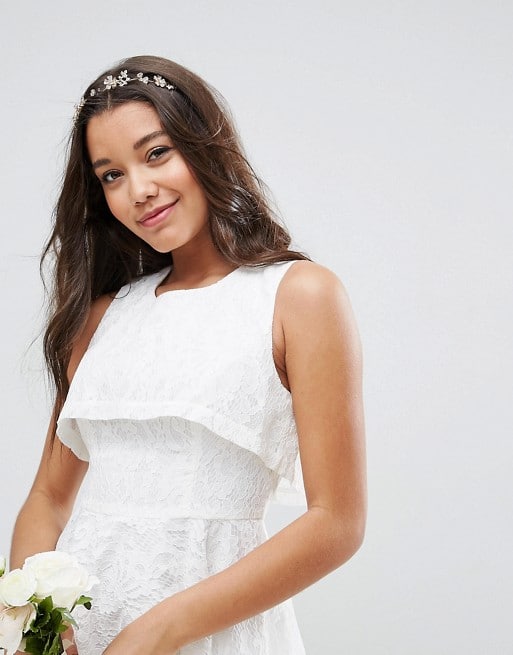 This affordable bridal headband is just $19! At that price, you can get them for your entire crew of bridesmaids! ASOS BRIDAL Floral Vine Hair Crown
Rhinestone Bridal Crown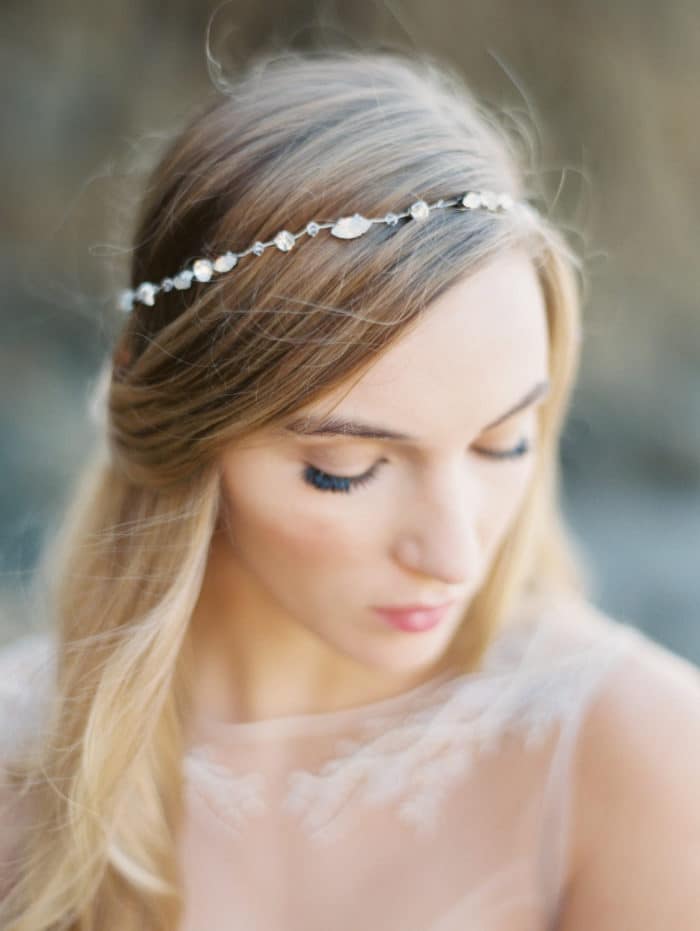 A delightful mix of silver and white opal rhinestones adorn this simple and understated bridal crown. Rhinestone Bridal Crown by Melinda Rose Design on Etsy
Romantic Golden Chain Bridal Headpiece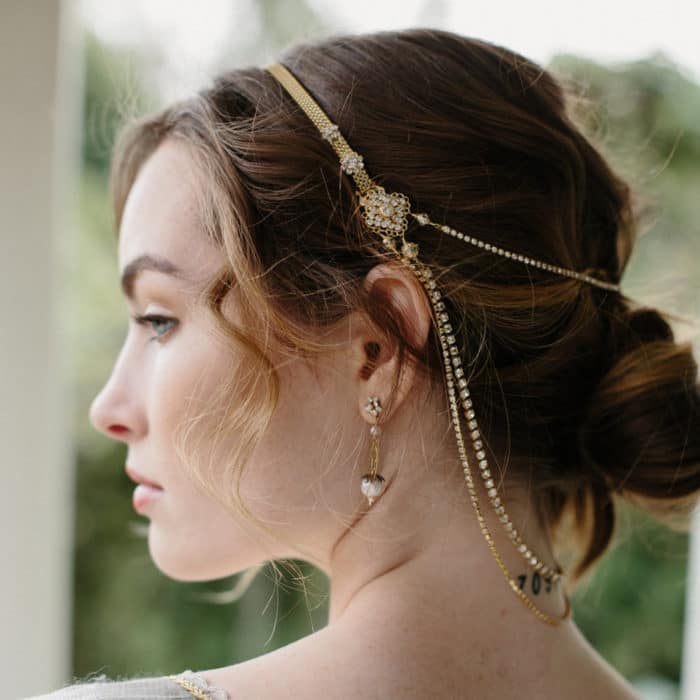 For a romantic, vintage style try the Gold Mesh Bridal Hair Chain by Erica Elizabeth Design  Photo credit: Meghan K. Sadler
Pearl and Rhinestone Wedding Hair Halo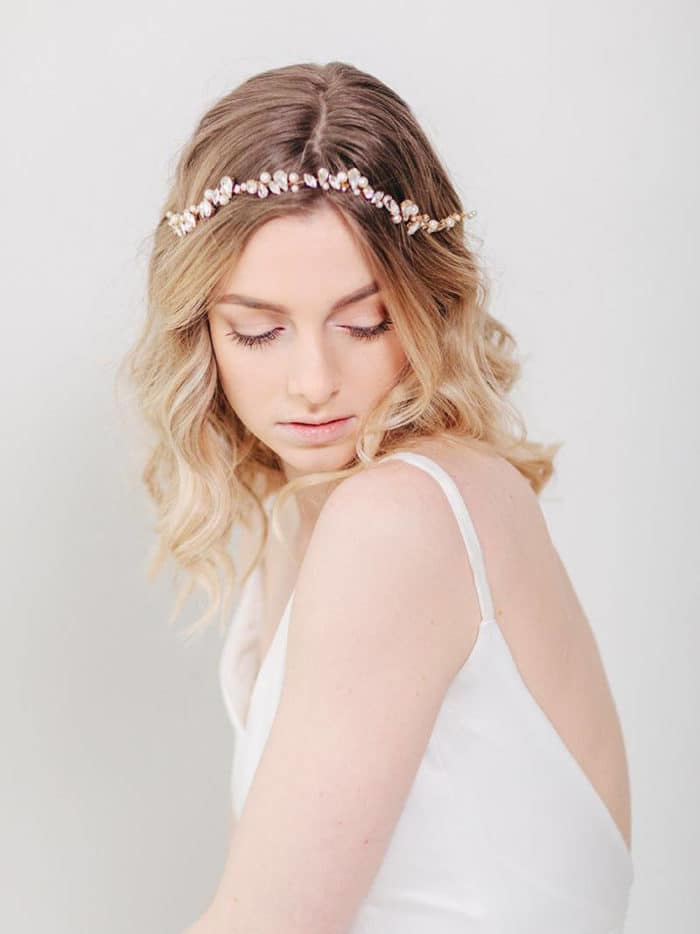 A pretty pearl and rhinestone band with a romantic flair.'Dione' Rhinestone Headband by Davie and Chiyo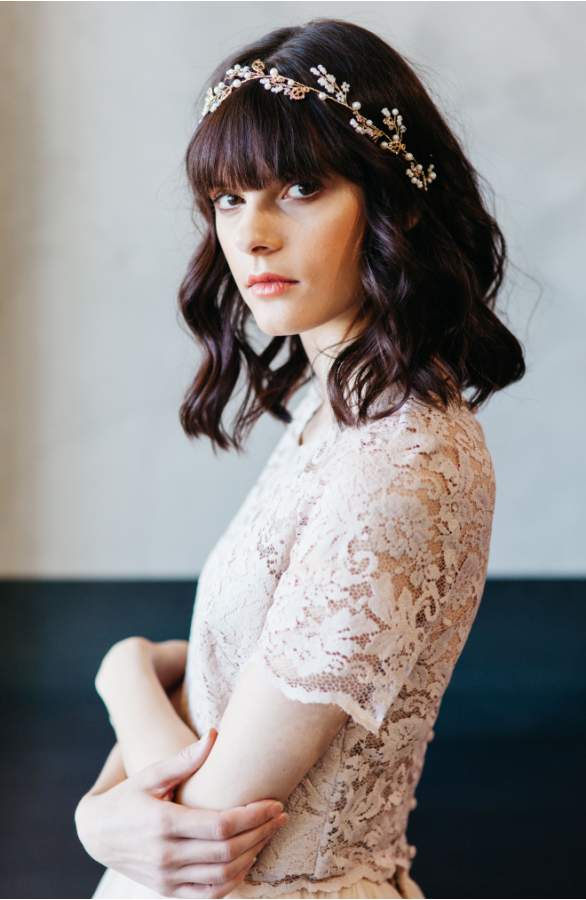 For the nature-lover, a leafy Faux Pearl and Crystal Gold Wedding Headband by J - Picone from Nordstrom
Rose Gold Bridal Headband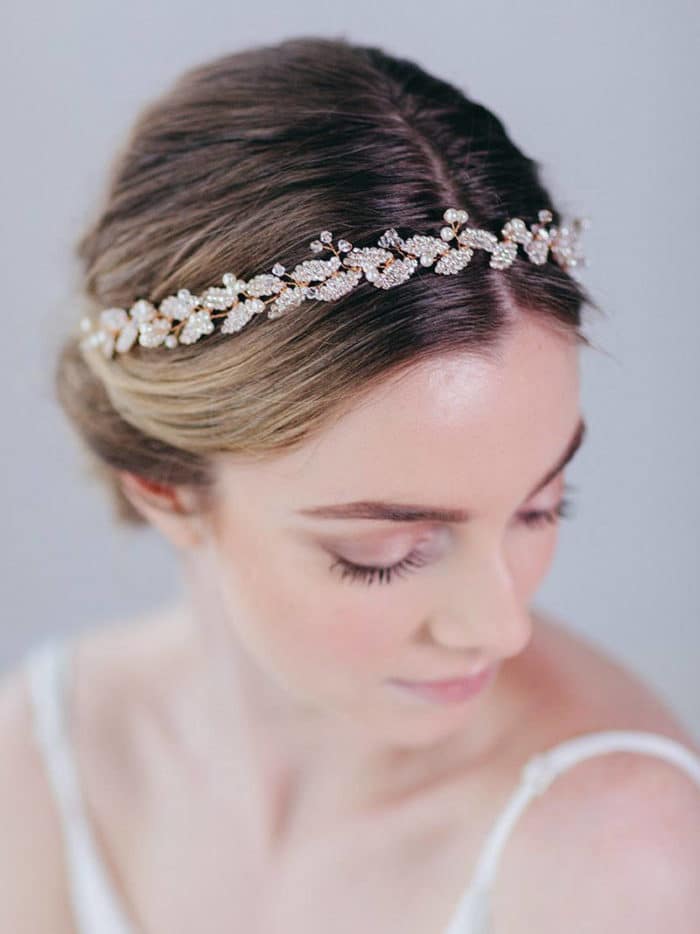 A goddess-like leaf rose-gold headband with leaves with blossoming pearly glass buds and crystal beading. Rose Gold Hair Vin by Davie and Chiyo on Etsy
Also check out these related posts about bridal hair accessories, wedding accessories, and wedding veils. Or if you're continuing your search for the perfect bridal headpiece, here are more places to look for great bridal headbands:
Nordstrom's The Wedding Suite
Erica Elizabeth Design on Etsy  
SHOP THE LOOK