Champagne is a rich gorgeous neutral color for a Mother of the Bride or Mother of the Groom to wear. This shopping guide will show you where to find some of the pretties champagne mother of the bride dresses!
Shopping sources on this site use affiliate links, which means this site may earn a commission if you make a purchase from our links.
Champagne Mother of the Bride Dresses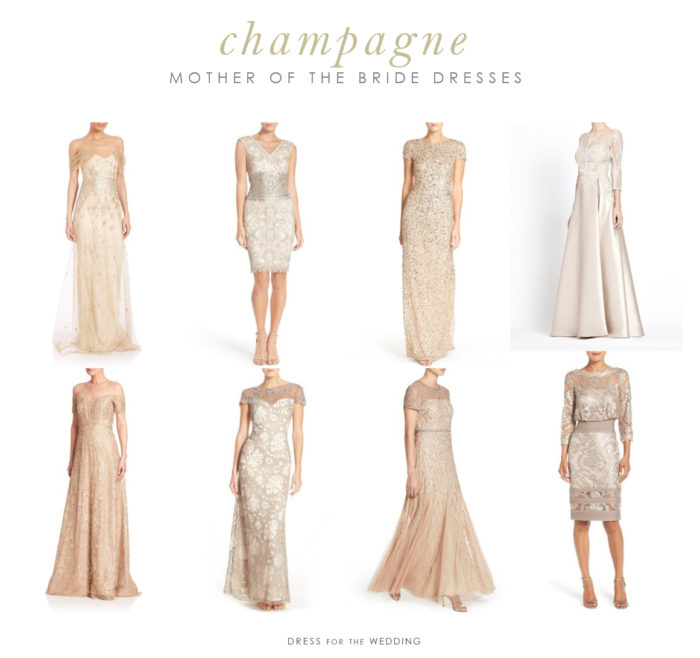 1.Strapless Rene Ruiz Jacquard Gown 2. Sequin Lace Sheath Dress 3. Short Sleeve Champagne Gold Sequin Mesh Gown 4. Silk Gazar Gown 5. Off the Shoulder Rene Ruiz Gold Gown 6. Jacky Embroidered Illusion Gown 7. Beaded Mesh Gown 8. Sequin Lace Blouson Dress
Here are our latest picks for champagne mother of the bride dresses. Neutral gold, beige, taupe, and champagne gowns for the mother of the bride or mother of the groom! Also check out gold mother of the bride dresses.


'Is it Ok for the Mother-of-the-Bride to Wear a Champagne Color Gown?'
This weekend I had a chance to attend my 3rd Your Wedding Experience and host Style for the Aisle. One of the questions that was posed to me by a group there, was, 'Is it ok for the Mother-of-the-Bride or to wear a champagne color gown?'
While champagne, gold, and neutral gowns have long been an accepted and often encouraged color for Mother-of-the-Bride and Mother of the Groom dresses, and I agree that they are almost always a suitable choice.
But sometimes there are exceptions. In this case, the bride's gown was going to be a neutral color - which is a wedding dress color trend that is happening more and more often! We frequently bridal gowns offered in pale blush, shades of beige, deep ivory, and sometimes gold, so in these cases, having mothers of the bride/grooms wearing the same colors can be tricky! If a champagne gown might too closely mimic the bride's gown own ivory or neutral gown, or the bride feels uncomfortable with this color for anyone else in the wedding might not be the best choice. However, that's really a very special case. In all other cases, I say go for it!
Mother of the Bride Dresses in Champagne and Gold
In most other scenarios when the bride or brides are wearing ivory or white, a champagne, taupe, or gold gown for the mothers in the wedding is a perfect choice. Champagne comes in a range from light beige to a deeper taupe or gold, so it's easy to select one that would never be confused for a bridal gown, so keep that in mind when shopping! A deeper gold or taupe champagne-colored dress for mothers is a wonderful choice because this shade goes with a range of colors, works in nearly any season, and is always an elegant selection! T
Picking the Best Champagne Colored Dresses and Gowns for the Mother of the Bride or Groom
Wondering how to pick the right champagne gown? Sticking with an shade that leans to silver or gold, with undertones of beige or taupe rather than something that could be construed as ivory is always a good idea! In general, any styles and color choices in the mothers' dresses or gowns should be after a discussion about the color scheme, and chosen in consultation with the couple, as well with communication between the mothers on both sides of the aisle about what they intend to wear. ( Usually, the mother of the bride chooses a color and style first.) Other than that, it's just a matter of silhouette and style, and level of formality. I've found a range that I think you'll love!
Shopping sources in this post use commission links
Formal Length Gowns

Short Cocktail Length Champagne Dresses for the Mother of the Bride/Groom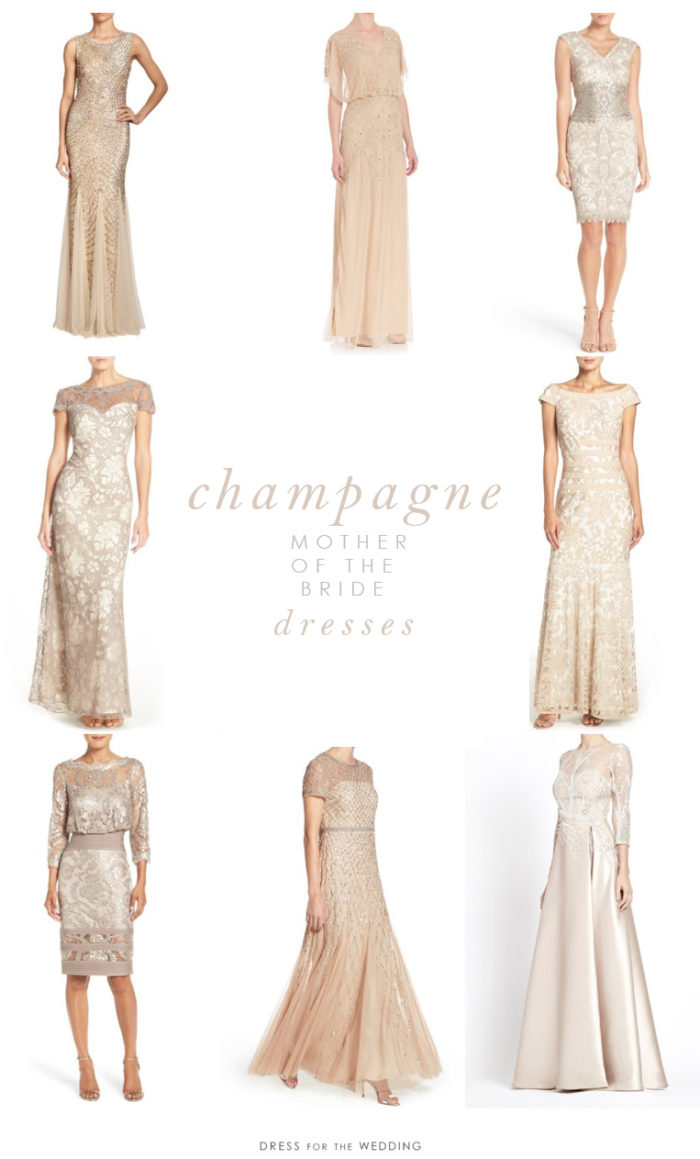 1 Sequined Godet Gown 2. Flutter Sleeve Beaded Gown in Light Gold 3. Sequin Lace Sheath Dress 4. Jacky Embroidered Illusion Gown 5. Textured Lace Mermaid Gown 6. Sequin Lace Blouson Dress 7. Beaded Mesh Gown 8 Silk Gazar Gown with Sequin Overlay by Teri Jon