'Is it ok for the Mother-of-the-Bride or to wear a champagne color gown?'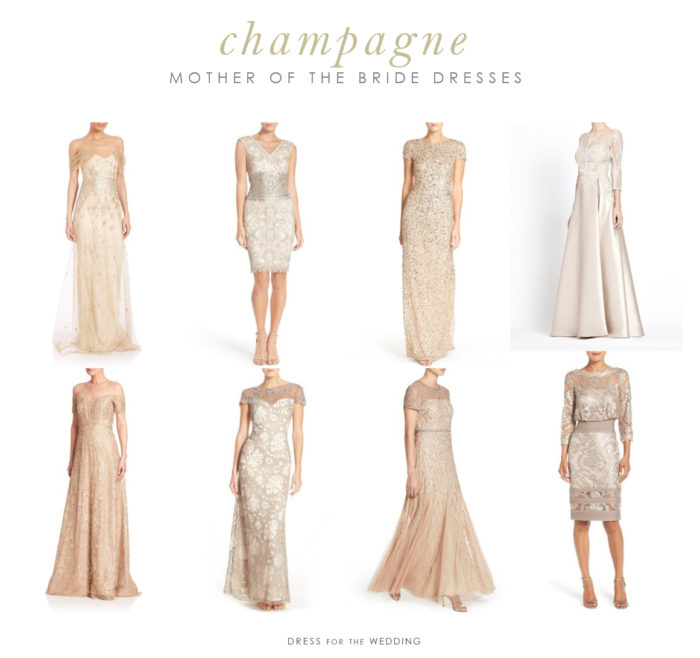 1.Strapless Rene Ruiz Jacquard Gown 2. Sequin Lace Sheath Dress 3. Short Sleeve Champagne Gold Sequin Mesh Gown 4.  Silk Gazar Gown 5. Off the Shoulder Rene Ruiz Gold Gown 6.  Jacky Embroidered Illusion Gown 7. Beaded Mesh Gown   8.  Sequin Lace Blouson Dress
'Is it ok for the Mother-of-the-Bride or to wear a champagne color gown?'
Champagne mother of the bride dress ideas and shopping sources in this post use affiliate links where noted in italics.
This weekend I had a chance to attend my 3rd Your Wedding Experience and host Style for the Aisle. One of the questions that was posed to me by a group there, was, 'Is it ok for the Mother-of-the-Bride or to wear a champagne color gown?'
While champagne, gold, and neutral gowns have long been an accepted and often encouraged color for Mother-of-the-Bride and Mother of the Groom dresses, and I agree that they are almost always a suitable choice.
But sometimes there are exceptions.  In this case, the bride's gown was going to be a neutral color – which is a wedding dress color trend that is happening more and more often! We frequently bridal gowns offered in pale blush, shades of beige, deep ivory, and sometimes gold, so in these cases, having mothers of the bride/grooms wearing the same colors can be tricky! If a champagne gown might too closely mimic the bride's gown own ivory or neutral gown, or the bride feels uncomfortable with this color for anyone else in the wedding might not be the best choice. However, that's really a very special case.  In all other cases, I say go for it!
In most other scenarios when the bride or brides are wearing ivory, white or another near-champagne color, a champagne, taupe, or gold gown for the mothers in the wedding is the perfect choice. Champagne comes in a range from light beige to a deeper taupe or gold, so it's easy to select one that would never be confused for a bridal gown. A champagne colored dress for mothers is a wonderful choice because this shade goes with a range of colors, works in nearly any season, and is always an elegant selection! To help you in your dress search, I've compiled more than 20 dresses I think would suit Mothers of Brides/Grooms, in both in short cocktail lengths and longer formal styles.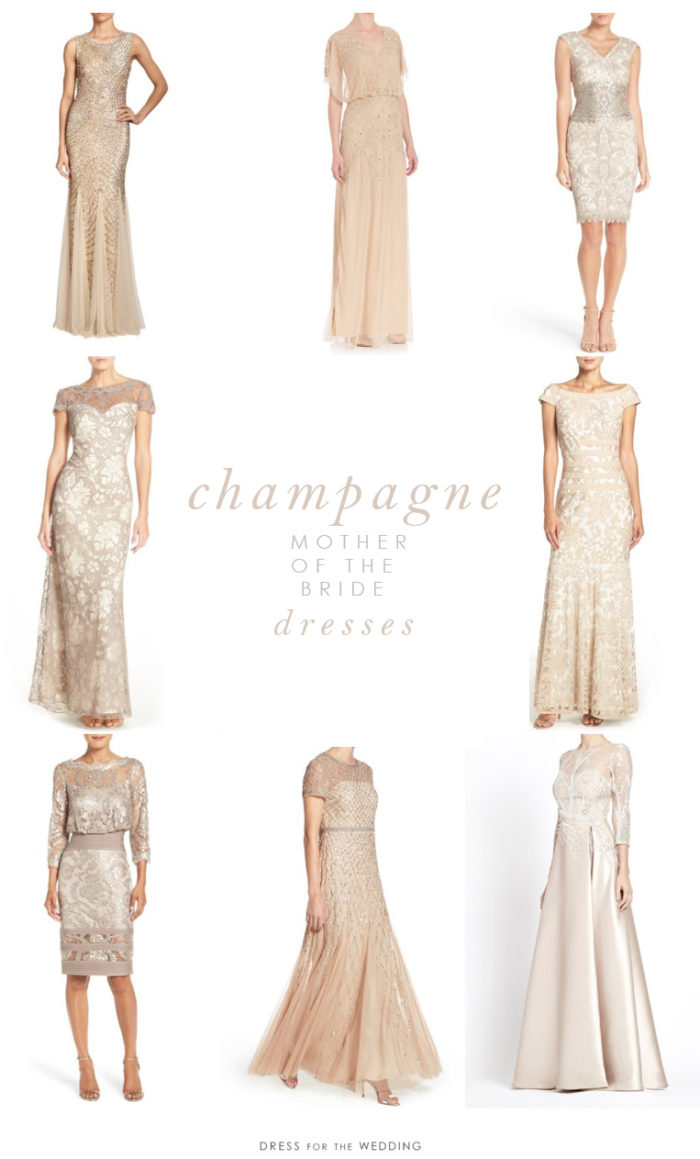 1 Sequined Godet Gown 2. Flutter Sleeve Beaded Gown in Light Gold 3. Sequin Lace Sheath Dress 4. Jacky Embroidered Illusion Gown 5. Textured Lace Mermaid Gown 6. Sequin Lace Blouson Dress 7. Beaded Mesh Gown 8 Silk Gazar Gown with Sequin Overlay by Teri Jon
Note: some of the picks further down the page may now be out of stock, so here are some updated picks!

Picking the Best Champagne Colored Dresses and Gowns for the Mother of the Bride or Groom
Wondering how to pick the right champagne gown? In general, any styles and color choices in the mothers dresses or gowns should be after discussion about the color scheme, and chosen in consultation with the couple, as well with communication between the mothers on both sides of the aisle about what they intend to wear. ( Usually, the mother of the bride chooses a color and style first.) Other than that, it's just a matter of silhouette and style, and level of formality. I've found a range that I think you'll love!
Formal, Full-Length Champagne Gowns for Mother of the Bride/Groom
 
Eliza J Embellished Floral Ballgown from Nordstrom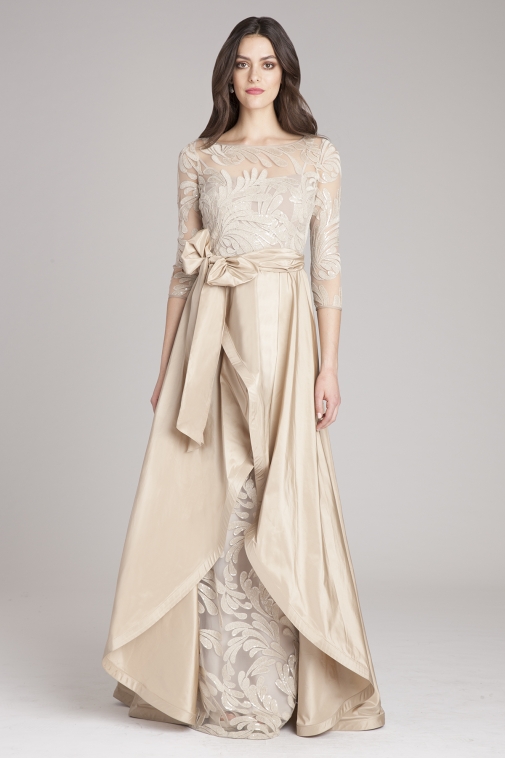 Lace Gown with Taffeta Overlay by Teri Jon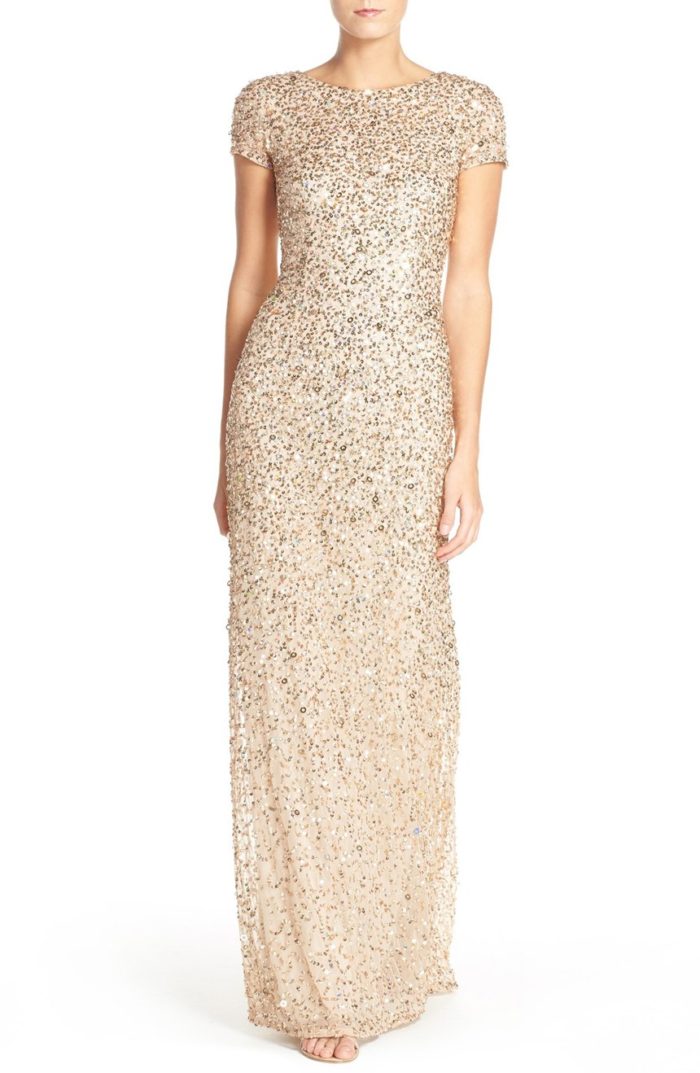 Short Sleeve Champagne Gold Sequin Mesh Gown by Adrianna Papell from Nordstrom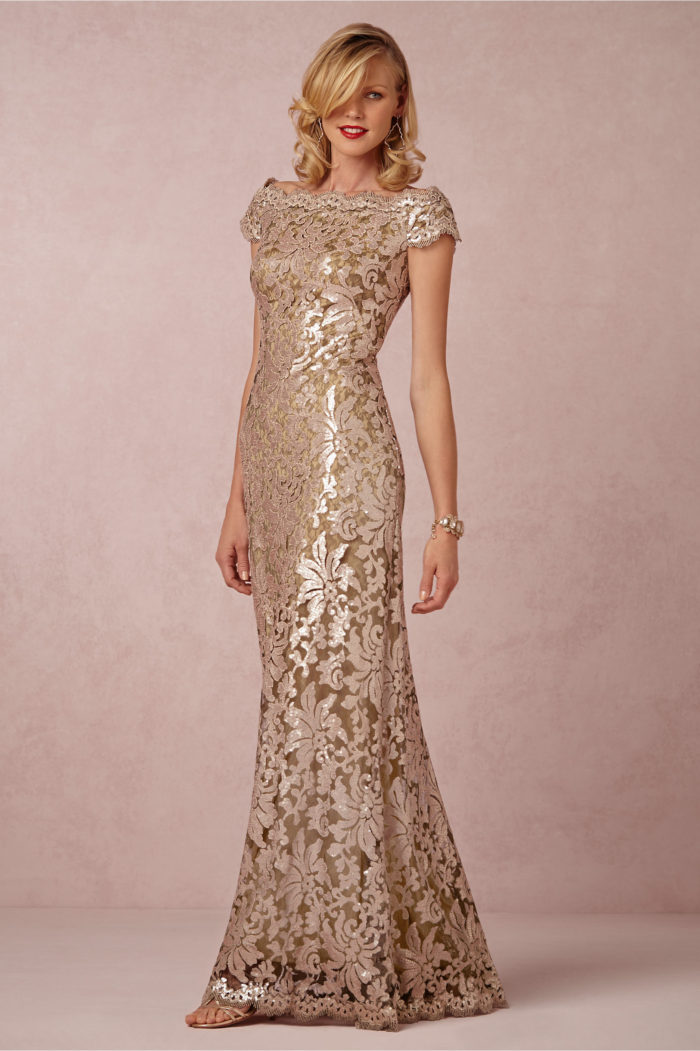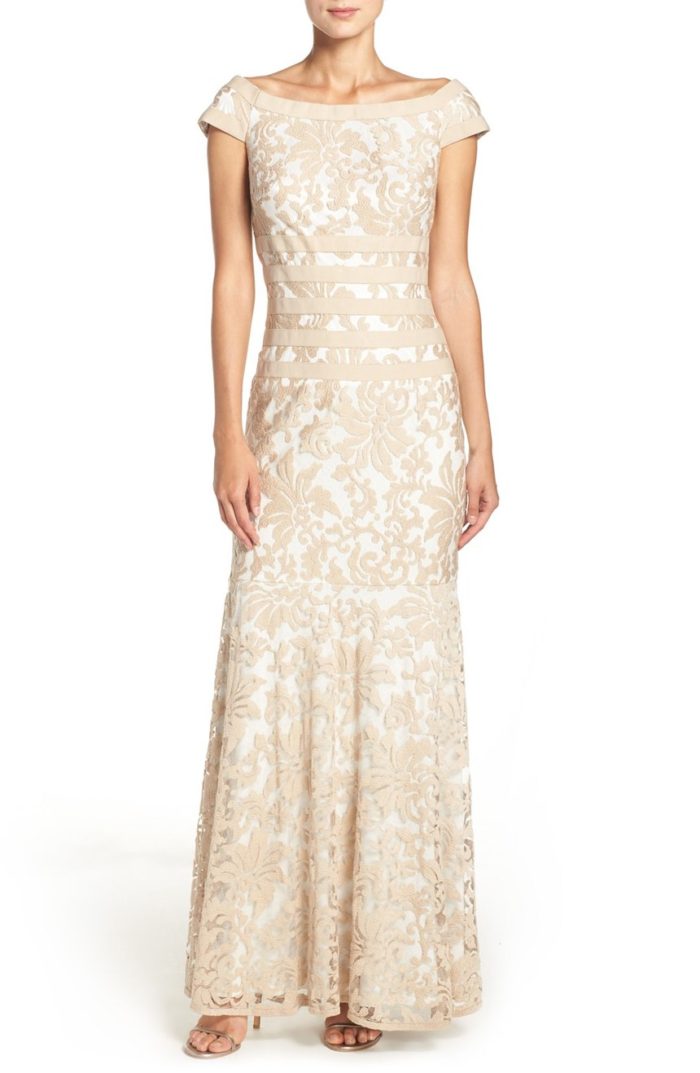 Tadashi Shoji Textured Lace Mermaid Gown from Nordstrom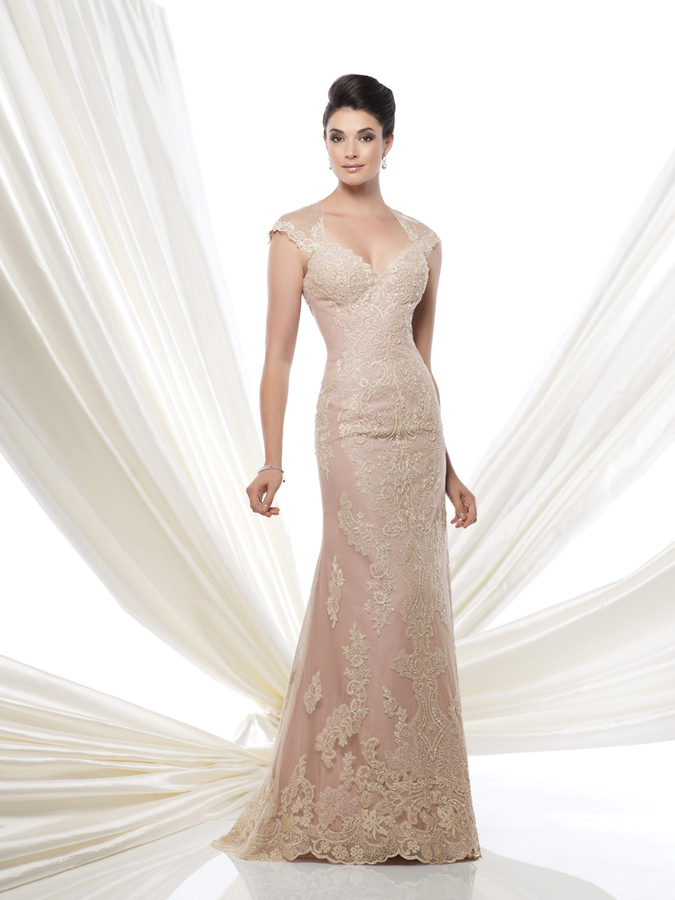 Ivonne by Mon Cheri from Couture Candy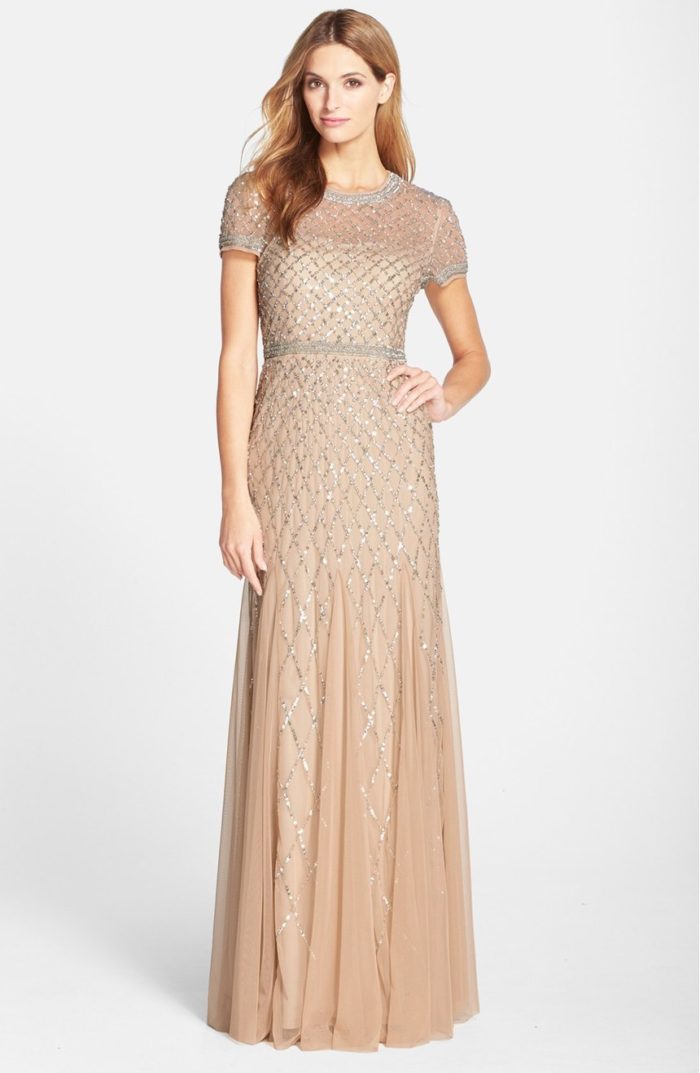 Beaded Mesh Gown in Champagne by Adrianna Papell
Another view of the movement in the skirt of this gown: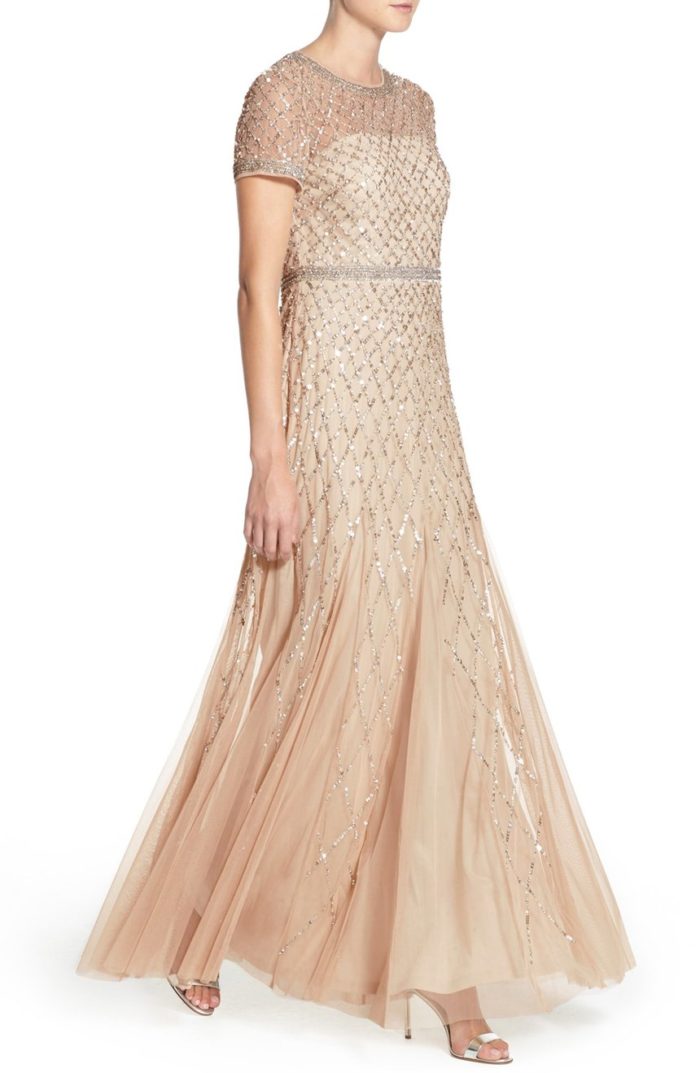 Beaded Mesh Gown in Champagne by Adrianna Papell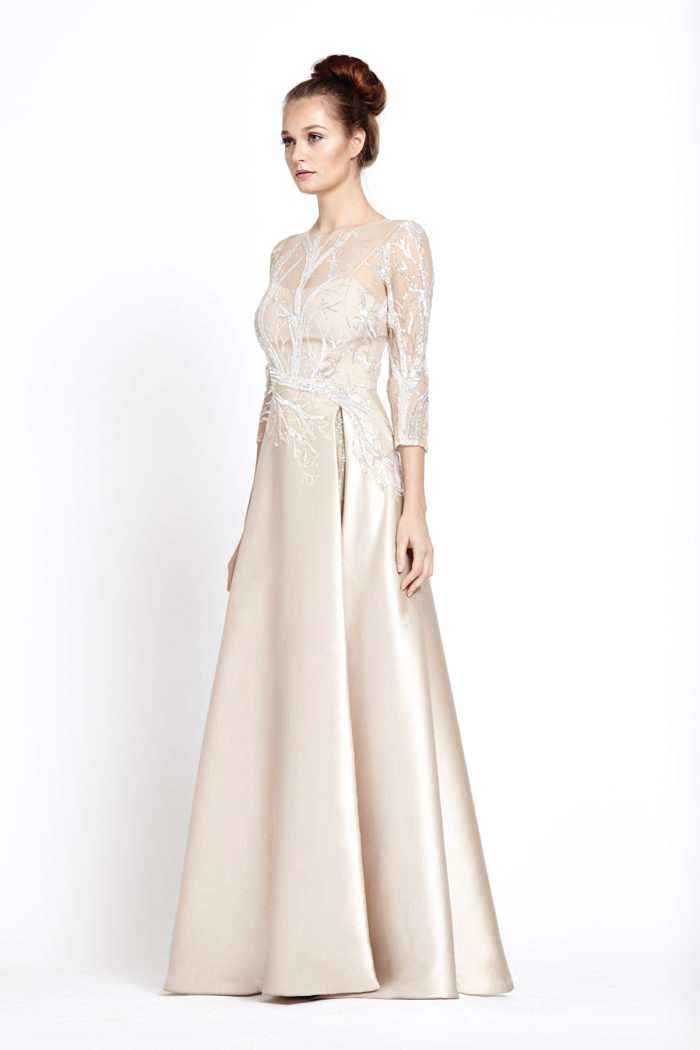 Silk Gazar Gown with Sequin Overlay by Teri Jon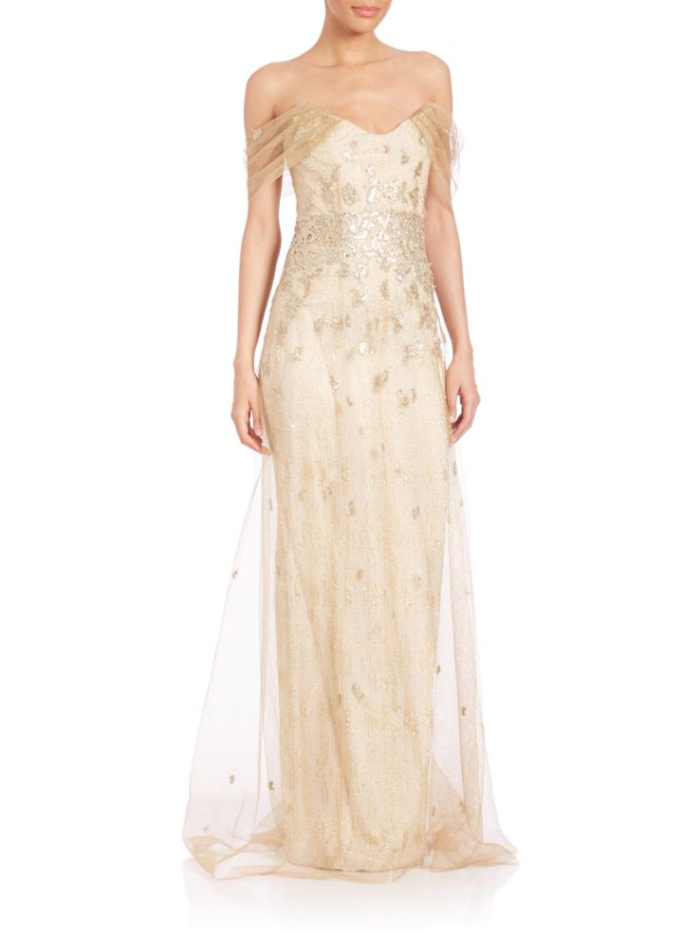 Rene Ruiz Strapless Jacquard Gown from Saks Fifth Avenue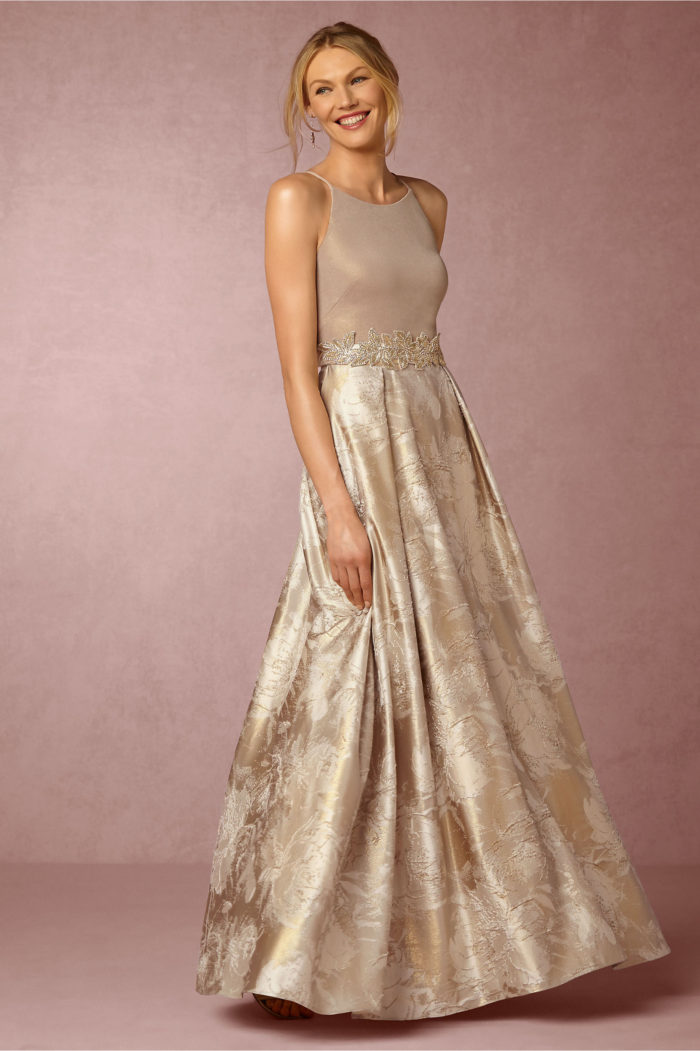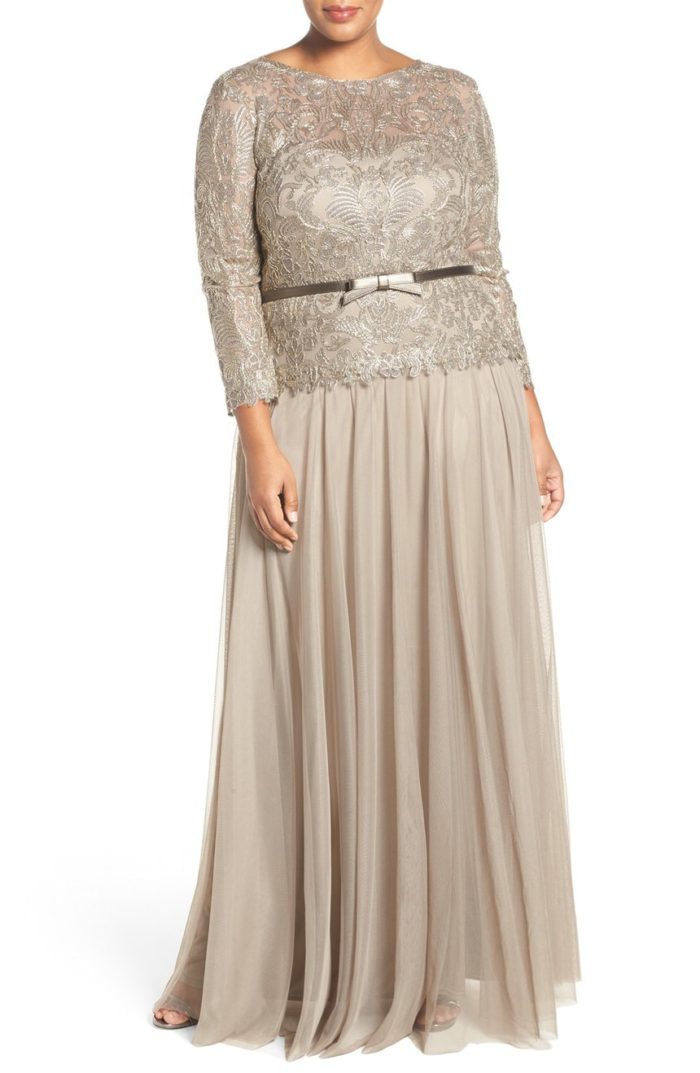 Belted Lace and Tulle Gown in Plus Size from Nordstrom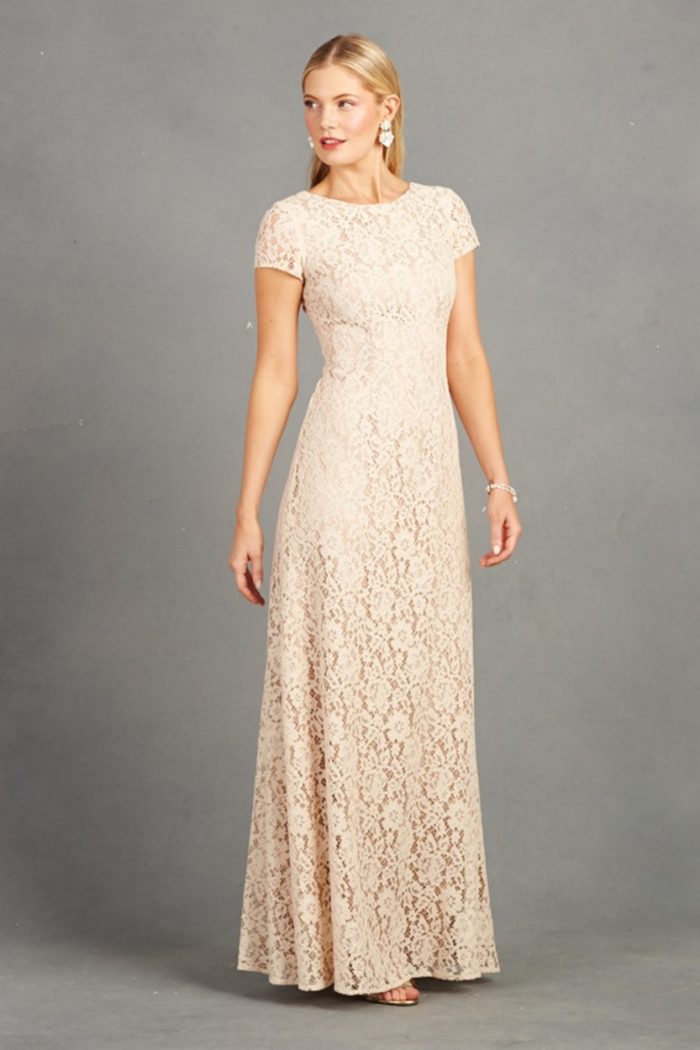 Donna Morgan Cap Sleeve Taupe Lace Dress 'Alice' Gown in Fawn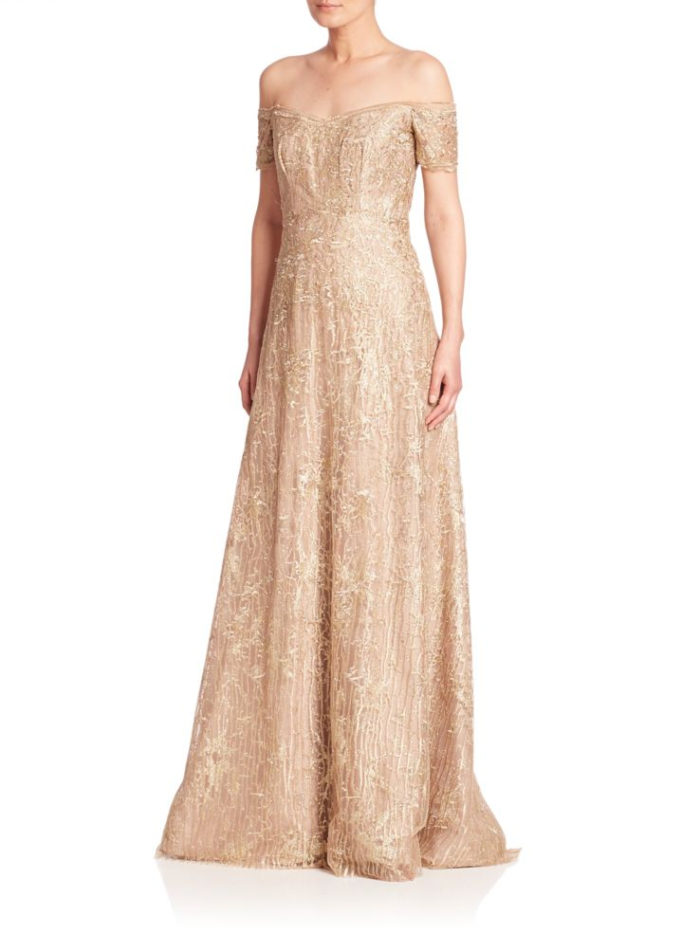 Rene Ruiz Off the Shoulder Gown from Saks Fifth Avenue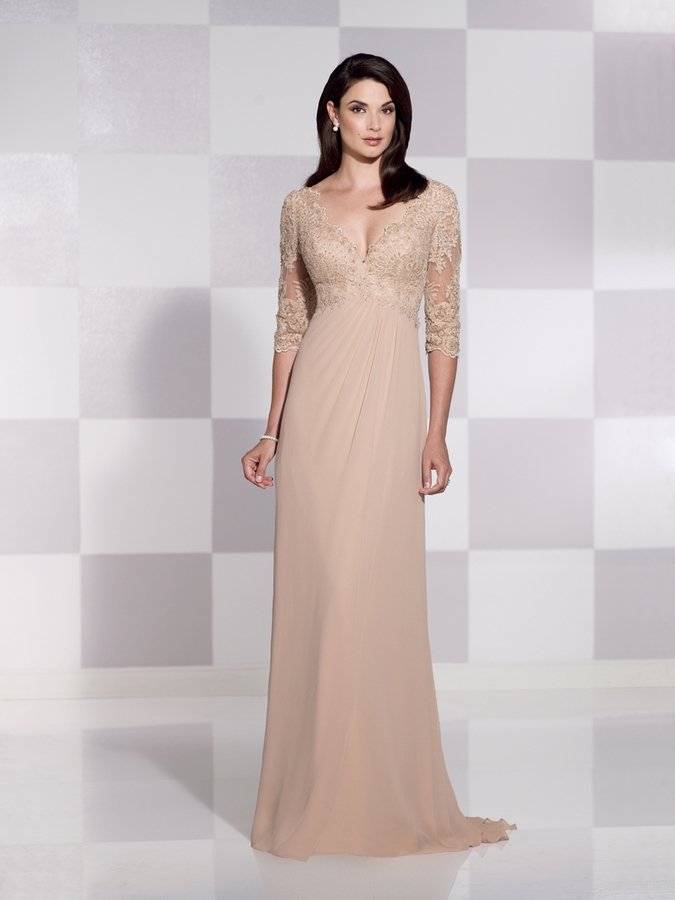 Champagne Gown by Cameron Blake from Couture Candy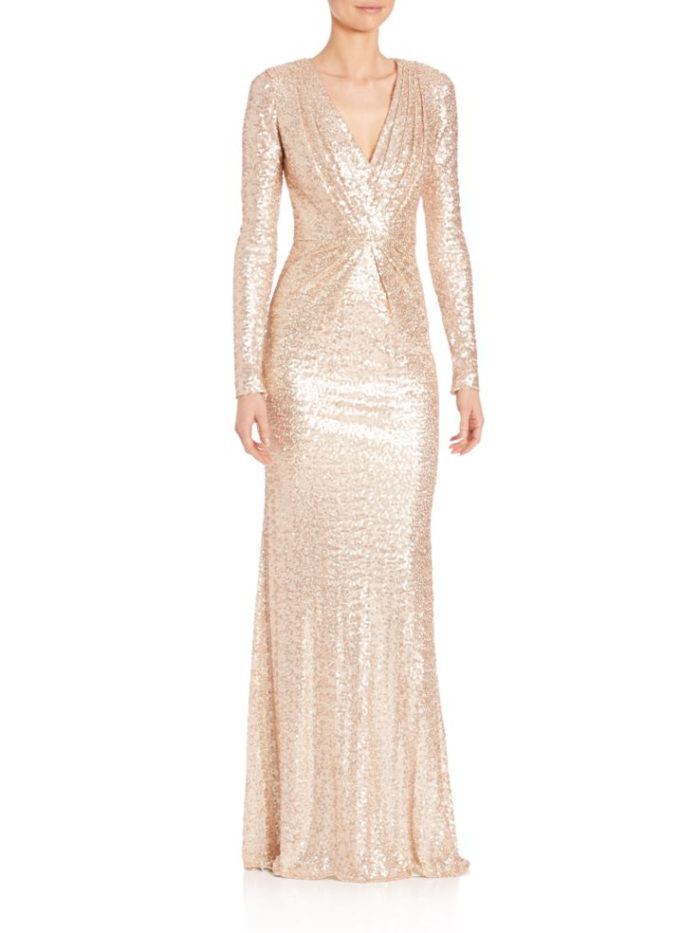 Badgley Mischka Long Sleeve Gown From Saks Fifth Avenue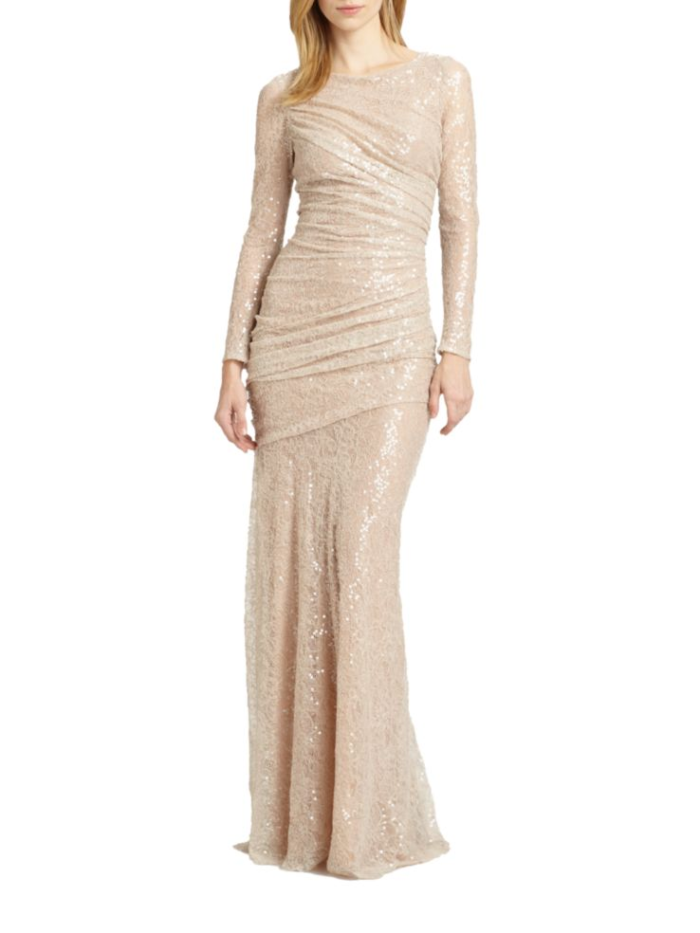 Long sleeve gold gown by Carmen Marc Valvo
Short Cocktail Length Champagne Dresses for the Mother of the Bride/Groom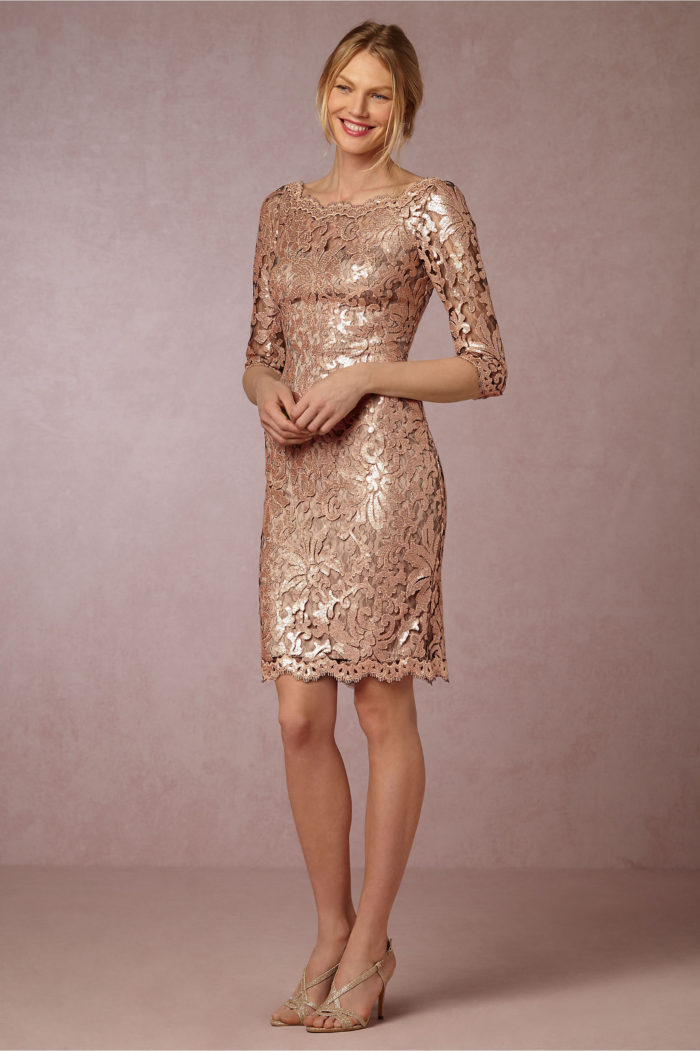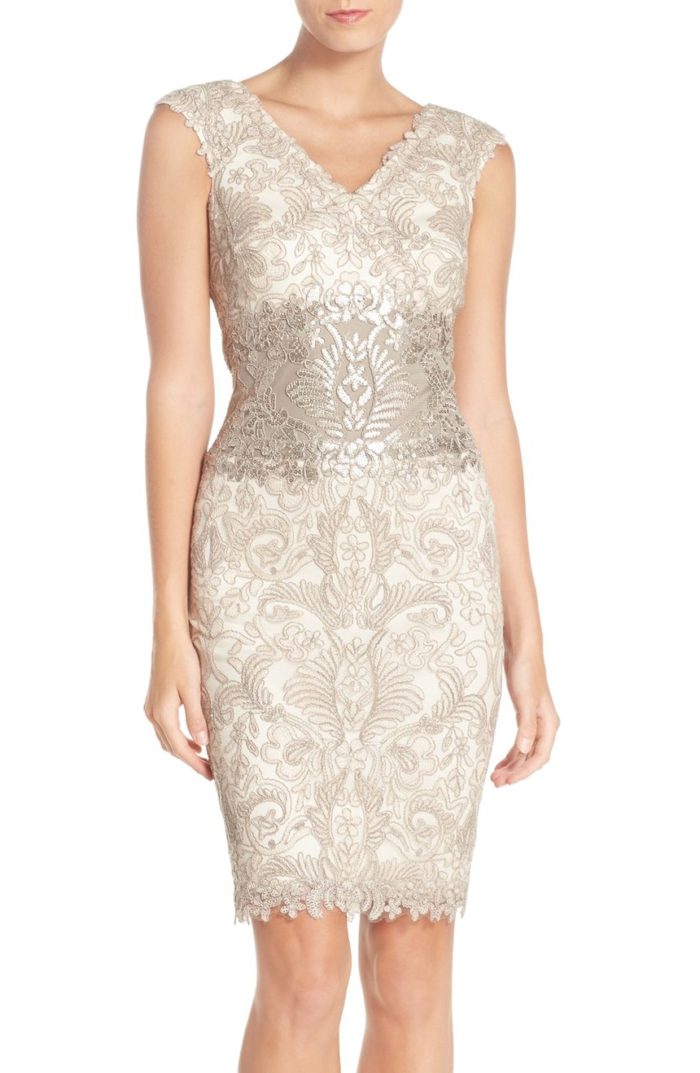 Tadashi Shoji has so many pretty styles like this Sequin Lace Sheath Dress from Nordstrom.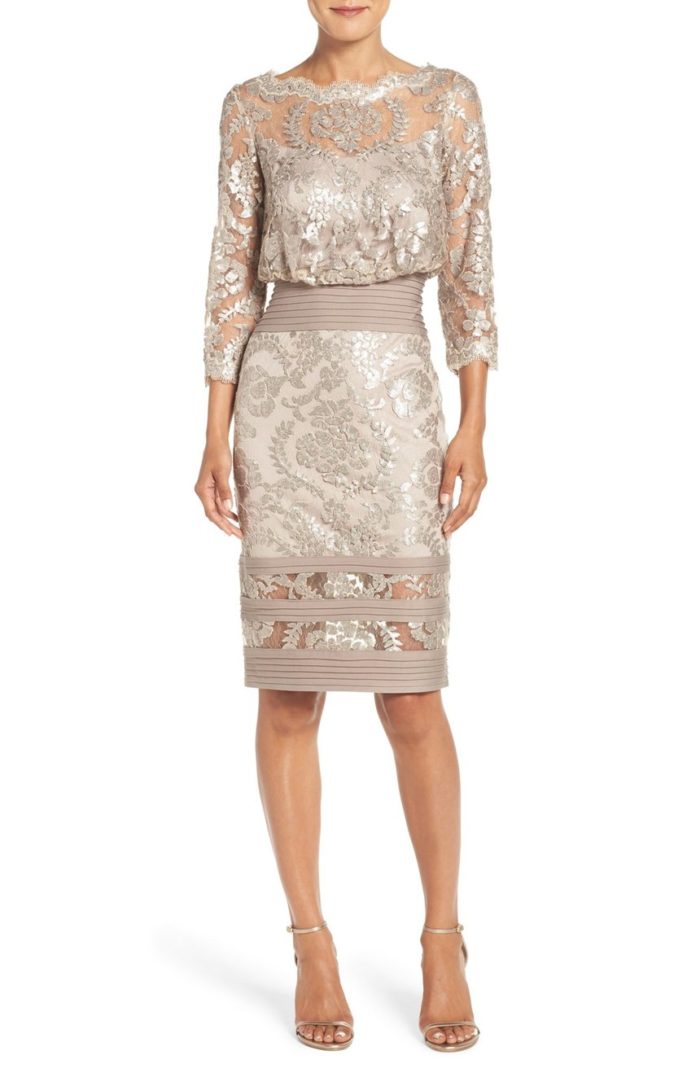 Tadashi Shoji Sequin Lace Blouson Dress from Nordstrom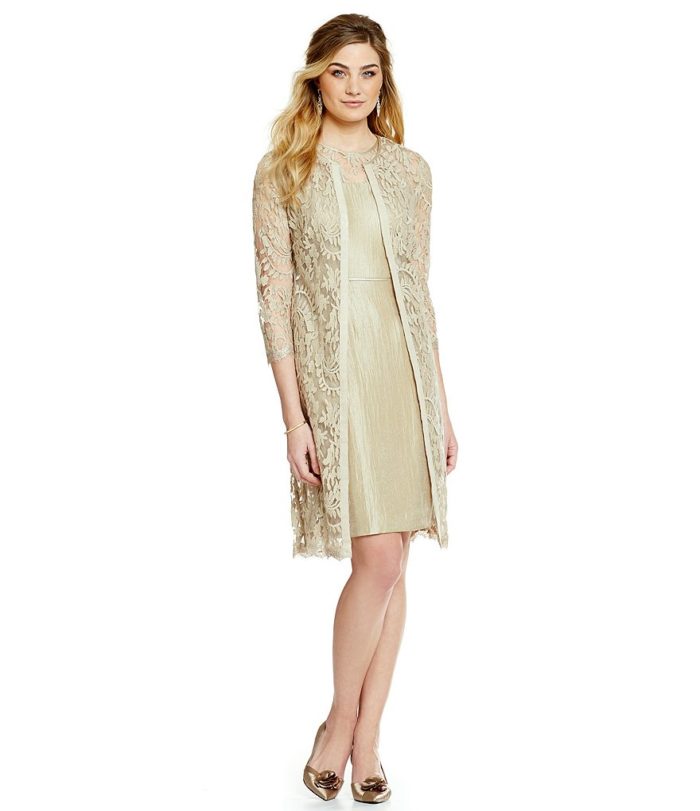 Adrianna Papell 3/4 Sleeve Jacket Lace Dress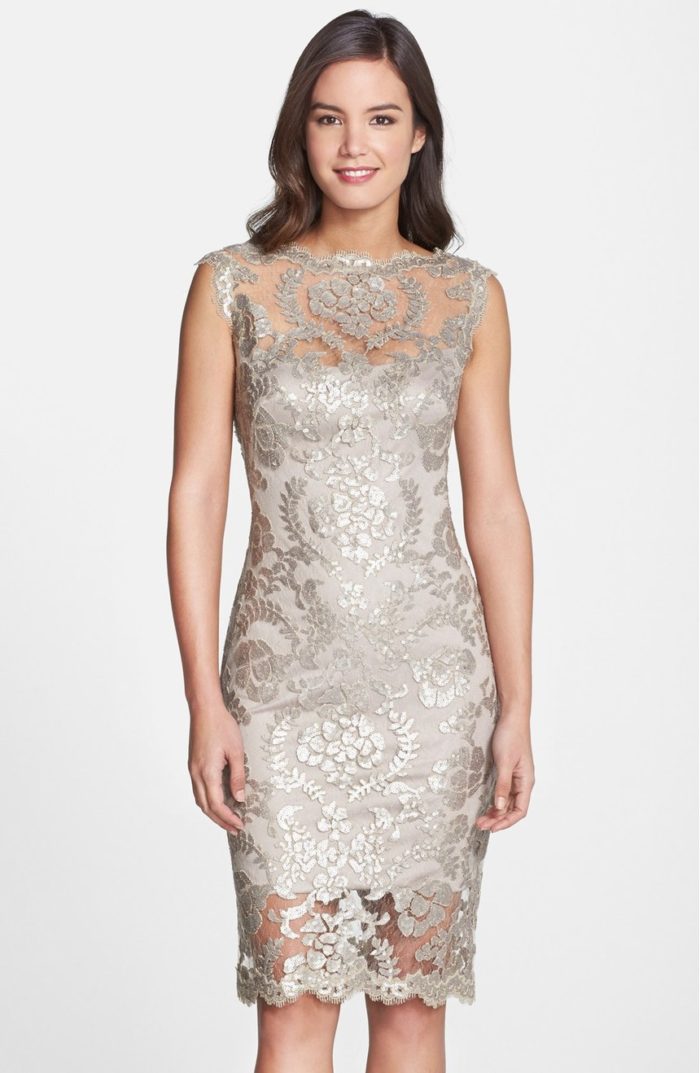 Sequin Illusion Lace Dress by Tadashi Shoji at Nordstrom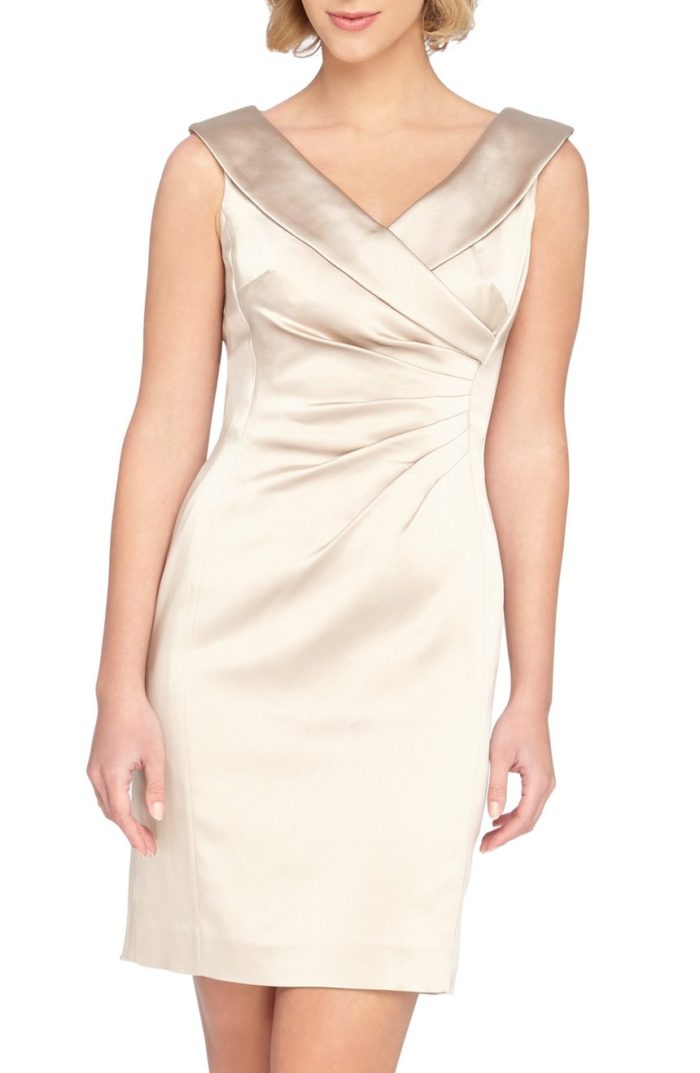 Tahari Ruched Satin Sheath Dress from Nordstrom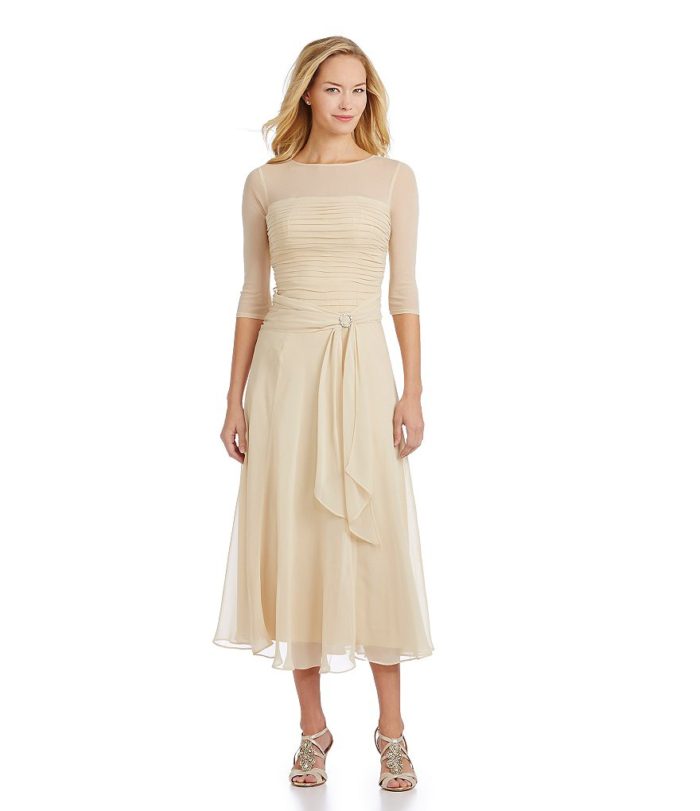 Sangria Shirred Illusion Gown in Champagne from Dillards.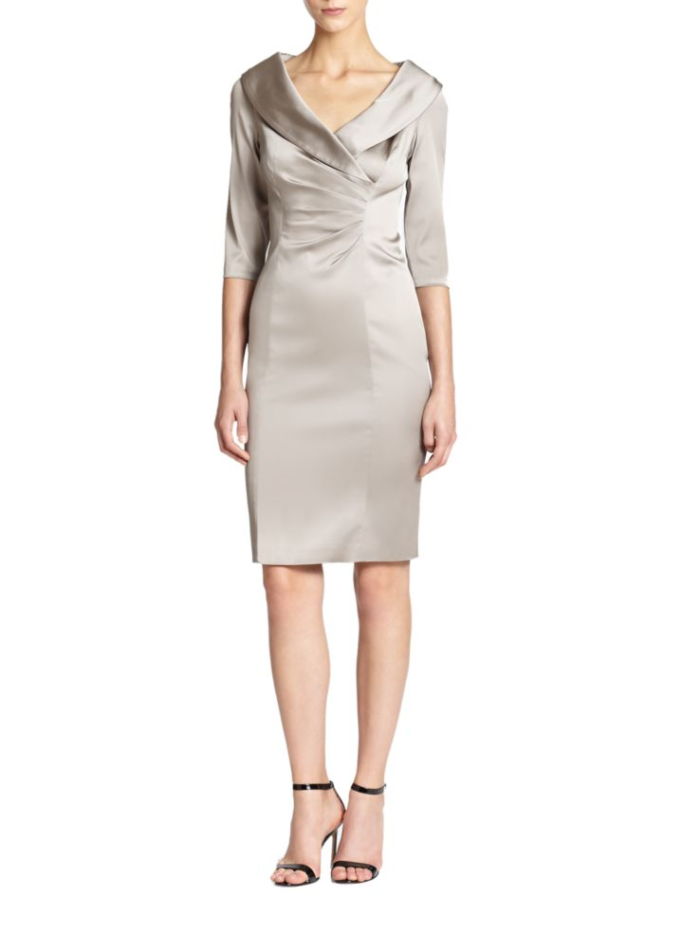 Satin Portrait Collar Sheath Dress by Kay Unger from Saks Fifth Avenue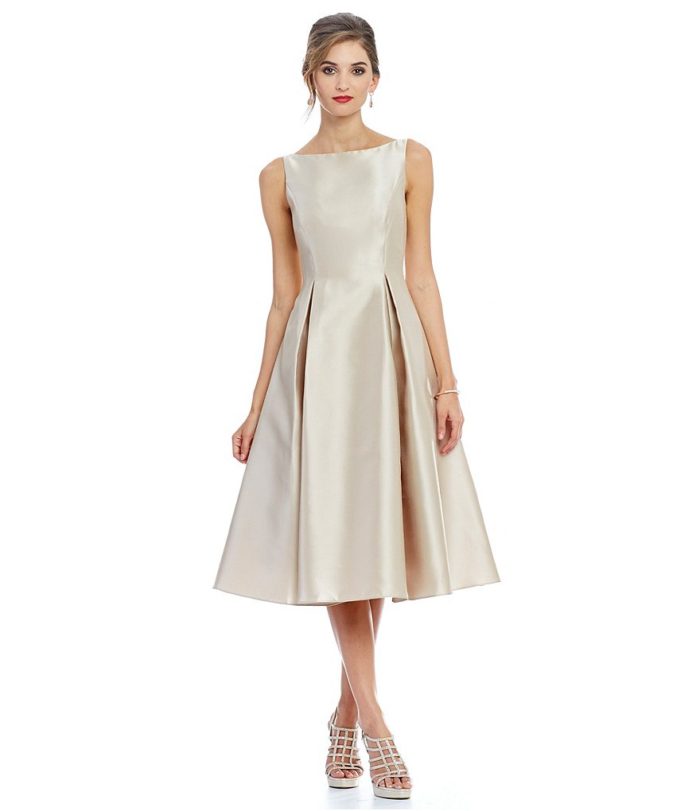 Adrianna Papell Midi Tea Length Satin Dress from Dillards
You might also enjoy these posts:
Neutral Mother of the Bride Dresses
Sequined Mother of the Bride Dresses
Mismatched Neutral Bridesmaid Dresses
Mother of the Bride Style Ideas
Shopping sources in 'Shop the Look' sections and links in italics denote sponsored affiliate links, which mean we may earn a small commission on qualified sales to support this blog.



More style ideas you might enjoy :