Wedding Guest Maternity Dresses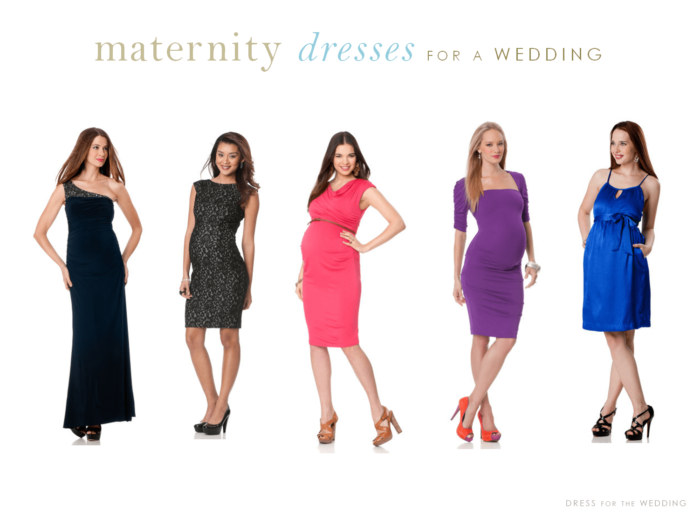 Js Boutique Sleeveless Embellished Maternity Dress in Navy / French Connection Sleeveless Sheath Maternity Dress / /Sleeveless Belted Maternity Dress / Nicole Miller Elbow Sleeve Square Neck Maternity Dress / Sleeveless Empire Waist Maternity Dress
Are you a wedding guest looking for a maternity dress to wear to a wedding? You're not alone! I get many visitors and reader requests from ladies searching for maternity dresses to wear to a wedding. Congratulations to all of you who are expecting both a baby and have a fun wedding to attend!
Since I only have one page dedicated to that topic, I thought I'd better beef up my maternity dress picks - after all, what if you're all headed to the same wedding, or have more than one wedding or special event to attend?
Above is a quick line up of some of the pretty dresses I found at A Pea in the Pod, where Rosie Pope, Nicole Miller and others are designing some great maternity looks. If I didn't find one that works for you, check out these other picks. I also find Destination Maternity has some wonderful dresses in tons of colors, price ranges, and for every level of formality. UK based Tiffany Rose is another great option. They specialize in high-end special occasion maternity, are a favorite of celebrities moms-to-be, and they ship worldwide.
Are you in a wedding and looking for a maternity dress to wear ?  In addition to Tiffany Rose, my friends at Aria, and Dessy make some amazing maternity options. Check them out!
Also read my other Maternity Dress picks from this earlier post.


More Maternity Dress Posts here!