Finding a wedding guest maternity dress that suits the dress code, weather, venue, and your personal style can sometimes be a challenge. Fortunately, there are so many stores that specialize in maternity clothes and who make it a point to add special occasion maternity styles to the mix.
Stylish Maternity Dresses for Wedding Guests
In this shopping guide, we'll show you our picks for maternity dresses for semi-formal, formal, and daytime weddings. We hope that this will help expectant moms who are trying to balance comfort and style while dressing up for a special event.
Shopping sources in this shopping guide use affiliate links, which means this site may earn a commission if you make a purchase from our links.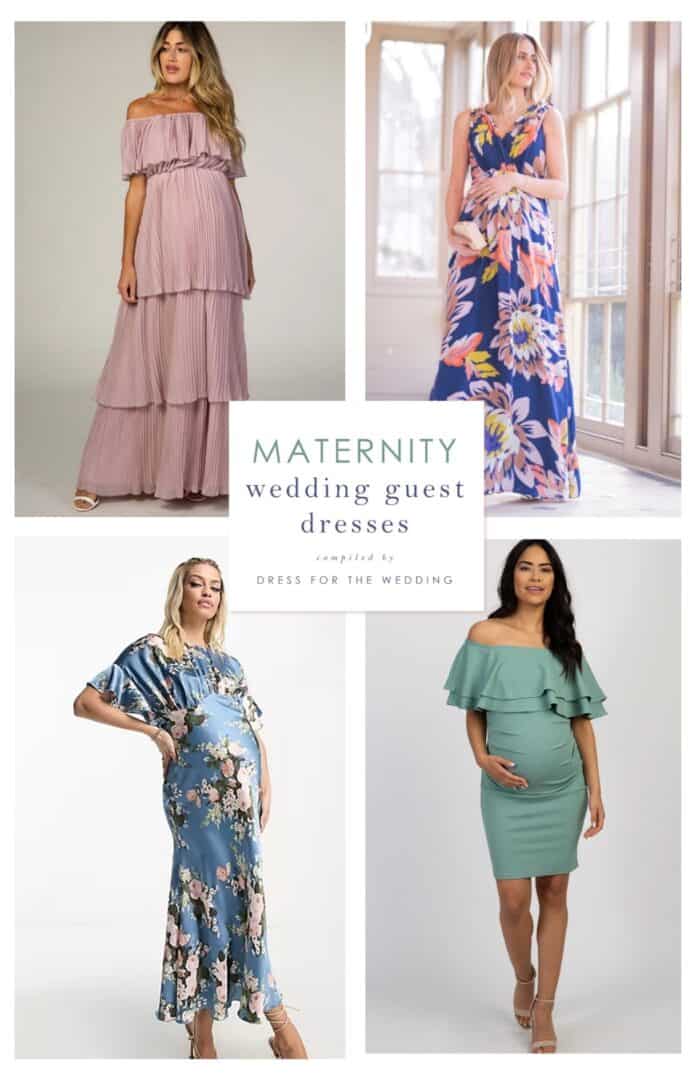 Shopping and Image Sources: 1. Mauve Pleated Tiered Maternity Maxi Dress from Pink Blush 2. Seasonal Blooms Maternity and Nursing Maxi Dress from Seraphine 3. Satin Floral Maternity Midi from Asos 4. Sage Off the Shoulder Fitted Maternity Dress from Pink Blush
Best Maternity Styles for Wedding Guests
Here are a few of our favorite wedding guest maternity dresses and where to wear them.
Maternity Dress for a Daytime Wedding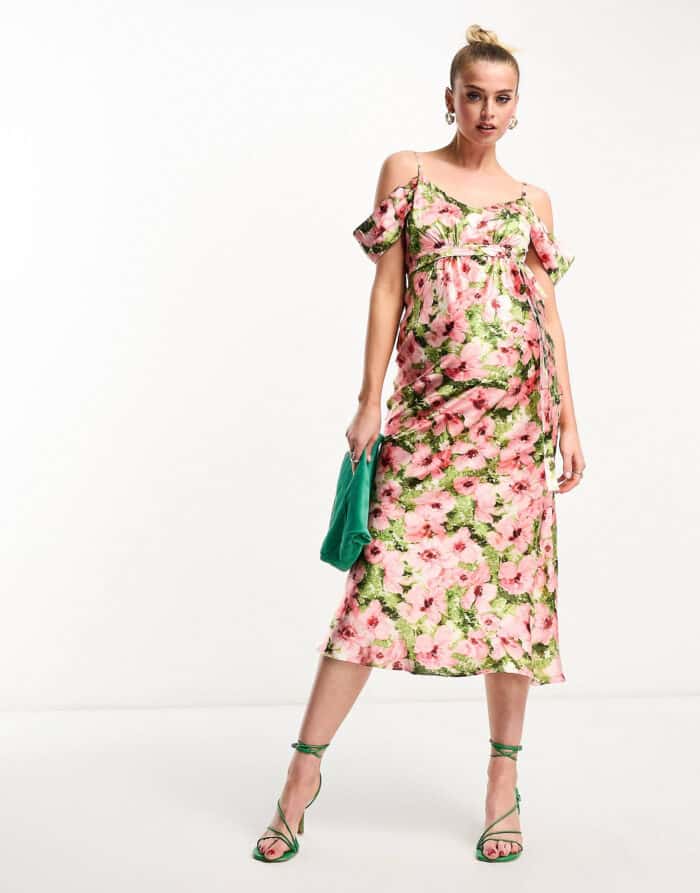 This floral print off-the-shoulder style is ideal for a day or afternoon wedding. The all-over floral print is lovely and the v-neckline and tie waist allows for flexibility in fit. Hope and Ivy Cold Shoulder Floral Midaxi Maternity Dress from Asos
Classic Wedding Guest Maternity Dress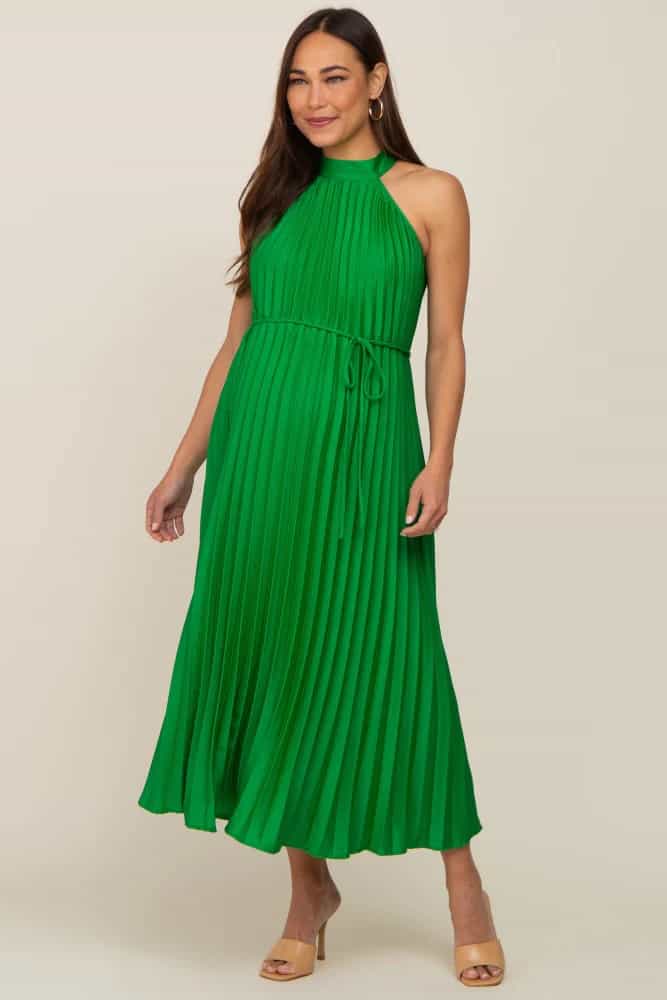 This elegant pleated style is exactly what we'd wear for comfort even if we weren't pregnant. The pleats both accent and flex to fit a growing bump. The gorgeous color and midi length make this a classic for any wedding at any time of day. Green Pleated Maternity Dress from Pink Blush
Maternity Dress to Wear to a Fall Wedding

We love this mauve color with foil details and long sleeves for an outdoor fall wedding. Metallic Channel Detail Maternity Dress from Asos
Maternity Dress for a Rustic Wedding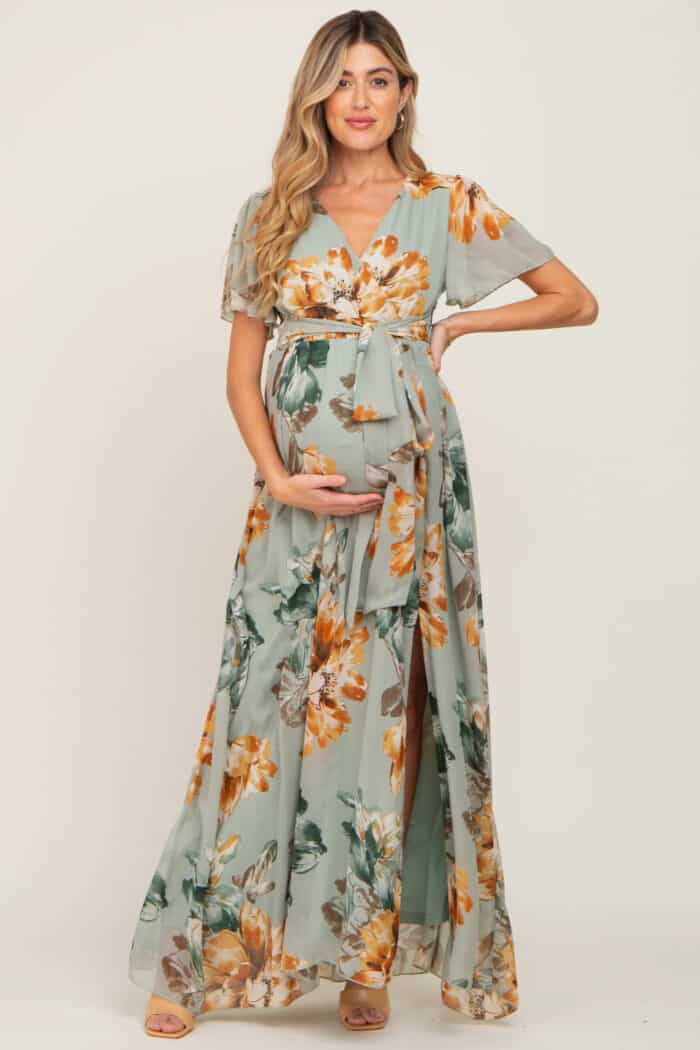 Heading to an outdoor barn wedding, rustic boho wedding, or winery wedding? A maxi wrap dress is the perfect thing to wear. This is the Sage Chiffon Short Sleeve Wrap Maxi Dress from Pink Blush Maternity.
Black Tie Wedding Bump Friendly Gown

This formal style has tiered layers that work for nearly any stage of pregnancy. It's a bump-friendly gown that works for the most formal events. Blue Tiered Gown from Rent the Runway.
Designer Look-A-Like Maternity Dress

This dress looks exactly like one of the top dresses we've seen for wedding guests by V. Chapman, but in a maternity version and at a fraction of the price! Mauve Smocked Fitted Dress from Pink Blush
Maternity Dress for a Beach Wedding

This bold print makes for a great style to wear to an outdoor beach wedding.
More Maternity Dresses for Wedding Guests

These dresses feature mainly semi-formal and dressy casual styles. If you need a more formal gown, check out formal maternity dresses for wedding guests!
Where to Find Fashionable Special Occasion Maternity Dresses
If you're still searching for just the right dress, we have some suggestions on where the best online stores for maternity special occasion clothing.,
Asos has an amazing selection of maternity dresses for every day and for special occasions, and even a few for bridesmaids. If you want to keep up with the current trends in your pregnancy dressing
Birdy Grey is one of our favorite spots for bridesmaid dresses in general and dresses under $100. They also offer special occasion maternity styles that are ready to ship
Pink Blush Maternity has one of the best selections of maternity clothing we've seen including their special occasion dresses. They specialize in photoshoot dresses, but almost all of their special event styles are perfect for wedding guests.
Amazon has probably been a spot you've done a lot of shopping while preparing for your new arrival, and of course, they have some fantastic options for wedding guest dresses and photoshoot dresses.
Lulus is one of the best spots we've found for all the dresses related to weddings, and especially for wedding guest dresses. While Lulus doesn't specifically make maternity dresses so many of their dresses, especially their stretchy dresses, maxi dresses, and bridesmaid dresses are bump-friendly styles. There are many examples in the reviews of some of the dresses of these gowns being worn to weddings as bridesmaid dresses, as guest dresses, or worn for maternity photo shoots.
Astr the Label is showing some gorgeous floral and satin wedding guest dresses, and so many of their styles are considered to be very accommodating of bumps!
Baltic Born isn't a maternity company per se, but they offer gorgeous maxi and wrap dresses with design details like empire waists, smocking, and split skirts that are decidedly bump-friendly. We think you'll love their maxi dress styles that you can wear to special events both before, during, and after your pregnancy.
Seraphine offers upscale maternity dresses, including formal gowns and semi-formal wedding attire. This company was said to be a favorite of Catherine, Princess of Wales during her pregnancies. You'll understand why when you see these classic, and tasteful styles.
Rent the Runway knows that it just makes sense to rent some maternity clothes. To that end, they offer special occasion maternity dresses, and even more "bump friendly" dresses.
Nordstrom carries a few maternity lines for day-to-day style like Kimi and Kai, Motherhood Maternity and as well as elevated formal styles from the designer maternity label Tiffany Rose
Macy's has some fantastic offerings for maternity dressing. They carry labels like Ripe Maternity, Motherhood Maternity, Ingrid and Isabel, and lots of special occasion styles.
Azazie is known for having great bridesmaid dresses and within that wonderful options for maternity bridesmaid dresses. If you have a need for a formal maternity gown, and want to choose the color, then Azazie can be a great option. Many of the dresses are under $150. They are customized fit, and the non-rush order styles make take a bit longer to create and arrive, but are well worth it once they do!
Sugarlips Is a shop that we're new to featuring but a quick scan of their site shows that they have lots of Bump friendly maxi dress styles and stretchy dresses that will be wonderful choices for maternity wedding guest dresses. They seem to specialize in bright floral prints, which makes these a natural choice for summery beach weddings.
A Pea in the Pod specializes in designer maternity dresses and tasteful pieces and maternity workwear. The designer gowns are unique and sure to get compliments!
Show Me Your Mumu has a fantastic beachy boho style for the mom-to-be. And if you're in a wedding, you'll be able to find some great bridesmaid dress options.
Picking Bump-Friendly Dresses
By this point in your pregnancy, you may have already discovered the styles that work best for you.
As you may have found, there are some specific styles that are found in traditional dresses that are also bump-friendly.
For fabrics, you'll want to look for a dressy stretch jersey, stretch crepe, and heavy weigh scuba fabrics, or dresses that have ruching that allows for expansion.
Wrap-style dresses, dresses with an empire waist, loose maxi dresses, flowing layered styles, and some full-skirted styles may work as well!
Necklines are important as well. V necks and surplice style dresses offer give in the neckline and bodice, and styles with wrap ties or buttons that can be worn for nursing postpartum are great choices.
Our tip is to check out some reviews. Usually, these bump-friendly picks have several reviews of mothers-to-be who have found dresses that worked for them- and see what has worked for others!
Selecting styles of dresses will fit you and several stages of your pregnancy and perhaps post-pregnancy as well, helps make sure it's not a dress you wear once.
Bump-Friendly Wedding Guest Dresses
Here are some of the bump-friendly dresses we have found for wedding guests. These are also great post-partum options, especially those with necklines that are nursing-friendly.

Have a great time at the wedding, and congratulations on your soon-to-be-here new arrival!
More Ideas for Re-Wearing Special Occasion Maternity Dresses
If you're doing a family or pregnancy photoshoot, you might have the opportunity to get several wears out of a dress that suits many stages, since you can make a wedding guest dress work as your go-to special event and photo dress.
You may also want to consider passing along special event maternity dresses to others who can use them. As we mentioned above, lots of retailers' dresses aren't specifically labeled maternity dresses, but that can be a good thing! The flexible fit of these styles often means they can be worn both before, during, and after your pregnancy.
How to Accessorize a Maternity Outfit for a Wedding Guest
While most of the accessories you'll want to choose are similar to that of any wedding guest outfit, you may want to pay close attention to the footwear.
If your feet feel fine with wearing your dressy shoes or usual heels, then go for it, However, if you want a lower profile option, perhaps opt for a low or kitten-heel shoe.
Block heel sandals are another great option for combining stability and dressy looks, and they are ideal for anything outdoors where you might have to stand in grass or traverse rocky terrain. Wedges also provide a lot more stability and comfort, just opt for a low pair, since they also can be ankle turners.
Dressy flats are always another option. Or, if you have a pair of sandals or flip-flops that you want to bring along to change into for dancing, we're sure no one will object!
Add some jewelry that suits your dress, a clutch, or an evening bag, and you'll be ready to head to your next wedding.
Past Features
This section reflects an older part of this post with featured dresses that are likely now out of stock. We keep these images and links here in case you reached this page from one of these pinned images. This post was originally published in September 2012, and updated most recently in August 2023.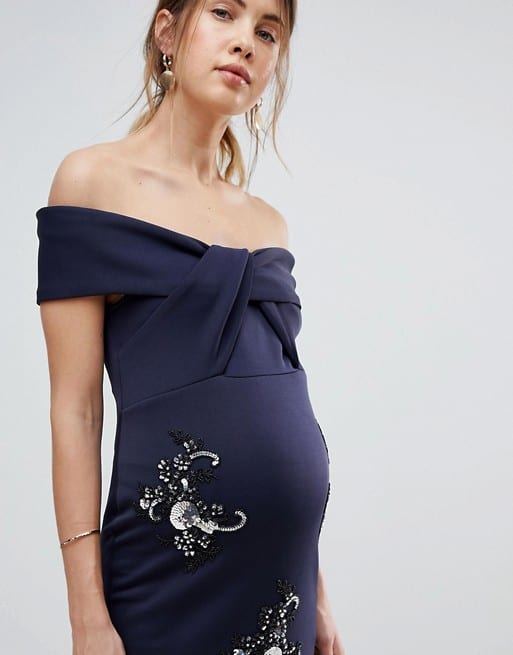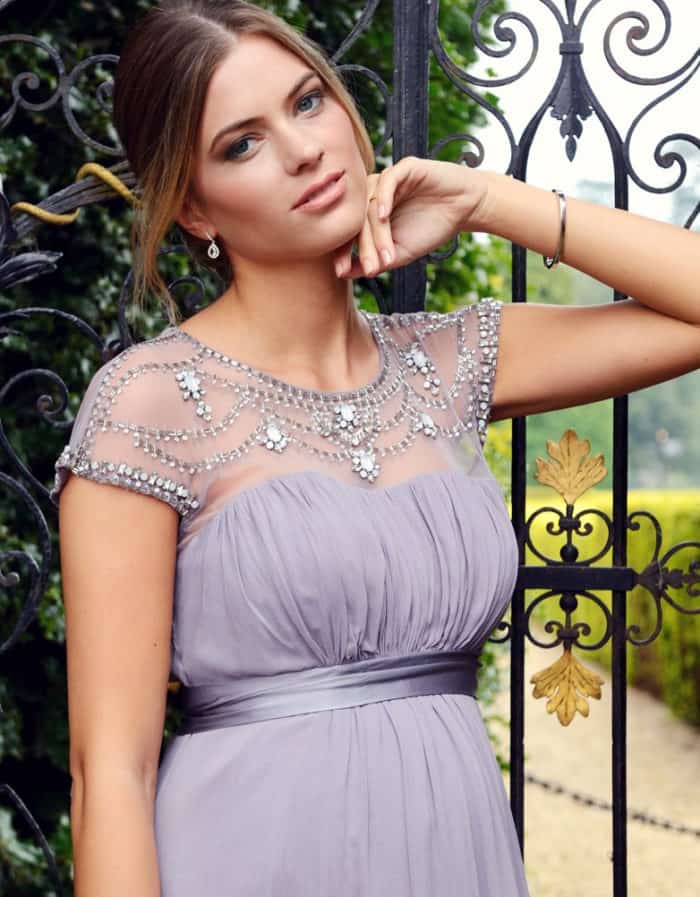 Mauve Beaded Maternity Dress from Seraphine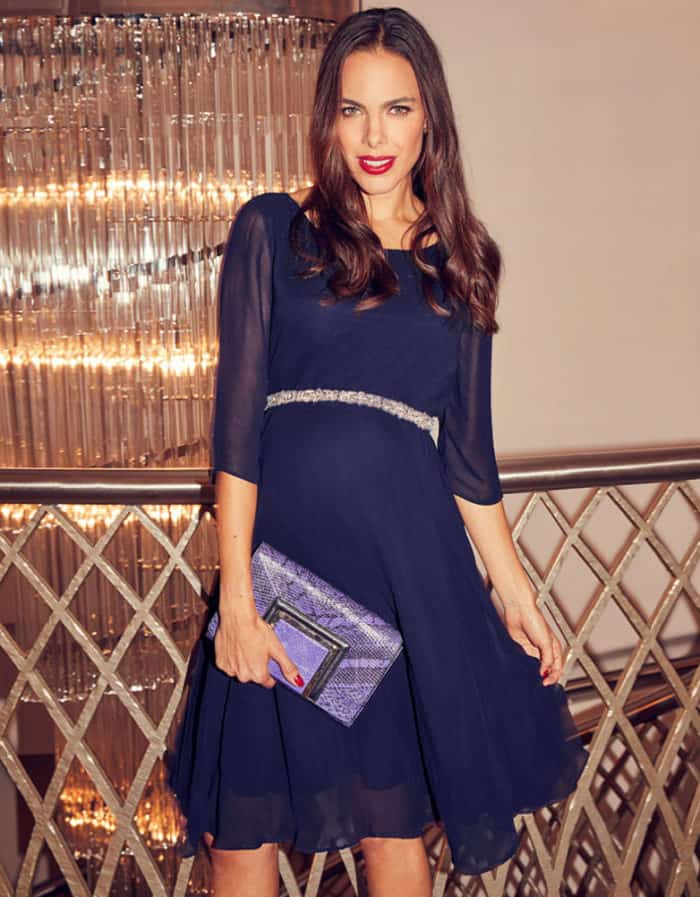 Maternity Dress from Seraphine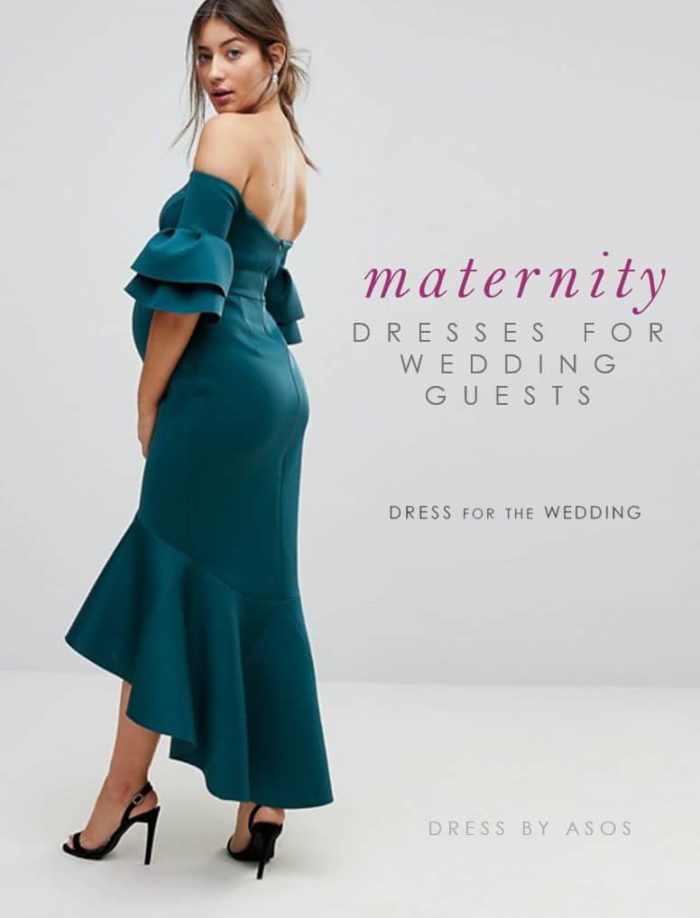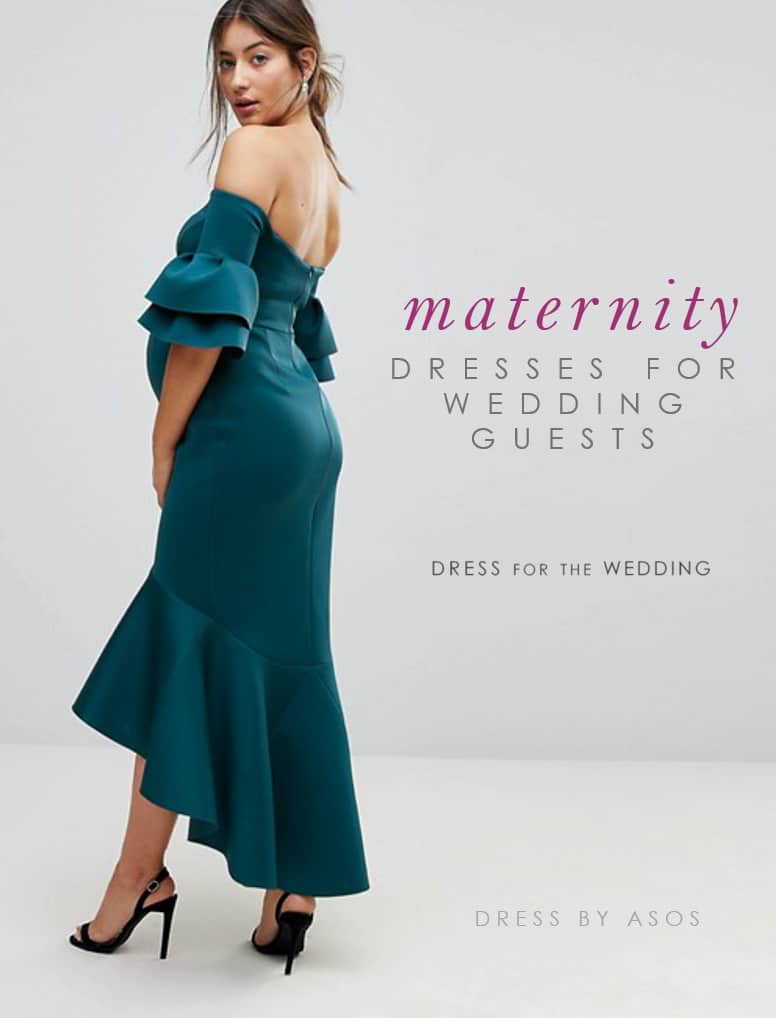 Featured dress: ASOS Maternity PREMIUM Bardot Bodycon Pephem Midi Dress
Below is our original collage, now very out of date!


Dress:
Asos Maternity Dress in Sparkle Print
| Earrings:
Blu Bijox at Max and Chloe
| Bracelets:
Panacea Black, Silver and Gold Bangle Set
from Cusp.com |Shoes:
Lumani Wedge Shoes from Zappos.com
| Clutch:
Nina Margate Clutch in Black and Silver
More style ideas you might enjoy :