Deep Green Evening Gowns for Mothers of the Bride/Groom,  Bridesmaids, of Guests of Black Tie Weddings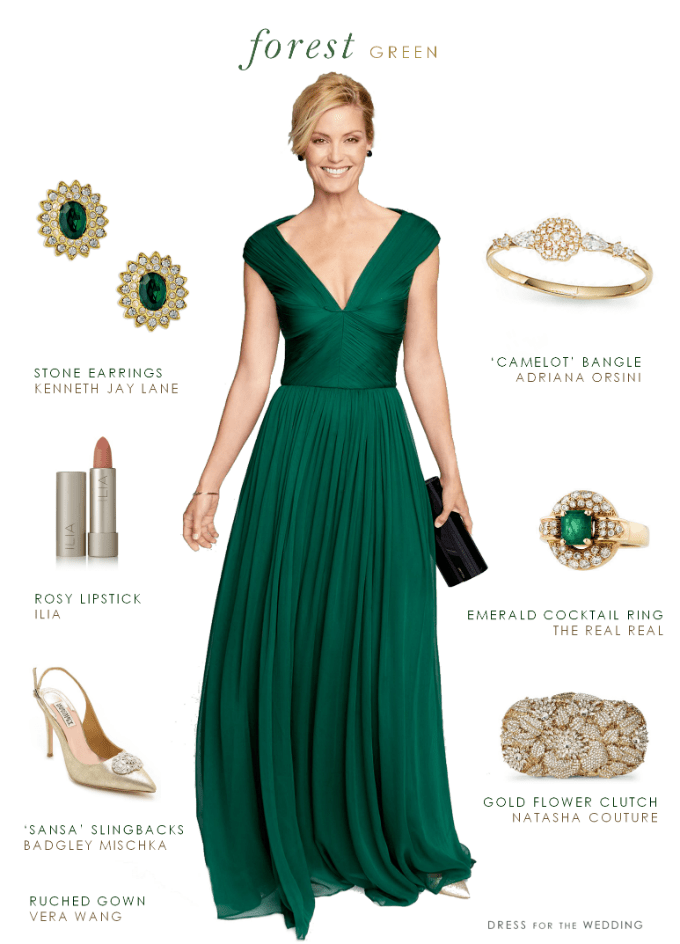 Affiliate links from sponsors are used in this post, and are noted by the links in italics.
Sources -- Dress: Vera Wang Ruched Chiffon Gown from Nordstrom | Earrings: Gold and Crystal Setting Emerald Stone Earrings by Kenneth Jay Lane at Bluefly  | Bracelet: Camelot Hinged Bangle by Adriana Orsini from Saks Fifth Avenue| Ring:  Emerald and Diamond Cocktail Ring from The Real Real | Clutch: Gold Flower Clutch by Natasha Couture from Century 21  | Shoes: Badgley Mischksa Sansa II Slingback Pumps from Shopbop | Lipstick:  Ilia' Nobody's Baby' Non-toxic lipstick from Net-a-Porter
One of the most popular posts I've done was a few seasons ago when I showed a green gown for the Mother-of-the-Bride, and this season emerald green's cousin --deep forest green-- and emerald green gowns are back with an absolutely stunning array of choices. I've styled the gown above for a Mother-of-the-Bride, but the gown can really be worn by anyone - it would be beautiful for bridesmaids, guests of black tie weddings, or for a holiday party gala. There are several more absolutely must-see gowns in this striking color available for the fall winter season. I've selected a few of my favorites below. I'm sure you'll agree - they classic, but totally extraordinary and sure to be compliment-getters!
Links in italics are from our affiliate retail partners and sponsors, meaning that this blog may earn a small referral commission if a qualified sale is made. 
Elegant Dark Green Gowns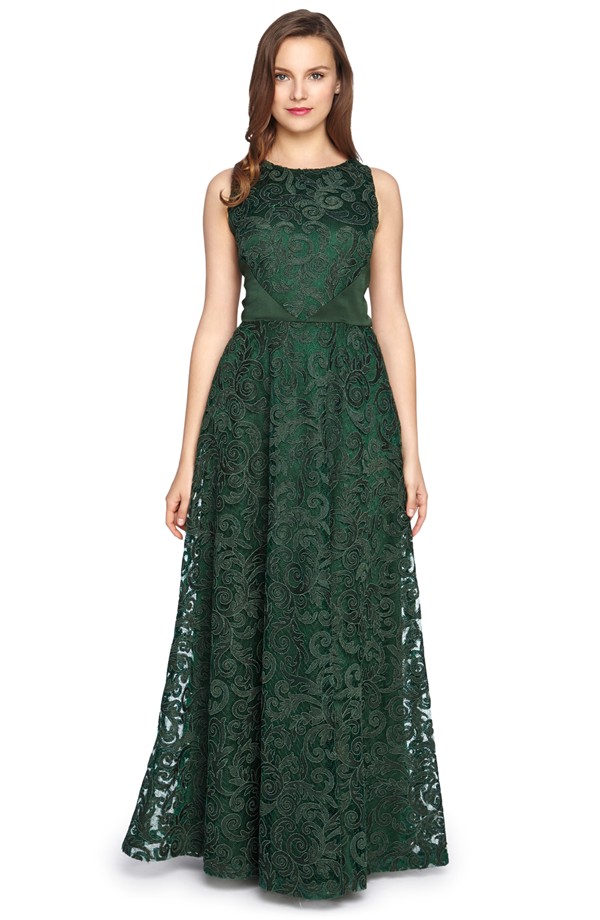 An all-over lace gown like this one is always an elegant statement, and this forest green color makes it even better! Corded lace gown by Tahari from Nordstrom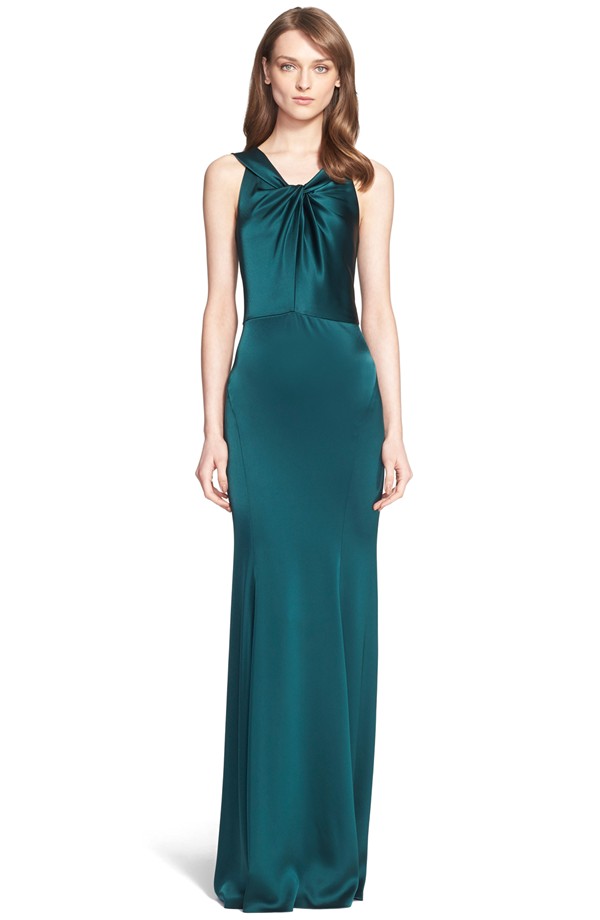 Elegant as can be! This liquid satin gown in emerald from St. John makes a sleek statement. Gown is from Nordstrom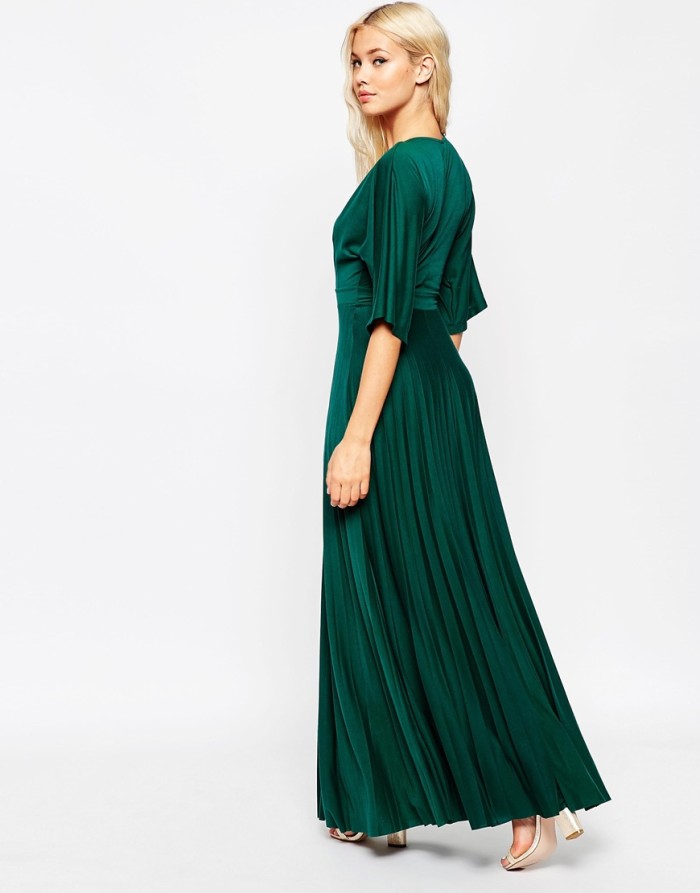 A modern style, with sleeves for coverage. Maxi Dress in Dark Green with Kimono Sleeves from ASOS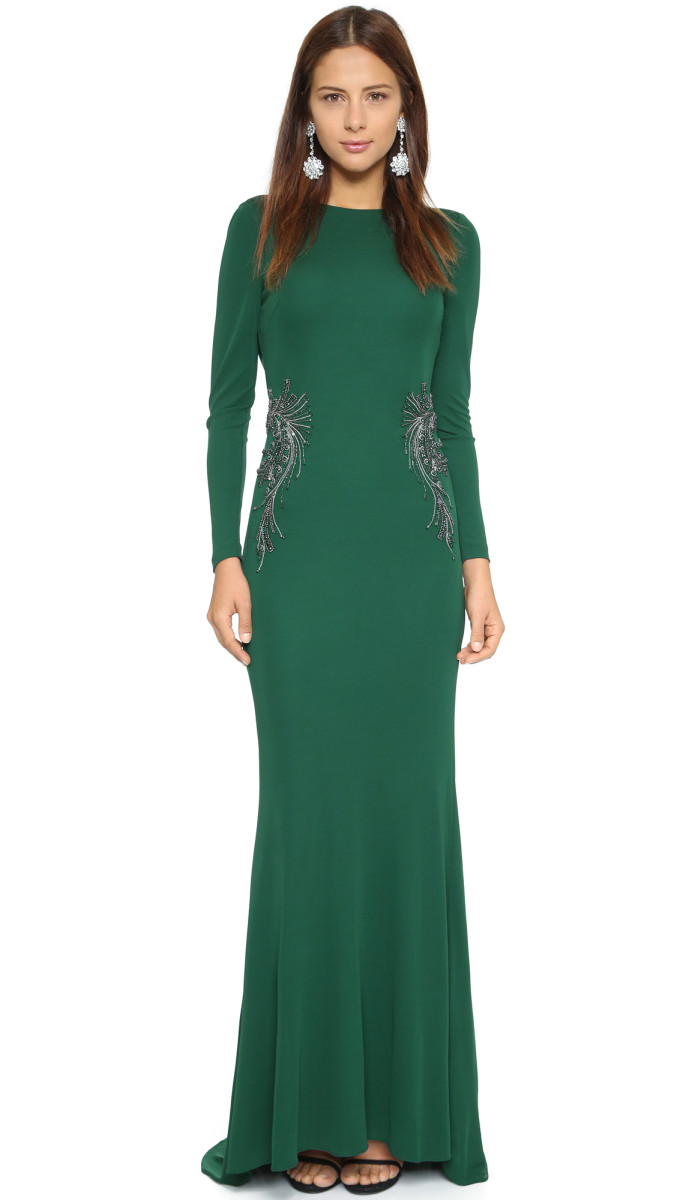 I get lots of requests for gowns with sleeves and unique details, this one has both! Badgley Mischka Drape Back Gown  from Shopbop with sleeves and embellishement on the sides and back in a beautiful emerald green.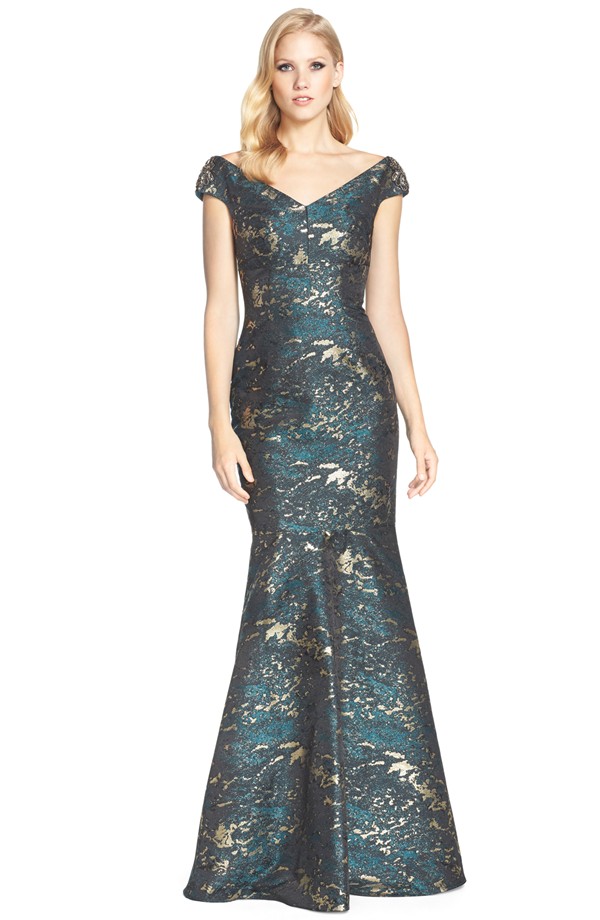 A statement print in emerald green and gold - what a beautiful choice for holiday weddings! David Meister Jacquard Ballgown from Nordstrom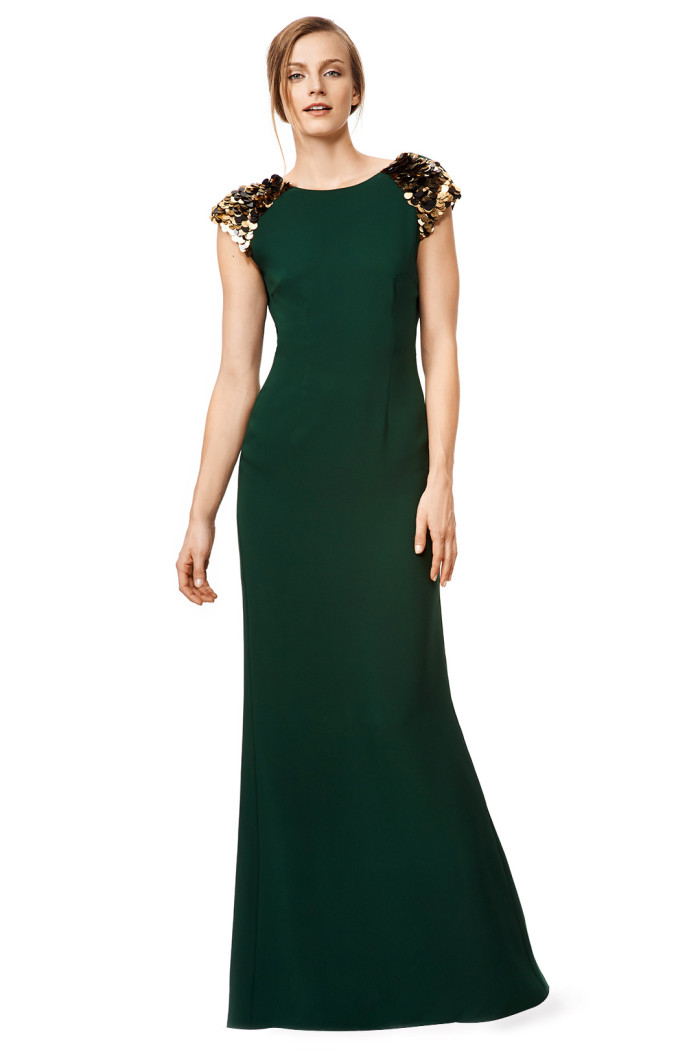 Love the embellished shoulders on the 'Scaling Time Gown' by Raoul from Rent the Runway - imagine this as a special dress for a Maid of Honor, or a chic look for your whole row of bridesmaids, or just wear it to your next black tie wedding!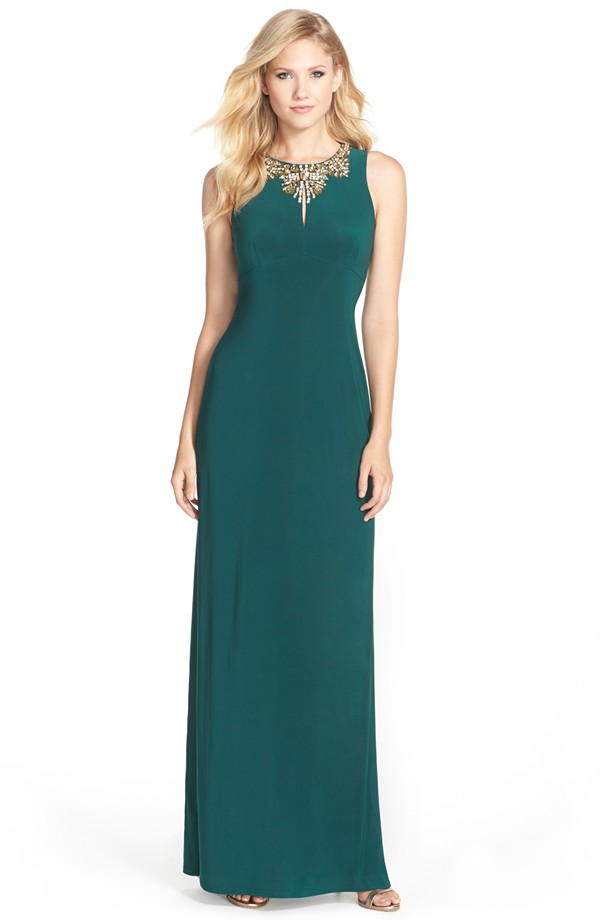 No need for a necklace! This statement neckline stands on its own! What a great gown for a fall black tie wedding - it's the Vince Camuto Embellished Gown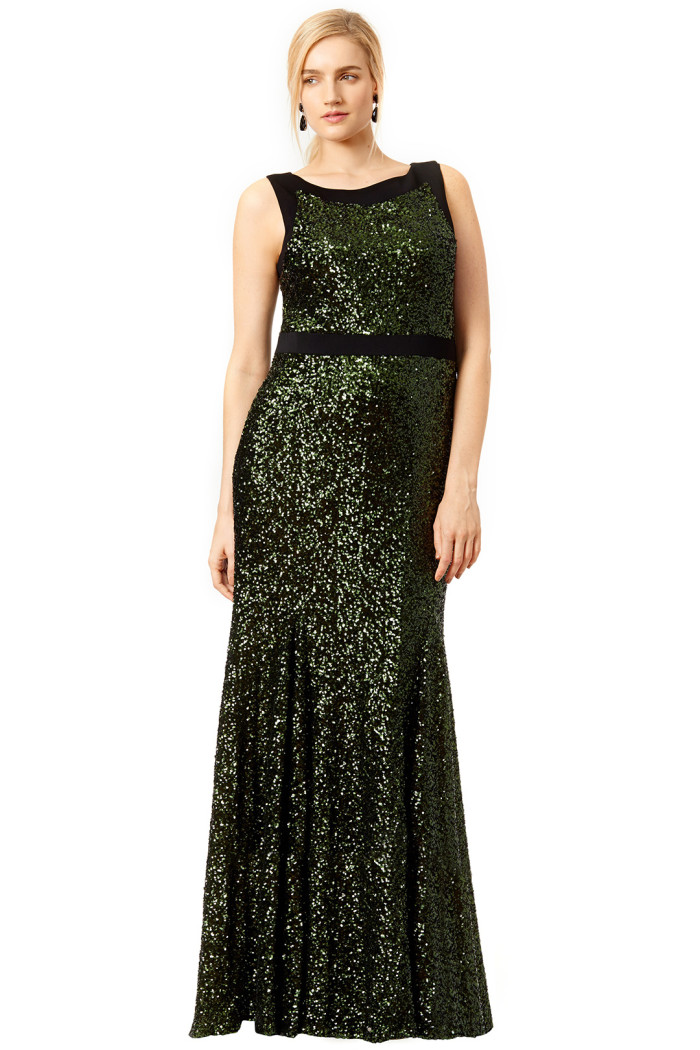 Want a little sparkle? Try the 'Front and Center' Gown by Badgley Mischka from Rent the Runway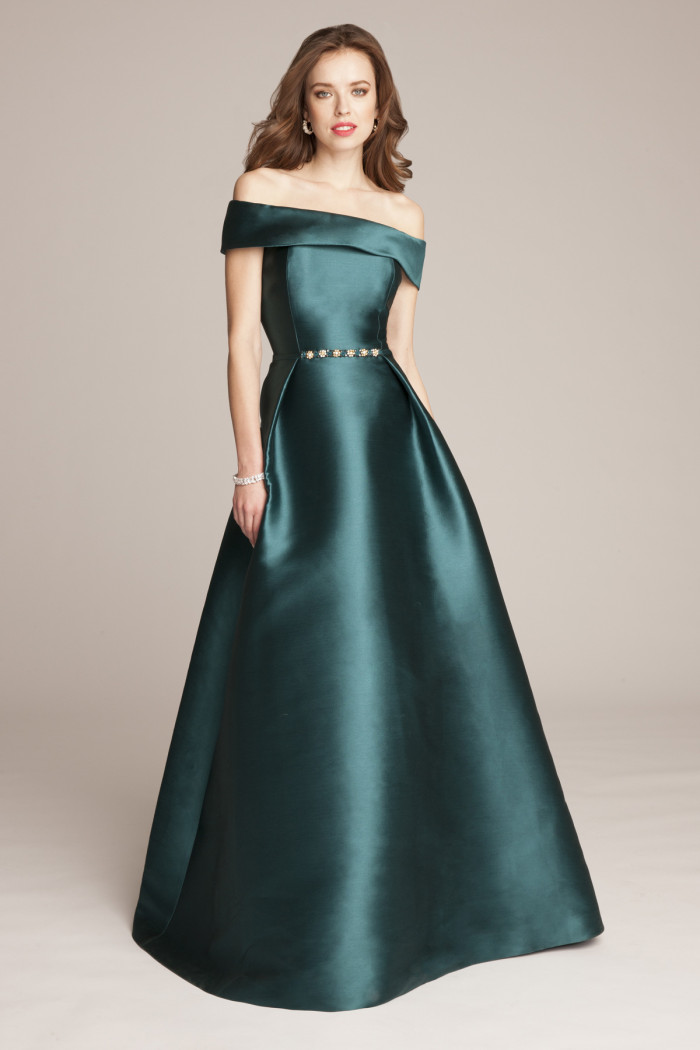 And for an unforgettable ball gown for a spectacular event, it has to be this Silk Gazar gown from Teri Jon
Want more shopping ideas?
Green Mother of the Bride Dresses
Green Dresses for Wedding Guests
Formal Gowns for Fall Weddings
Links and images in the 'Shop the Look' section are from our affiliate retail partners and sponsors, meaning that this blog may earn a small referral commission if a qualified sale is made through these retailers. Happy Shopping!