20+ amazing dresses to rent to wear to your next wedding, no matter what the dress code! All the best dresses to rent from Rent the Runway.
Rent the Runway is an affiliate sponsor of Dress for the Wedding, but has not directly paid for or requested this post. Shopping sources on this site use affiliate links, which means this site may earn a commission if you make a purchase from our links.
The Best Dresses to Rent for a Wedding Guest
1/ ML Monique Lhuillier Pink Multi Floral Dress 2/ Amanda Uprichard Honeysuckle Mccanna Maxi 3/ Dress The Population Green Lace Aurora Dress 4/ Alison Parris Marilyn Cobalt Gown   5/ Amanda Uprichard Anika Midi Dress 6/ Parker Floral Pamela High Low Maxi 7/ Marchesa Notte Flounce Lace Dress 8/ Aidan Mattox Midnight Kyle Gown
Wedding Guest Dresses to Rent by Dress Code
If your summer calendar is full of weekends where you'll be attending your friends' weddings, you may be looking for a cute dress to wear!
It can be a huge investment of time and money to find a outfit to wear to a wedding!
One of the ways I get through the busy - and pricey - seasons of events is by renting dresses to wear to weddings.
I've used the services of Rent the Runway several times to rent dresses for speaking engagements and to wear to weddings!
If you want to wear a designer dress, or need a high quality, showstopping dress for a wedding - especially if it's a black tie event - one of my favorite plaes to go is Rent the Runway.
Best Dresses to Rent to Wear to A Wedding
I very rarely get the chance to re-wear a dress these days.It seems by the time my next event comes up, the last dresses I've purchase are either out of season, often out of style, or are the exact dress the same group of people saw me wear to the event.
Rent the Runway allows for a new dress at about a third of the price of buying a new dress, and designer styles, which would never be in my budget, are about the price I'd spend on an average dress from a department store.
Tips for Renting a Dress
It can be tricky to reserve the exact style you want during the busy wedding season, so browse and reserve early! Reading the reviews and fit notes of each dress is key!
If you are stuck, try to find a reviewer with your similar body type, and see what they say about their experience with the dress.
The customer service team is also helpful for this! I have also used their Unlimited program to rent dresses to try out well in advance, so that I know they'll work when the event comes!
Best Dresses from Rent the Runway to Wear to Weddings
We've paired these favorite dresses to rent with suggested dress codes, venues, and seasons, but of course these dresses can do double or triple duty for all sorts of weddings, parties, and events!
Find your favorite dress to wear to your next wedding or event below!
The Hot Date Wedding

Are you someone's plus one, or do you just want an excuse to wear a smoking hot dress that is still wedding appropriate? Try the Dress The Population Green Lace Aurora Dress- it's great for nearly every season, and a classic style! Best of all the current rental price $30- 35.
The Sunny Outdoor Wedding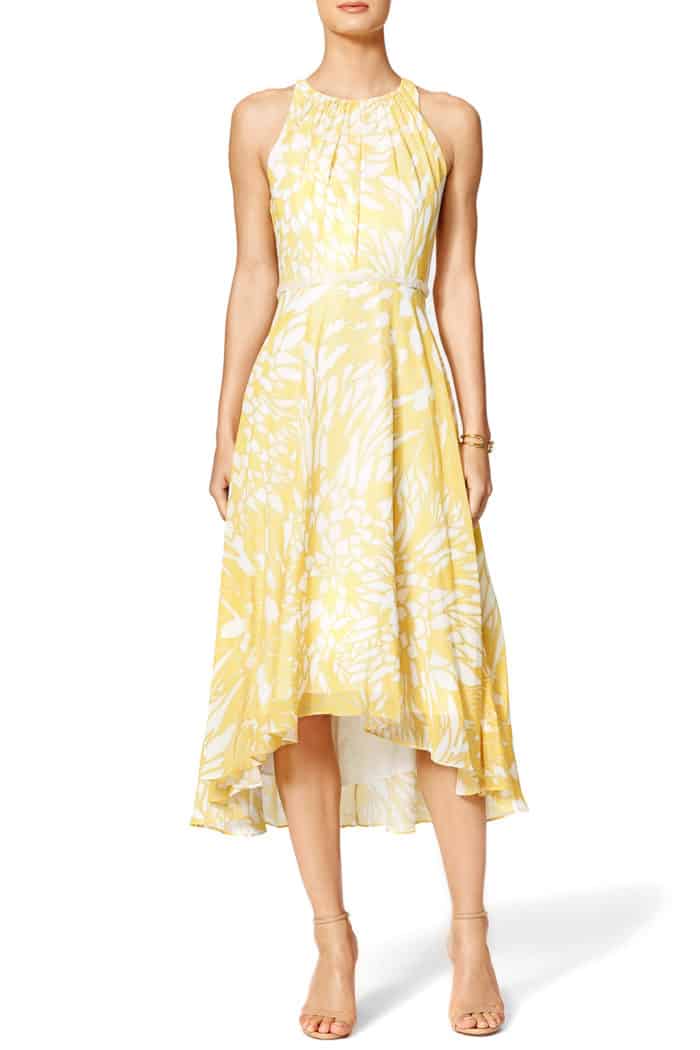 Expecting sunshine and perhaps hot temps? Stay elegant and cool in this daytime wedding guest dress. The Paradiso Dress by Badgley Mischka
The Classic Wedding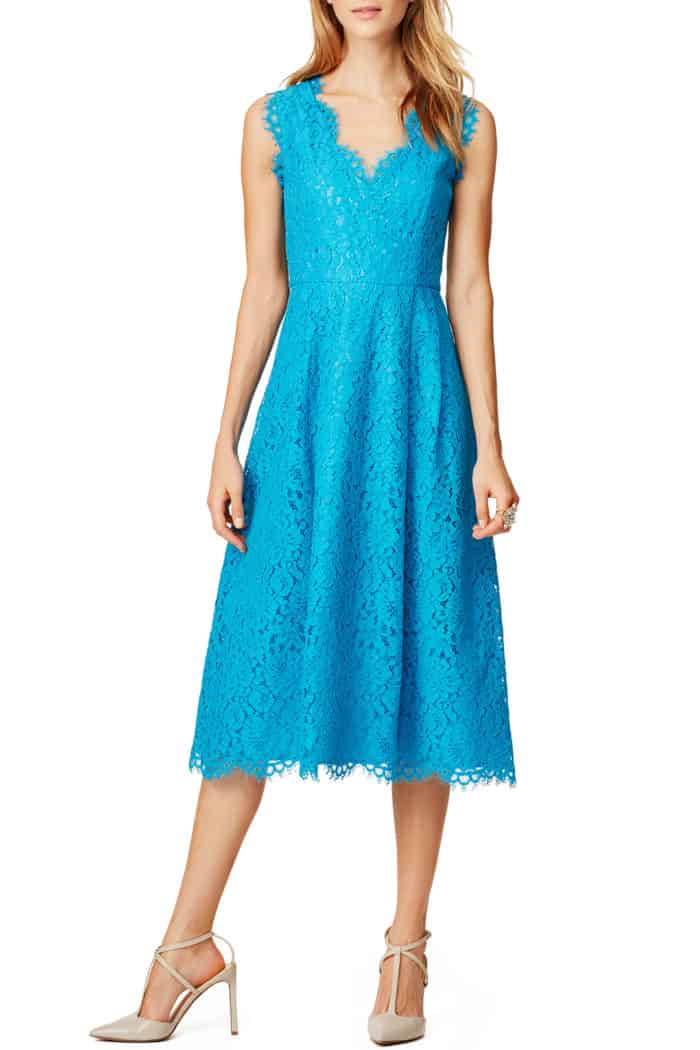 This tea-length lace midi dress can go to nearly any type of wedding , at any time of day; and it has pockets!! Shoshanna Cindy Midi Dress
The Rustic Wedding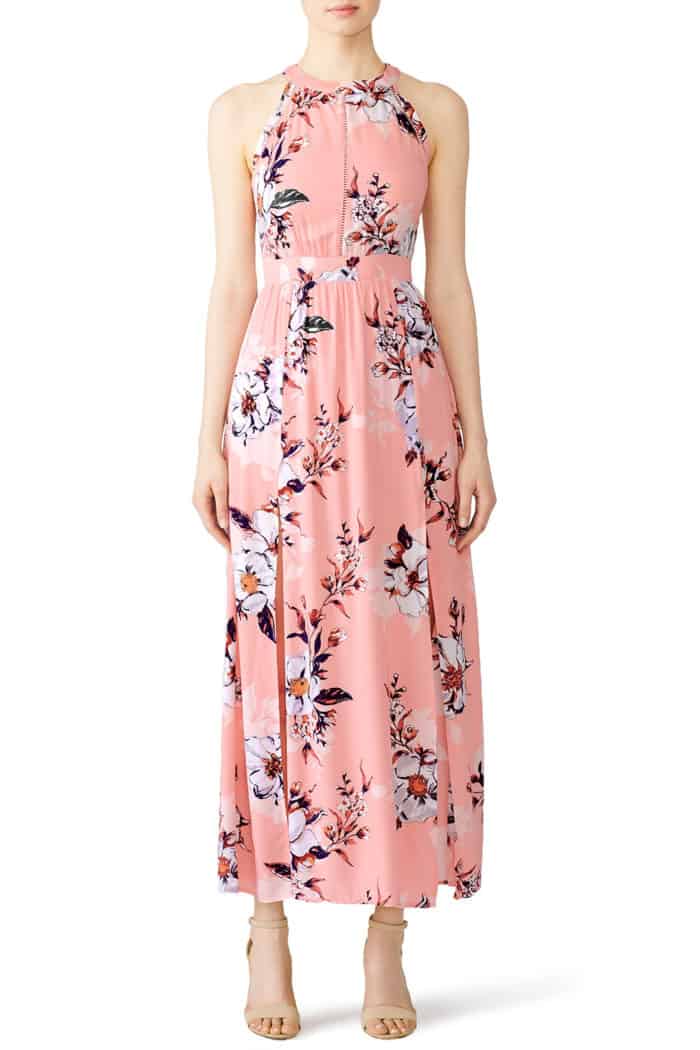 Heading to a barn wedding or something in the mountains or country side? A semi-formal length maxi dress in a floral print is always a good idea! We love this dress, the Fleurtine Pink Floral Printed Maxi.
 The Winery Wedding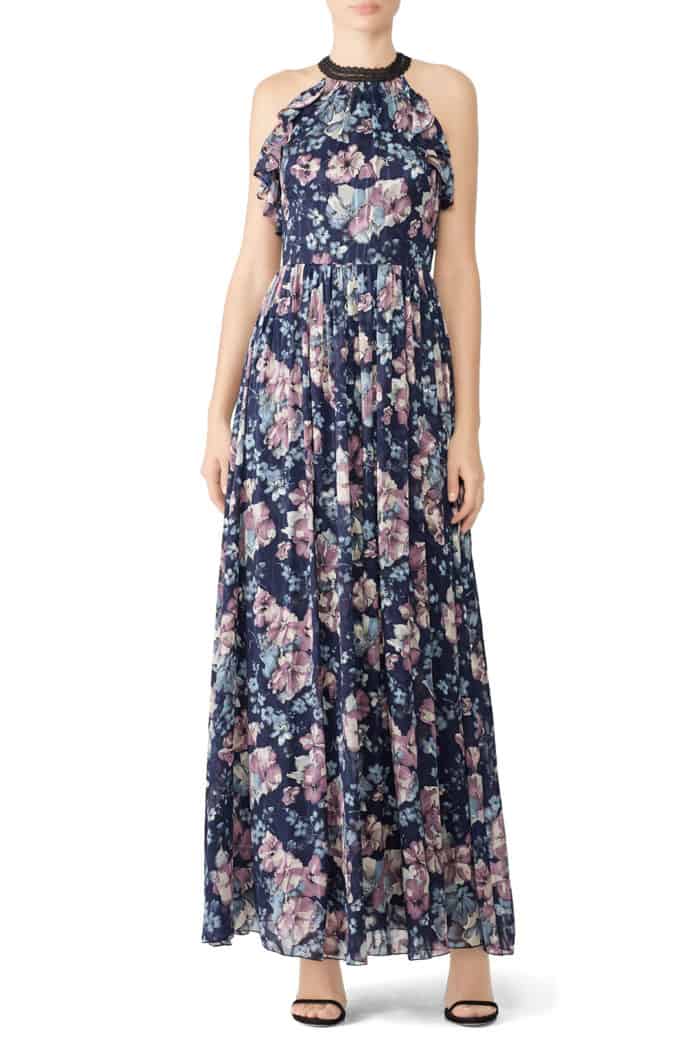 This dark navy blue floral maxi dress, has a dressy halter neckline, that keeps it looking semi-formal, and ready to go to a wedding at a vineyard or other outdoor location. Marchesa Notte Blue Floral Maxi Dress
The Wedding Where You Want to Look Unforgettable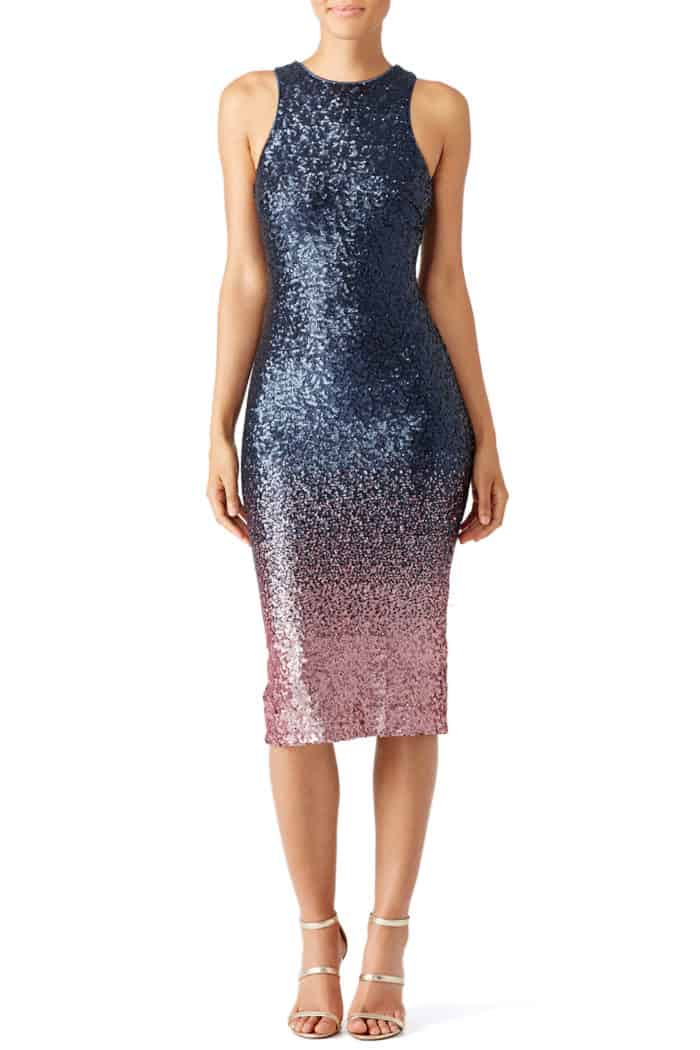 There is sometimes a fine line between fabulous and flashy, this dress finds the exactly balance, and is firmly on the fabulous side, with jut the right amount of wedding appropriate sparkle and sleek silhouette. The Navy to pink ombre will make this sequin cocktail dress stand out in a sea of little black dresses at your next evening wedding. Dress the Population Navy and Pink 'Shawn' Sheath Dress. 
The Casual Coastal Wedding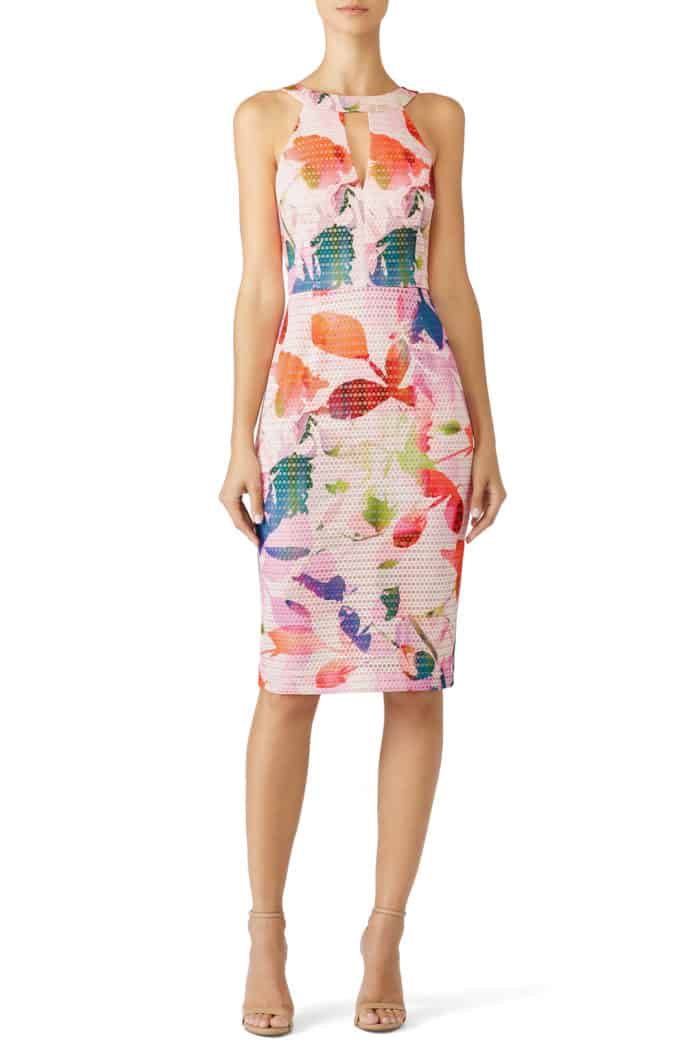 Need something for an outdoor casual wedding in a backyard, or perhaps at the beach, park, or other informal venue? This dress is the perfect embodiment of dressy casual. With the right accessories, it can go to even more formal daytime or afternoon weddings as well!Trina Turk Sylvie Dress
The Formal Beach Wedding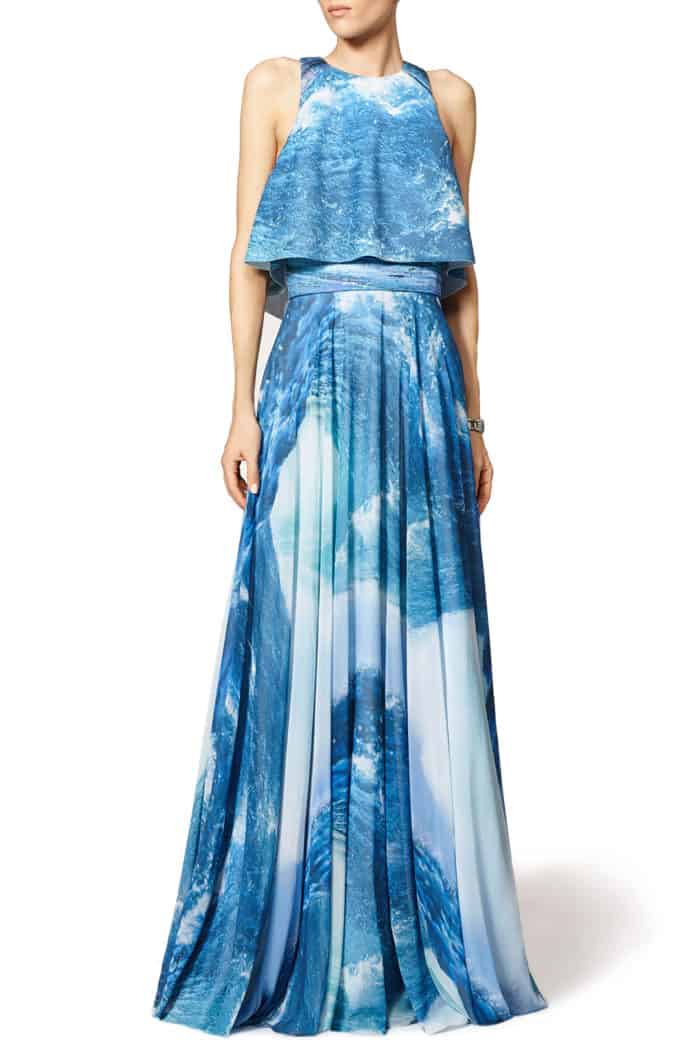 Heading to a beach wedding at an upscale formal beach club or resort? A black tie beach wedding? This elegant gown in aquatic tones is a wonderful choice!  Theia Ocean Maxi Dress
The Traditional Wedding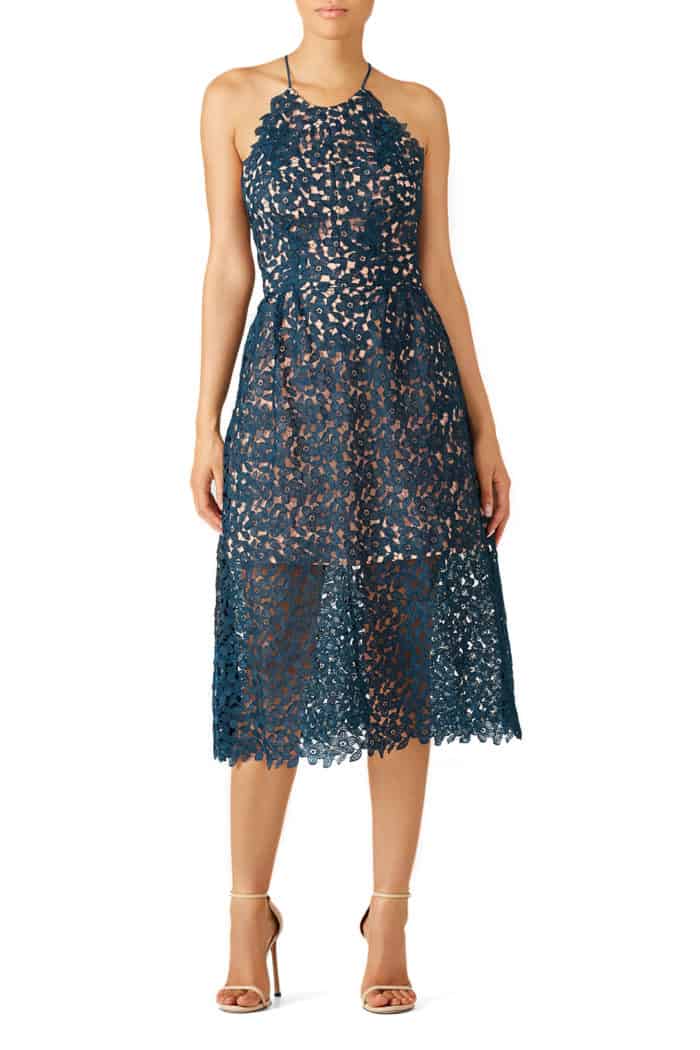 A lace midi dress is a classic! Wear it to a hotel wedding or a country club wedding or any other traditional wedding venue! Blue Opal Lace Dress by Slate & Willow
The Boho Wedding
This dress will be perfect for anyone who wants a unique dress with personality! Wear it to a city wedding in a chic venue, an art gallery wedding, a garden wedding, or a boho wedding. It's the Parker Floral Pamela High Low Maxi
The Black Tie Wedding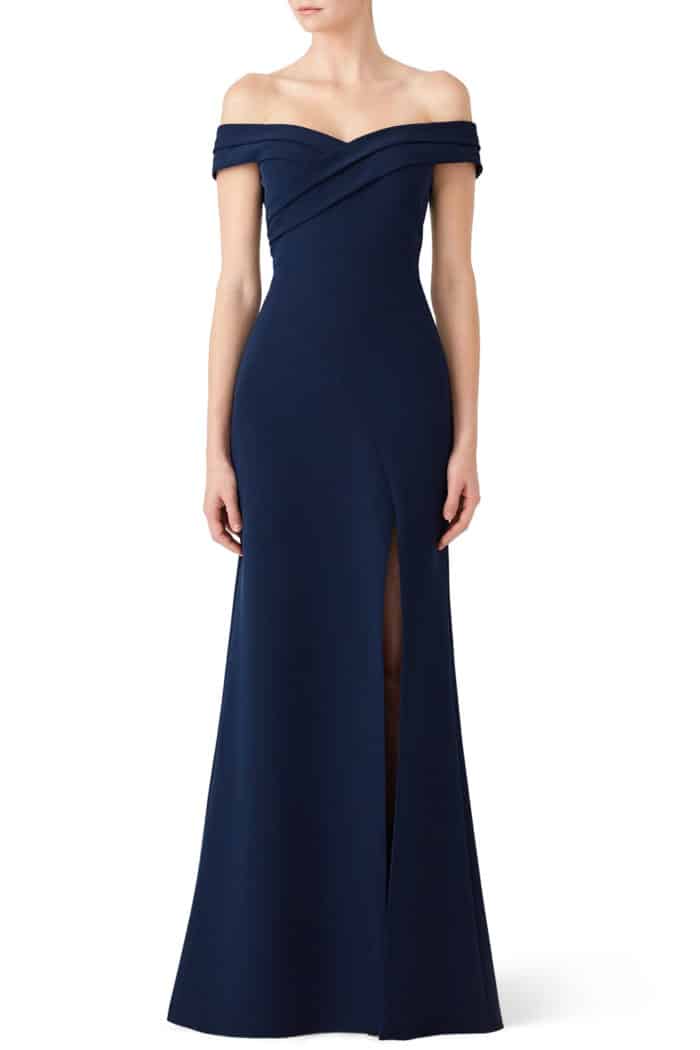 If the invitation is black tie, and the venue is formal, a gown like this is in order. One can never go wrong with a navy blue look with chic off-the-shoulder styling. Aidan Mattox Midnight Kyle Gown
 The Romantic Wedding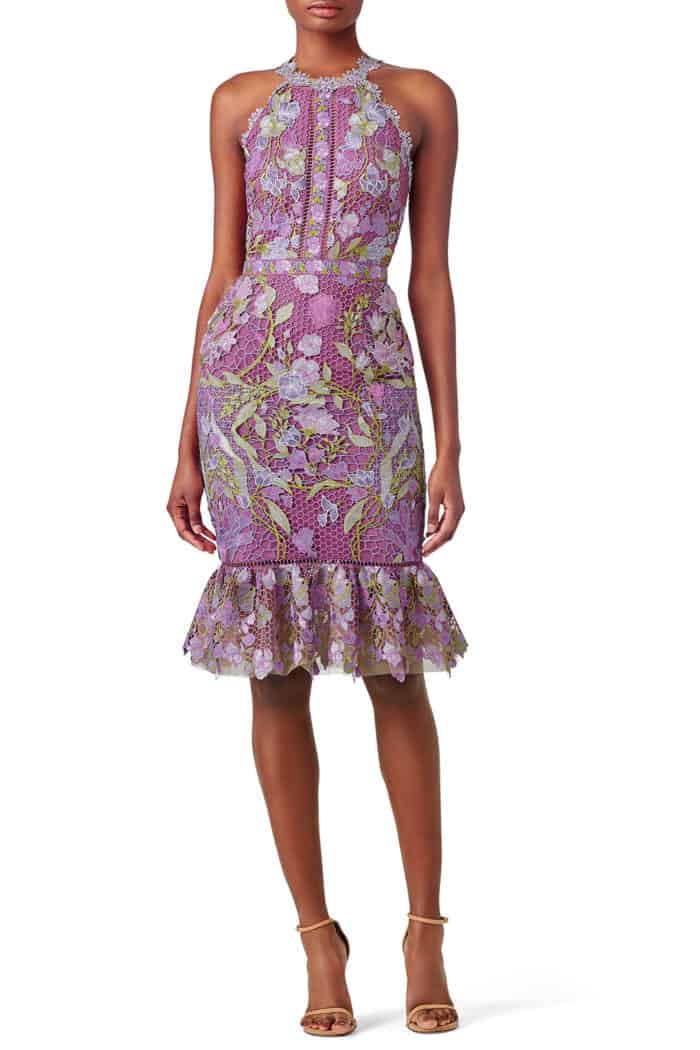 Lovely lavender and green accents and ruffles - this cocktail dress is a romantic standout! Marchesa Notte Flounce Lace Dress
The City Wedding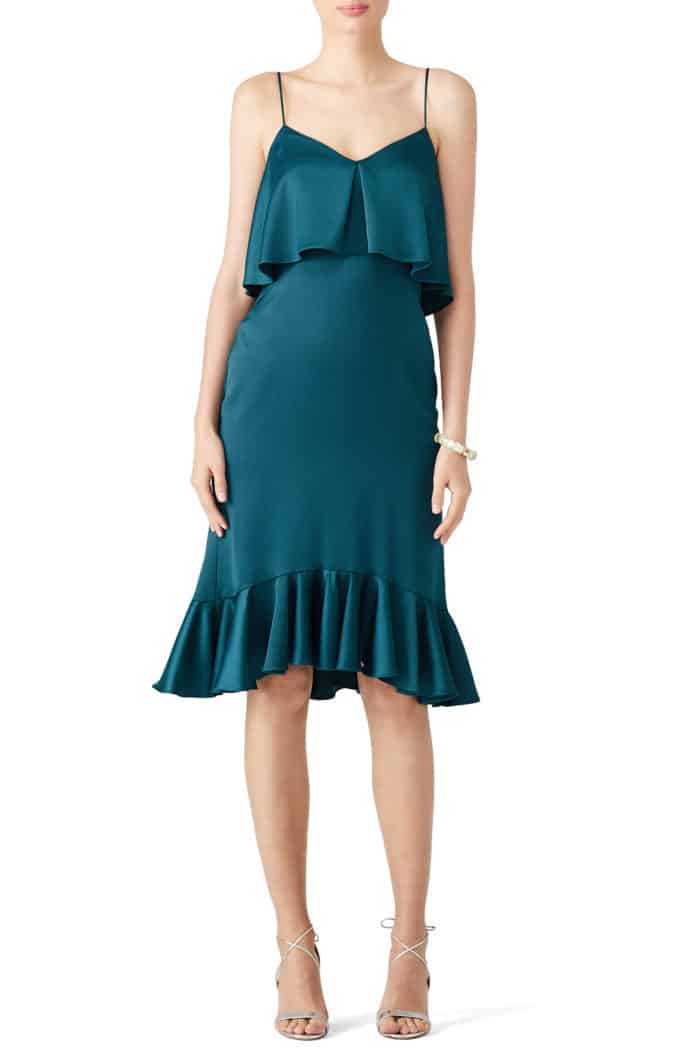 Simple lines, modern silhouette, and a knock-out color, make for the perfect sleek dress for a city wedding. Likely Ardsley Dress
 The Afternoon Wedding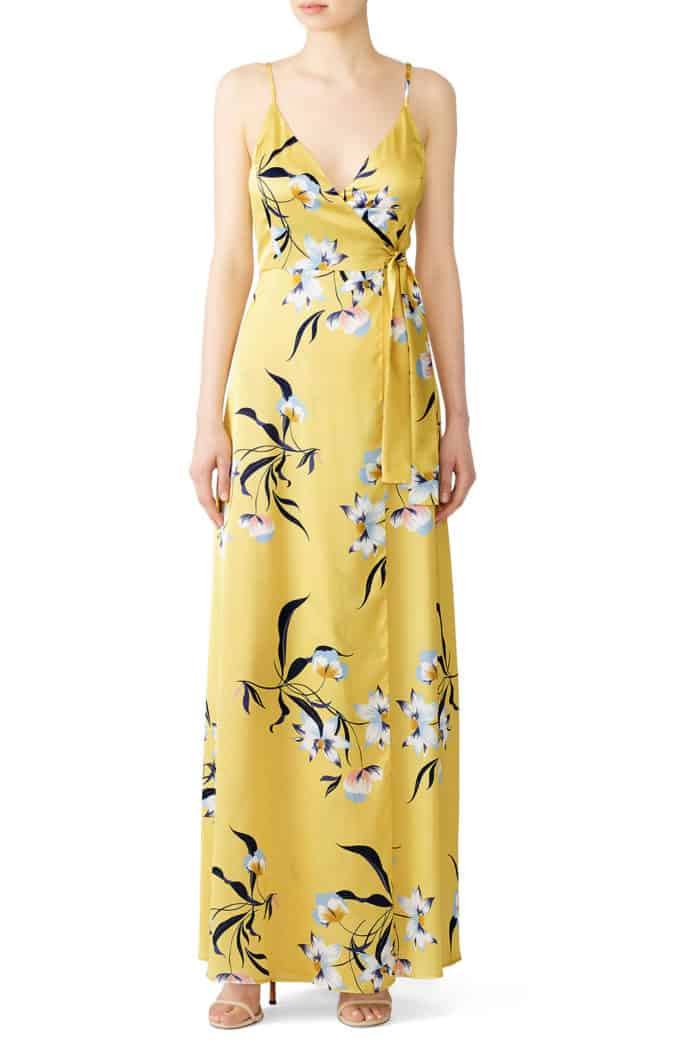 The afternoon wedding can still be sunny, and one of those in-between times where it's not quite time for a cocktail dress, that's why we love maxi dresses like this one, Amanda Uprichard Honeysuckle Mccanna Maxi
The Southern Wedding
Heading to a daytime wedding in a hot climate? We love the classic structured floral of the, ML Monique Lhuillier Pink Multi Floral Dress
Modern Black Tie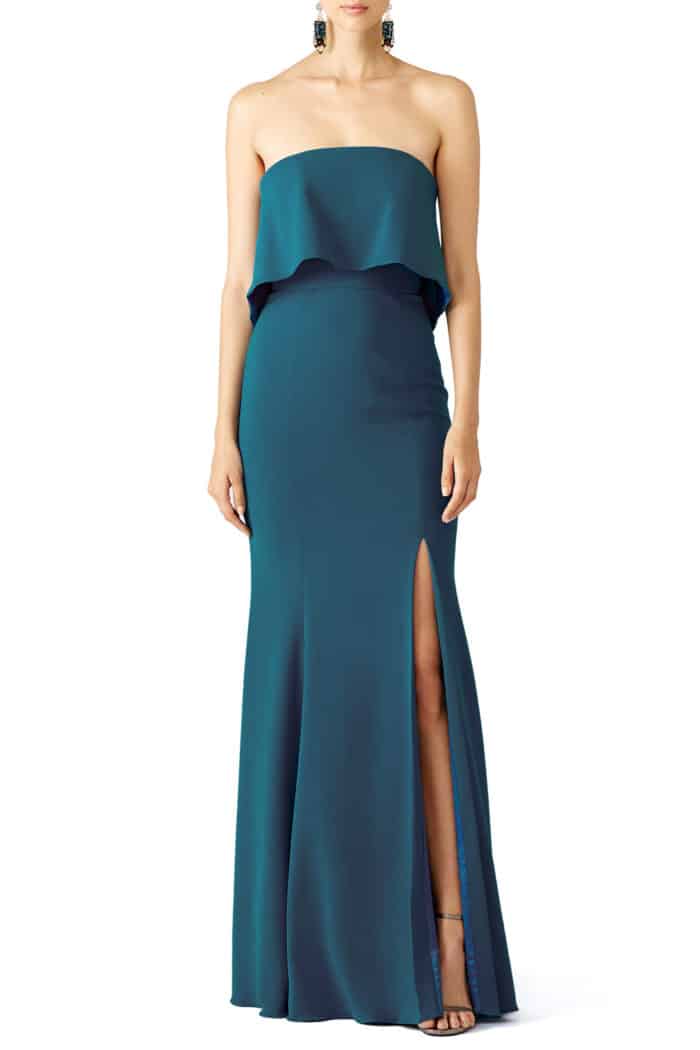 Black tie doesn't have to mean a stuffy sort of formal, try the elegant and modern Teal Clarke Gown by Jay Godfrey
The Spring Garden Wedding
Garden weddings call for pastel florals, like the Yumi Kim Floral Meadow Wrap Maxi
The Vintage or Retro Wedding

Perfect for a retro theme wedding, or if you love wearing vintage styles! SALONI Polka Dot Ruth Dress
The Hot Summer Wedding

This pretty lace dress in pale peachy pink won't wilt in the summer heat, Dress The Population Rose Petal Alicia Dress
The Wedding Where You Don't Want to Wear a Dress

Not every wedding needs a dress; try a jumpsuit! The Halston Heritage Antique Jumpsuit is ready for any party or wedding
The Cocktail Attire Wedding
Cool blue turquoise makes this cocktail dress unforgettable, Christian Siriano Blue Cold Shoulder Ruffle Dress
The Fall Wedding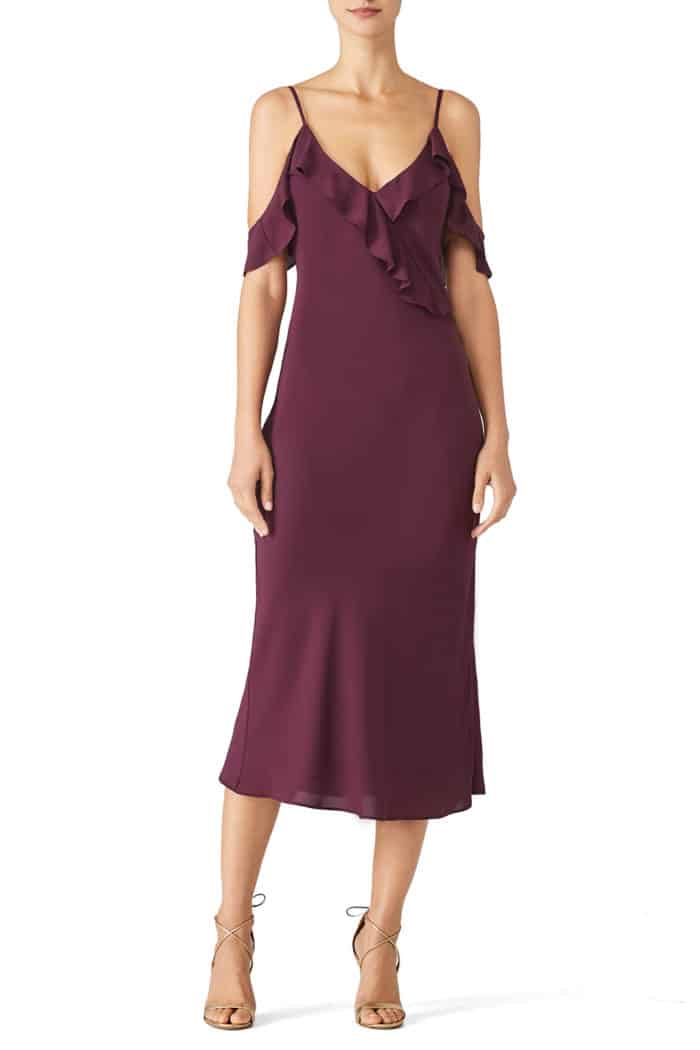 Chic for a fall wedding, this Amanda Uprichard Anika Midi Dress is a gorgeous color, and a favorite among renters!
The Formal Wedding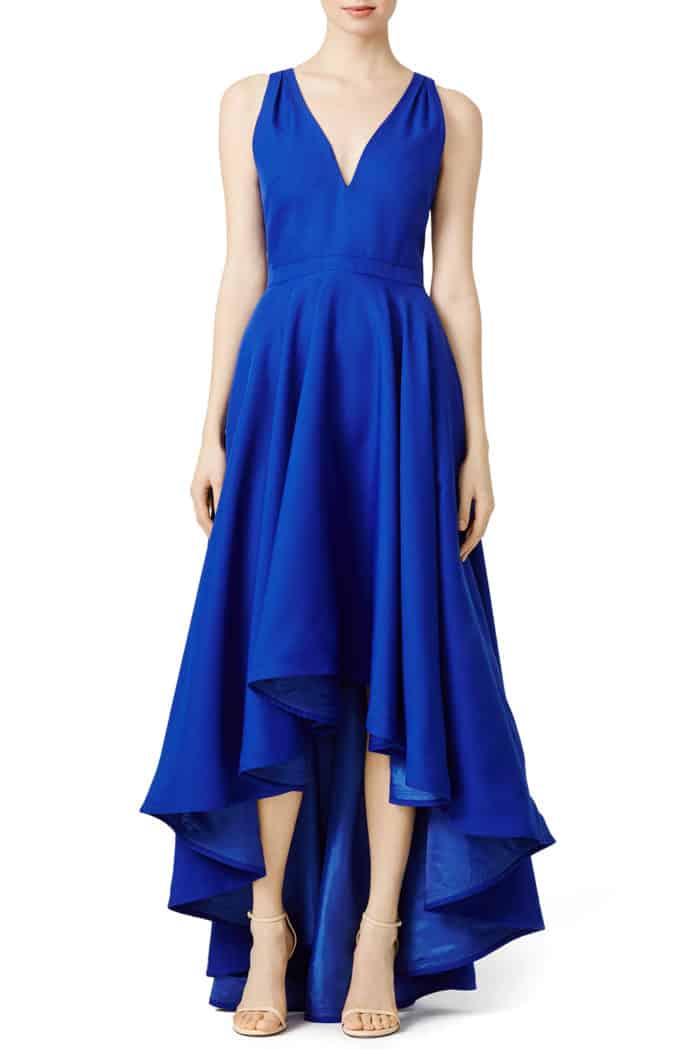 Vibrant color meets a formal style, and this hi low style has pockets! Alison Parris Marilyn Cobalt Gown
The Tropical Destination Wedding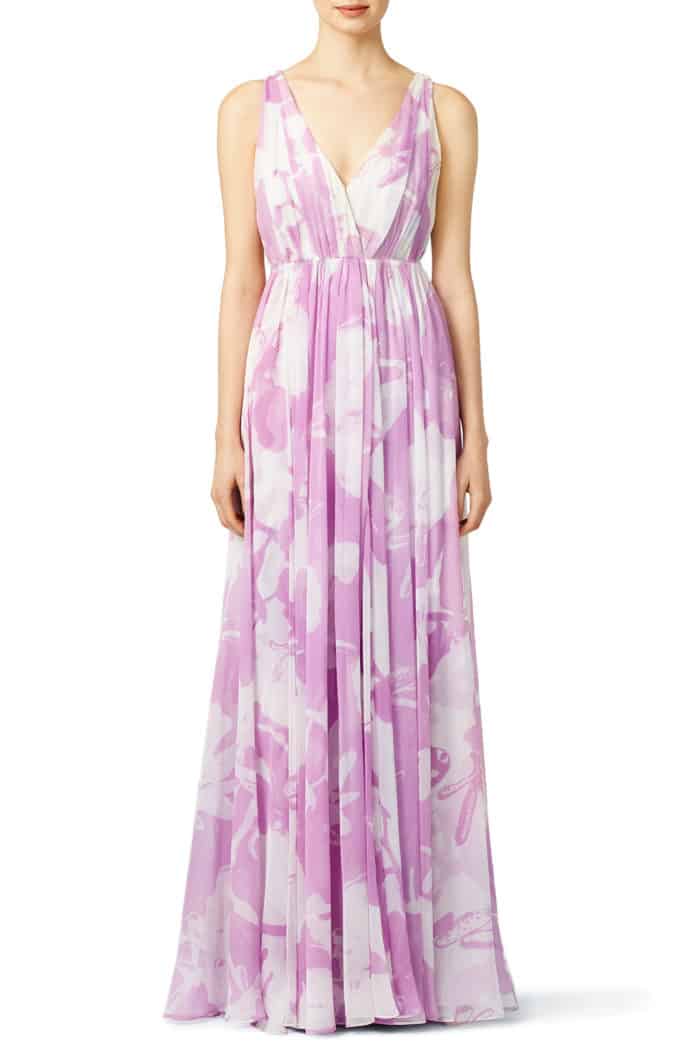 A beautiful relaxed formal style for a tropical wedding, Halston Heritage Lilac Disco Maxi Dress
This is actually just the tip of the iceberg of offerings at Rent the Runway! We search there all the time, and still each time we visit we see a new fantastic dress to rent that we haven't seen before!
Reading the reviews and looking at the pictures is an excellent way to get a better idea of how the dress looks on you, and if it will be appropriate for the event  you're attending.
Best Designers To Rent for Wedding Guest Attire
Here are some of the designers Rent the Runway carries, that we always look to for stylish, and appropriate dresses to wear to weddings.
If you're a bride to be or a mother of the bride, Rent the Runway is also a great option for all the dresses for the events leading up to the wedding or for the wedding itself!
Find a Wedding Guest Dress to Rent
Rent the Runway makes it easy to find more dresses, just check out their list of dresses by occasion to find dresses by dress code, color, or time of day!

More Details
Do you have any other wedding dress codes that have you stumped? Leave us a note on Instagram or Facebook, and we'll try to decode your wedding dress code and find an oufit!
Also always check out our Summer Wedding Guest Dresses!