Gold and Champagne Ties for Groomsmen
With my recent post on a gold bridesmaid's dress, and my plans to do more posts with neutral wedding colors, I started thinking about champagne colored ties for the wedding party.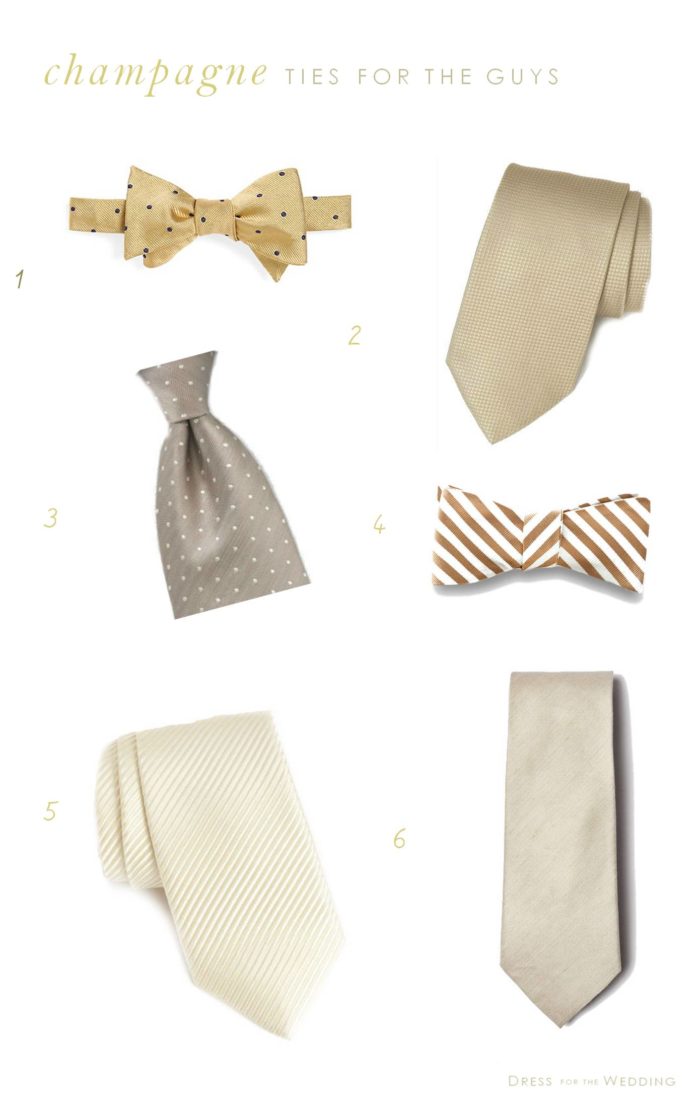 1. Dot Bow Tie from Brooks Brothers  2. Armani woven Silk tie from Nordstrom 3.  Polka Dot Champagne Tie 4.  The Mondrian in White and Gold by Brier & Moss  5. David Donahue Woven Silk Tie in Champagne  6. Beige Silk Cornell Necktie by Ties.com 
Champagne Ties
I think it's a very elegant look for the groom to have a tie in this pale beige; which can pair with pink, pale blue, black or green quite nicely.  I looked around, and sure enough, it's a little hard to find a champagne or gold tie to choose from, that isn't too gold, or too tan.  It's also a little tricky to define "champagne" since shades from gold, to sparkling beige, to a pale ivory seem to qualify.  Even with trying to handpick just the best,  realized I still have quite a range of champagne and beige colored ties , but perhaps this will help  you on your search if you're going for this neutral range and elegant look for your groom and groomsmen.
Looking for more ties for grooms and groomsmen? Visit the Groom's  Tie Shop!
If these don't work for you, check out some other options below or view this collection from Bows N Ties


More style ideas you might enjoy :