Charcoal Gray Dress for Mother of the Bride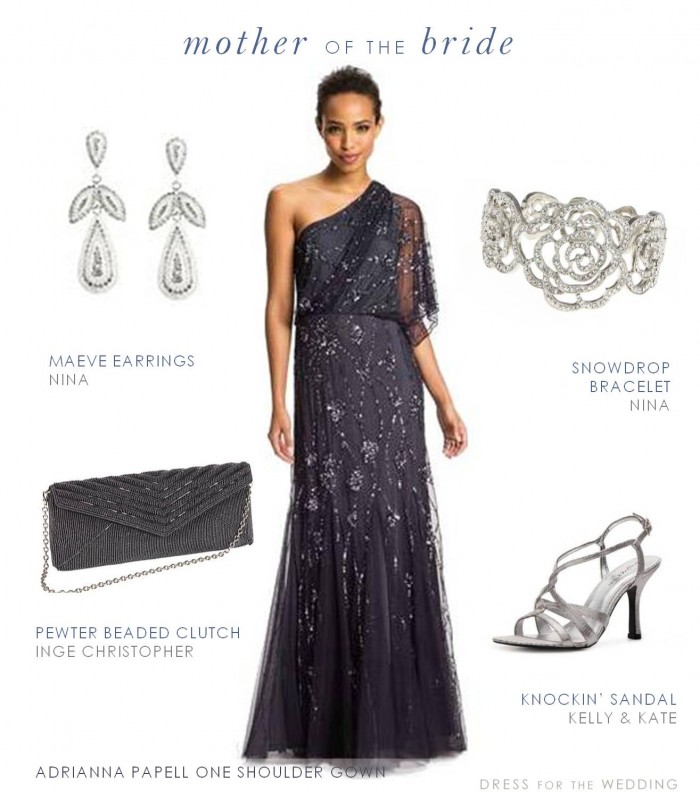 Adrianna Papell Beaded One Shoulder Gown / Snowdrop Bracelet by Nina /Kelly & Kate Knockin' Sandal / Inge Christopher Beaded Pewter Clutch / Maeve Earrings by Nina
This post also uses affiliate links.
Wedding Outfit with Beaded Charcoal Gray Dress and Accessories
It's May, which means Mother's Day will soon be here! To celebrate, I thought it might be nice to pay tribute to our dear moms by finding them dresses to wear for the revered role of Mother of the Bride or Groom. This image above of a charcoal mother of the bride dress is a summarized version of my post about dressing the Mother of the Bride that appeared on Bayside Bride earlier this week, you can read the full article there! (Edit: Bayside Bride is no longer in operation!) Please check out these other beaded MOB dresses!
Here are more gowns for the Mother of the Bride in this color

If you're looking for more mother of the bride dress ideas, check out these pages:
Silver and Gray Mother of the Bride or Groom Dresses
Gold, Taupe, and Neutral Mother of the Bride Dresses
Shop all Mother of the Bride Dresses
Mother of the Bride Style Ideas
The Collection: Mother of the Bride Designers