Pale Yellow Dress and Jacket for the Mother of the Bride
Affiliate links are used in this post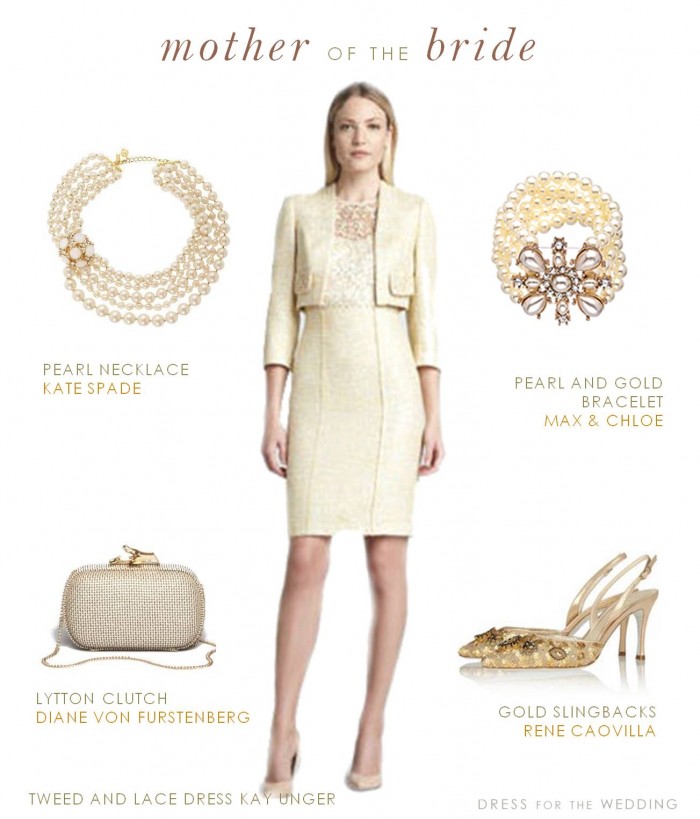 Kay Unger Cropped Yellow Lace and Tweed Jacket and Dress /Max & Chloe Rose Gold Pearl and Crystal Five Strand Stretch Bracelet /Diane Von Furstenberg Litton Metallic Clutch /Rene Caovilla Slingbacks / Kate Spade "Belle Fleur" Pearl Statement Necklace
Continuing with our series for Mother's Day, this yellow lace and tweed dress and jacket is perfect for a daytime wedding, and for a mother who prefers the suited look. This full-sized picture makes the dress look cream-colored, but in other images ( like this) and in the description it truly is a yellow woven fabric.
While we're on the subject of cream-colored dresses; they are usually a "don't" for guests, and can be as well for mother of the bride, unless the bride has specifically approved the color.
I think a dress like this suited style in doesn't in any way compete with a cream bridal gown, but some brides do take offense. To avoid any misunderstandings, I think that all mother of the bride or groom dresses of any color should be purchased in consultation with the bride, to ensure she approves. If she's okay with a light color like this - I think this is such a pretty option! I love the lace front, and how it looks with classic pearls, and gold accessories.
Still looking for the perfect mother of the bride dress? Try the Mother of the Bride Shop, or look at these selected yellow and gold mother of the bride dresses.