This taupe special occasion gown for a wedding is a classic style for a mother of the bride, mother of the groom, or a wedding guest!
Shopping sources on this site use affiliate links, which means this site may earn a commission if you make a purchase from our links. 
Taupe Outfit for the Mother of the Bride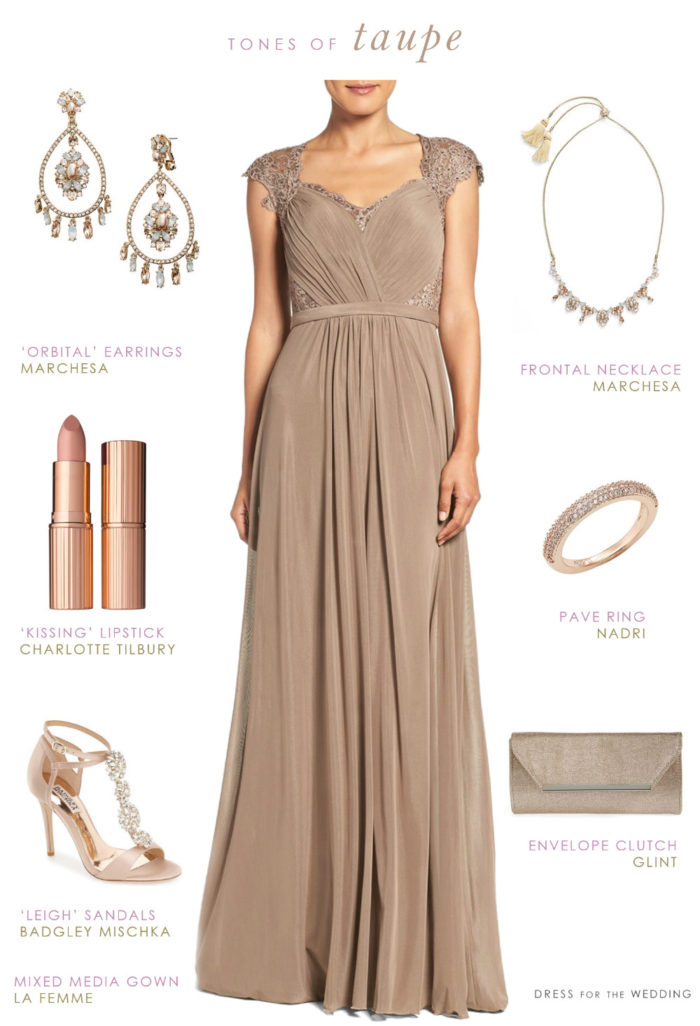 Shopping sources noted with links in italics are affiliate links from our sponsors and retail partners.
Dress: La Femme Mixed Media Gown from Nordstrom now sold out, but try this gown instead!| Earrings: Marchesa 'Orbital' Chandelier Earrings from Nordstrom | Necklace: Crystal and Pearl Frontal Necklace by Marchesa from Nordstrom | Ring: Nadri Stackable Pave Ring | Clutch: Glint Metallic Envelope Clutch from Nordstrom | Pumps: Badgley Mischka 'Leigh' Pumps from Nordstrom |Lipstick:  Charlotte Tilbury 'K.I.S.S.I.N.G.' Lipstick in Nude Kate from Nordstrom
Taupe Evening Gown for the Mother of the Wedding
I'm still enjoying summer and summer vacation, but I felt compelled to do a post today after a long break. This taupe gown was styled with the mother of the bride or mother of the groom in mind, or this look would suit a formal wedding guest. This deep coffee color dress, is a lovely neutral for any season of wedding, and nearly any color scheme. I can picture it being a perfect choice for mothers in a fall formal wedding. If you're looking for a black tie mother of the bride gown, this could be it!
More looks and sales!
If you're looking for more fall attire haven't heard, our sponsor, Nordstrom, is in the midst of the Anniversary Sale, where the newest styles for fall come in stock and are immediately on sale, so if you're already ready to stock up for fall, this is the best time! The earrings and necklace in this look are a part of the sale, as are some other great looks! Have a peek for yourself!
Shopping sources in shop sections and links in italics denote sponsored affiliate links, which mean we may earn a small commission on qualified sales to support this blog.
Shop More Taupe and Neutral Gowns

More wedding looks you might love:
Fall Mother of the Bride Dresses
Neutral Mother of the Bride Dresses
More Taupe Mother of the Bride Dress Ideas
Shopping sources for this taupe gown style:
Dress: La Femme Mixed Media Gown from Nordstrom | Earrings: Marchesa 'Orbital' Chandelier Earrings from Nordstrom | Necklace: Crystal and Pearl Frontal Necklace by Marchesa from Nordstrom | Ring: Nadri Stackable Pave Ring | Clutch: Glint Metallic Envelope Clutch from Nordstrom | Pumps: Badgley Mischka 'Leigh' Pumps from Nordstrom |Lipstick:  Charlotte Tilbury 'K.I.S.S.I.N.G.' Lipstick in Nude Kate from Nordstrom