Cinnamon Colored Bridesmaid Dress for Fall Weddings
Happy first week of Autumn! I'm still working on some new posts behind the scenes, so I am spending a few days recapping the looks I created for Bayside Bride for fall. (See the first nautical style look here!) . This cinnamon-colored bridesmaid dress is a perfect choice for fall weddings. Please visit full piece on Bayside Bride to read more about why this dress was my pick as a quintessential fall style.
Note this post needs to be updated, since Bayside Bride is no long in publication. For now here are some Cinnamon Bridesmaid Dresses You might like!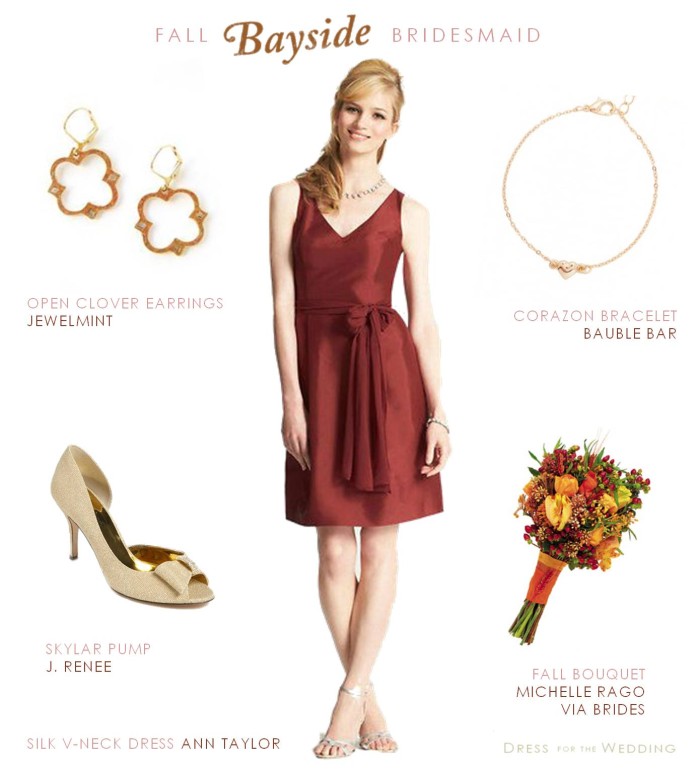 Ann Taylor Silk Dress in Scarlet Rose / Open Clover Earring / Little Heart Bracelet /Bouquet via Brides designed by Florist Michelle Rago / Beige Gold Pump
If this is one of the wedding colors you're considering, be sure to check out other red bridesmaid dresses, or orange bridesmaid dresses in the shop section!
Affiliate links are used in the shopping links throughout this site.
Where to Find Bridesmaid Dresses in Cinnamon