Is It OK to Wear a Black Dress to a Wedding?
We're continuing our series of often-asked wedding attire questions, with this popular query, "Is it ok to wear a black dress to a wedding?" We won't make you wait for the answer-- it's 'Yes',-- but, there are some exceptions and guidelines that go along with this 'yes'!
Shopping sources on this site use affiliate links, which means this site may earn a commission if you make a purchase from our links.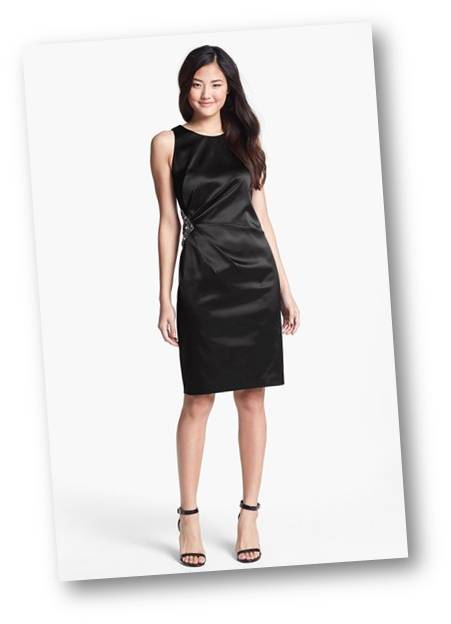 This pretty black cocktail dress by Eliza J From Nordstrom is lovely for a semi-formal evening wedding. The side embellishment makes it festive!
When is it OK to Wear Black To A Wedding?
I actually had this exact question from my cousin a few weeks ago, so I figured I would answer publicly with my thoughts. I think black dresses are fine to wear to weddings, so long as they fit the time and style of event, and as long as the dress isn't too somber-looking. However, I certainly remember a time when black was considered taboo for wedding attire, so I can understand why this is a popular question.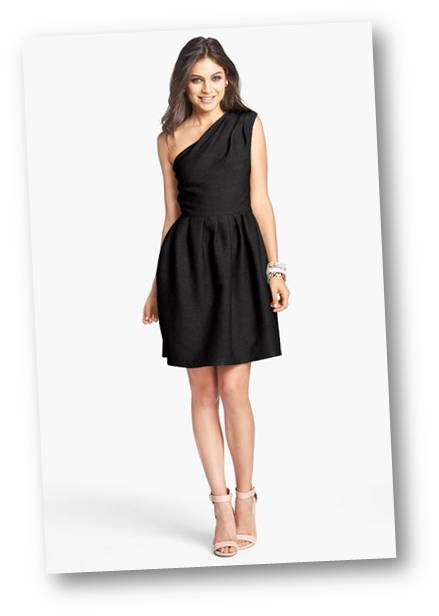 This pretty one shoulder dress from Halston Heritage is ready for weddings and party! Great for bridesmaids too!
Black Dresses That Are Appropriate For Wedding Guests
I have worn black dresses to several weddings, but I wasn't always so sure it was ok. I vividly remember a wedding I went to when I first got out of college where I desperately wanted to wear a well-cut classic little black dress, but I was afraid it would be bad taste to do so. Instead, I wore an ill-fitting printed dress that I bought in a frenzy that morning, and spent the wedding wishing I looked as chic as the several other guests who had worn little black dresses glammed up with tasteful jewelry.
Within the past few decades and the advent of the little black dress becoming go-to cocktail attire, the black dress became definitely acceptable as wedding wear. But there are types of black dresses I'd steer away from, and types of weddings when it's not appropriate to wear a little black dress. More thoughts on the matter are below.
Here are some pretty black dresses you can wear to a wedding:
Shop Black Dresses for Wedding Guests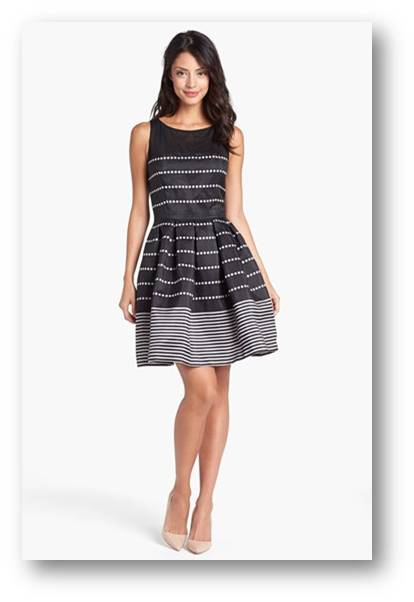 This pretty black and white fit and flare by Taylor is a perfect party dress! It has cheerful dotted pattern, so I think it's a lovely choice for a dressy or dressy casual wedding. ( It even works for daytime!)
Where and When to Wear a Black Dress to a Wedding
A pretty, conservative black dress is considered perfect wedding attire for many evening weddings, city weddings, and a full-length black gown is especially appropriate for black tie weddings. The key is always to make it look festive, elegant, cheerful and chic, so never wear something to a wedding that you might just as easily wear to a funeral.
When Isn't a Black Dress a Good Idea?
Black has long been considered a color of mourning, and of course mourning a friend's wedding is not the ideal message to convey with your attire. My guideline is to wear a back dress that is clearly festive, and to not to wear a dress that you would also wear to a funeral. If you have a go-everywhere classic little black dress that perhaps once did get worn to a funeral, make sure you dress it up with jewelry, a colorful wrap or a bit of brightness somewhere so that you look elegant and radiant in black, and not the least bit morose. My rule is always that you should feel confident in your attire, so if black makes you feel uncomfortable, or like you might be breaking a social rule, choose one of the many other beautiful colors to wear.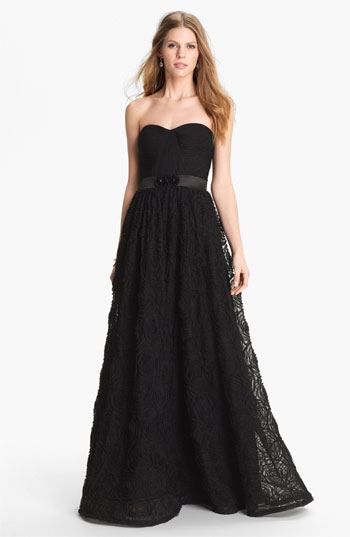 I adore this elegant dress from Adrianna Papell for a formal black tie wedding.
When Not to Wear a Black Dress to a Wedding
I'll never forget a wedding I attended as a young flower girl, where someone was dressed in fitted black suit with a black lace gloves and a black fascinator-style hat that had little black veil. I remember how much it looked like dramatic funeral attire straight out of a Hollywood wardrobe department, and how tongues wagged about this person's outfit. I don't even think this person was intentionally trying to make a negative statement about the wedding -- it was decades ago, so it was more about this person expressing their style with slightly punk/goth-inspired fashion. Still, it stood out in my mind, and to this day, I don't think any wedding guest wants to stand out like this person did.
As always, you'll want to steer away from little black dresses that are too tight, reveal too much leg or cleavage, or are too form-fitting. If you happen to think that the bride or the family might find a black dress offensive, opt to wear a color and something more festive. I would not generally wear a black dress to a morning or early afternoon wedding, especially without adding some bright spots of color, or making sure it had some pretty print to it. I also wouldn't wear a black dress to a garden party type reception where brightly colored pretty dresses would be more in keeping with the party. A casual beach or summer backyard wedding is also another place where basic black may look too uncomfortable and austere, so I'd try to wear pretty beach-inspired colors.
Even More Musings on Black Dresses for Weddings
These black lace dress posts are a popular on this site and I sometimes get concerned that a daytime wedding-goer might be inspired to follow them to the letter, because black lace isn't my first choice for most weddings unless it's a formal evening event. The black lace dresses I've written about were chosen with the bride's consent, but even though a black lace dress can be classic, unless you wear a every elegant black lace dress with some spirited accessories it can still look a little severe and sometimes racy -- especially if it's form fitting or has a very sheer look. I'd use caution with that dress choice although I've seen it look very stately and chic at formal weddings on the right person.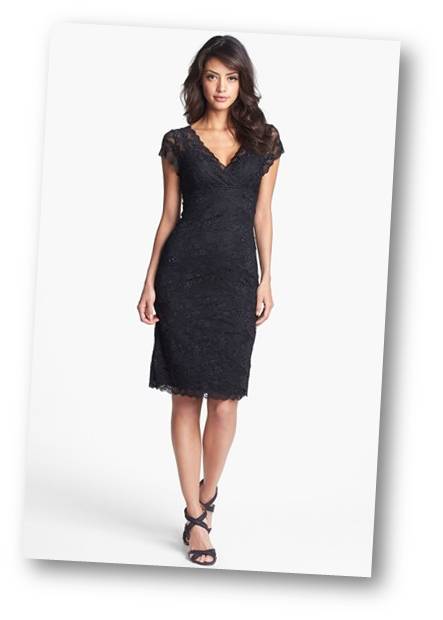 This dress from Marina is what I'd consider tastefully tailored black lace dress. Add some sparkly accessories to ensure this will be a radiant look for an evening wedding.
I hope you've enjoyed these ideas for how to and when to wear a black dress to a wedding, as well as some of my dress selections. Here are some other posts I've done featuring black dresses if you're wanting more inspiration.
What do you think, do you often wear black to a wedding? Do you find it classic or disrespectful? I always love hearing how other people and especially other geographical regions and cultures feel about this, so please chime in with your thoughts!
Find more black dresses that are appropriate for weddings.
We also answer the question, Can the Mother of the Bride wear Black to a Wedding?
Want your wedding party to wear black? Here are some black dresses for bridesmaids!
More style ideas you might enjoy :