This wedding guest outfit features a unique printed maxi dress. We've also picked out several shops that carry unique wedding guest dresses. We'll help you find a dress to wear to your next wedding that will stand out in the crowd (In the best possible way, of course!)
Affiliate links are used in the shopping links in this post. This means this blog may earn a small commission if a qualified purchase is made.
Unique Wedding Guest Dresses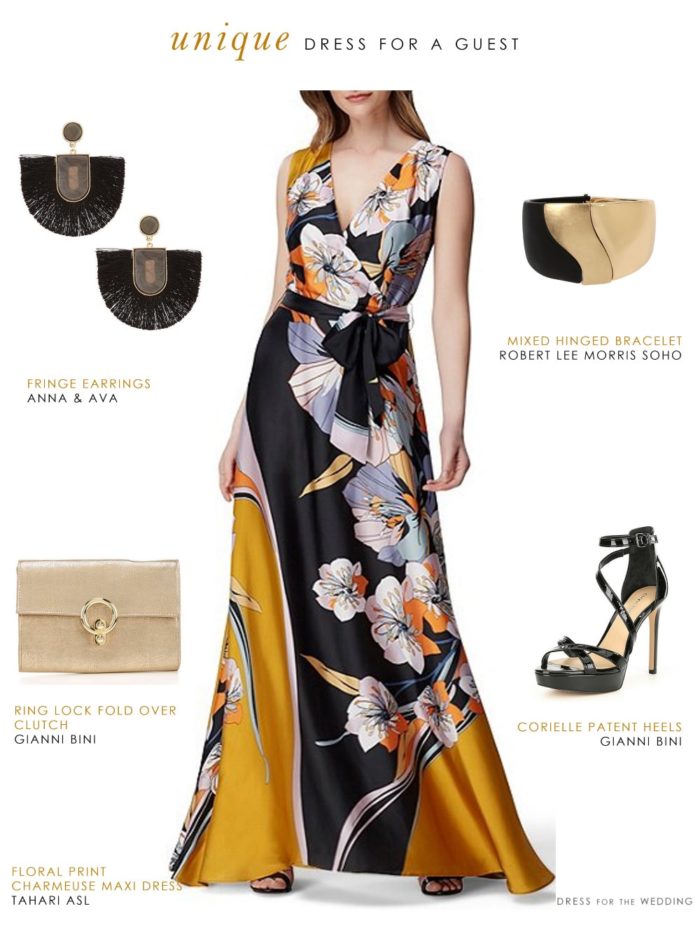 Dress: Floral Print V-Neck Tie Waist Charmeuse Maxi Dress by Tahari ASL from Dillard's | Earrings: Anna & Ava Savannah Fringe Earrings or Resin Earrings Natasha Accessories from Dillard's | Bracelet: Mixed Color Black Sculptural Hinged Bracelet Robert Lee Morris Soho at Dillard's | Clutch: Ring Lock Fold Over Metallic Clutch | Shoes: Corielle Patent Leather Strappy Platform Sandals
What Makes a Wedding Guest Dress Unique?
There are several things that make a wedding guest dress unique. It could be a one-of-a-kind style, a noteworthy fabric, or bold pattern or print, an eye-catching detail like a different hemline, neckline, or shoulder or sleeve. It could also simply be the color!
No matter what, a unique dress will have some element that suits your personal style, has unforgettable appeal, and will garner compliments galore from friends and other guests!
In this example, this dress has a great bold print, a unique wrap waist, and a satiny fabric that one doesn't often see. One can easily see how it would be an unforgettable style, while still being fully wedding guest appropriate. This dress is also easy to wear in nearly any season.
Where to Find Unique Wedding Guest Dresses
Your local dress boutiques and vintage stores are great spots to look for unique dresses. You might also try these online stores which usually have a great selection of looks that have an individual style!
ASOS
ASOS always seems to be one of the most cutting-edge offerings in wedding guest dresses. There's always a unique neckline or fabric in their dresses or they take a classic lace dress and offer it in a bold, but fun neon color. Best of all, most wedding guest dresses are between $50 - $100 here, so you can usually afford to take a bit of a fashion risk! Here are a few great picks!

Rent the Runway
On the other end of the spectrum, if you want a unique wedding guest dress that has designer style, Rent the Runway is one of the best places to get your hands on a fresh from the runway look that might otherwise be off-limits or not in stores. Brands like ML Monique Lhuillier, Marchesa, and others offer bold prints and high fashion style, with a reasonable rental cost.

Anthropologie
Even though it's a national brand, Anthropologie specializes in that curated boutique style! Their buyers always seem to find dresses and special event attire that has a distinct and sure to be compliment-getting style. They've also expanded party and special event dress offerings lately and offer some of the best of them through their sister brand for weddings and special occasions, BHLDN .

ModCloth
If you like a vintage look or something with a bit of quirky interest, ModCloth is a great place to check out. Yes, they have a load of classic wedding guest dresses, but if you're looking for a dress with a little personality, you'll find it here too!

More Unique Wedding Guest Looks
Dress for the Wedding is a shoppable blog. Affiliate links are used in this post. This means this blog may earn a small commission if a qualified purchase is made.

Featured Dress: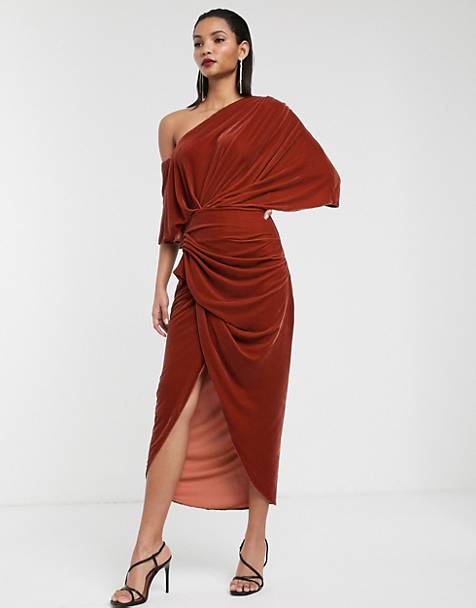 ASOS EDITION drape asymmetric maxi dress in velvet
More style ideas you might enjoy :