Cobalt Blue Dresses
I have a huge crush on this cobalt blue color right now, and it's probably not a new thing. I believe in 5th grade I consistently listed "electric blue" as my favorite color for at least a year. I had shoes in that color that I wore for every occasion and, more recently, for my own rehearsal dinner I wore a royal blue dress which was cut like this one from J.Crew except it was available then in a more cobalt color. I still frequently wear that dress every chance I get!
Affiliate links are used in this post.
Cobalt Blue Wedding Inspiration
Cobalt Blue Inspiration from Style Me Pretty (Roll over each image or click through for image credits)
Some call it sapphire blue, royal blue, or lapis blue, but by any name it's such a versatile color and can be easy to wear in transitional seasons like late winter /early spring, and late summer/ early fall. I love it as a new color for a wedding, as a fresh take on some of the blues that have been wedding staples for years. See how it makes the colors of the bouquet pop, and looks great with blue and white place settings?
For the first look, I chose these 3 dresses for a beach wedding. You could wear these as a guest to a formal beach wedding, or they'd be pretty beachy bridesmaids dresses, too. The one on the left has a daring backless style (great for a beach wedding, or a chic city wedding in a gallery or restaurant but not great for a formal church ceremony), and the one far right is a convertible style that can be worn 15 different ways and is one size fits all - really helpful when you're trying to fit a variety of bridesmaids!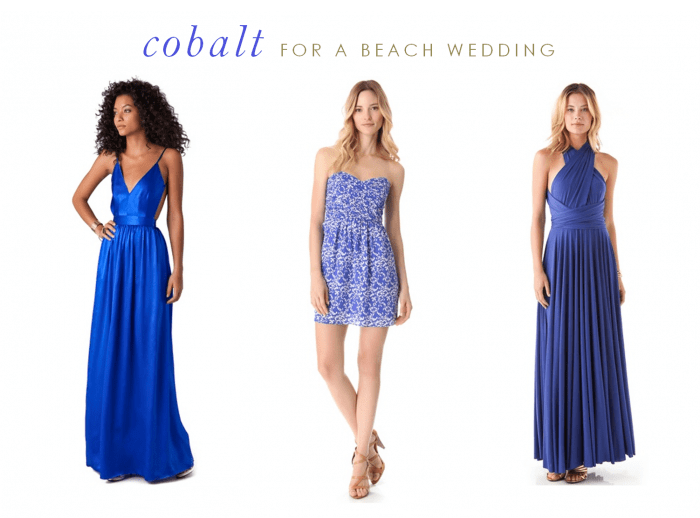 1. ONE by Babs Bibb Maxi Dress from Shopbop 2. Shoshanna Mylie Petit Cove Dress 3. Twobirds Convertible Long Wrap Dress in Royal
For guests of weddings I chose these three pretty dresses, but they could work for maids as well. I'd wear any of these for weddings in early spring through summer and early fall, too! They are also perfect for beach or destination weddings. I love the lacy cutout look of the Vince Camuto dress on the far right.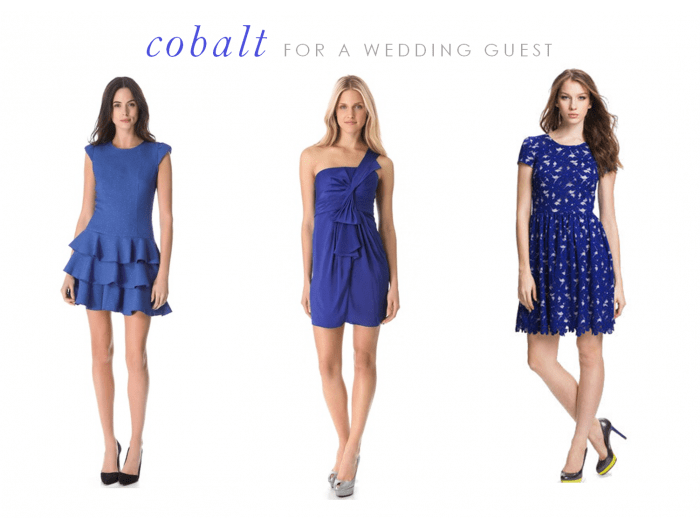 1. Rachel Zoe Ginta Drop Waist Ruffle Dress 2. BCBG Palais One Shoulder Dress 3. Vince Camuto Short Sleeve Lace Dress
For more traditional bridesmaids' looks, here are 3 pretty bridesmaids dresses with that royal blue hue. The second one in is from Dessy's new line, 57 Grand.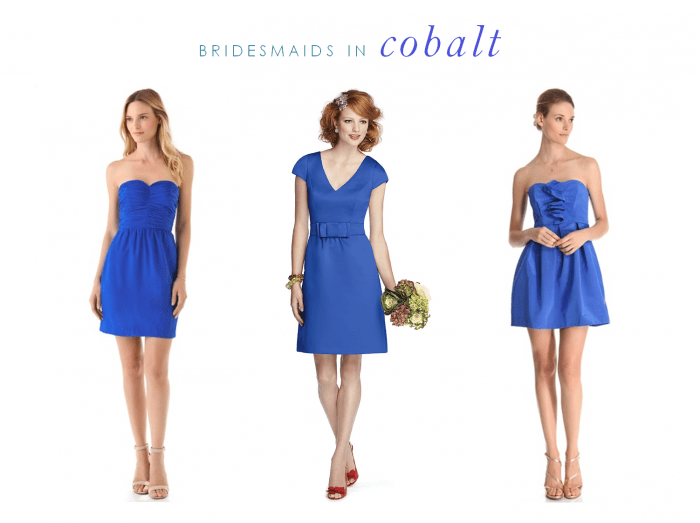 1.Rebecca Taylor Sweetheart Strapless Dress 2. 57 Grand Style 5701 in Sapphire 3. Shoshanna Odette Strapless Bengaline Dress
The great thing about this color is that you can accessorize with so many shades. Brights like pink, purple, green, red, orange, and yellow will all work, but neutrals like black, silver and gold also look great against this blue.
Okay, it's getting a very blue in here, so stay tuned for more on-trend colors soon, but I'll also be returning with a formal cobalt blue look!
Affiliate links are used in this post.

More style ideas you might enjoy :