Pink and Gold Wedding with a Pink Dress
A few months ago, after following one very pretty image on Pinterest, I stumbled upon the Burnett's Boards site. My reaction was simply: Wow! I had clearly been missing out on a vast collection of wedding and design inspiration. Sara Burnett, the talent behind the boards, takes beautiful imagery from the wedding world and beyond, and creates beautifully packaged pieces of wedding inspiration.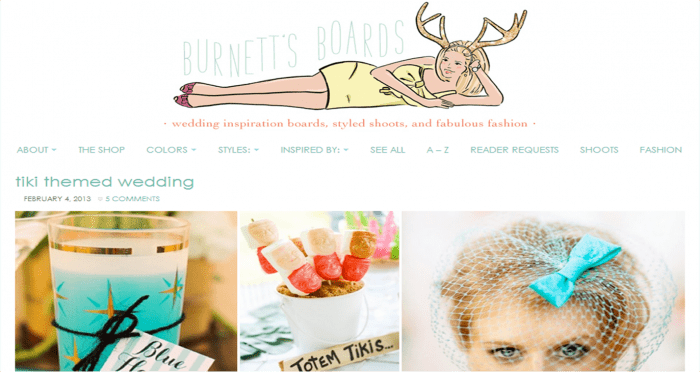 Part of what makes these boards so unique is that they are not just the same flower-filled inspiration you'll find on many wedding blogs.   There are boards about pretty colors, to be sure, but she also has boards inspired by The Great Gatsby, Judy Jetson, The Velveteen Rabbit, a wooden clothespin and edamame!  Sara's creativity and talent is stunning; and her intellect and sense of humor are apparent just through the topics she covers. She sees the beauty in every source imaginable, and then arranges the images so that you can see the vision, too.
While Valentine's Day can get anyone's heart aflutter, my heart leapt a few weeks early when I got a note from Sara asking me to collaborate on Valentine's Day boards with her. (Mental answer when I read her note: "Heck, yes!")  So it was agreed; she'd do the boards, and I'd create outfits inspired by them. So, for the next 4 days you'll see the product of that collaboration in a heartfelt inspiration board and fashion tribute for Valentine's Day. Enjoy!
First up for our collaboration is this classic Valentine's Day color pairing of pink and gold!
Day 1: Pink and Gold Glitter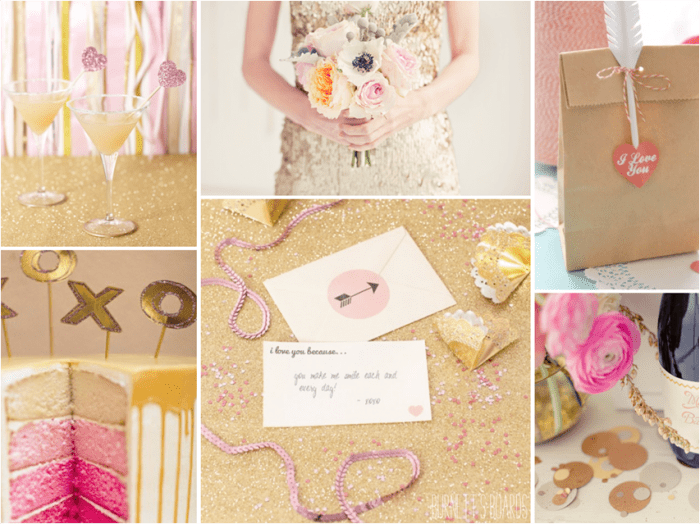 printable valentines, cake, treat bags, grapefruit martini, bride with bouquet & champagne and pink peony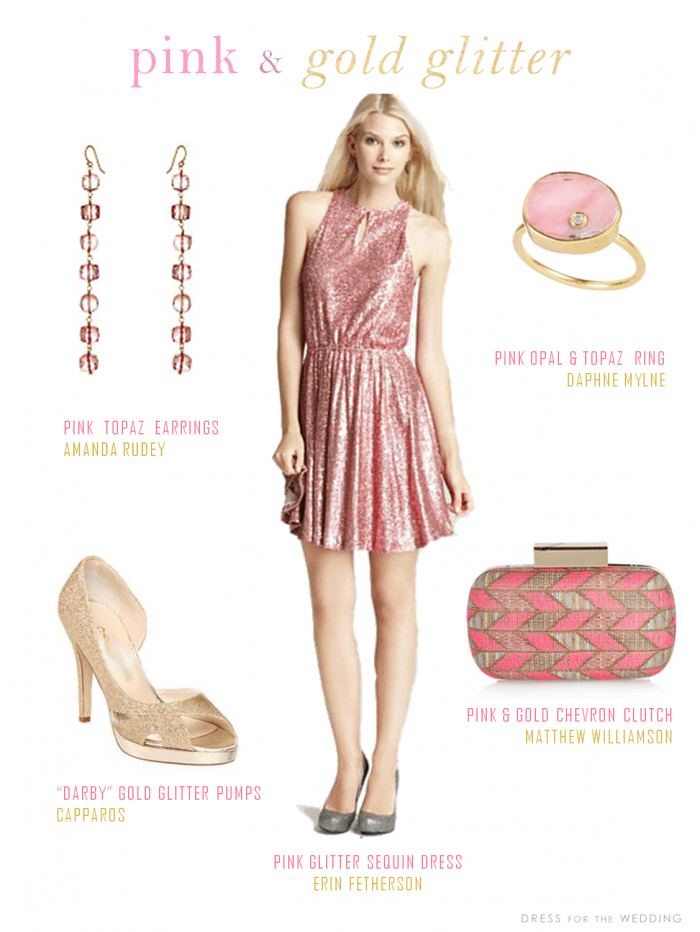 Erin Fetherston Dress - Sequin Keyhole / Daphne Mylne Didi Jewellery Pink Opal and White Topaz Ring /Matthew Williamson Chevron Weave Clutch / Caparros"Darby" Heels in Gold Glitter / Amanda Rudey Pink Topaz Hanna Earrings
There's just something about glitter that indicates a fun party ahead.  For the pink, gold, and glittery Valentine's inspiration board, I chose a pink glitter dress which might work for a wedding guest for a semi-formal evening wedding if it's in the sort of place (like a restaurant venue) that would be ok for sequins, but if it's a conservative wedding venue like a church, I think it's better to be more traditional and leave these sequins for an engagement party, shower, or even a rehearsal dinner. This dress is especially appropriate for a bachelorette party or Valentine's Day date. I really went all out with the glitter; the pink glittery dress, the glittery heels, and the shimmering earrings, clutch, and cocktail ring. This dress is the sartorial version of that grapefruit martini, and just as bubbly and fun.
See you tomorrow for Day 2, or --since Sara is running the posts a day ahead of me -- get a preview here at Burnett's Boards!
View Day 2: Burgundy Bridesmaids' Dress and Rustic Red Wedding