Considering a destination wedding? Learn how to make your destination wedding dream a reality!
Destination Weddings with Apple Vacations and Bahia Principe Hotels & Resorts
This post has been graciously sponsored by Apple Vacations, but the words are those of the editor of Dress for the Wedding.
If you're thinking of planning a destination wedding, you may have visions of walking down the aisle holding a bouquet of tropical flowers, saying your vows on the sand, and dancing the night away at sunset reception while your guests sip on tropical drinks.  But how do you get your dream destination wedding vision to actually come to fruition? I have the answer for you: Apple Vacations and Bahia Principe Hotels & Resorts offer amazing destination wedding packages and an onsite wedding coordinator. These packages have every detail from your to-do list already taken care of: Wedding location and decor? All set! Cake? It's all planned out. Flowers? You bet.  They even have packages that provide room upgrades and V.I.P. treatment for the happy couple and their parents!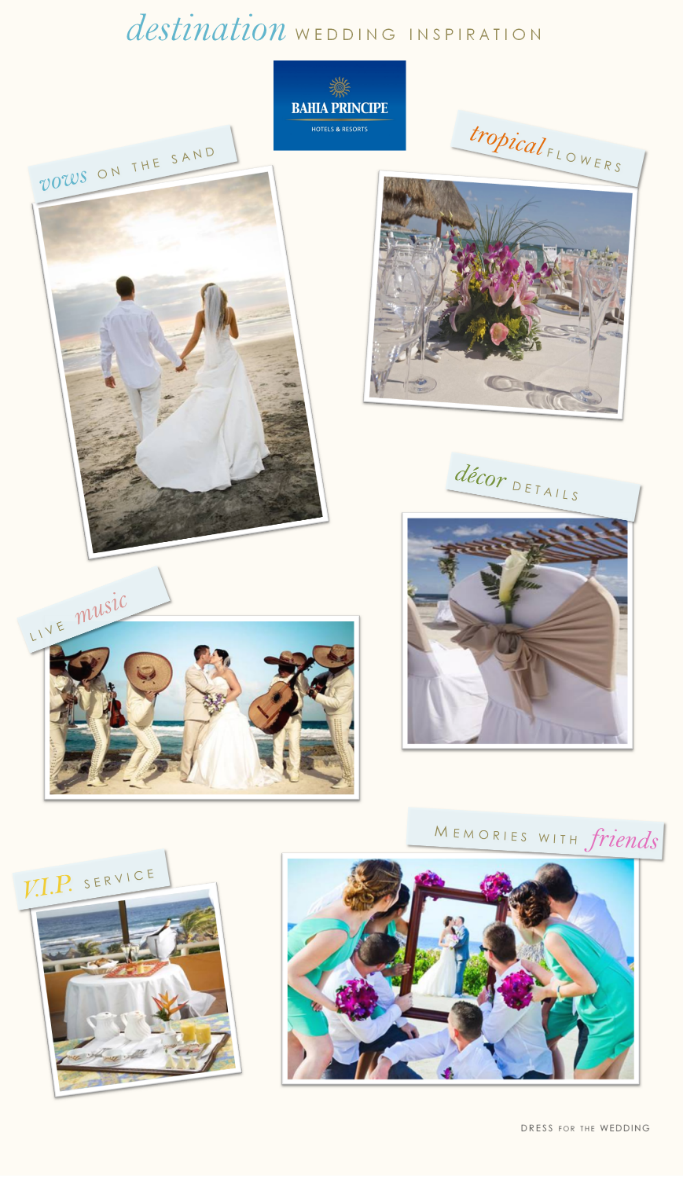 Bahia Principe Hotels & Resorts has thought of every detail for destination weddings, and they also offer loads of options for wedding packages that allow you to select the services that are right for you!  Some resorts offer free wedding packages that include a wedding coordinator, decor, and flowers. On top of that, the Sunshine package includes extra treats like turn down service and V.I.P. treatment.  If you want even more special touches like live music, and floral décor at the bridal table, the Unforgettable package has it! If you want everything: 2 hours of open bar, 1 hour of cocktails and canapes, sit down wedding reception dinner for your guests, late check out, spa treatments,  champagne luxury toast with Moet de Chandon after wedding ceremony ( max 7 bottles), and V.I.P. attention for you and your parents -- you'll love the Romance Extravaganza package.  Since I'm a "want it all" kind of person, especially when it comes to weddings, I'm really taken with the Romance Extravaganza wedding plan. All of these wedding packages can be booked at Bahia Principe Hotels & Resorts with the help of Apple Vacations. You'll be delighted by how much each wedding package has to offer.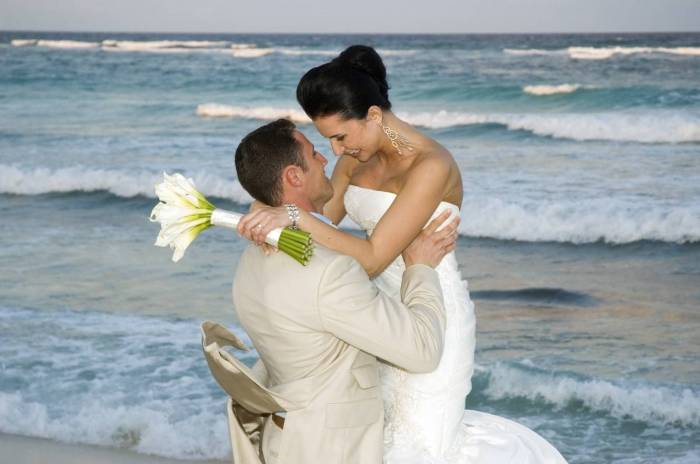 Celebrate in paradise!
I've had lots of experience myself with the fabulous Apple Vacations, so I know that they'd be of great service when it comes to destination wedding plans. My husband and I have booked several vacations--including our honeymoon--with them, and those Apple Vacations ratings with the little apple icons always steer us in the right direction! For destination weddings, Apple Vacations will take care of your travel arrangements, and will put you in touch with an experienced wedding planner to coordinate the day of your dreams.
By now you're probably seeing that your dream wedding details are all set, but what about the details for your guests? Apple Vacations also offers their Group-Ease program, where your your guests and wedding party can enjoy discounts. This deal works for groups with as few as ten guests!
From making travel arrangements,  to sorting out the legal requirements of a destination wedding, Apple Vacations will take care of it all. The Bahia Principe Hotels & Resorts properties are located in Dominican Republic, Jamaica, and Mexico, so you have a wide variety of dream locations to choose from! Your Apple Vacations agent can help you find the perfect place for you and your mate to say "I do". Simply pick a resort, the rest will be as relaxing as a walk on the beach!
Apple Vacations has generously sponsored this post, but the opinions are those of the editor of Dress for the Wedding.