Sponsored by Nordstrom. Affiliate commission links are also used in this post this post about pretty white dresses for weddings, bridal showers, parties, and graduations.
Pretty White Dresses + Jumpsuits for Weddings and Parties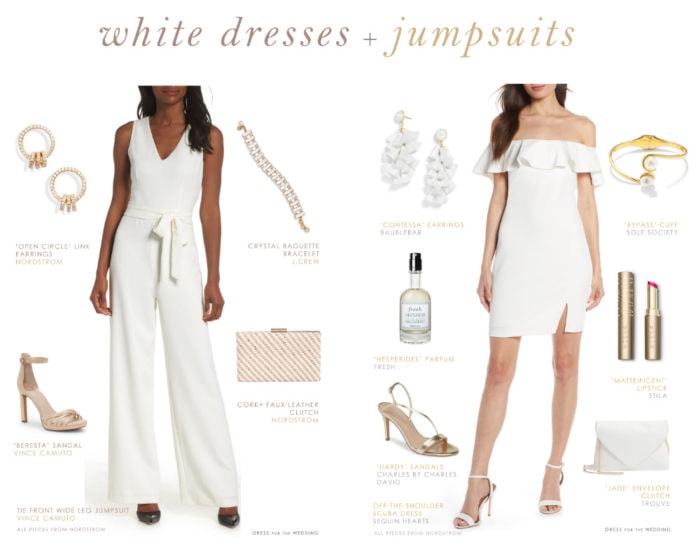 Mid-to-late spring and summer are the seasons of the little white dress! Brides-to-be are often in search of pretty white dresses to wear for wedding showers, engagement parties, bachelorette parties, rehearsal dinners - or even for the wedding ceremony itself.
Cute White Dresses + Jumpsuits for Brides-to-Be, Parties, and Graduations from Nordstrom
Spring also brings graduations and other events where white dresses, jumpsuits and rompers are in demand. So whether you're getting married, graduating, or just ready to celebrate the warmer weather, we've partnered with Nordstrom to show off a few outfits highlighting the perfect little white dresses -- plus some white jumpsuits and rompers -- that you're sure to love!
Off-the-Shoulder White Dress for Bachelorette Party
Break out the bachelorette sash! You're ready for a night out with your friends in this cute off-the-shoulder white ruffled dress.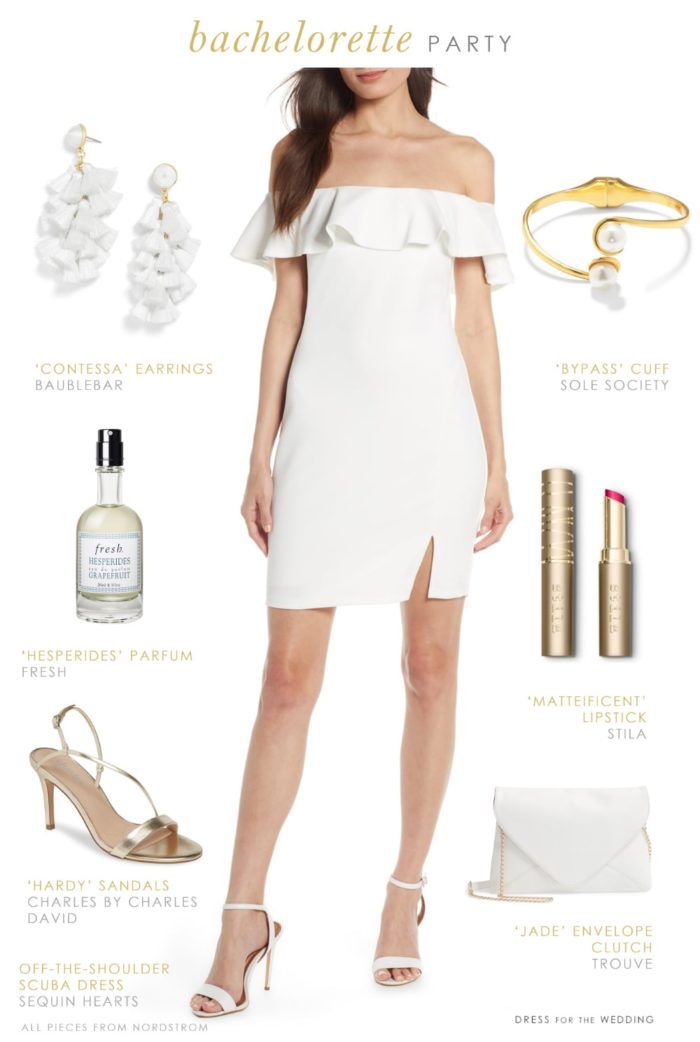 All pieces from Nordstrom. Dress: Sequin Hearts Off the Shoulder Sheath Scuba Dress | Earrings: BaubleBar Contessa Tassel Earrings | Bracelet: Sole Society Bypass Cuff | Lipstick: Stila MATTE'ificent Lipstick | Clutch: Trouvé Jade Envelope Clutch | Shoes: Charles by Charles David Hardy Strappy Slingback Sandal | Fragrance: Fresh® Hesperides Grapefruit Eau de Parfum
This white dress with off-the-shoulder neckline, and a bit of ruffled detail, is the perfect party-ready look for a night out for your bachelorette party. Pair it with some oversized earrings to bring attention to this shoulder-baring style! Neutral shoes, with a modern clutch and oversized pearl cuff, finish the look.
Shop The Look

Complete the Look with Beauty Stylists at Nordstrom
Your pre-wedding parties, are a wonderful time to use Nordstrom's in-store services to help you get ready for your special occasion.
You can work with a beauty stylist who can recommend makeup, fragrance, and skin care, for all of your wedding-related special events. And, since time is often limited as you juggle wedding planning, you can also take advantage of Buy Online, Pick Up In Store. It's the perfect way to reserve those must-have items, and receive them that same day.
Cute Ivory Floral Dress for Wedding Shower
A pretty print, pleats, and tiered skirt, make this romantic ivory dress a great choice for your wedding shower.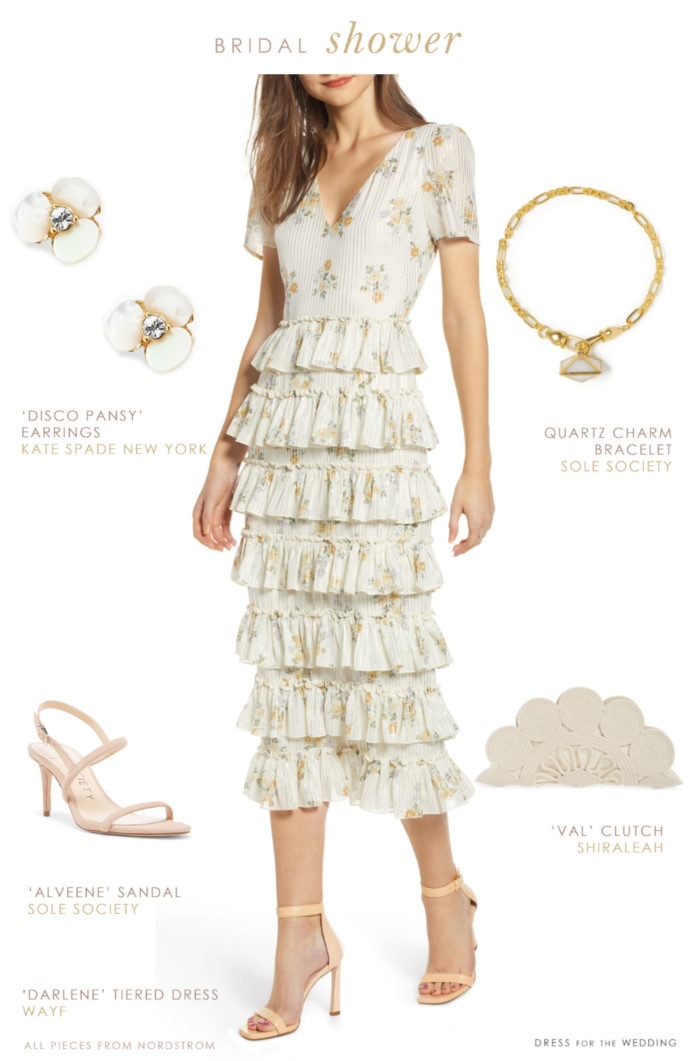 All pieces from Nordstrom.Dress: WAYF Darlene Tiered Ruffle Dress | Earrings: kate spade new york 'disco pansy' stud earrings | Bracelet: Sole Society Quartz Charm Bracelet | Clutch: Shiraleah Val Woven Clutch | Shoes: Sole Society Alveene Sandal
This charming floral print ivory dress is a unique take on the little white dress. The tiered chiffon floral pleated fabric strikes the perfect balance of bohemian sophistication. It's a pretty and polished style to wear to a daytime or afternoon event like your shower, or for your engagement photos!
If you want a solid white dress, another fantastic dress is this ASTR the Label white lace midi dress. It comes in tons of colors including white. It's only $89 and has a classic style that works for so many events -- showers, rehearsals, honeymoons -- you name it!
Shop the Look

Nordstrom Wedding Services
Your engagement and wedding planning period is the perfect time to take advantage of Nordstrom's wedding services. Nordstrom is always one-stop shopping for clothes, accessories, and beauty - and that especially holds true for everything you need for your wedding!
Selected in-store locations offer The Wedding Suite, where top designer wedding dresses are available to try on and purchase. Before your wedding is also a great time to work with a Nordstrom wedding stylist, who can help you find a wedding dress, put together all the outfits you'll need from your engagement to reception, recommend the perfect pair of wedding shoes, or coordinate styles for your entire wedding party!
White Jumpsuit for Rehearsal Dinner
A sleek jumpsuit look for the rehearsal dinner, or an engagement party!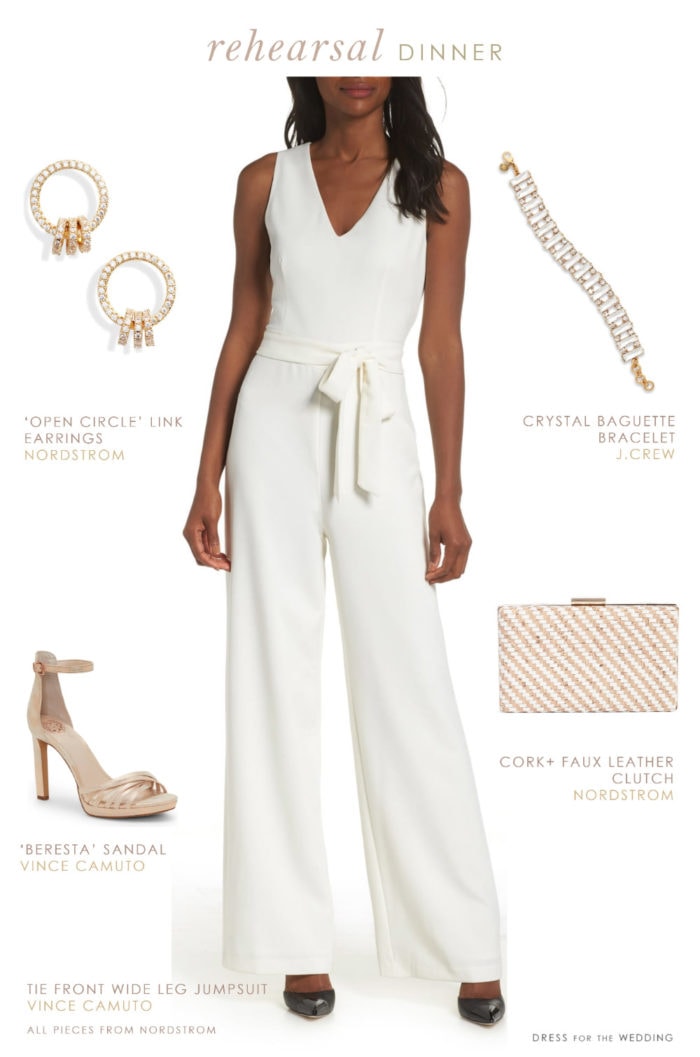 All pieces from Nordstrom.Jumpsuit: Vince Camuto Tie Front Wide Leg Jumpsuit | Earrings: Nordstrom Open Circle Link Cubic Zirconia Earrings | Bracelet: J.Crew Crystal Baguette Bracelet | Clutch: Nordstrom Woven Cork & Faux Leather Clutch | Shoes: Vince Camuto Beresta Sandal
This white jumpsuit is a great look for a rehearsal dinner, for a bachelorette party, or even for the wedding itself! If you're wearing a grand wedding dress, I love the idea of wearing a pants or a jumpsuit the night before, to allow the two silhouettes you'll be seen in to contrast a bit, and leave your wedding dress as the big dress reveal!
Shop The Look

Nordstrom Tailoring
Jumpsuits are notorious for requiring a perfect fit. Nordstrom offers in-store tailoring and alterations services, to help you get the perfect fit for any items you own, whether you purchased them at Nordstrom or not. It's a great way to get a perfect fit for all your wedding outfits!
Nordstrom Has it All for Wedding and Special Occasion Dressing
The little white dress is just the beginning! No matter what your role in the wedding, Nordstrom has something for every guest, attendant, and couple!
For the most current looks, check out the trending section with fresh styles that reflect the most of-the-moment items.
We've picked out 30+ more little white dresses below! If you're seeking classic dresses and suits for the wedding party, or something to wear to a summer full of weddings, you also can find the perfect outfit and all the finishing details at Nordstrom.
Shop Cute White Dresses for Celebrations for Brides to Be and Graduates
Sponsored by Nordstrom. Affiliate commission links are also used in this shopping section.