Sponsored post. This guide to Summer Style has been generously sponsored by Walmart. Affiliate links are also used in this post.
Summer! It's the time of year where every day, evening, and weekend might have an invitation or special event attached to it. That kind of fun schedule requires cute outfits to throw on and go! We're showing off some of the best pieces and top trends to add to your summer 2019 wardrobe from Walmart's We Dress America summer collection!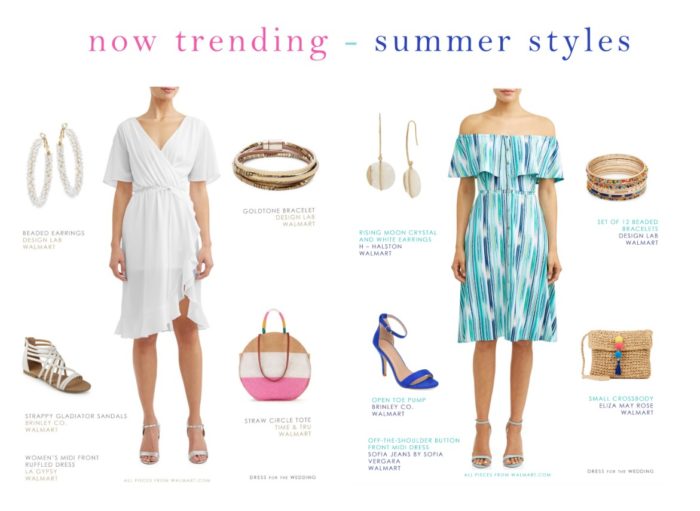 Summer Style Trends with Walmart
Whether you're just celebrating the warm weather with friends, attending a daytime shower, or need a few casual outfits for events surrounding a long wedding weekend, you might be looking for some chic, easy, pieces to wear that reflect the best trends that summer 2019 has to offer.
Walmart's We Dress America curated collection is full of just those kinds of pieces. Walmart has gathered these clothes and accessories with an eye toward this season's biggest trends, and a goal of offering a selection that encourages original style for every personality. There's everything one needs for summer; one-piece jumpsuits and dresses for easy dressing, printed pieces, and colorful accessories that make a statement. Just selecting a few of these elements will ensure you have outfits at the ready, so you can make your summer style as effortless and fun as summer itself.
Outfits for Summer Celebrations with Walmart's We Dress America
Here are two looks we love with selections from the We Dress America series. We included styles from fresh labels that are exclusive to Walmart like Time and Tru, TEXTILE, and Sofia Jeans by Sofia Vergara.
Cool Blue Striped Summer Dress
This artfully striped dress in varying shades of blue is the focus of this cute summer outfit. The beachy hues of blue, white, and turquoise give this outfit a distinctly coastal summer vibe. It's a great outfit for in-town adventures, going to an afternoon cookout, party, or seaside event.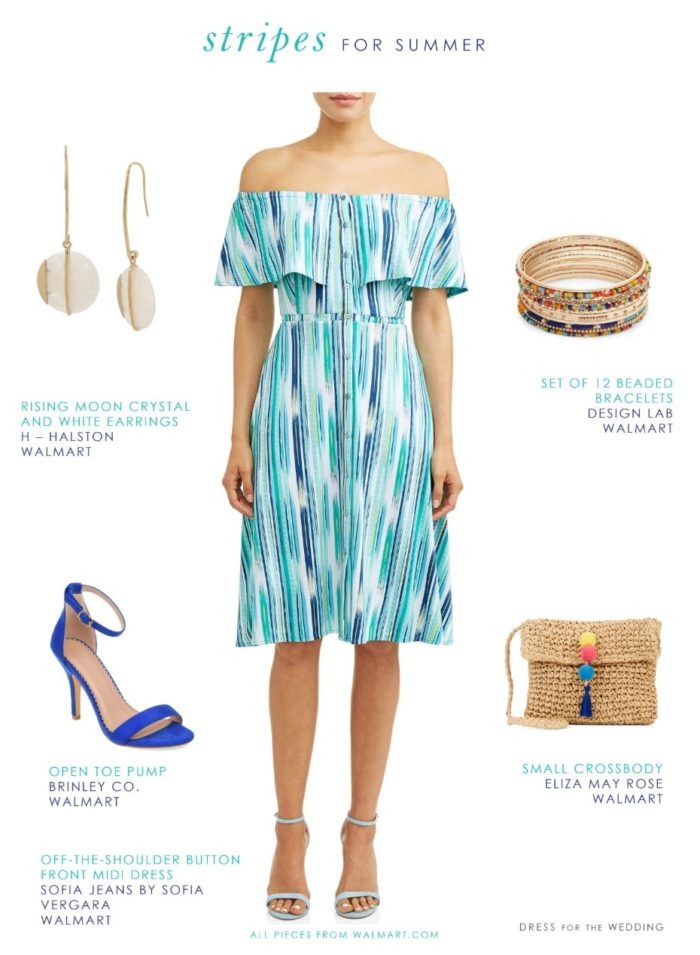 All pieces from Walmart.com Dress: Sofia Jeans by Sofia Vergara - Off-the-shoulder Button-front Midi Dress Women's | Earrings: H Halston - Rising Moon Crystal and White Pearlized Drop Earrings | Bracelets: Design Lab - Set of 12 Goldtone and Crystal Beaded Bangle Bracelets | Bag: Eliza May Rose Small Crossbody Bag | Shoes: Brinley Co. Women's Open-toe Pump
One & Done Dresses and Jumpsuits Make Summer Style Easy
When you get a last-minute invite, there's no faster solution to the question of what to wear, than a dress or jumpsuit. With one-piece dressing there are no tops and bottoms to match up; just throw on a cute dress or suit, shoes, accessories, and go have fun!
Walmart has tons of these options in their One & Done edit, which embraces the idea of trend-forward dresses, jumpsuits that offer this quick and fun approach to one-piece dressing. I personally love a dress in the summer, because it's just so easy and elevates my look a little beyond my usual shorts and a t-shirt. It's the best way to stay cool and be ready for whatever the day holds!
This outfit also makes use of Bold & Bright colors in the shoes and dress and woven accessories; two more hot trends for Summer 2019, that you can find highlighted in Walmart's We Dress America curated guide to summer style.
Shop The Look

A White Hot Summer Outfit
When things heat up, there's nothing cooler than a white dress! Pair it with white accessories and neutral pieces for a chic, crisp, light summer style.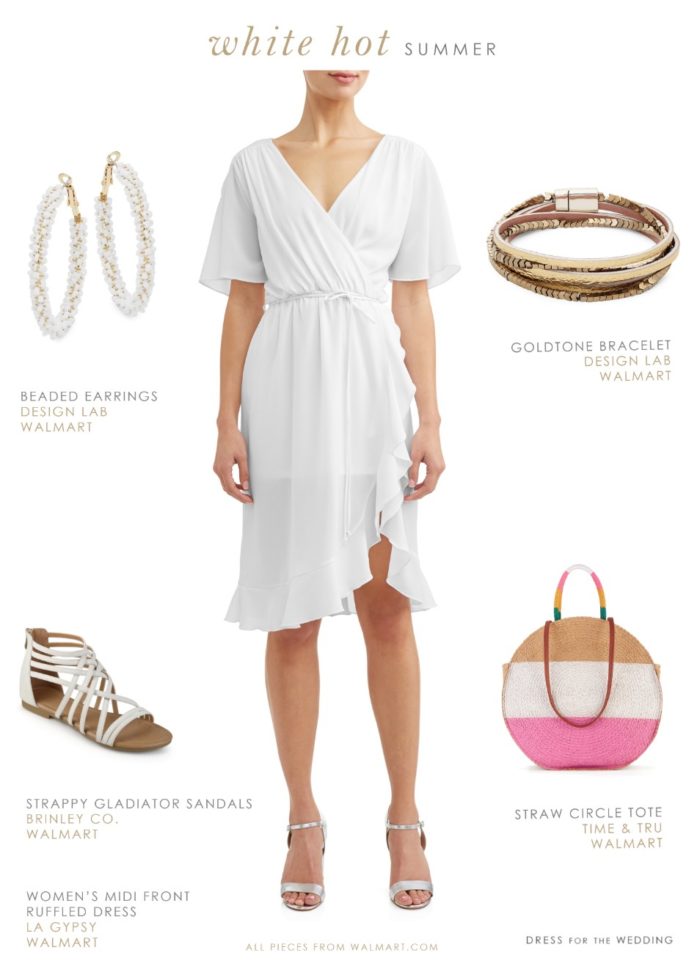 All pieces from Walmart.com. Dress: LA Gypsy -Women's Midi Front Ruffled Dress | Earrings: Design Lab - Goldtone Beaded Hoop Earrings | Bracelet: Design Lab Goldtone Bracelet | Bag: Time and Tru Striped Straw Circle Tote | Shoes: Womens Wide Width Strappy Gladiator Flat Sandals
All Dressed in White
We love always white dresses here on Dress for the Wedding for bridal styles for showers, bachelorette parties, and rehearsal dinners; but really all-white outfits can be worn by anyone. There's something so crisp and summery about wearing an all-white ensemble.
Hot summer days and nights are the perfect time to put on a cute white dress, jumpsuit, or pair of white jeans and a white top. In my town, there's a party each year where everyone wears white; and a look like this would be the perfect outfit to wear for that event.
I've paired this ruffled white wrap dress and white beaded earrings; and added just a hint of contrast with a neutral bracelet, strappy sandals, and a woven bag. Don't the stripes on the bag remind you of Neapolitan ice cream? The result of this pairing is everything good about summer in one easy outfit!
Shop The Look

More Summer Styles From Walmart #WeDressAmerica
Here are a few more of the pieces we love for summer, all available from Walmart. Stay tuned for more style trends, including an upcoming post with ideas for vacation and honeymoon staples from Walmart!

Sponsored post. This guide to Summer Style Trends has been generously sponsored by Walmart. Affiliate links are also used in this post.