Tonight's look is inspired by the sneak peek we saw of JoJo Fletcher's gown for the final rose ceremony on tonight's episode of the The Bachelorette! Are you tuning in?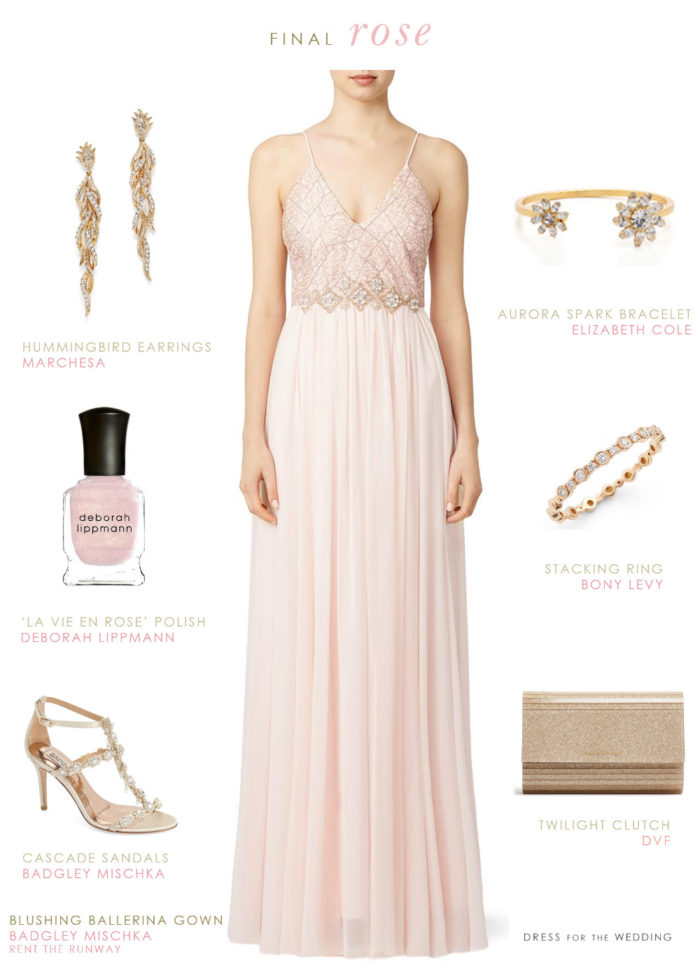 Style idea featuring JoJo's Dress for the Final Rose Ceremony
Shopping sources noted with links in italics are affiliate links from our sponsors and retail partners. 
 Where to Find JoJo's Gorgeous Blush and Gold Gown!
Hi, Friends! If your household is anything like mine, Monday nights mean The Bachelorette (or The Bachelor, depending on the programming cycle!) and tonight's final rose ceremony is always a must-see event!  I love watching not only for the relationship dynamics and drama, but especially for the fashion!
Thanks to a few of the "coming ups" (my husband's term, aka, the sneak peeks and previews of the episode), we've already all caught a glimpse of
the gown JoJo will wear
tonight. We found the exact dress, and then created our collage style idea in tribute!
Since The Bachelorette tapes a few months in advance, I wasn't sure if I would still be able to find the exact dress she is wearing somewhere, but indeed I did! It is by one of our favorite design houses, Badgley Mischka, and there are only 3 still available for purchase, but fear not -- the same dress is available to rent as the Blushing Ballerina Gown from Rent the Runway for $150, which is shown here. I didn't press pause long enough to see all the accessories and details of how it was styled, so the accessory picks are my own. I just thought it was such a pretty dress, and a great piece for today's post.
I've noticed over the years, that the 'Final Rose' gowns have a bridal quality to them, and this particular gown is certainly in that category! If you love this style too, I can see wearing it for a reception dress change, a showstopping engagement party dress, as the focal point for a striking engagement photo shoot, or even as an informal blush wedding dress -- it seems especially perfect for a destination wedding.
This would also make for a beautiful bridesmaid dress option (even though it is a designer gown, like many other dresses it is an affordable option if you rent it!) I see some people have also worn it as a wedding guest. That's the only application I'm not sure of, even though it's blush and not white, it's a little bridal in my opinion. Additionally, since so many bridesmaids wear blush, I'd be on the fence about wearing it as a wedding guest. I'd have to see it in person to make the call,  but I'm completely in favor of it for a bride or member of the wedding party!
Enjoy this look, and the final rose! Of course it goes nearly without saying, but I think JoJo looks fantastic in it!  So whether she picks Robby or Jordan, I think we can all agree she chose a beautiful dress!
More posts and shop sections you might like:
Late Summer Wedding Guest Style Ideas
Shopping sources in shop sections and links in italics denote sponsored affiliate links, which mean we may earn a small commission on qualified sales to support this blog.