Polka Dot and Striped Bridesmaid Dresses : Kate Spade Inspired Wedding Party Attire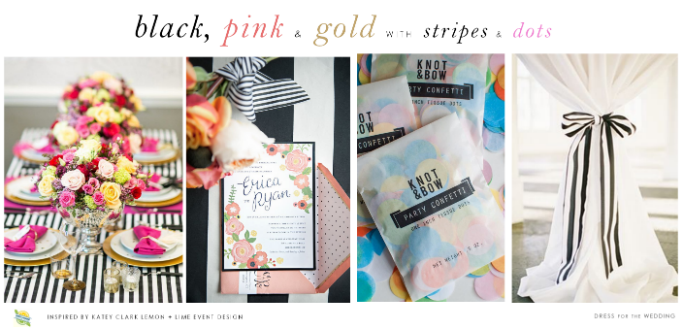 Striped Tablecloth and Floral from a Kate Spade Wedding via B.Loved Weddings, Photography by Anneli Marinovich Photography  | Wedding invitations from Style Me Pretty, Photographed by Carla Ten Eyck Photography, designed by Catherine Ray | Striped Wedding Tent Tie Back via Burnett's Boards, originally from Southern Weddings, photographed by Landon Jacob.
Mix and Match Look for Bridesmaids: Kate Spade Inspired Wedding Party Attire
A few months ago you might remember I shared with you this navy and coral look I created as bridal party attire inspiration for Baltimore-based event planner Katey Clark, who is the co-founder of Lemon + Lime Event Design. What you might not know is that there was actually another look! Now that Katey is a married lady (Congrats Katey + Matt!), I thought it was the perfect time to reveal the second idea.
It's no secret that I'm a huge fan of Kate Spade and kate spade new york products --  hence my posts on the Kate Spade bridal shower, kate spade new york bridal accessories, and wedding gift ideas -- and Katey is too! So much so that her bridal shower had this theme! Of course an event planner had an amazing bridal shower, one so amazing that it would be featured on Style Me Pretty! Check it out here! (Then come back here to see the dress ideas!)
 Black, Pink, Gold, Dotted and Striped Wedding Theme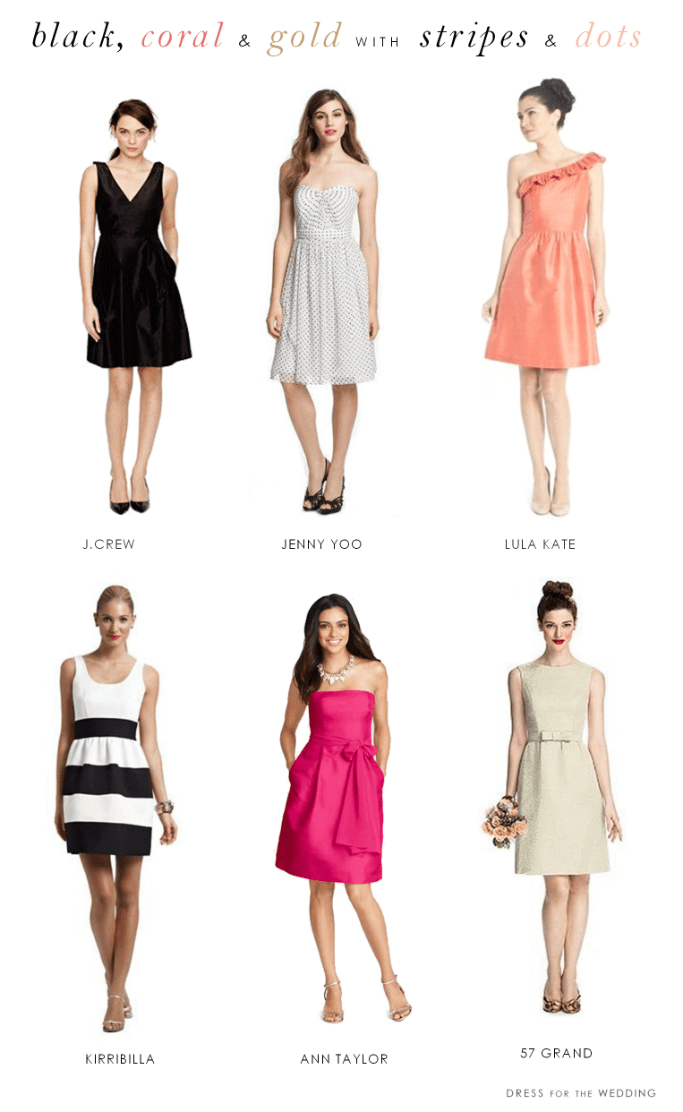 Black V Neck Dress "Hope" from J.Crew  see also Anna Elyse in the Collection| Jenny Yoo Keira Dress (Converts into different styles) at Nordstrom | LulaKate "Bridget" in Coral 
Kirribilla Striped Dress, see also this LulaKate Sassy Stripes dress | Ann Taylor Hot Pink Dress see also options from Anna Elyse in the Collection  | 57 Grand Dress Style 5709  in Ivory Gold
How to Mix and Match Bridesmaid Dresses
To figure out her bridesmaids' attire, Katey gave me a few pieces of the inspiration for the Kate Spade inspired look; which is reflected in the very first collage of images above. Since Katey had 12 bridesmaids, the idea was to break up the colors a little, since 12 ladies wearing the same dress can be a lot of the same color. (That's not to say that it can't be done, but it depends on the color.) The plan was to pick 3 or 4 dresses to distribute the look evenly among 12 ladies. Since Kate Spade is known for color and pattern mix, it's only natural that the bridal party attire should to bring in some fun prints.    Like I did with the navy and coral board, I gave Katey her own PowerPoint with dress options that she could  play around and see what the mix and match patterns could look like on 12 ladies.
I'll be the first to admit that when you bring lots of colors and patterns in, at first it can look a little chaotic, but our idea was to find the mix of color and pattern we liked, and then unify it even more by choosing dresses in the same fabric type and with similar silhouettes. The fabric doesn't always have to match exactly, so play around with your dresses in person to see what you like!
While the Kate Spade idea translated more into Katey's bridal shower than her wedding party attire, you can now feel free to use this idea now in your own wedding!   You'll also want to check out Katey's blog on Baltimore Bride on her dress search, which ended at Garnish! ( Which is where I got my wedding dress, and FOUR of my friends did too. Mia at Garnish is the best! I bet you wish you lived in Baltimore now, right!?)
Here are some ideas we had for the combinations: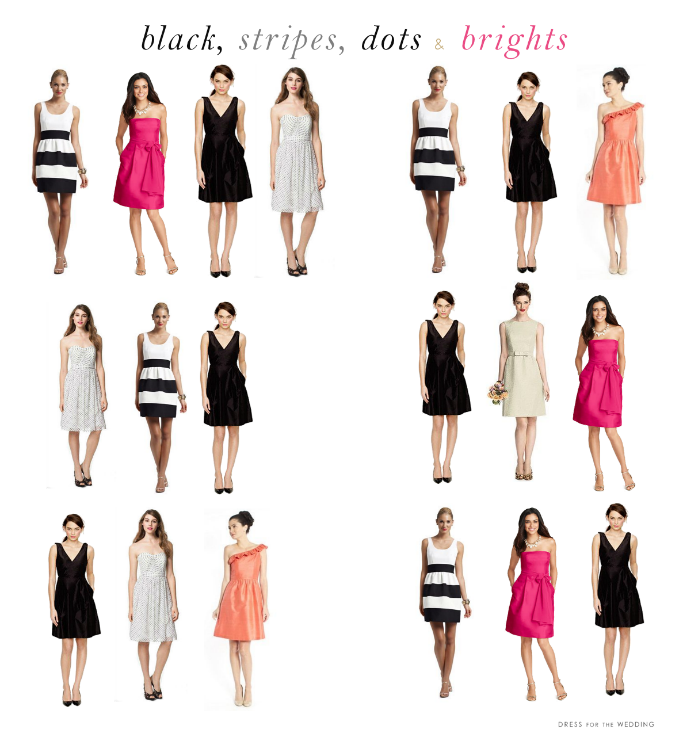 Same as above:
Black V Neck Dress  from J.Crew  see also Anna Elyse in the Collection| White with Small Dots Dress by Jenny Yoo "Keira" Dress (Converts into different styles) at Nordstrom | Coral Ruffled One Shoulder Dress LulaKate "Bridget" in Coral 
Black and White Striped Dress from Kirribilla Striped Dress, see also this LulaKate Sassy Stripes dress | Ann Taylor Hot Pink Strapless Dress from Ann Taylor see also options from Anna Elyse in the Collection  | Gold Retro Style Dress with a Bow 57 Grand Dress Style 5709  in Ivory Gold
More kate spade new york inspiration for Your Wedding
Of course the easiest way to get a kate spade new york look, is to have your ladies all wear Kate Spade dresses!  Another great idea is to rent them, which is easy, because Rent the Runway carries kate spade new york dresses and accessories! LulaKate ( a member of The Collection)  also makes an amazing striped dress you can customize in any color of stripe.  You can also easily find lots of Kate Spade-esque patterns in major retailers like ModCloth: just choose the patterns that the designer is traditionally known for like dots, stripes, and bold solid colors, with a little bit of glitter.  Sophisticated whimsy, I call it! If you don't get an official kate spade new york dress, you can still buy your bridesmaids some official kate spade new york  jewelry as a gift to complete the look.
I could go on about stripes and dots and Kate Spade all day, but I'll leave you to enjoy the looks Katey and I played around with.  I've  put new ideas I added in the Shop The Look section below, since many of those dresses are from last season and may now be unavailable.
This is such a great theme, because these dresses are all are very easy to wear again! Another word to the wise: be sure to mention this theme to your photographer, as small, thin stripes and dots can be hard to photograph, and can appear as solid colors - which is the exact opposite of the bright and bold effect you're after!
For more great ideas to inspire your striped and dotted wedding, check out these features on some of my favorite wedding blogs!
Polka Dots and stripes in Pattern Play on The Bridal Detective
Kate Spade Bridal Shower Inspiration on Bajan Wed
 Kate Spade on Burnett's Boards
This vibrant wedding on Hey Wedding Lady
This dotted inspiration on The Perfect Palette


Dresses:

 Accessories:

kate spade new york is an affiliated retail partner of DFTW, 
but did not directly request or sponsor this post.
More style ideas you might enjoy :