Navy and Coral Nautical Preppy Wedding Look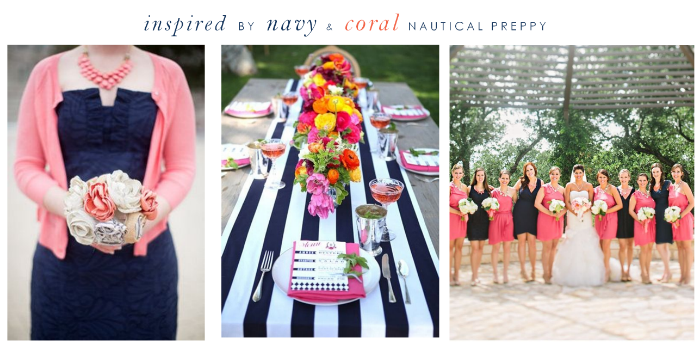 Pink and Navy Bridesmaid via Project Wedding Photo by / Navy Striped Tablecloth via Green Wedding Shoes  Photography by  Annie Edmonds Event Design + Styling: You & Me Events / Navy and Coral Bridesmaids via Oh Lovely Day Photography  Awake Photography  Event Design by Westcott Weddings
As we close out 2013; we're still right in the midst of engagement season. Have you ever wondered what happens when an event planner gets engaged? Lots of fun ideas! Some of my favorite collaborations have come from working with others in the wedding industry, so when Katey Clark, co-founder the Baltimore-based wedding event planning company Lemon & Lime Event Design (which she runs with business partner, Ashley Bertrand Amtmann) approached me about coming up with some attire ideas for her late spring 2014 wedding, I was thrilled. It also really helped that Katey's dream wedding style really closely mirrors my own aesthetic.
As an organized and creative wedding planner, Katey had already put together an amazing collage of some of her favorite wedding inspirations for me to base my ideas off of.  To get an idea of how the attire would reflect that, we pinned some ideas on a secret pin board, and discussed some of the colors, fabrics, and styles that would make for the ideal bridesmaid dress.
Today, I'm happy to show you part 1 of that creative process -- this navy and coral nautical style -- and stay tuned for part 2, which was inspired by Kate Spade colors, tablescapes, and design elements.  Of course Katey will be keeping the actual bridesmaid dress plan under wraps so that the finished look will be a surprise her friends and family, but here are some ideas we bounced around for the theme of a nautically inspired navy and coral look.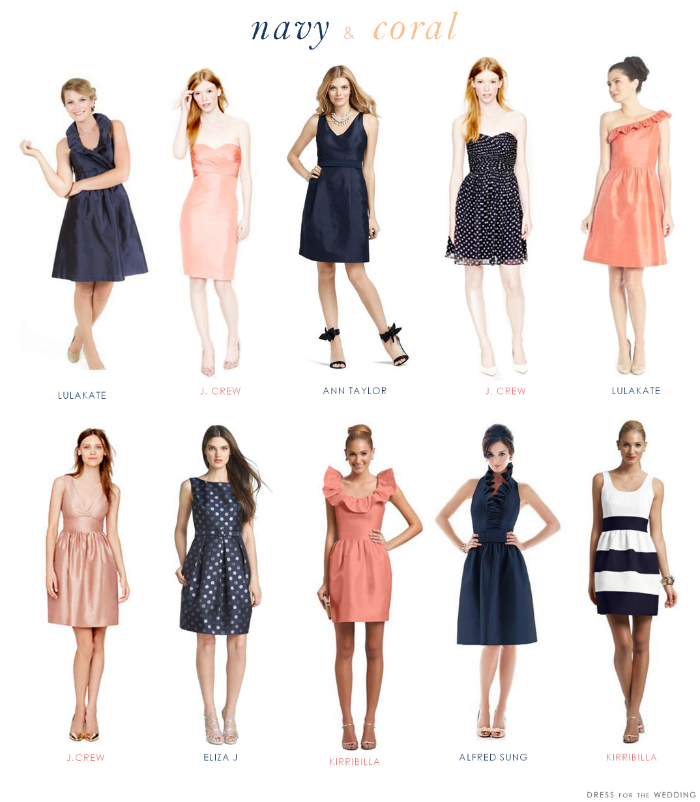 Top Row:  Zoe from LulaKate /  Kristin Dress from J.Crew  / V Neck Silk Dress from Ann Taylor / Arabelle Polka Dot Dress from J.Crew /Bridget from LulaKate
Bottom Row: Hope Dress from J.Crew  / Metallic Dot Fit & Flare By Eliza J / Zoe by Kirribilla at Weddington Way /   Alfred Sung Style D468 / Lucy by Kirribilla at Weddington Way
The first step was to find shapes and colors we liked in the silk duponi fabric Katey was primarily interested in. Styles from J.Crew, LulaKate, Dessy, Kirribilla, Ann Taylor and Eliza J, all seemed to fit the bill.  Stripes were encouraged, as were dots, and fun details like ruffled stand-up necklines and bows.  If you follow this blog, you know how much I love all of this stuff! Think of a nautical wedding look like this one, featuring this LulaKate Sassy Stripes Bridesmaid Dress.
Because Katey has a large wedding party of 12 bridesmaids, she wanted to explore the idea of what I'd call strategically mis-matched bridesmaid dresses, which I love for wedding parties of this size.  While coordination can be best for some wedding parties, having 12 people in the same hue and style, can be a big dose of sameness; especially if it's a strong color. To counteract that, we discussed the idea of perhaps having 2 or 3 different dresses in solid colors paired with one signature stripe or print with this mix divided equally between the wedding party to make it still look cohesive.
So that she could play around with the dresses like paper dolls to get the right mix, I gave Katey this PowerPoint image above so she could clone, move, and copy these bridesmaid looks to decide on the right level of mismatch. Another option is to have primarily the same dress, but just change necklines and skirt styles ( I'd advise to at least  keep skirt length pretty consistent, to keep it things from looking too mismatched!
Once the right mix is settled, it's time for styling fun!  Here are some of the navy and coral accessories that caught my eye for a potential completed look.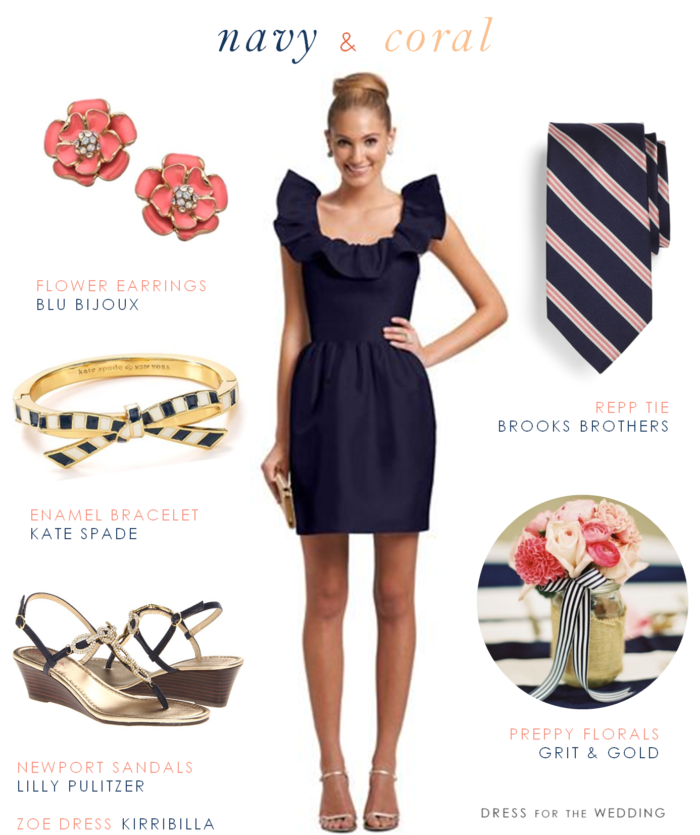 Zoe by Kirribilla at Weddington Way / Flower Earrings from Blu Bijoux / Repp Tie Mini BB#1 from Brooks Brothers / Preppy Florals via Southern Weddings Photographed by Brett Heidbrecht Designed by Grit+Gold / Newport Sandals from Lilly Pulitzer /  Finishing Touch Bracelet by kate spade new york
So there you have some navy and coral wedding style which would be perfect for a preppy, nautical wedding. Stay tuned to see how Katey and I were inspired by the Kate Spade for the next potential bridesmaid look! In the meantime, check out Lemon & Lime Event Design, give them a like on Facebook, and follow them on Pinterest to see their work!