A light blue lace dress for a wedding guest is perfect for spring or summer weddings! We'll talk about how to accessorize a light blue lace dress, and where to find more light blue dresses to wear to weddings!
Shopping sources on this site use affiliate links, which means this site may earn a commission if you make a purchase from our links.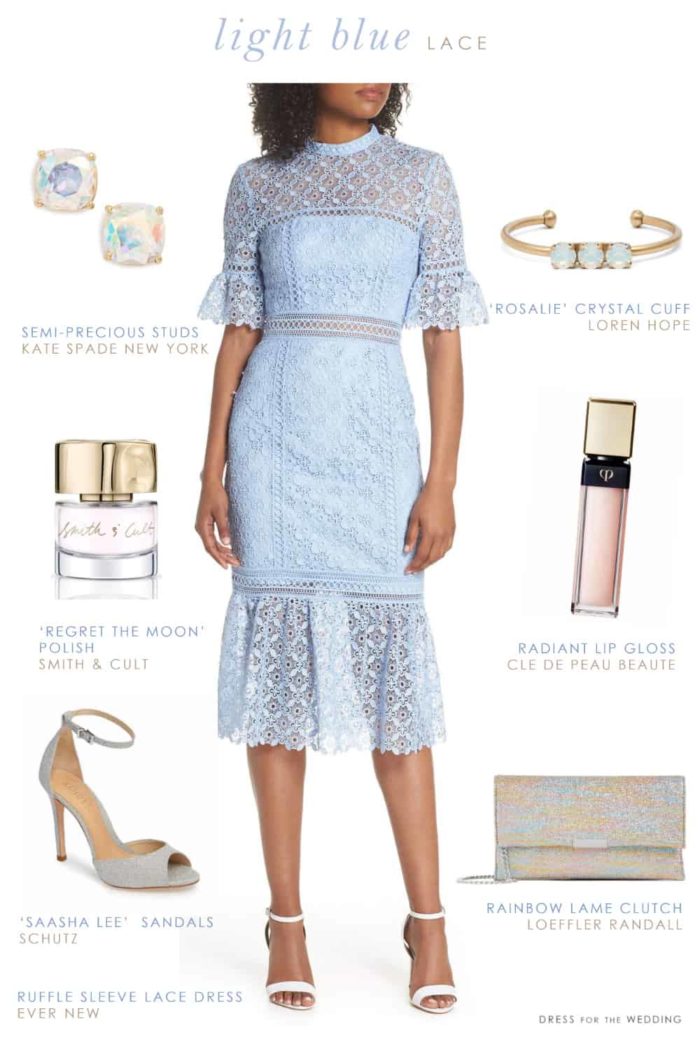 Sources: Dress | Earrings | Bracelet | Lip Gloss | Clutch | Shoes | Nail Polish
Light Blue Wedding Guest Outfit
So, I came across this light blue lace dress when I was seeking out some outfit inspiration for a post I am doing about the Royal Wedding. (That's a guest post on another blog, which I'll share soon!)
I decided this dress - as beautiful as it is - may not work for a Royal Wedding guest outfit because of the sheer spots that give a view of the knee and shoulders. I'm not even sure that those features make this against the Royal Wedding dress code, but I didn't want to take any chances. However, this dress is definitely one to wear to a spring or summer wedding, as long as there isn't a strict dress code involved!
Light Blue Lace Dress for a Wedding Guest
Light blue is one of those universally safe colors to wear as a wedding guest in my book. I'm also going to be starting a series of what to wear to various weddings by location, and this dress was one I was also thinking of for a Charleston wedding, or a New England wedding. The flounce lace sleeves and hem gives this dress a preppy, polished style that would be perfect for a wedding in either of those two locations!
There are very few day or afternoon weddings where this light blue lace dress wouldn't be appropriate. This dress can also go to an evening wedding, as long as a formal or black tie attire isn't what has been requested.
I especially love the fact that this dress has short sleeves! Sleeved-dresses for summer can be hard to find, but they are so elegant when you can find them.
How to Accessorize a Light Blue Dress
I also realized with all the light blue outfits I've done, I've never shared exactly how I figure out the accessories to go with the look. Usually it's based on the style of the dress, or picking up on one color in the print or dress.
There's no one color that has to be worn light blue, but all the metallics like silver, gold, platinum, and even rose gold, will work with this shade.
I also love light blue dresses paired with a darker blue, with white, or with other pastels like lavender, sage green, peach, or pink.
Today, I put this light blue lace dress for a wedding guest with an iridescent accessories that have elements of all of those colors I just mentioned!
More Light Blue Dresses for Wedding Guests
I keep an entire shop page of light blue dresses that are appropriate for weddings! Here are a few of my favorite picks from that shop here!


Shop The Outfit

More Posts:
You also might love:
Dresses to Wear to Spring Weddings
Dresses to Wear to Summer Weddings
Dress Picks for May Wedding Guests