Dotted Wedding Dress
One of my favorite favorite wedding gowns has recently come back into stock after several months of being unavailable. It's this one shoulder Dotted Tulle Wedding Dress by Carmen Marc Valvo.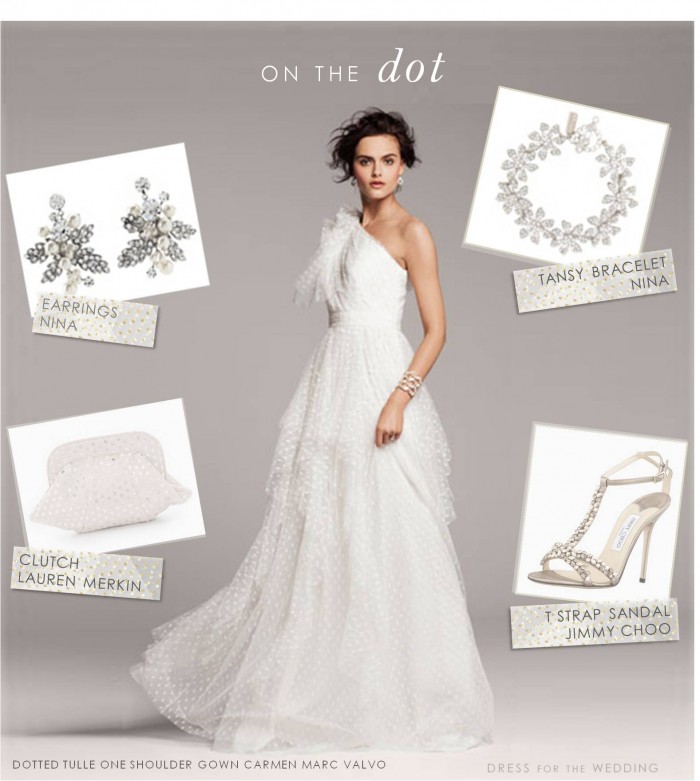 Carmen Marc Valvo Dotted Tulle One Shoulder Gown/Nina Tansy Bracelet  / Nina Adele Earring  / Jimmy Choo Tayn Crystal T-Strap Sandal / Lauren Merkin Handbags Lucy Polka Dot Clutch
Polka Dot Wedding Gown
As I mentioned in this  earlier post about polka dot looks for bridesmaids, dots seem to be synonymous with wedding looks for me.  My mom had her bridesmaids wear pretty swiss dot dresses, my cousin had polka dot bridesmaid dresses, and I just love the subtle texture the dots add.  (It's why I used them as a design element on this site!) This wedding  dress looks so modern with the one shoulder styling, and I love the loose tulle layers and naturally raw look to the edges.
I chose some accessories that have a subtle dot to them too - just enough to pick up on the theme without going overboard. The Nina earrings have dots of crystal, and mimic the jagged edge of the gown, the bracelet had a natural shape with some dotted stones, the clutch has subtle metallic dots, and the Jimmy Choo sandals are dotted with crystals, too.
If you're considering dots for your wedding look, I can think of no finer gown!


Check out more dotted looks here on the Pinterest board I have dedicated to polka dots.
Here are some other fantastic sources of polka dot wedding inspiration.
Society Bride offers this Polka Dot Wedding Inspiration
Green Wedding Shoes did lots of floral texture and color including the Polka Dotted Looks.
And the entire site, Polka Dot Bride, provides glorious wedding inspiration of all sorts, but has this great round up of polka dot wedding items from Etsy.
Looking for more Wedding Dresses? Check out  the Bridal Boutique and The Collection.