Because of world events, Nordstrom is having a spring sale with deep discounts on spring attire before we even get into the season! Here are a few dresses from the Nordstrom Spring Sale 2020, that you can save on now wear when your postponed events are rescheduled.
Affiliate commission links are used in the shopping links in this post. This means this blog may earn a commission if a qualified purchase is made.
Dresses from the Nordstrom Spring Sale 2020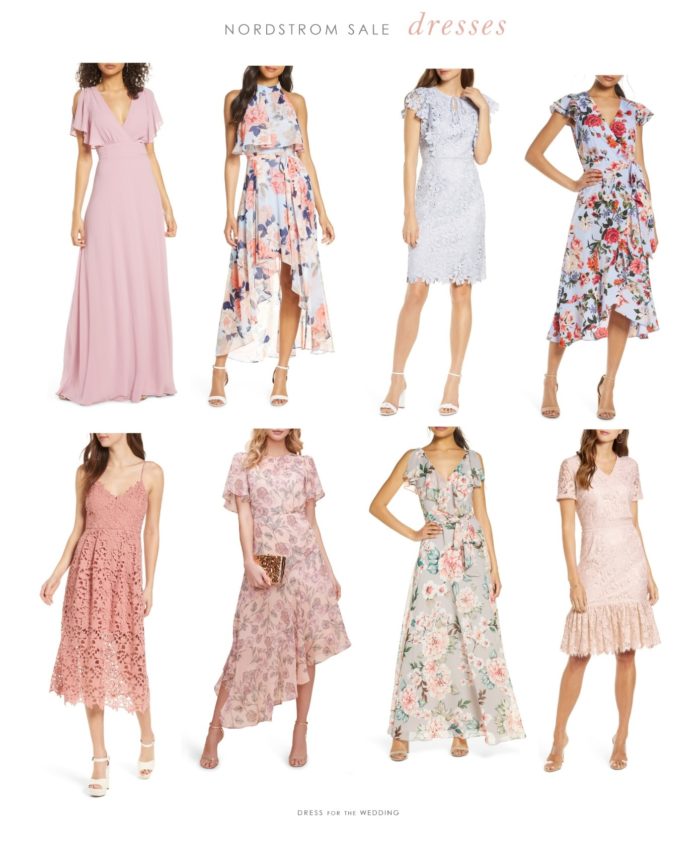 Top: 1| Pink maxi dress 2 | Floral hi-low dress 3 | Lace Sheath Dress | 4 Floral Wrap Dress
Bottom: 5 | Lace Midi Dress 6 | Floral Print Dress 7 | Floral Print Maxi Dress 8 | Lace Ruffle Hem Dress
Sadly, because of world events related to the Coronavirus, most spring events and gatherings have been canceled. It's actually a very strange time to be talking about weddings and clothing since most of us are probably wearing are the most comfortable clothes to stay at home.
However, events will be rescheduled, and the time again to celebrate will come. Planning ahead for that time when we can return to social gatherings, also a good way to stay positive to start planning and thinking about events to come. So, I'm posting today to tell you that there's a big sale at Nordstrom right now with tons of pretty dresses. Of course retailers during this time have thousands of dresses and other special occasion styles that specifically for the spring events. Now, since most events are postponed, dresses for the season are already on sale - when normally they'd be full price.
Spring Dresses on Sale: Save Now Wear Later
Quite honestly, most of these dresses are pretty timeless and completely perfect for summer events and even fall events. Plus, you can wear them next year to spring events, because - hey- no one will have seen anything you purchased or wore this season if you're doing social distancing right! So, if you are trying to save money ( which is a very real need right now) it's a great time to get dresses you might need for events this summer into fall. Here are more of our picks from the sale!
More Dresses

You might also like this post on Summer Wedding Guest Dresses, and How to Postpone Your Wedding or Event