Our thoughts on Birdy Grey bridesmaid dresses, and why we think these affordable bridesmaid dresses under $100 are going to make lots of wedding parties happy!
Dress for the Wedding has an affiliate relationship with Birdy Grey. This means the shopping sources in this post use affiliate links, which means this site may earn a commission if you make a purchase from our links. Opinions in this article are our own.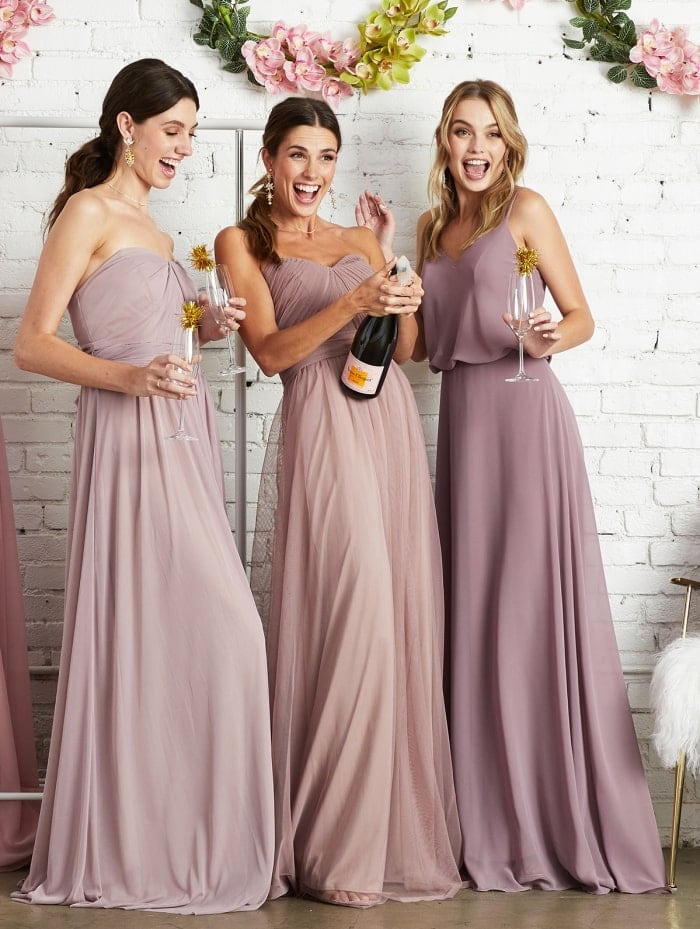 Images courtesy of Birdy Grey. Mauve and Rose Quartz bridesmaid Dresses.
Birdy Grey Bridesmaid Dresses
In researching new bridesmaid dress offerings for our recent post about Bridesmaid Dresses under $150, we were really thrilled to find out about Birdy Grey. Not only are these dresses under $150, but they are actually under $100, with every dress at the time of this writing being offered for $99.
Affordable and Stylish Bridesmaid Dresses
Our love of these Birdy Grey bridesmaid dresses doesn't just end with the price point. In fact, we love several things about this company and these dresses.
While we haven't yet seen the dresses in person, from what we've seen online, read in reviews, and learned about the company itself, there's so much to love about Birdy Grey bridesmaid dresses. (Note: we are planning to order a dress soon and will add our official review and thoughts to this post!)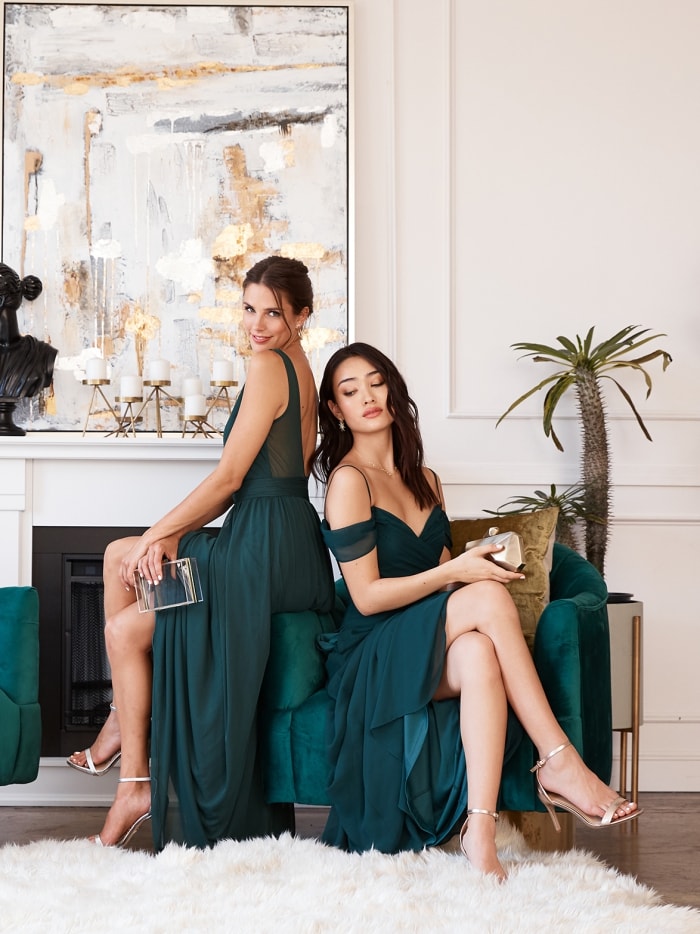 Dark Green Bridesmaid Dresses Under $100 from Birdy Grey
Why We Love Birdy Grey Bridesmaid Dresses
The Colors are Gorgeous and Ready to Match or Mix
Birdy Grey has picked some of the top colors for weddings to offer in their bridesmaid dresses. These are shades that are both timeless and modern. This means you probably won't regret your choice a few years later, and you'll be thrilled with the results.
The colors are mostly pastel and jewel tones that are in the same saturation level making it easy to mix and match related color palettes. The shades of pink, gray, blue and green all have variants that make them great choices for an ombre mismatched palette.
You can also easily just pick one fabric color and let your bridesmaids pick their favorite style in that shade. If you are undecided, or just want to see the color in person before you buy, swatches are available!
Modern Silhouettes and Convertible Bridesmaid Dresses
Each year we get to see some of the new silhouettes for bridesmaid dresses, and Birdy Grey has taken some of the top looks for 2020 bridesmaid dresses including halter style maxi dresses, delicate ruffles, flutter sleeves, deep v necklines, and off-the-shoulder gowns. They also offer convertible bridesmaid dresses that allow for multi-way neckline options, that allow for tying straps to give several different configurations, strapless, with wide straps, halter, one shoulder, off-the-shoulder and a multitude of other styling options.
The Dresses are Ready to Ship
If you're new to bridesmaid dress shopping, you might not realize that most of the dresses ordered via bridal shops have a lead time of several months. This means you'll be waiting for a long time before you can try on your dress and get it altered. Not so with Birdy Grey! These dresses are ready to be shipped out immediately. This means you'll have your dress quickly, and won't need to worry about rushing to make sure you have your dress in plenty of time for the wedding (Note: Birdy Grey still recommends ordering at least 3 months before you need the dress to allow for time in case you do need to exchange or alter the dress) This ready to ship feature is also especially helpful if you need a dress in a pinch for a wedding with a short timeline or because another dress didn't work out!
The Company is Founded by and Run by Women
Birdy Grey was founded by women who completely understand the struggle of bridesmaid dress shopping and the expense of being in a wedding in general! They could relate so well to the need for picture-perfect, great fitting bridesmaid dresses in the top wedding color schemes from their own experience... and they understand that great looking high-quality affordable bridesmaid dresses are a niche that needs to be filled.
The Reviews are Glowing
Each dress has a review next to it, and we're seeing some glowing marks. It seems like lots of wedding parties are having a great experience with these Birdy Grey dresses. In the few cases, where there has been an issue, it appears that customer service from Birdy Grey is responsive and makes every effort to help. In my interactions with them they have been committed to making customer service a priority.
These Bridesmaid Dresses Have Pockets
I really should have made this one first and said it twice! These bridesmaid dresses have pockets!
By now, readers of this blog know I really love a dress with pockets, and the love of dresses with pockets is a pretty common cheering point among dress wearers. However, bridesmaid dresses with pockets are really rare!
As a bridesmaid, you can't exactly carry a bag, so you will really love having a pocket for hairpins, mints and other items to help you get through the day as you are busy being in a wedding. It's so nice to have a pocket for a tissue during the ceremony or stow away some lip gloss for making a touch up before your reception entrance.
There are Plenty of Sizing Options
There's new curve sizing, and even maternity styles to fit every body type, and the other styles are thought through for easy alterations for petite hemlines and proportions.
Good Deeds
They offer to recycle your dress for you! If you don't plan on wearing you Birdy Grey donates gently worn dresses to The Princess Project which provides free prom dresses to teens who could not otherwise afford them.!What a great cause and a great way for the dress to be re-worn and re-purposed.
Coordinating Dresses and Accessories is Easy
Not only is it easy to let your bridesmaids order styles that suit their personal taste, Birdy Grey also has coordinating ties and pocket squares making it easy to match groomsmen accessories with the dresses!
See why we're so excited about Birdy Grey Bridesmaid Dresses? To our thinking, they've taken all the pain points of buying bridesmaid dresses and addressed them beautifully! See more dresses in the shop section below!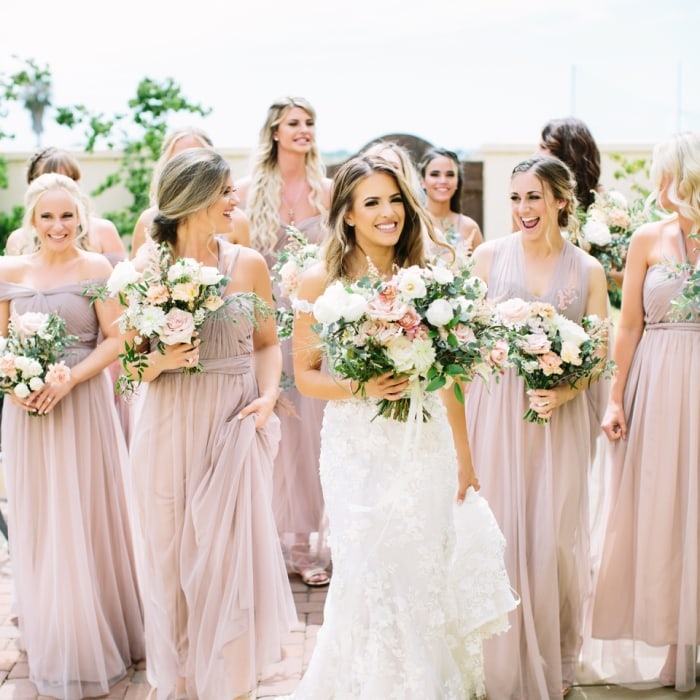 Shop the Look
You can shop our current picks of Birdy Grey Bridesmaid Dresses here!
Affiliate links are used in this shop section.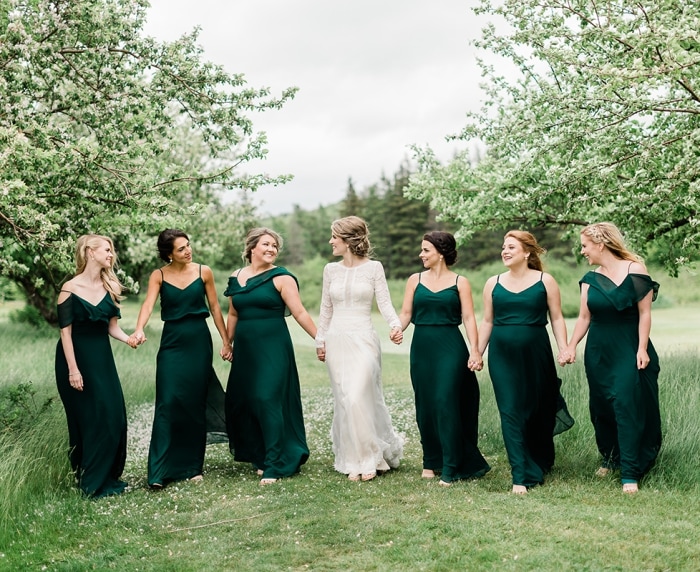 You might also want to check our posts about shopping for bridesmaid dresses by color, bridesmaid dresses under $150, or bridesmaid gift ideas.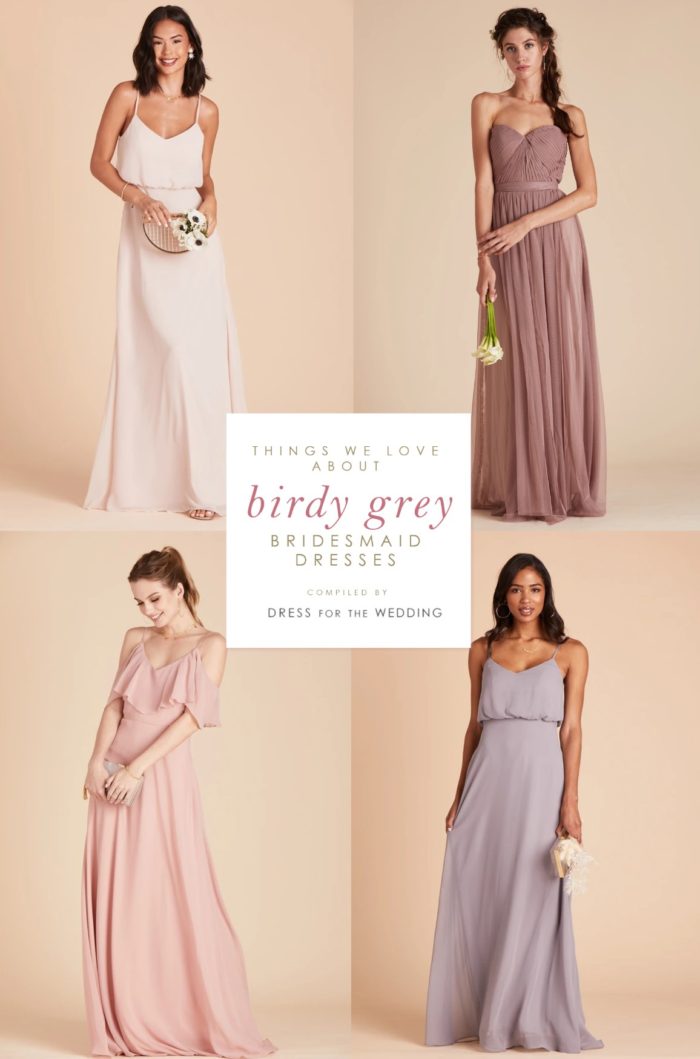 All dresses from Birdy Grey: 1. Gwennie Dress- Pale Blush 2. Christina Convertible Dress - Sandy Mauve 3. Jane Convertible Dress - Rose Quartz 4. Gwennie Dress - Silver