Whether you're planning a wedding in a desert setting, or just trying to get that desert festival style for your wedding, this shopping guide will help bring all of your desert wedding ideas to life! Here are our tips for finding wedding dresses, bridesmaid dresses, attire, decor, invitations, and other details for a desert wedding.
Commission Links are used in this post.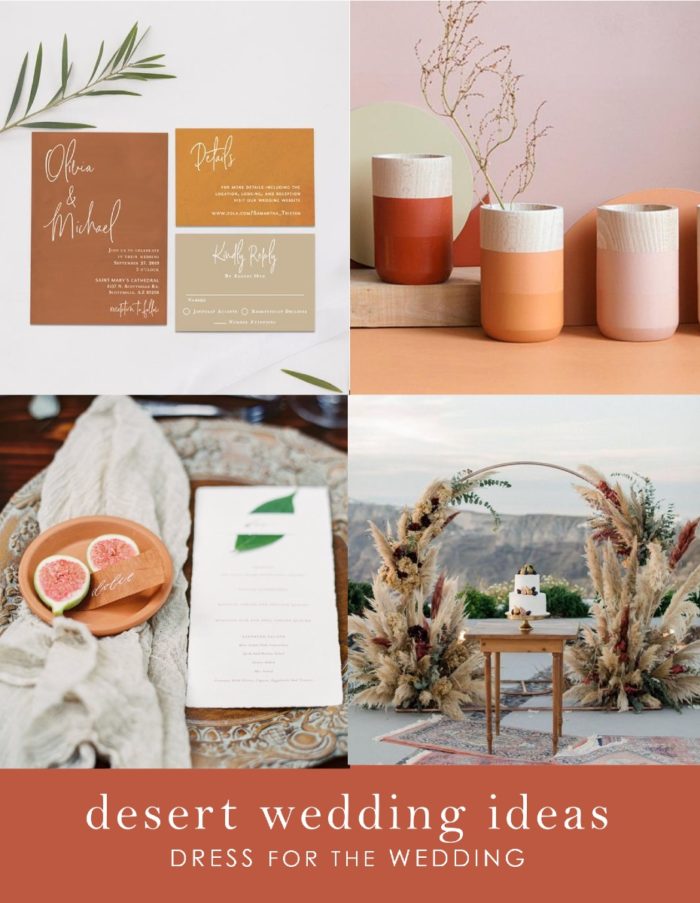 Image credits and shopping sources for featured items: 1.Rust Wedding Invitation Suite in A Modern Natural Palette from Coral Balloon on Etsy 2. Wooden Painted Vases from Shade on Shape at Etsy 3. Table Linens from Linen Lark on Etsy 4. White Gold Arch From Vallari Decor on Etsy
Ideas for Desert Wedding Theme and Color Scheme
Desert weddings have been popular for both destinations and simply as inspiration for color schemes and wedding details! Desert weddings have taken some of the boho wedding trends we've seen and added that desert festival style and earth-tone and sunset-inspired color palette to the idea of a desert wedding.
Here are just a few of the ideas we found on Etsy and elsewhere. Just click on the image for the source details!
We've talked about this color scheme offered in terracotta bridesmaid dresses post. You can use the desert as inspiration in so many ways.
Here are a few ways to introduce desert wedding style into your event:
Shop The Wedding
Shopping sections use affiliate links, which means this site may earn a commission on resulting purchases. Dress for the Wedding does not directly sell or ship any of these items, we simply refer you to the retailer where you can purchase these items.

Desert Wedding Attire
We love the idea of a long sleeve boho style wedding dresses for a desert-themed wedding. Fringe, beading, and even some unique lace or macrame make the look complete. Hats and desert-themed jewelry and footwear like wedding boots can really make the look. Suits in earthy tones, linen vests, and more can make wonderful style choices as well. Ties in sunset hues like tan, or sage, or even bolo accessories and hats As we mentioned bridesmaid dresses and wedding ties, and other accessories are coming up in all sorts of desert hues. Try bridesmaid dresses in terracotta, marigold, pink, neutral, or sage green! Also, you might like these ideas for what to wear to a boho wedding and our picksfor boho bridesmaid dresses.
Invitations and Signage
The invitation is the first impression and both Etsy and Minted have some great choices in this color scheme. Modern desert styles come in invitation suites that offer a range of sunset colors. You can also choose desert motifs like succulents, rock formations
Florals, Decor, and Favors for Desert Weddings
Florals in the desert can be anything from cacti to succulents, or dried grasses like Pampas grass, augmented with other live florals. The decor can reflect this in archways covered in grass, and favors of mini cacti or event painted rocks.
Check out more of our wedding ideas by theme or by color scheme, like these fall wedding ideas, beach wedding ideas, or tropical wedding ideas!
Images are owned by and copyright of the retailer linked to in each image and are provided by our affiliate program shopping function.