The Fall Bride
Today is a lovely fall day here -- the morning air had a chill that has softened into a nice warm day. I've been working behind-the-scenes on a few projects for readers and around the site. (Check out that  Google + and new search by color! I'll add more shades soon!)
For now, I'm still recapping some of the fall looks I did last week for Bayside Bride, and wanted to share this fall bride and beautiful lace gown with you. I'll have some new fall style ideas here very shortly!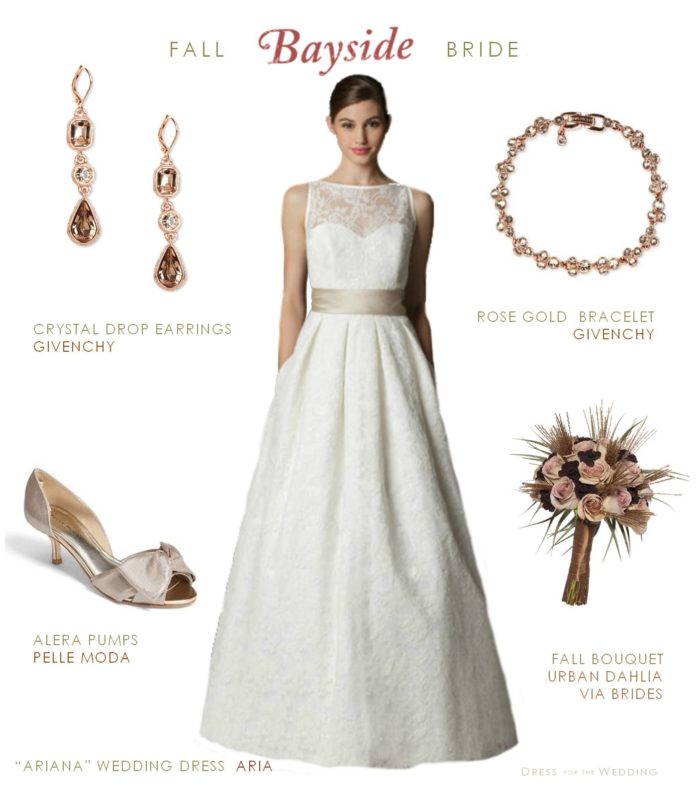 Lace Wedding Dress Ariana  by Aria  and Champagne Sash  /  Givenchy Earrings  / Rose Gold  Bracelet  / Bouquet as seen on Brides design by Urban Dahlia  / Champagne Pumps
If you'd like to see more great wedding inspiration, follow me on StumbleUpon and check out what I've been stumbling lately!
There's also lots of great fall inspiration out there from some of my favorite wedding bloggers. I'm particularly loving what's new on Burnett's Boards, The Perfect Palette, On the Go Bride, Elizabeth Anne Designs, Fab You Bliss, and Everything Weddings and More this week. Head over and see what's new yourself!
Shop our Wedding Dress Boutique