Simple Lace Wedding Dress with Spaghetti Straps and Plunge Back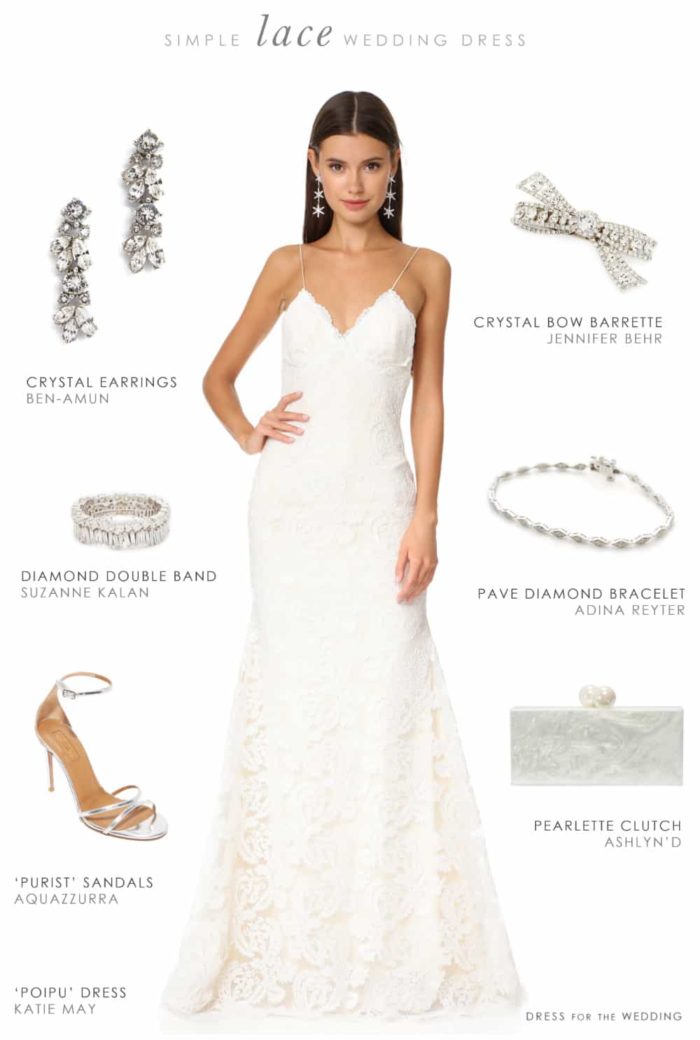 Affiliate links from sponsors are used in the shopping sources this post, which means we may earn a commission on qualified sales.
Lace low back wedding dress: 'Poipu' Low Back Dress by Katie May from Shopbop | Crystal earrings: Crystal Drop Earrings by Ben-Amun from Shopbop |  Barrette: Crystal Bow 'Carina' Barrette by Jennifer Behr | Diamond bracelet: Pave Diamond Tennis Bracelet by Adina Reyter | Clutch: Pearlette Clutch by ashlyn'd from Shopbop | Silver sandals:  'Purist 105' Sandals by Aquazzura  from Shopbop | Ring: Diamond 'Fireworks' Double Band Ring by Suzanne Kalan from Shopbop
Wedding Dresses on Sale at Shopbop
Today's wedding dress of the day is by Katie May and is available through Shopbop during their event-of-season sale! This stunning, simple lace wedding dress features a deep and low back, spaghetti straps, and Katie May's signature flattering styling. This dress is 25% off during the Shopbop sale, so if this dress is on your dream bridal gown list, you have until 9/29 to get it at a great discount! Nearly everything is on sale, so it's a great time to stock up on whatever you may need from wedding dresses to work clothes! Use code EOTS17 to receive 20% off orders under $500, or 25% off orders over $500.
Simple Lace Wedding Dress
With such a simple and straightforward style, this lace wedding dress would be perfect for a beach wedding. One could also wear this lace beauty for a vow renewal or second wedding gown. This lovely lace gown is really suited for anyone who wants simple and elegant off-white lace gown.
There are many more wedding pretties for brides, bridesmaids, and guests on sale until 9/29 at Shopbop. See our latest picks!
SHOP THE SHOPBOP SALE (USE CODE EOTS17)
Affiliate links are used in the shopping sources this post, which means we may earn a commission on sales.