If you want to wear a floral accent in your hair on your wedding day, you can choose from flower crowns, floral combs, hairpins, and all sorts of floral headpieces. We've rounded up 20+ of our favorite flower crowns and floral hair accessories for weddings.
Shopping sources on this site use affiliate links. This means this site may earn a commission if you make a purchase from our links. 
Flower Crowns and Floral Hair Accessories for Weddings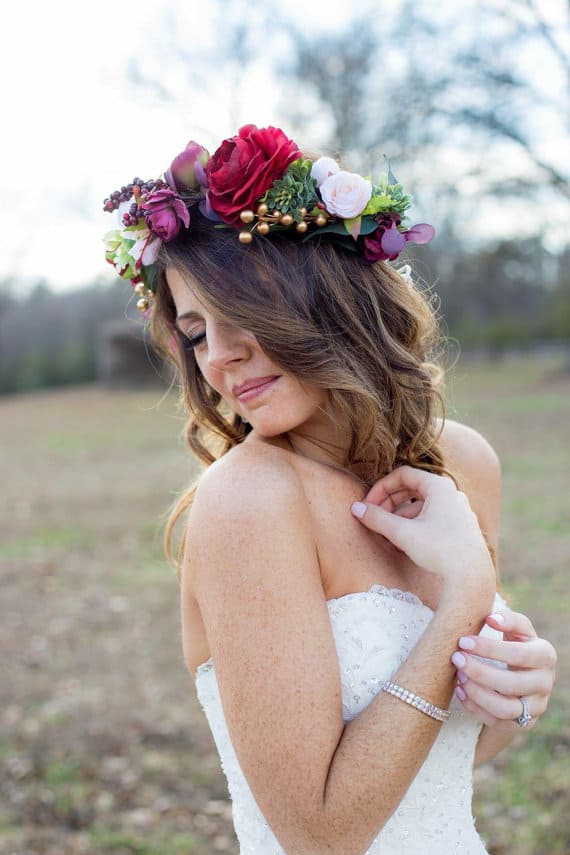 Large Flower Crown by BlairBaileyDesign on Etsy
Flower Crowns and Wreaths for Weddings
Is there anything more romantic than flowers in your wedding day hair? There are so many options for flower crowns and floral hair accessories for weddings, including silk flower and handmade wreaths! And, despite the name, they can be made of so many materials other than flowers! Just in this short round-up, we've found silk floral crowns, realistic floral combs made of porcelain and clay, natural dried flower crowns, and floral halos created from fine metals and crystal beads.
Even though the trend has been around for a bit, floral crowns are still hot headwear for weddings! In fact, they are a classic style, since they have been used in weddings for decades, especially for flower girls!
If you are considering this look, your florist can make you a beautiful and real floral crown, you may also opt for a silk or faux flower crown or flower hair comb, for various reasons. Here are a few of the prettiest examples we found, with details on how to purchase these pieces for yourself!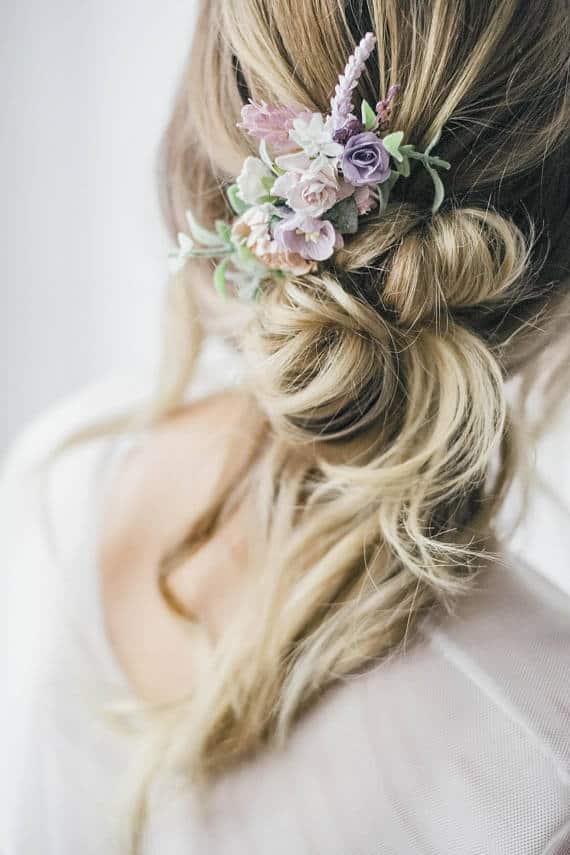 Purple Floral Comb by Leteria on Etsy
How to Style a Flower Crown
A flower crown always looks great on top of loose beachy waves, or ringing an updo, while a flower comb can nestle beautifully in a bun or braid. Floral crowns can be worn alone or atop a dropped veil.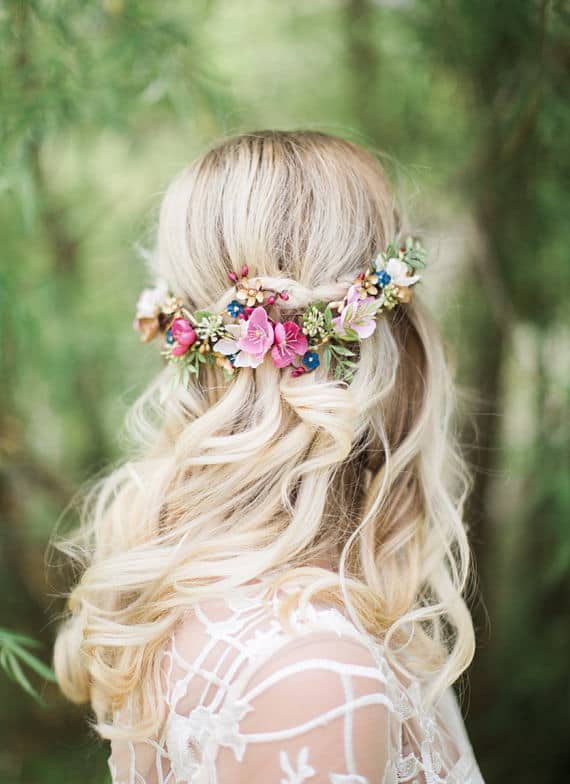 Mauve Wildflower Hair Clip with Forget-Me-Nots from The Honeycomb Bridal on Etsy
How to Decide: Faux Florals or Real Flower Crowns?
Real crowns are always beautiful, unique and fragrant. However, dried floral, silk flower, or faux crowns are sometimes just more cost-effective, not to mention more resilient and long-lasting.  Another benefit of a faux floral headpiece, is that you can also purchase it well in advance to try out with your gown and hairstyle! The durability of faux floral hair accessories is especially nice for playful flower girls  or if you'll be dancing or wearing the crown in hot summer temps. But in the end, the choice is yours - both real and faux are lovely!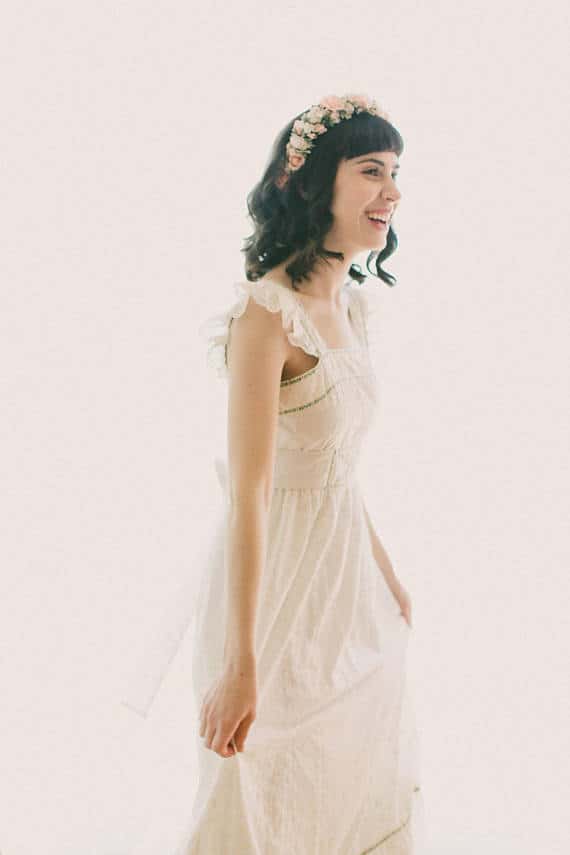 Pink floral crown by WhichGoose on Etsy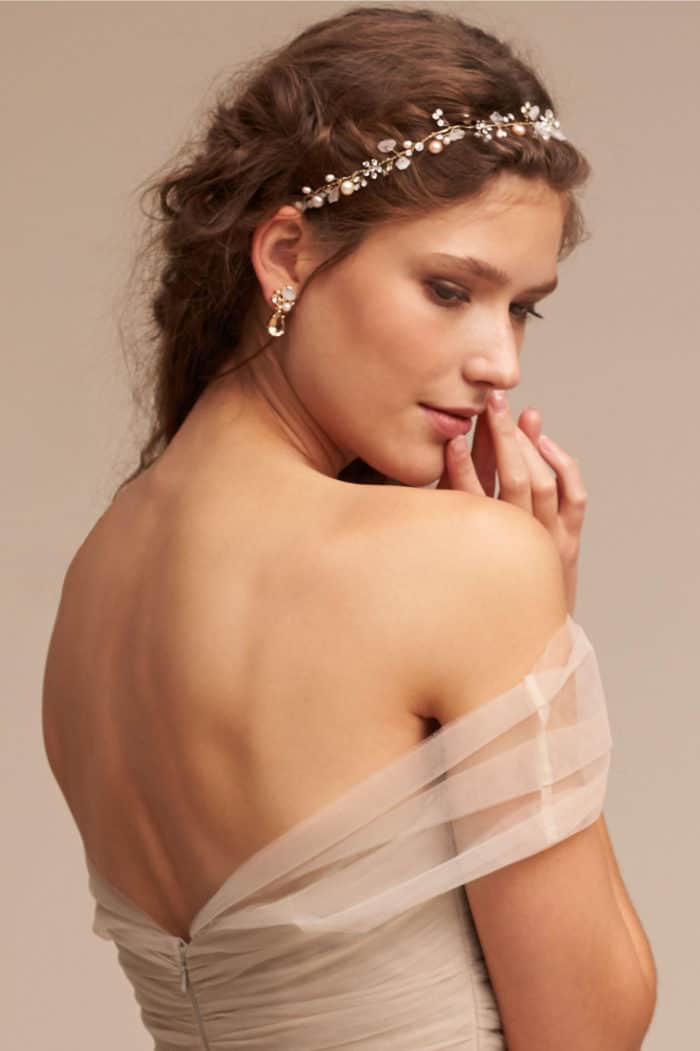 Rosales Halo in Gold from BHLDN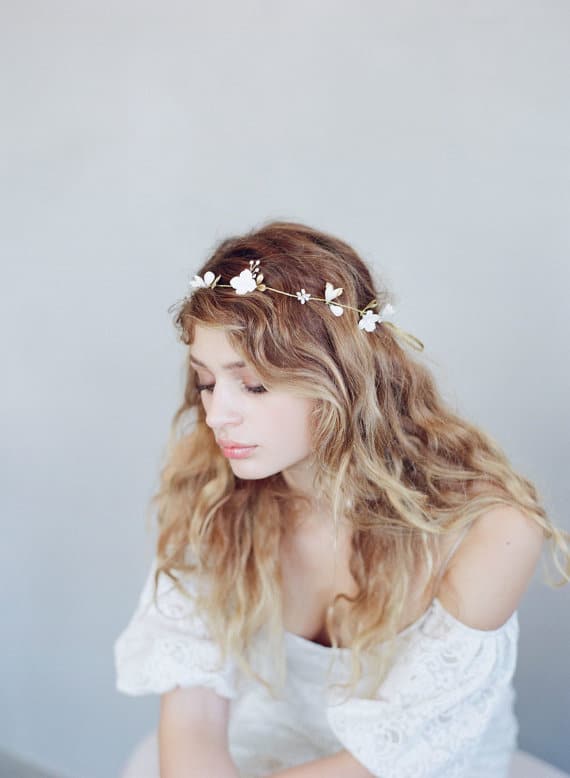 Bridal clay flower headpiece. Simple sugar blossom hair vine by MyraKim on Etsy (Twigs & Honey) Photo by Elizabeth Messina.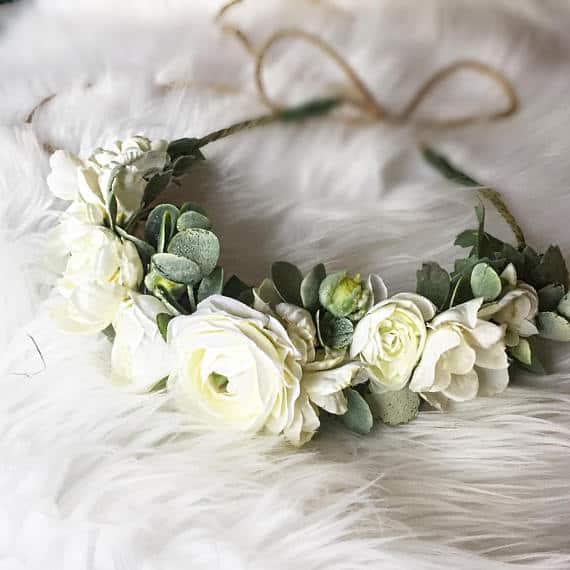 White Halo Floral Crown by Avas Flower Crown on Etsy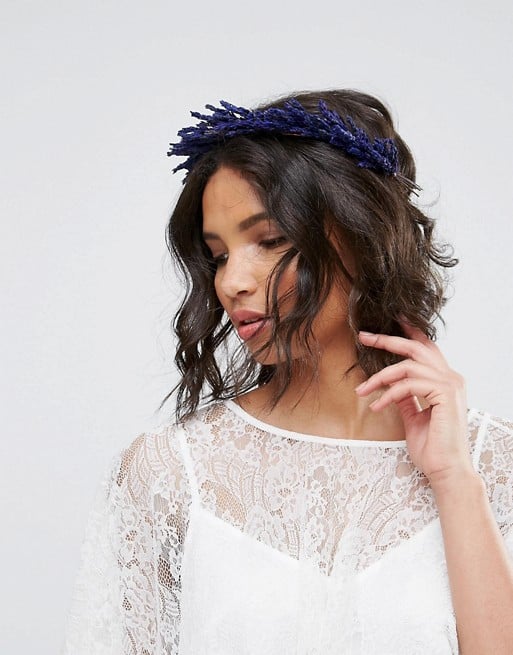 Dried Lavender Floral Crown from ASOS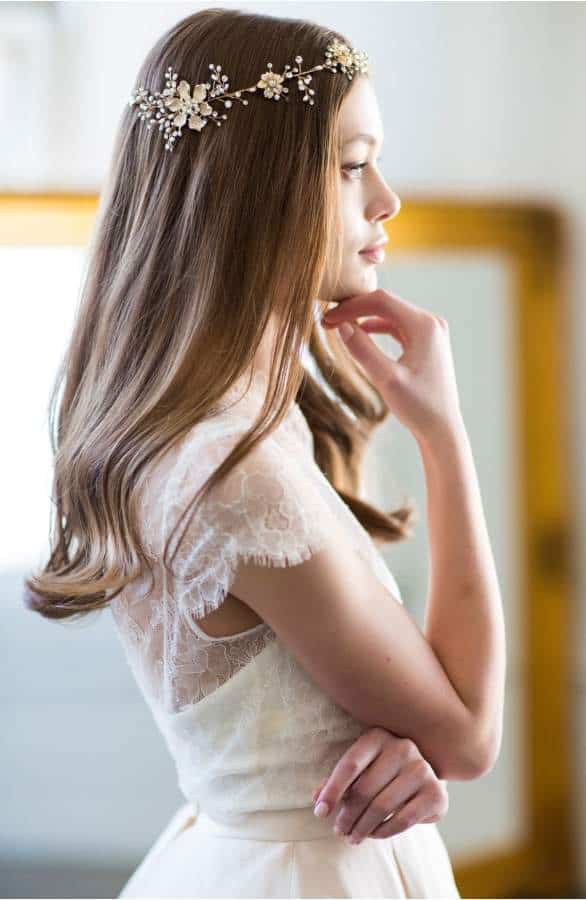 Brides + Hairpins Atiena Floral Crown from Nordstrom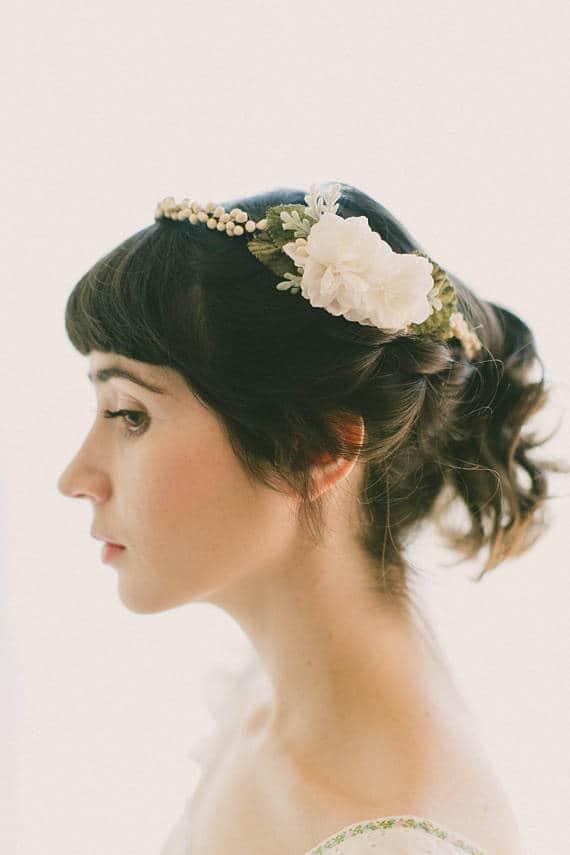 Wax Flower Crown by WhichGoose on Etsy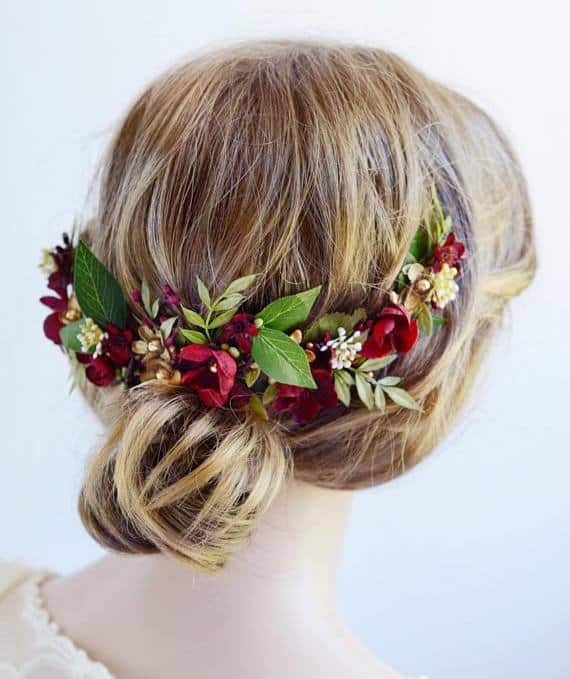 Burgundy Floral Headpiece by The Honeycomb on Etsy
Bridal Clay Floral Headband, Style 753 by Myra Kim (Twigs & Honey) on Etsy.  Photo by Elizabeth Messina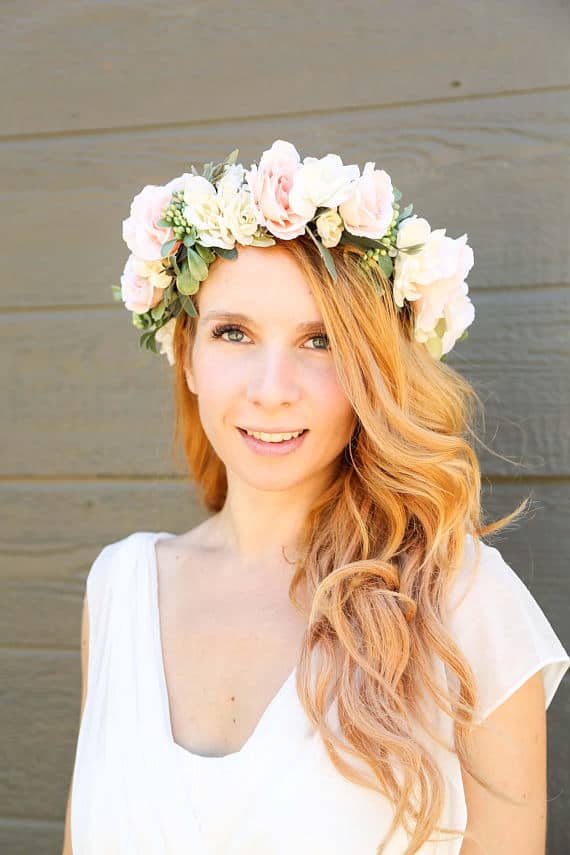 Peach, Blush, and Ivory Floral Crown by Flowers Lovers on Etsy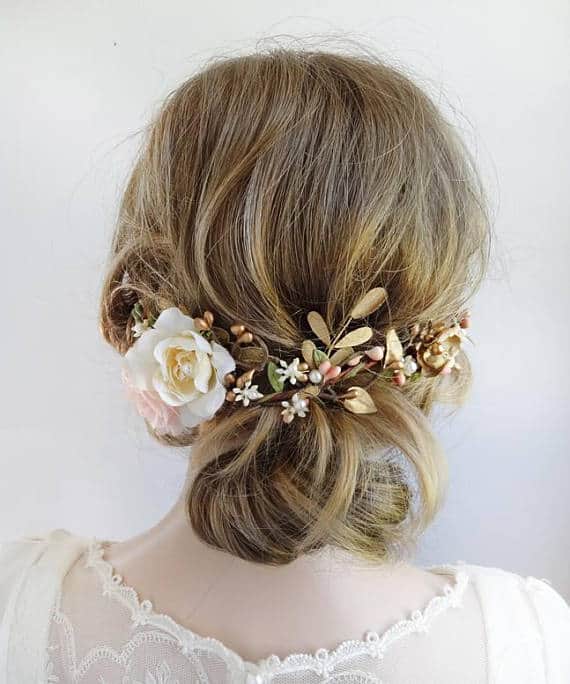 Pink and gold floral comb by The Honeycomb on Etsy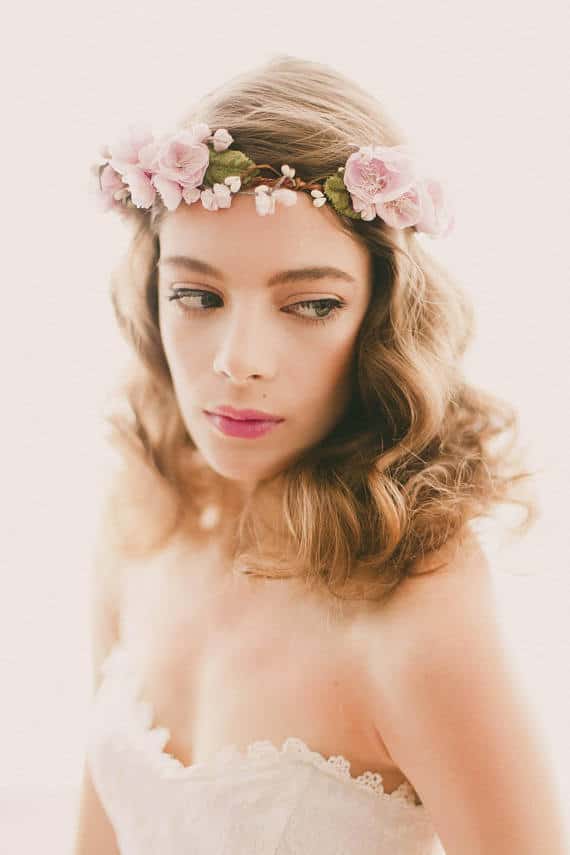 Lavender Floral Crown by Which Goose on Etsy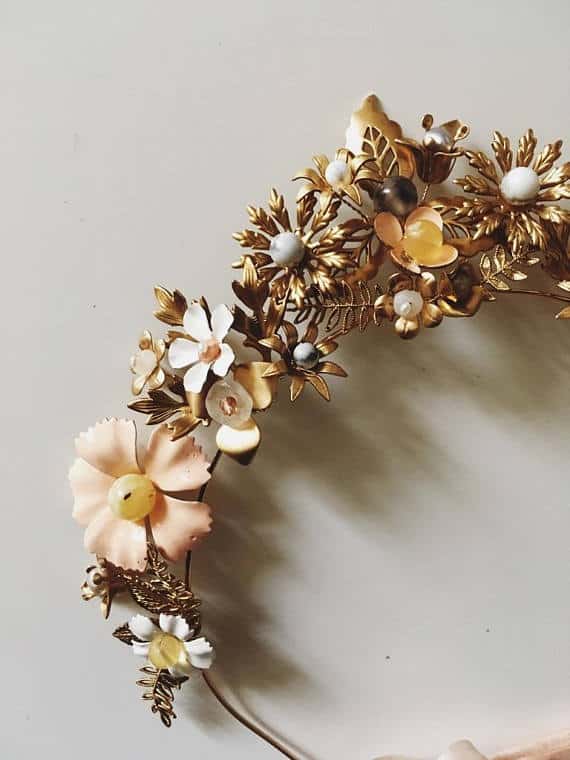 Brass Wildflower Crown by Migonette Handmade on Etsy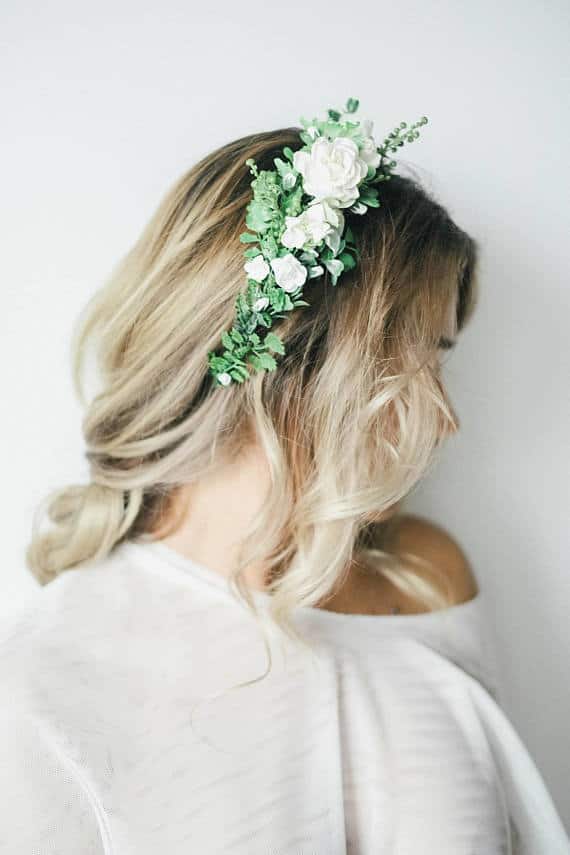 White and green faux floral crown from Leteria on Etsy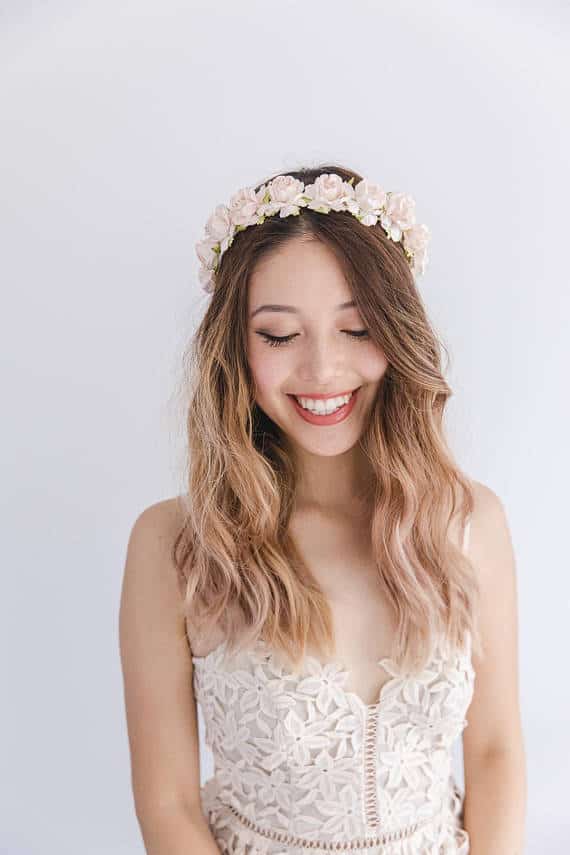 Blush Floral Crown from K is for Kani on Etsy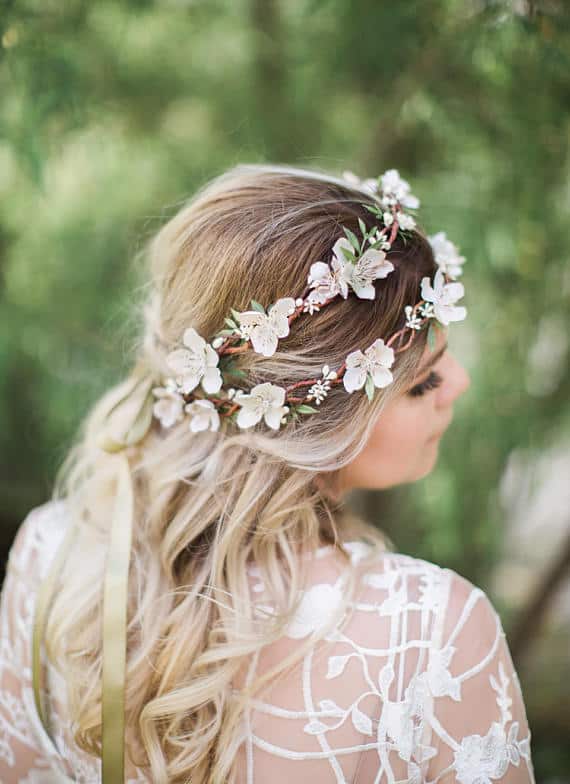 Ivory Floral Crown by on The Honeycomb Bridal Etsy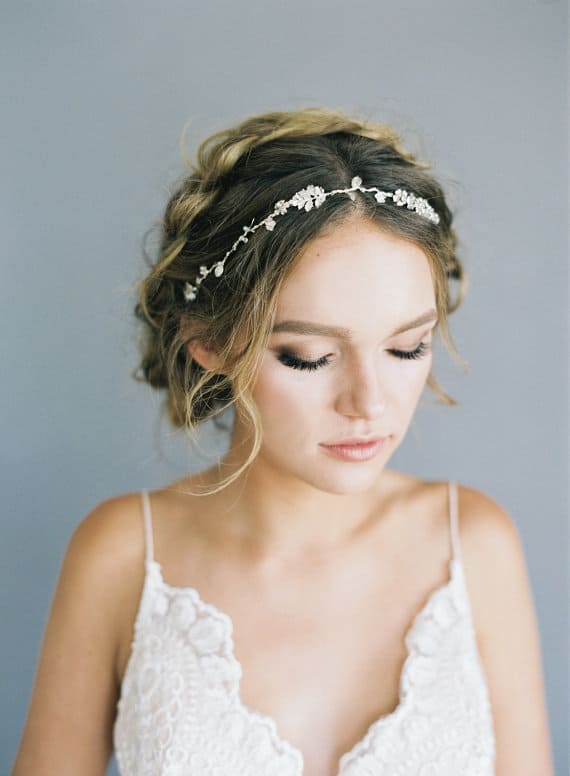 Romantic Floral and Branch Crown in Silver by Hushed Commotion on Etsy
Where to Wear a Floral Crown
A wedding day isn't the only day to wear a floral crown or flower hair accessory! They are also beautiful accesssories for photo shoots, maternity photo sessions, mommy and me photos, and flower girls. If you are planning on including your pets in the wedding, some shops will make floral wreaths for dogs and other pets, to florally outfit your furry friend for your wedding day!
Where to Shop for Floral Crowns and Flower Hair Accessories
If you're looking for your own personal styles, we found these These Etsy Sellers on our search. They all had some Beautiful Floral Crowns.
Ava's Flower Crowns - Lots of styles for flower girls!
Smorodinskaya  - beautiful life-like floral creations made of fine porcelain! Mini works of art!
Shop Flower Crowns

More style ideas you might enjoy :