Today's mother of the bride outfit for a rustic wedding idea was created for a mother of the bride attending a barn or countryside wedding this spring or summer. How is that for specific?! I created this Mother of the Bride Outfit for a Rustic Wedding beacause I'm trying to get more detailed with my wedding attire ideas. I know many of you have very precise wedding attire questions!
Shopping sources on this site use affiliate links. This means this site may earn a commission if you make a purchase from our links.
Mother of the Bride Outfit for a Rustic Wedding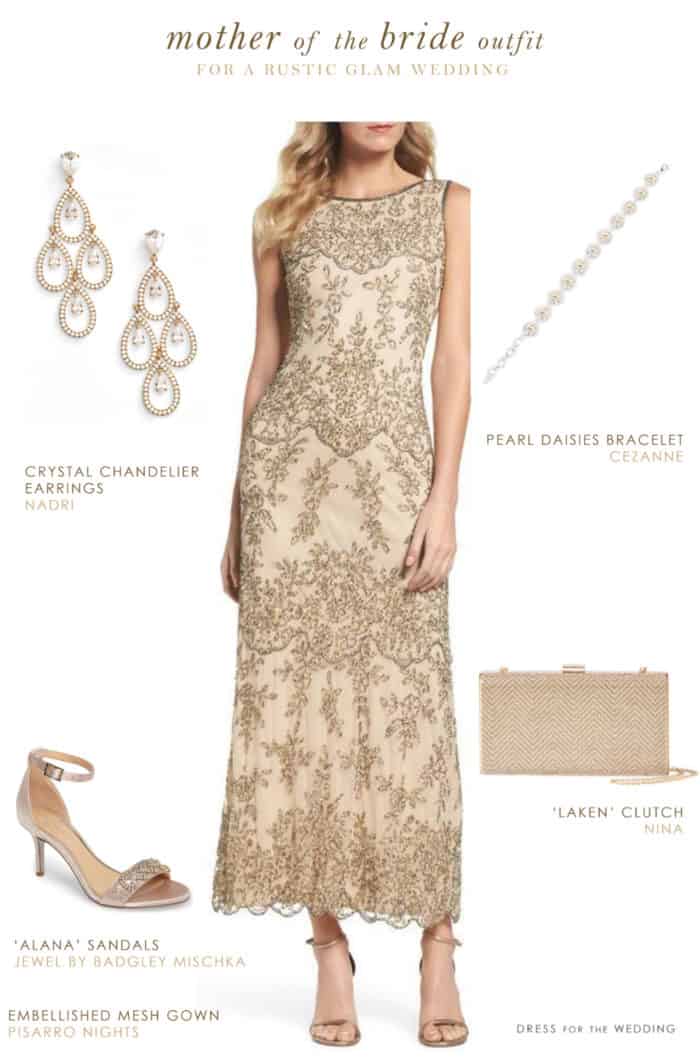 Dress: Embellished Mesh Gown by Pisarro Nights from Nordstrom | Earrings: Crystal Chandelier Earrings by Nadri from Nordstrom | Bracelet: Cezanne Pearl Daisies Bracelet from Dillard's | Clutch: 'Laken' Crystal Clutch by Nina from Nordstrom | Shoes: 'Alana' Ankle Strap Sandals by Badgley Mischka from Nordstrom
Outfit for the Mother of the Bride at a Rustic Wedding
If your son or daughter is having a rustic style wedding, I think any of these dresses by Pisarro Nights are a great choice! The style is a comfortable fit, with a figure skimming mesh, but the beading makes these dresses special, and befitting mother of the bride or Mother-of-the-Groom. It's a rustic glam Mother-of-the-Bride look if you will! Now of course, this Mother-of-the-Bride outfit can go to many other styles of weddings, but I thought I'd give the Rustic wedding crew an idea!
What Style of Dress should a Mother of the Bride Wear to a Country Wedding?
In general, I think a midi dress or drop waist style like this dress is great for a rustic wedding. Lace dresses and floral dresses for the mother of the bride for a casual country wedding, are also great fit for this setting. However, truly any style of Mother-of-the-Bride dress that you think fits the season, venue, and your personal style will work. In the event that the wedding is in a barn or outdoors, something that has a natural flowy silhouette like this dress, fits the rustic dress code more than a formal ball gown. If your child's wedding is even more causal, and outdoors in a country or backyard setting, I think a casual floral, or lace dress would be perfect. However, if it's a more formal barn wedding, try a beaded dress or dress with a jacket.
Dresses for Mother of the Bride at a Barn Wedding
If you're trying to find another look for a rustic mother of the bride dress try Pisarro Nights, Komarov, or Alex Evenings, or JS Collections!
More Picks for Rustic Mother of the Bride Dresses

We have lots of other
mother of the bride outfit ideas
, if you need them! Also see our post about
What to Wear to a Rustic Wedding as a Wedding Guest
!
You may also like a look at the floral Mother of the Bride dresses we've picked in the past, even some of out picks for beach weddings might fit! You can also look for a Mother of the Bride Dress by color preference.