Calling all those who seek the effortlessly-chic style as seen on your Instagram feed. For a wedding guest outfit that has that cool-girl style, look no further than the wedding guest dresses at Revolve!
This post about dresses for wedding guest dresses from Revolve uses affiliate links, which means this site may earn a commission on purchases. Aside from these affiliate links, this post was not otherwise solicited or sponsored by Revolve. All opinions are our own.
Wedding Guest Dresses to Love from Revolve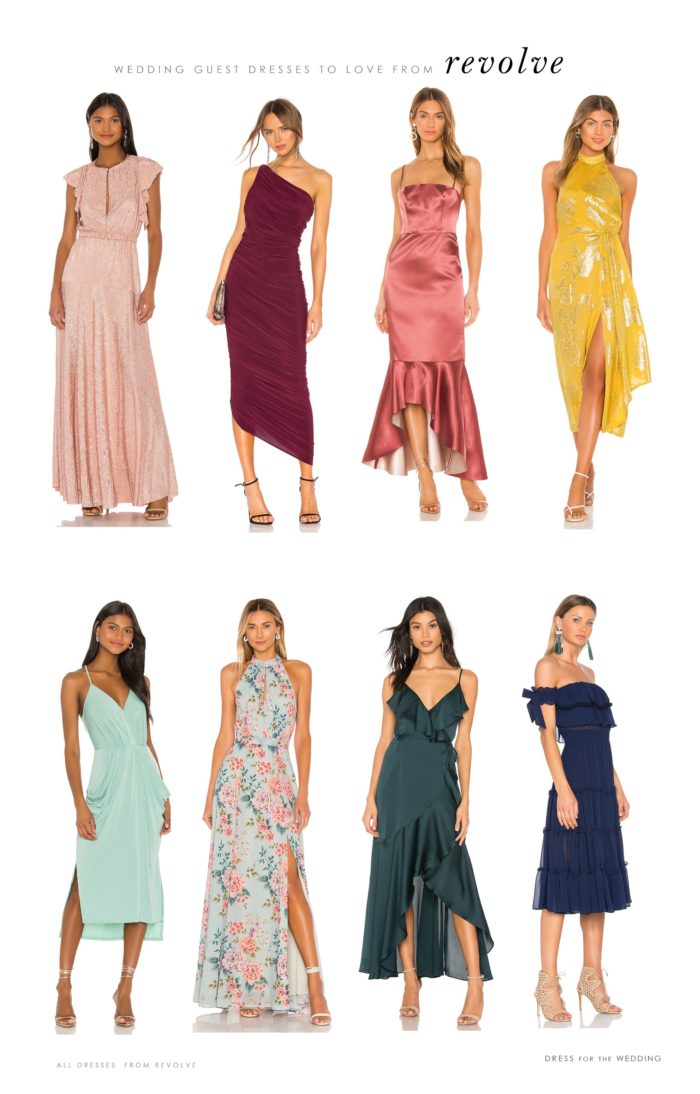 |1| Pink gown | 2 | Norma Kamali Diana Gown in Plum | 3 | Coral Pink Hi Low Gown | 4 | Gold and Yellow High Neck Dress | 5 | Faux-Wrap Midi Dress in Pistachio | 6 | Floral Print Maxi Dress | 7 | Frill Wrap Dress in Emerald | 8 | Micaela Off the Shoulder Dress in Navy
Today, we're featuring our wedding guest dress picks from Revolve. For those who know the brand and love to shop, you'll know that Revolve brings a boutique-like selection of designers to online shopping.
Why We Love Shopping at Revolve for Special Event Dresses
All the clothing from Revolve seems to inherently have a sophisticated style. It is the effortlessly chic shop, that showcases some of the most up-and-coming trends and designers. It's like shopping at the best boutiques in LA and New York, but just online.
So, it comes as no surprise that Revolve also has one of the best collections of wedding guest dresses. If you're looking for a wedding guest outfit that will help you feel elegant, confident, and completely put together, Revolve is the place to look.
Revolve also does an amazing job of collecting dresses from every price point. So, if you want to splurge on sure to be a stand-out designer style, or if you want to find a dress under $100 --you can find both! Feel confident knowing nearly any look you pick is stylist approved thanks to their buyers' eyes for the best styles!
Our Picks for Revolve Wedding Guest Dresses
These are our picks for dresses we love for guests of weddings and other semi-formal events. Each image will link you to the pricing and other details on Revolve.

For more wedding guest looks for the season, check out our picks for
fall wedding guest dresses
.