Fuchsia Chiffon Bridesmaid Dress with 3 Style Ideas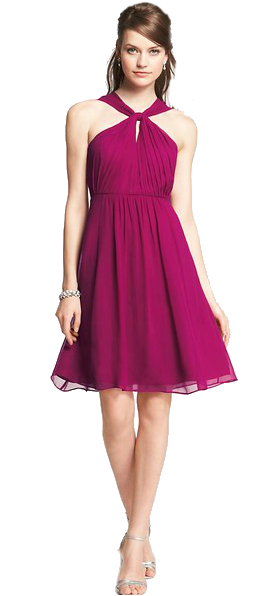 The starting point: Ann Taylor Keyhole Halter Dress
In yesterday's style post, I was saying how I held back on the post I had planned because I wasn't happy with the look and worked on it until I created 3 different styles. So today, I'm revealing all three of those styles.  Some days the looks just speak to me, other days, I could fuss with them forever. But as I've learned time and time again, sometimes the style ideas I'm personally the most pleased with aren't always the ones that get the biggest response - sometimes one that I thought wasn't my best inspiration really takes off! So, I'm quieting my inner critic and I decided I'd now show these 3 berry colored bridesmaid dress looks to you, because even if they aren't quite what I aimed initially to create -- who knows if they just might be exactly the look for your wedding!
Hot Pink and Turquoise: Look # 1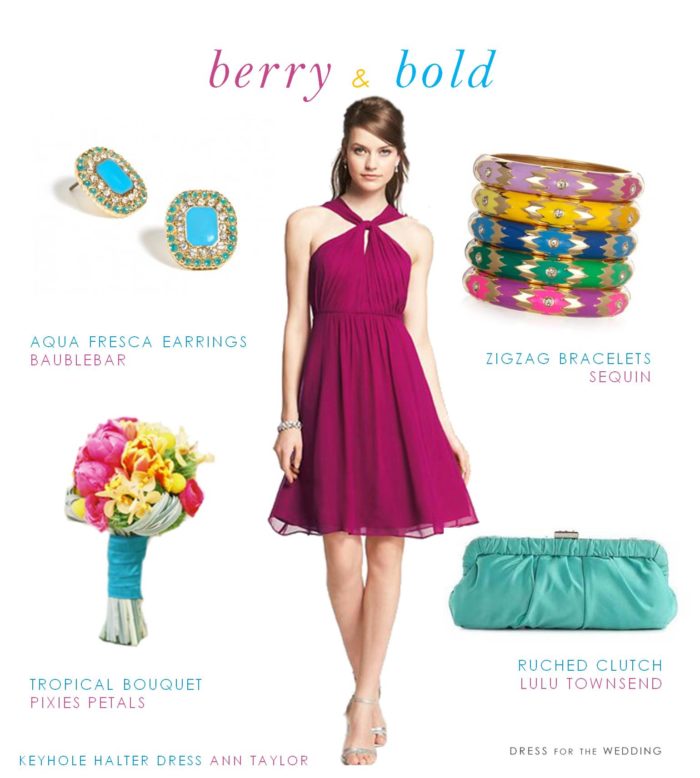 Ann Taylor Silk Chiffon Keyhole Halter Dress in Brilliant Magenta  /Aqua Fresca Earrings BaubleBar / Sequin Enamel Zig Zag Bangles from Charm & Chain / Bouquet by Pixies Petals  via image uploaded by Pixie's Petals on Pinterest 
This floaty chiffon and brightly colored dress  was where I started, and it made me want to create a look that was suited for a bridesmaid at destination wedding. When I saw those beautiful pink, yellow and turquoise florals I wanted to base the look on those bright and bold colors. I just wanted to find accessories that were light and tropical but still worked with this overall femininity of the dress, but it was tricky - yellow looked too garish, and the blue needed another color to kind of bridge the gap. I decided those chunky bracelets could bring in the right bright colors and give this a destination look.
Fuschia and Purple : Look # 2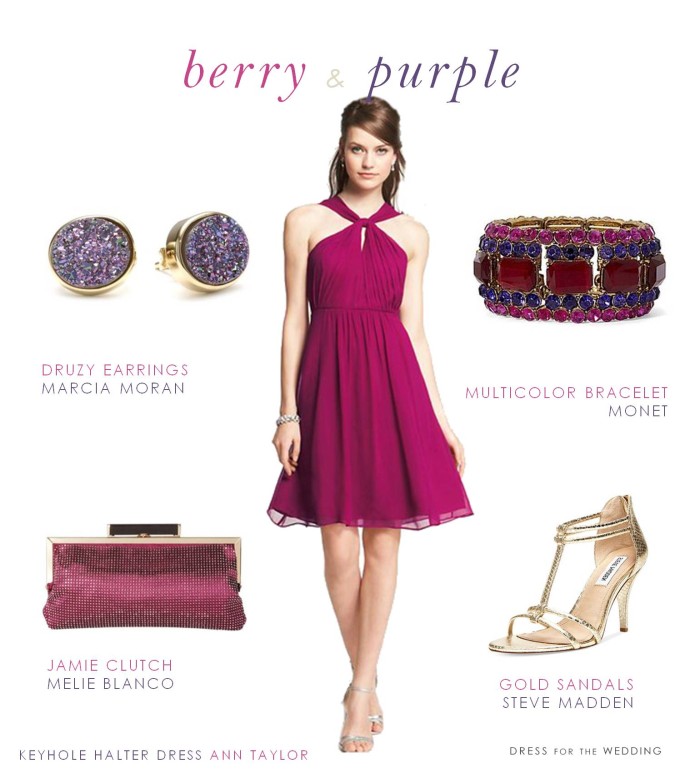 Ann Taylor Silk Chiffon Dress / Marcia Moran Druzy Stone Earrings /Monet Multicolor Bracelet / Gold Sandals Steve Madden / Melie Bianco Jamie Clutch
I see a lot of ladies choosing purple and pink color combinations for a wedding. It's a great color combination for fall and winter, but it can easily get overwhelmingly pink because these are such similar colors.  I like the idea of adding some deep burgundy and blue tones to accent these shades even more - it keeps it from being too whimsical!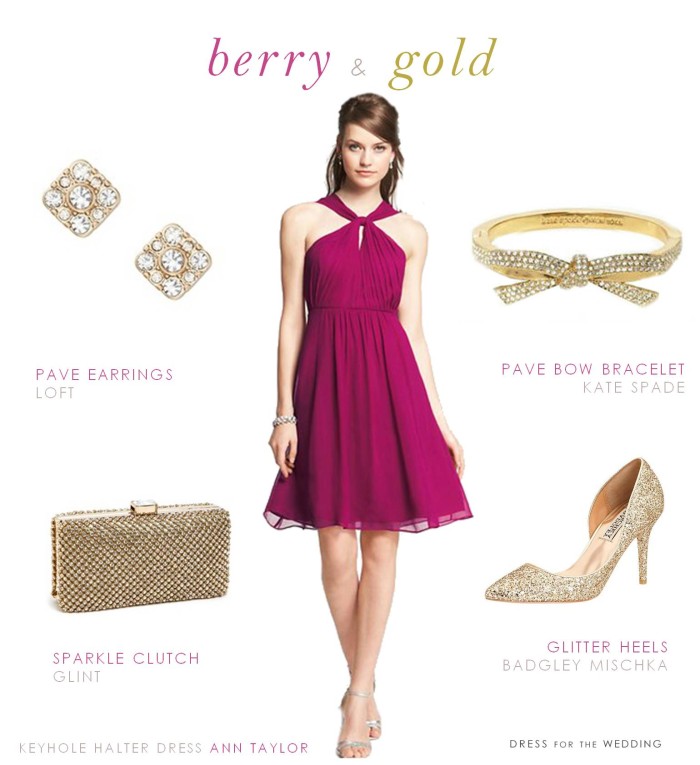 Ann Taylor Keyhole Halter Dress in Brilliant Magenta  / Loft Pave Earrings / Kate Spade Pave Bow Bracelet /Badgley Mischka Dixi Glitter Pumps / Glint Clutch
This look is the most wearable to me. While I love a bold statement necklace in the mix or a pattern in the dress, I tend to gravitate towards simple understated jewelry for bridesmaids, with just a little kick. Those gold glitter heels are a little over the top, but fun - and will certainly add sparkle for a holiday wedding.
Which of these three is the look for you?
Want more ideas for your bridesmaids' style? Follow Dress for the Wedding on Pinterest, check out the bridesmaid shop, and other bridesmaid styled looks.