one bridesmaid outfit idea featuring a a full length gray bridesmaid dress with ideas for matching accessories!
The shopping sources in this post use affiliate links, which means this site may earn a commission if you make a purchase from our links.
Full Length Grey Bridesmaid Dress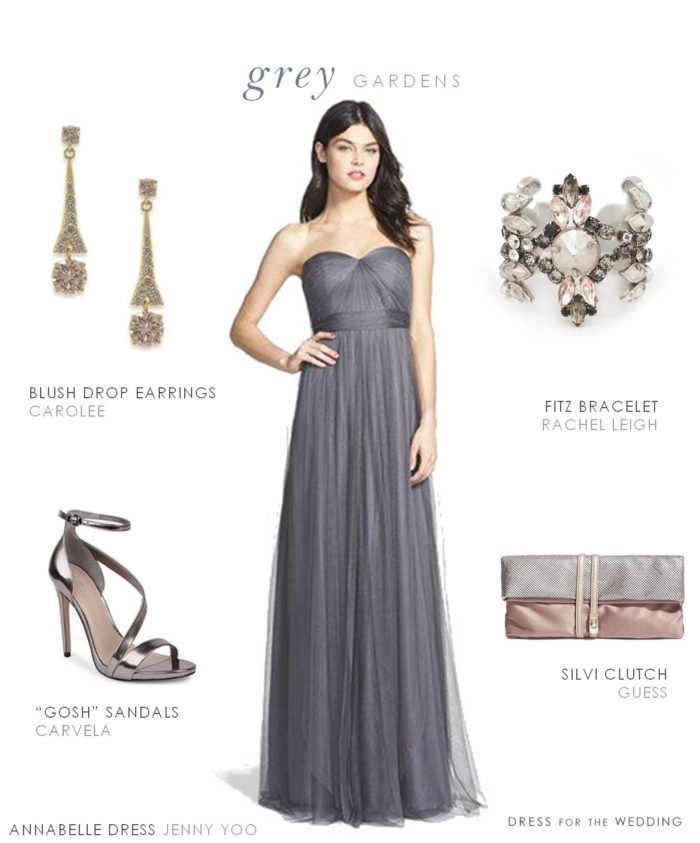 Annabelle Convertible Bridesmaid Dress by Jenny Yoo in Shadow Grey | Rachel Leigh Fitz Bracelet | The Looking Glass Blush Drop Earrings by Carolee | Guess by Marciano Double Wrap Satin and Chainmail Silvi Clutch | Carvela "Gosh" Gunmetal Patent Sandals
Grey and Mauve Wedding Inspiration
Yesterday we had "Gardens of Glamour" from Ines Di Santo, and today I have a look with a full length grey bridesmaid dress that I'm calling "Grey Gardens" which sounds a little somber, but I don't mean it to be. Instead, I associate it this color and full-length gown with elegance and refinement. Anytime I see a long, flowy gown, it seems like a natural pick for a garden wedding, and a grey color palette is something I've been wanting to show more often. This charcoal grey gown gets a little light and rosy touch from some blush and gray accessories that pick up and give the overall look a little bit of a mauve hue.
This gown, Annabelle by Jenny Yoo, in Shadow Grey is one of my absolute favorites, and I've featured other colors before. It converts to more than 15 different looks, making it easy to have your bridesmaids customize the look that's best for them, without having to commit to one style. It's a natural choice for bridesmaids in a black tie wedding, and it comes in more than 9 colors at Nordstrom ( including ivory and cream, so a bride could pick one up too!) and some different shades at BHLDN.
I'm also particularly a fan of today's accessories, starting with that clutch, which is made of pink and gray satin and silver chain has a cool cross-cross strap to keep it all together. That bracelet is pretty stunning too, and ties in the whole opulent, elegant mauve and grey look I was after. I hope you love it!
Shope more gray bridesmaid dress ideas:

More Ideas for Gray Weddings
Bridesmaid Dresses in The Collection