Whether you call this shade goldenrod, mustard, or Tuscan yellow, one thing is for sure: these earthy yellow tones are making marigold bridesmaid dresses one of the top new color schemes for weddings!
Affiliate links are used in this post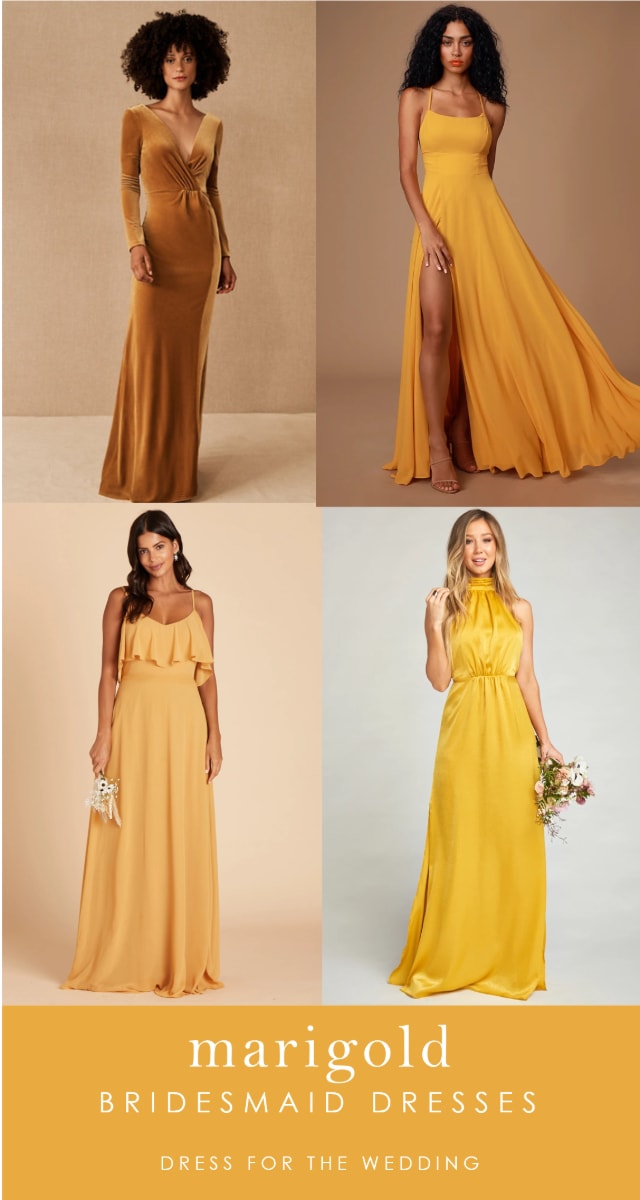 Sources: 1. Jenny Yoo Ryland Dress from BHLDN 2. Mustard Maxi Dress from Lulus 3. Jane Dress in Marigold from Birdy Grey 4. Collette Dress from Show Me Your Mumu
Marigold Bridesmaid Dresses
We've been looking at the latest color trends for bridesmaid dresses this season, and one of the colors we're seeing is an earthy golden yellow, that is being called by a number of names, including marigold, mustard yellow, goldenrod, or Tuscan yellow. It's a great shade that is both vibrant but grounded by deeper undertones and its natural inspiration.
Here's a closer look at where to find Marigold dresses for your wedding party.
Birdy Grey

Birdy Grey just expanded their color selection for Fall 2020, and included Marigold as one of the colors! If you haven't heard Birdy Grey is a new bridesmaid dress collection where the bridesmaid dresses are always under $100, and have pockets and convertible styles. They are touted as the "instagrammable" bridesmaid dresses, which along with their pricing make them a wedding party favorite! They also offer coordinating ties, bridesmaid robes, and more! See more about our thoughts on what we love Birdy Grey!
BHLDN

BHLDN offers several of the Jenny Yoo Bridesmaid Dresses that were created in the color Marigold. For the fall season, BHLDN offers gorgeous velvet styles that are available in Marigold, as well as their new offerings of satin and silky bridesmaid dresses that are also offered in this golden hue!
David's Bridal

David's Bridal also has a color called Marigold that has some warm orange undertones to it. You can find this color in so many of their hundreds of bridesmaid dress options. Pick the neckline, fabric, and skirt style you like the most.
Azazie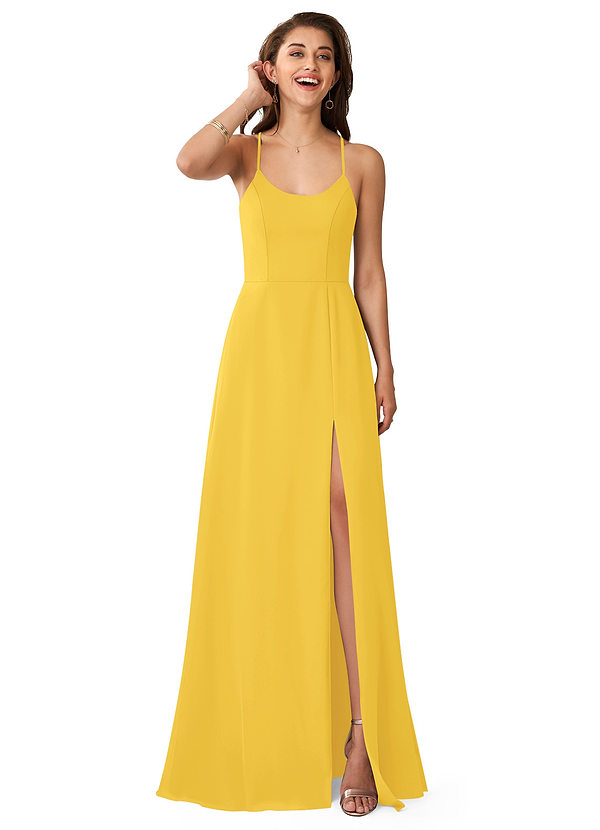 Azazie Moira Bridesmaid Dresses | Azazie
Azazie has a rainbow of fabric colors and tons of silhouettes. Azazie has been one of the few places that we've been able to find yellow bridesmaid dresses in recent years. They offer a color called Marigold and their color Gold is pretty sweet too!
Show Me Your Mumu

Show Me Your Mumu has Two colors - True Gold and Honey Gold that might be of interest to those seeking a golden color. These satiny dresses might just be the ones for your wedding party!
Shop More Mustard, Marigold, and Goldenrod Bridesmaid Dresses

You might also like to see our picks for bridesmaid earrings, more bridesmaid attire ideas, more yellow bridesmaid dresses, or more yellow wedding attire ideas.
More style ideas you might enjoy :