Bridal Market, Day 2, Part 2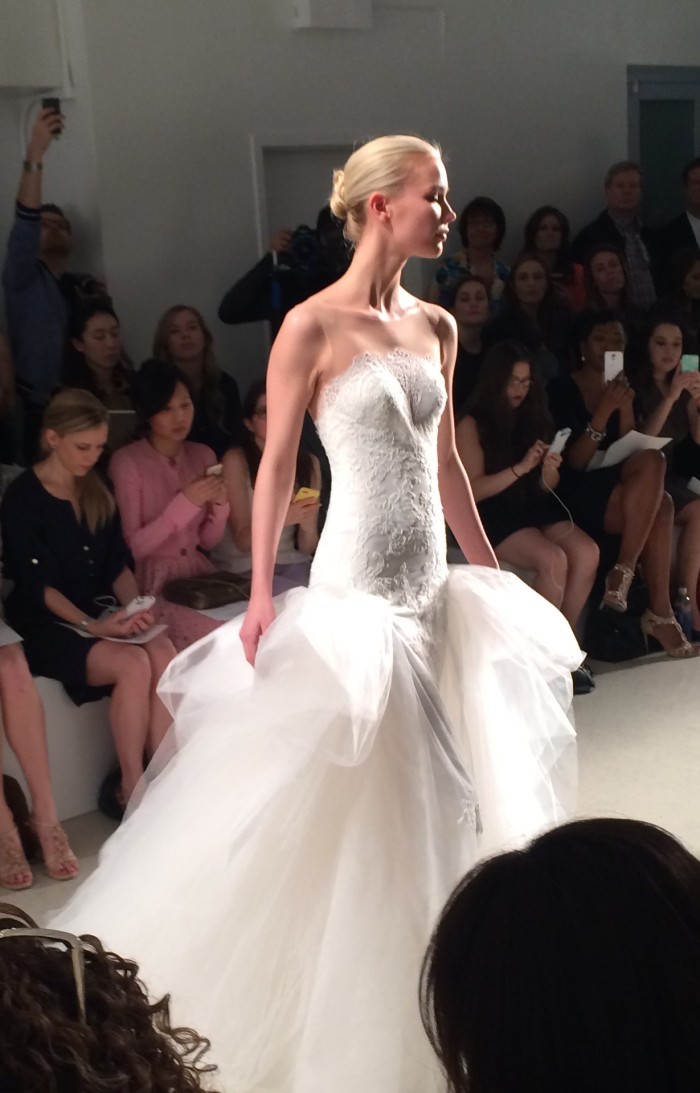 When I last left you in my Bridal Market recap, I was hailing a cab to get over to The Standard Highline, for the Ines Di Santo runway show for her couture bridal gowns. I've seen two Ines Di Santo runway shows so far, and they have such a buzz and an energy to them! Ines Di Santo is known for opulence as it is, but this collection in particular was so full of a exceptional level of grandeur and intricately detailed gowns. These gowns look like the wedding dresses you read about that were created for royalty and took 300 people to create. It amazes me what designers are able to create with each collection (and always makes me think, geesh, what have I accomplished in the past 6 months!?) These dresses looked as beautiful and attended to as some of the manicured Parisian and Italian gardens they were was inspired by. See my full write-up of the Ines Di Santo Spring /Summer 2015 Bridal Collection, but also enjoy a few views of my slightly-blurry-models-in-motion and I-tried-to-crop-out-the-obstructing-heads views from my vantage point to feel like you're really there!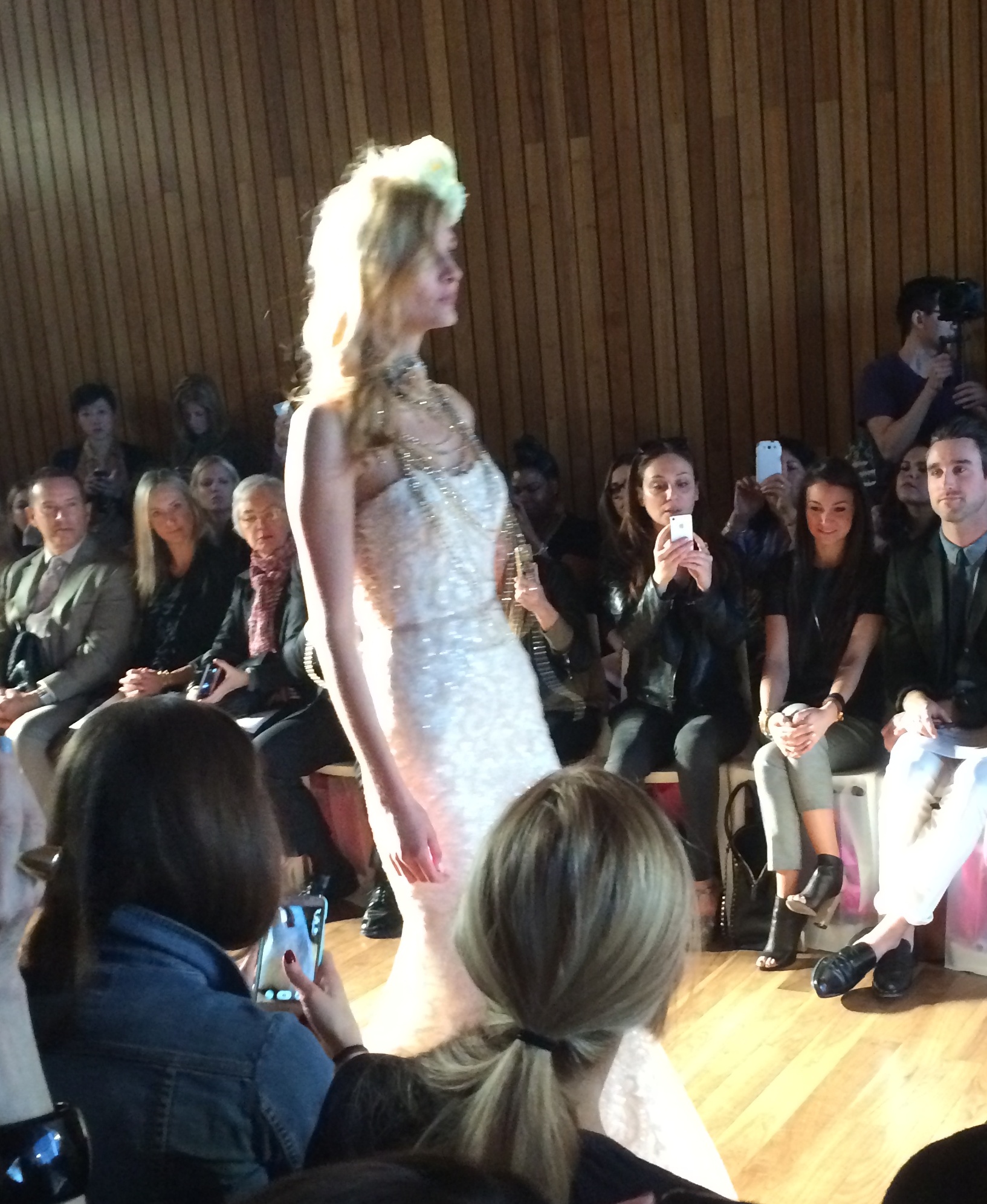 A golden moment when this dress, Sahara, glided down the runway layered with golden beads.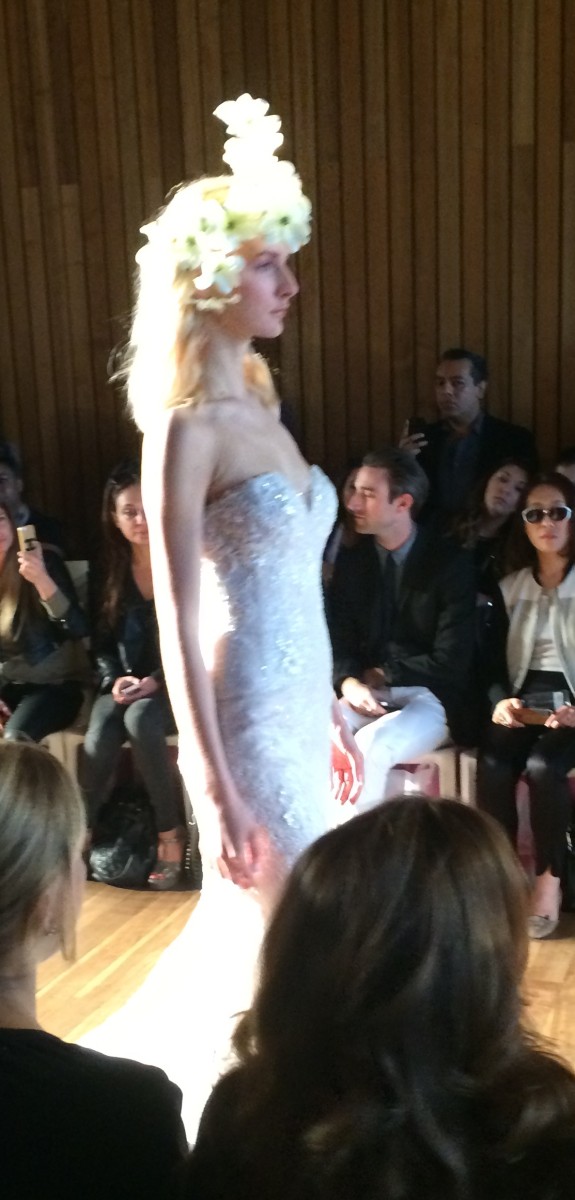 The flower crowns were fabulous and tied in the theme of "Gardens of Glamour"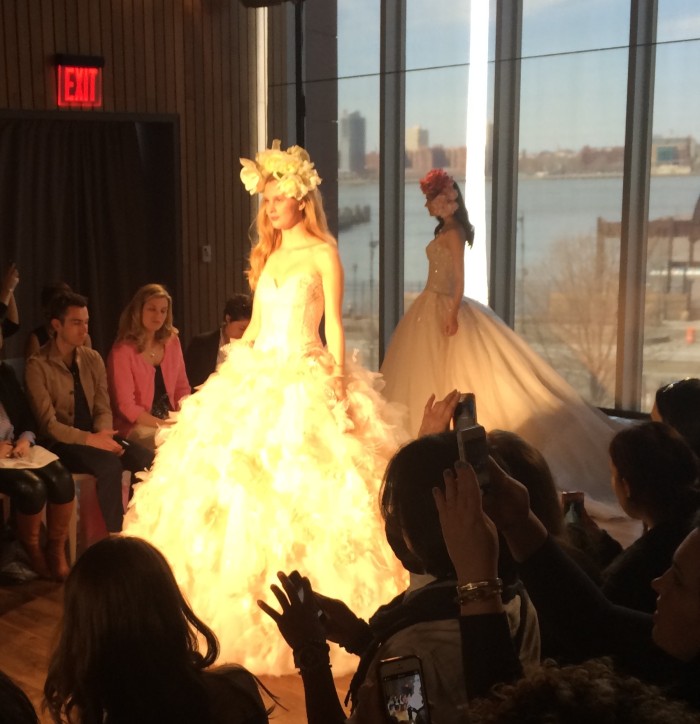 What a ball gown! This is Gioia.
As you'll remember, this day was my busiest! From Ines Di Santo, I was due at Christos and Kenneth Pool, then off to Anne Barge, then back to the studio where Amsale was shown. Does it sound like a lot of running around? It is, but it's all completely part of the fun.
The Christos show was beautiful, and classic but still like nothing I've ever seen. It was as if she took some of my favorite aspects of bridal gowns and put every single one of the the things I like on these dresses. I'm a huge fan of all of Amsale Aberra's designs so it was a real event to see these gowns make their debut. As you may know, she designs for three collections: Christos, Kenneth Pool, and Amsale. You know how I said I marvel at all these designers are able to create all of these looks? Well, she did three stunning collections -- whew!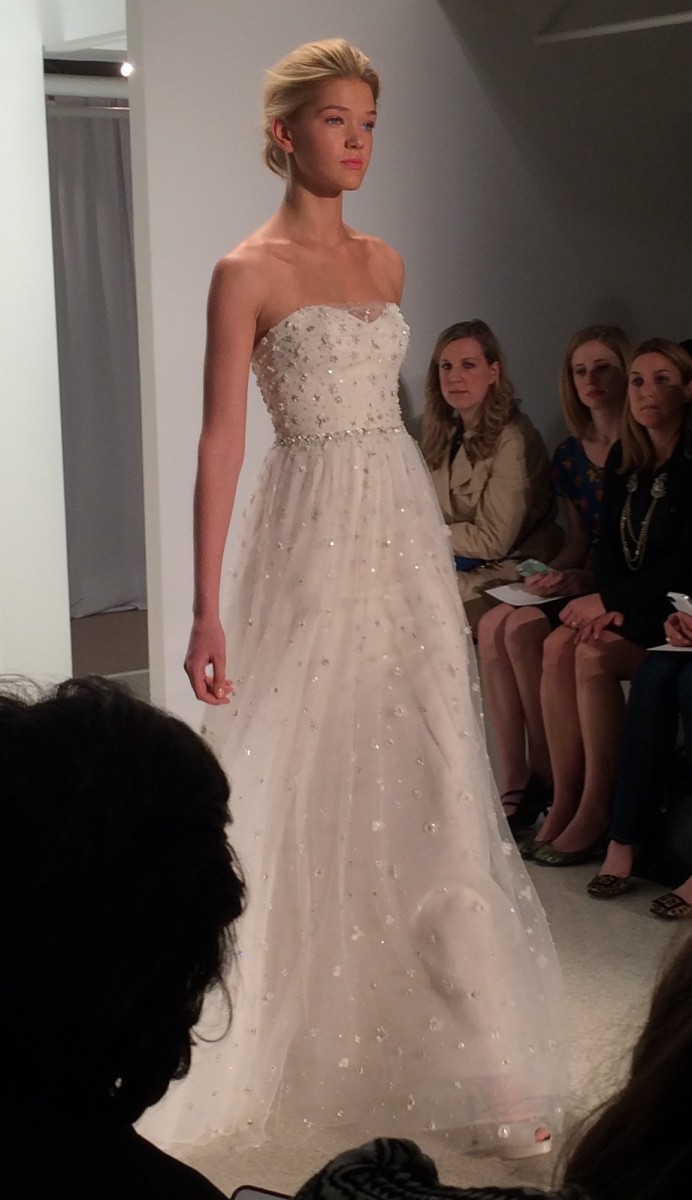 Ethereal gowns at Christos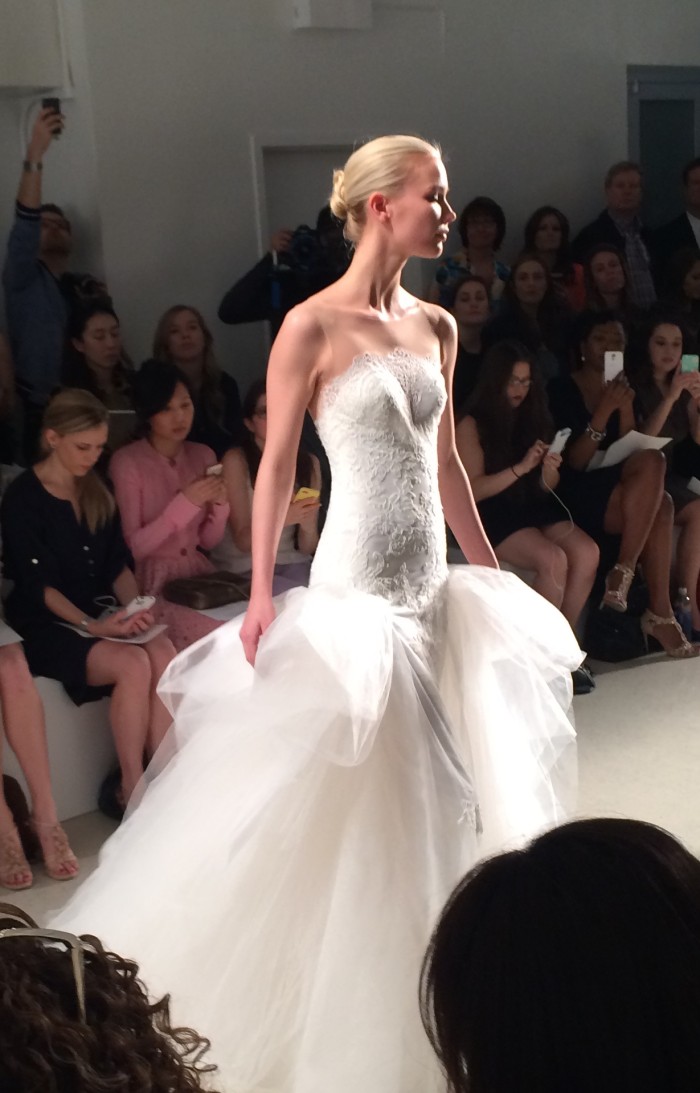 Love this! The drop waist shows the feminine shape, but the tulle skirt is the princess gown we dream of. Wait until you see the back! This gown was part of the Kenneth Pool Collection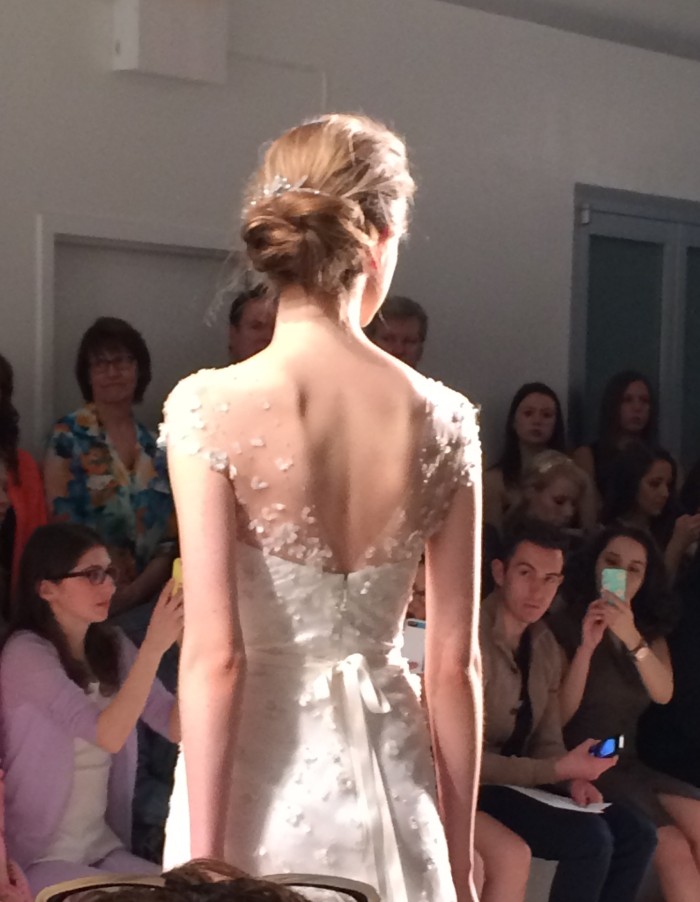 More delicate details suspended with the sheerest illusion fabric.
Another treat for me was another blogger meeting ( See my Aisle Perfect meeting here) ! As I was headed to my seat, the woman showing me to my row, said "You're here, in the row with The Knotty Bride" Yay! Say no more - my day was made! The Knotty Bride was of the first blogs I read and looked up to when I started Dress for the Wedding, and as fellow blogger and dog lover who finds endless entertainment with their small dog friend, I immediately fell in love with the Bambino McPuppyPants updates, Alison's hysterical sense of humor, and her searingly accurate and you're-making-me-cry-laughing takes on The Bachelor and The Bachelorette, and anything else going on in her life. Oh, and she has some of the most hilarious tweets and informative wedding posts too!   After we saw amazing Christos  and Kenneth Pool shows, I accosted her introduced myself, and she was as warm and fun in person as her tweets/love of dogs/you have me crying with laughter posts would imply. Alison was also chatting with Vane Broussard, yet another one of my blog idols and creator of Brooklyn Bride, and Alison graciously introduced us! I was already on a bit of a pretty wedding dress high, and so meeting these two ladies I admire greatly was another  pinnacle and, "Heck, I love this job!" moment.  I tried unsuccessfully to contain my excitement at meeting my fellow bloggers, we chatted for a bit ( If you're interested: yes, succulents were mentioned. What else do wedding bloggers talk about?!) , then I was off to the beautiful surroundings of the Hyde Room at The London Hotel, to take in the Anne Barge Spring 2015 Collection, then back in a cab and back to the same venue for the final show at Amsale. I can't wait to show you the official photos. I headed back to the Hudson, my new favorite home away from home,  before a change of clothes and drinks and dinner with friends.
What a day! Stay tuned for Day 3, where I'll visit the Karen Willis Holmes New York Boutique and have the time of my life at the St. Regis viewing the Romona Keveza collections.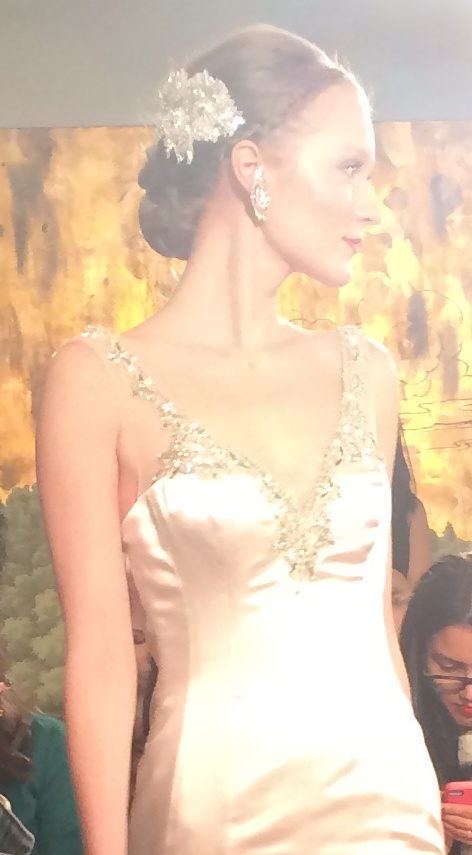 The images are a little off, since I had a light coming at me, and had to crop out lots of heads, but the beauty of these Anne Barge wedding dresses is undeniable. The official view will be coming soon!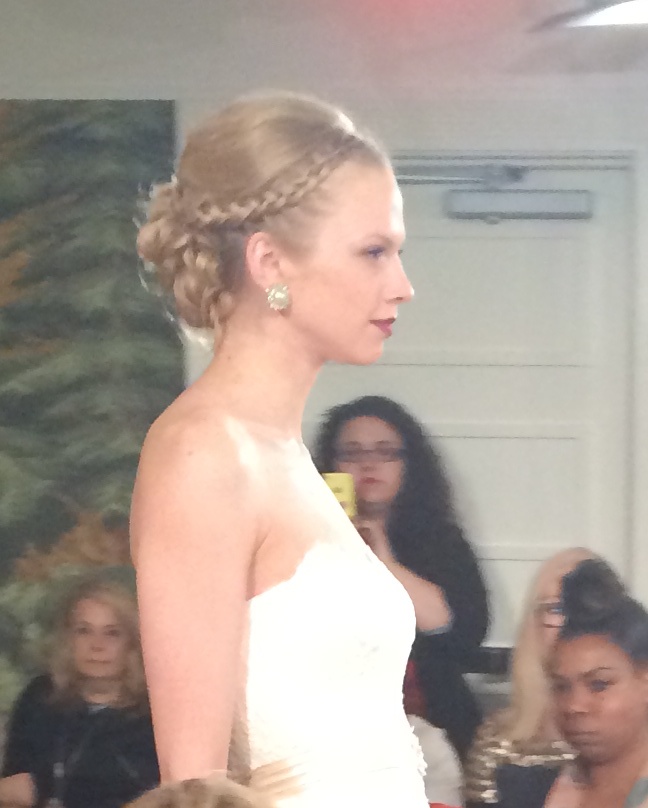 I was such a fan of not only the wedding gowns, but this beautiful braided hair style. It was bohemian, sophisticated and elegant at the same time. A rare combination!

Classic and serene - the perfect Anne Barge bride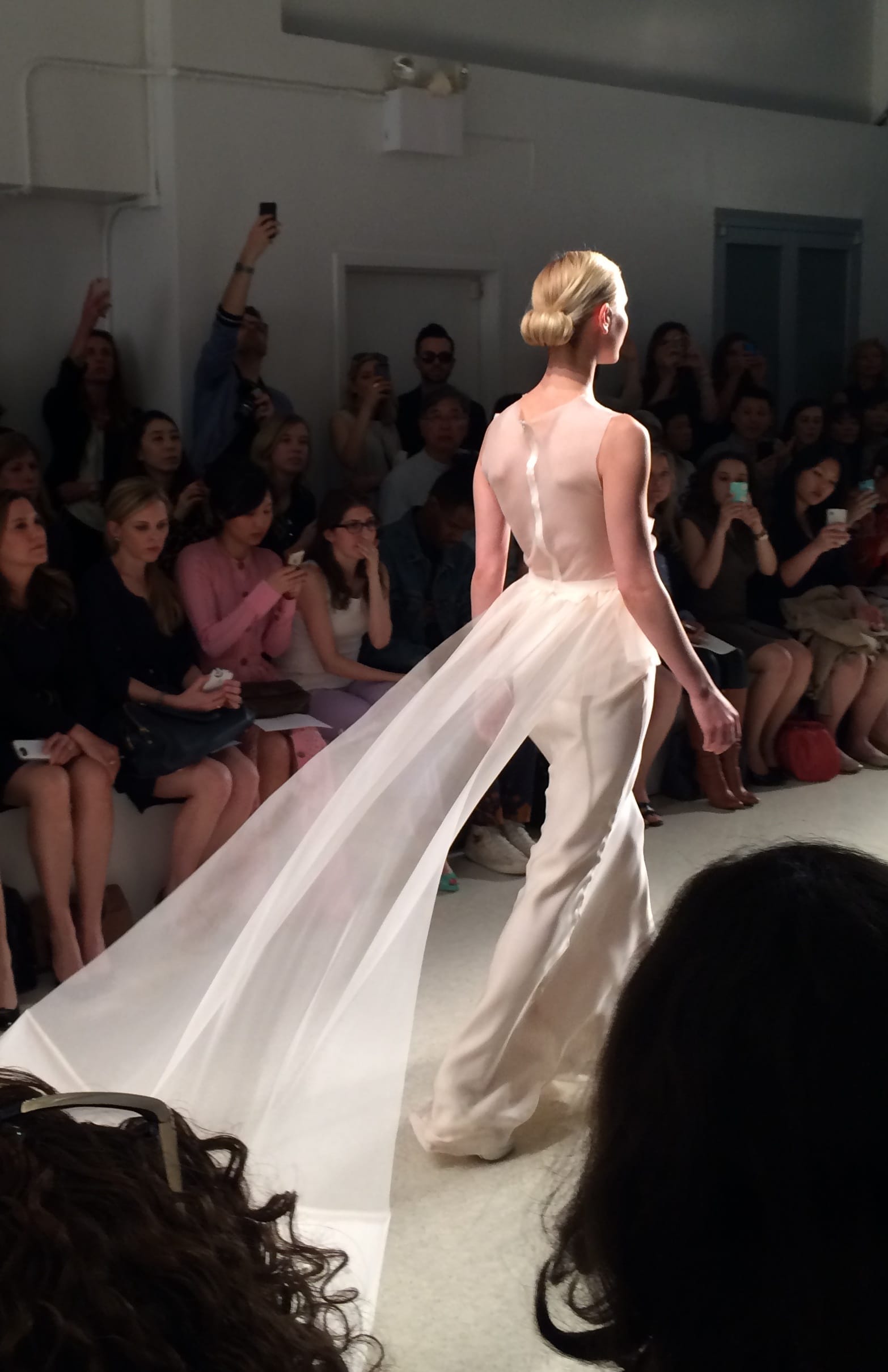 One of my favorite moments - sheer trains like these at Amsale
Don't miss any of the bridal collections I've shown so far:
and still to come: there will official collection imagery and coverage of Anne Barge, Christos, Kenneth Pool, Romona Keveza, Karen Willis Holmes, Kelly Faetanini, Heidi Elnora, and more!
More style ideas you might enjoy :