Green Lace Bridesmaid Dress
It's another fresh look in my quest to show you every color in the rainbow series for bridesmaid dresses. Today I have for you this green lace bridesmaid dress from Jenny Yoo, in a wonderful green called "Evergreen".  As you can see, it's somewhere between Kelly green and emerald and is really a color for any season. This dress will look as great in the fall as it will in the spring!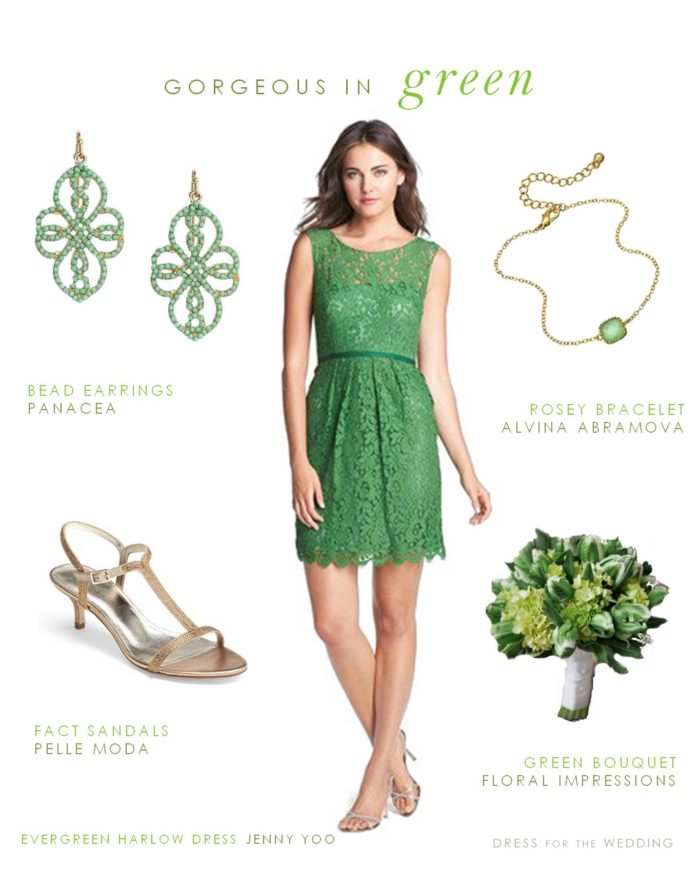 Jenny Yoo Harlow Dress in Evergreen /Gold and Mint Rosey Bracelet by Alvina Abramova /Green Bouquet by Floral Impressions, Photographed by Lindsay Hite, Readyluck Featured on United With Love  /  Fact Sandal by Pelle Moda
I couldn't bring myself to put green shoes with this, because that's just too matchy, and would probably look awkward, but I've included a few pairs below just in case you're searching for green shoes.  These golden sandals by Pelle Moda are a lovely neutral shoe that goes with nearly any color dress. They also elongate the leg, and dress up your feet.
If you're thinking of having a green-themed wedding and want your bridesmaids to dress in this lucky color, this dress is definitely one of my first picks.  Since this dress is from the Jenny Yoo Social collection, it's also meant to suit wedding guests, so it is a pretty choice for a wedding guest dress, too!
If you're on the search for more green inspiration, you can follow my Pinterest boards, see other styled collages with green dresses here, and also visit the shop section which has a whole page of green bridesmaid dresses.


More style ideas you might enjoy :