Green Mother of the Bride Dress
As we head into the fall season, more rich, jewel-toned dresses start to emerge, and this gorgeous green gown is just one wonderful example of some of the great fall hues and styles there are to choose from. This style idea for a mother-of-the-bride or mother-of-the-groom features an green evening gown with pretty illusion neckline, which makes a subtly-stunning dress for fall and winter weddings.
Shopping sources on this site use affiliate links, which means this site may earn a commission if you make a purchase from our links.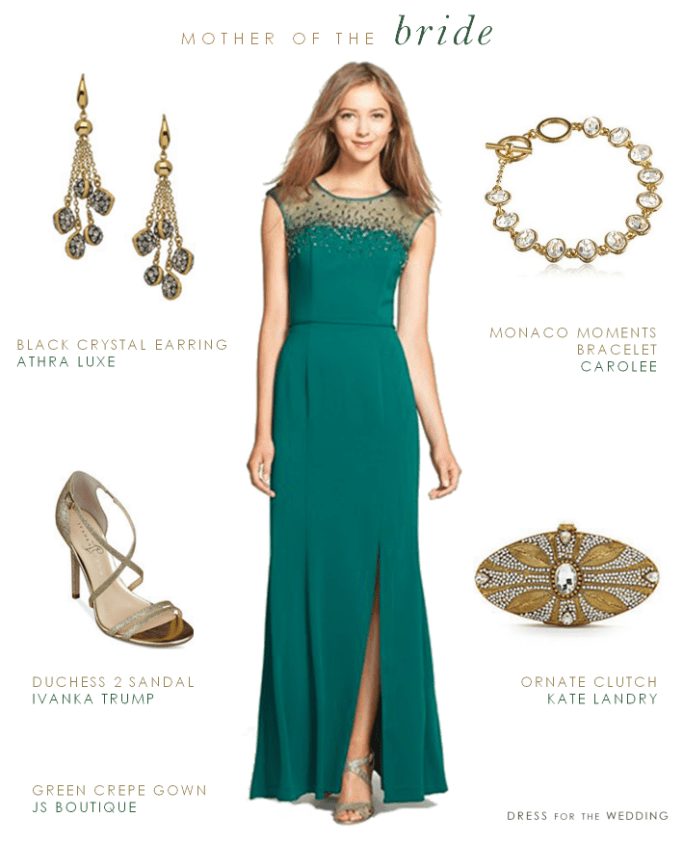 Green Crepe Gown by JS Boutique //  Black Crystal Chain Earrings by Athra Luxe // Link Bracelet by Carolee  //Ornate Clutch by Kate Landry // Duchess 2 Sandal by Ivanka Trump
Green Gown for Mothers of the Wedding
Some of my emerald green dress posts from a few seasons ago were very popular with mothers-of-the-bride or mothers-of the-groom who were seeking gown and color that would strike the balance between subtly standing out in a special dress and standing the test of time in photos.   For weddings from the fall season through winter, I think jade, emerald, and teal greens or blues are a beautiful choices. As we head closer to that season, I wanted to present this updated version of a choice for a wedding-appropriate green evening gown.
The color here is called emerald, but it also seems to lean toward one of my favorite colors right now: deep teal. I love how the illusion neckline of this gown gives both coverage and beautiful embellishment. The tailored shape of the solid green gown serves to balance the sparkle and gives it a completely classic look.  Guests with an invitation to a formal fall or winter wedding can also consider this beautiful gown a perfect choice for those festive events!
More Green Mother of the Bride Dress Ideas

More ideas:
Mother of the Bride Dress Ideas
Mother of the Bride Dress Picks
More style ideas you might enjoy :