The Best Shoes for Beach Weddings
I'm still on my beach wedding kick, and so it only makes sense that we talk about beach wedding shoes! Beach weddings call for sand-friendly, but statement-making sandals. Read on to see my thoughts behind these picks for sandals for beach weddings!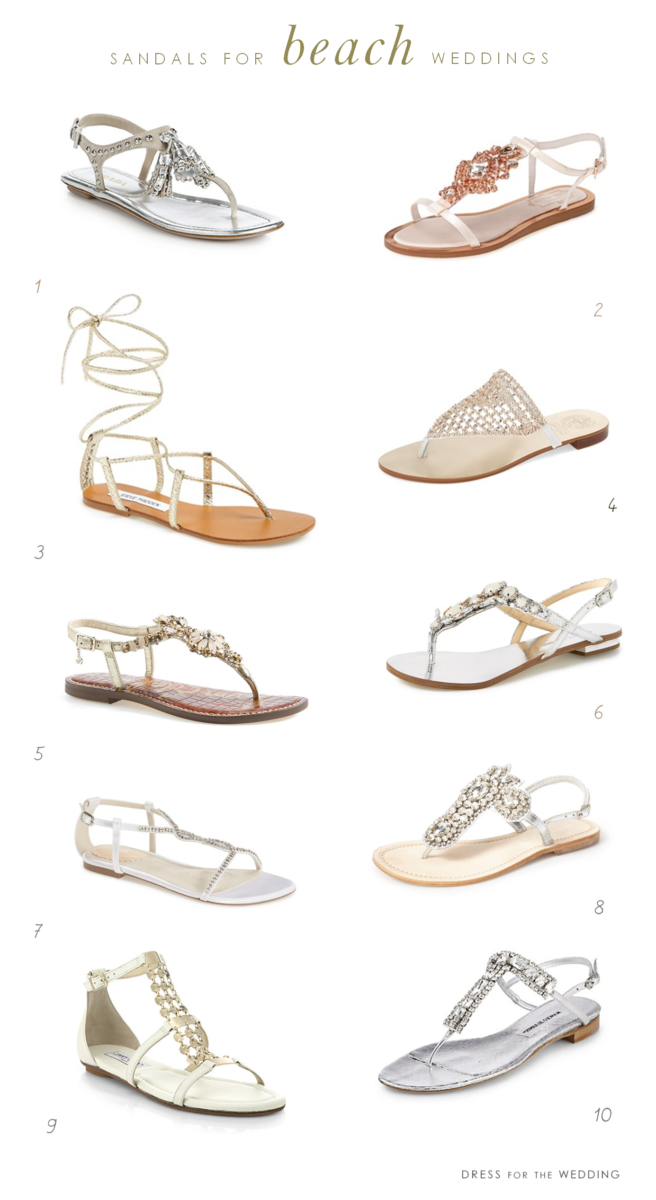 Links in italics are from affiliated sponsors. Shopping these pieces helps support this blog: 1. Prada Studded and Tasseled Metallic Leather Sandals from Saks Fifth Avenue 2.  Ted baker 'Roseupe' Crystal Embellished Flat Sandal (Women) from Nordstrom also comes in white, black, and light cream 3. Steve Madden 'Werkit' Gladiator Sandal from Nordstrom 4.  Vince Camuto 'Mombo' Embellished Thong Sandal from Nordstrom 5. Sam Edelman 'Garen' Sandals from Nordstrom 6.  'Fona' Crystal Embellished Leather Thong Sandal from Nordstrom 7.  pink paradox London 'Heaven' jeweled sandals from Nordstrom 8.  Lauren Lorraine 'Ibiza' Crystal Thong Sandal from Nordstrom 9. Jimmy Choo Metal Paillette Leather Sandals from Saks Fifth Avenue 10.  Manolo Blahnik Zanfimod Jeweled Metallic Leather Thong Sandals from Saks Fifth Avenue
I'm usually a fan of a heeled shoe for a wedding, but the beach is one place where a high heel–or any shoe that has a barrier to balance in the sand–is an impediment, which is the last thing you want on your wedding day! I often recommend a wedge heel for an outside wedding, but on a sandy beach, unless the wedge heel is super-low ( i.e., under an inch) it is probably going to cause some trouble. Going barefoot is always an option, but for those who want a little something for their feet that goes beyond the standard rubber flip-flop, I suggest these embellished sandals.  These are designer styles, and worthy of a special wedding day. They have the perfect amount of chic ornamentation for brides wanting some special details, and they could also work for wedding guests, bridesmaids, and mothers at a beach wedding. More picks below! P.S. Because the summer season is coming to a close, many of these sandals are on sale now at Nordstrom, so it's a great time to shop for these for next year, and Nordstrom is also launching full access to the Anniversary Sale tomorrow where new fall arrivals are being previewed and are on sale!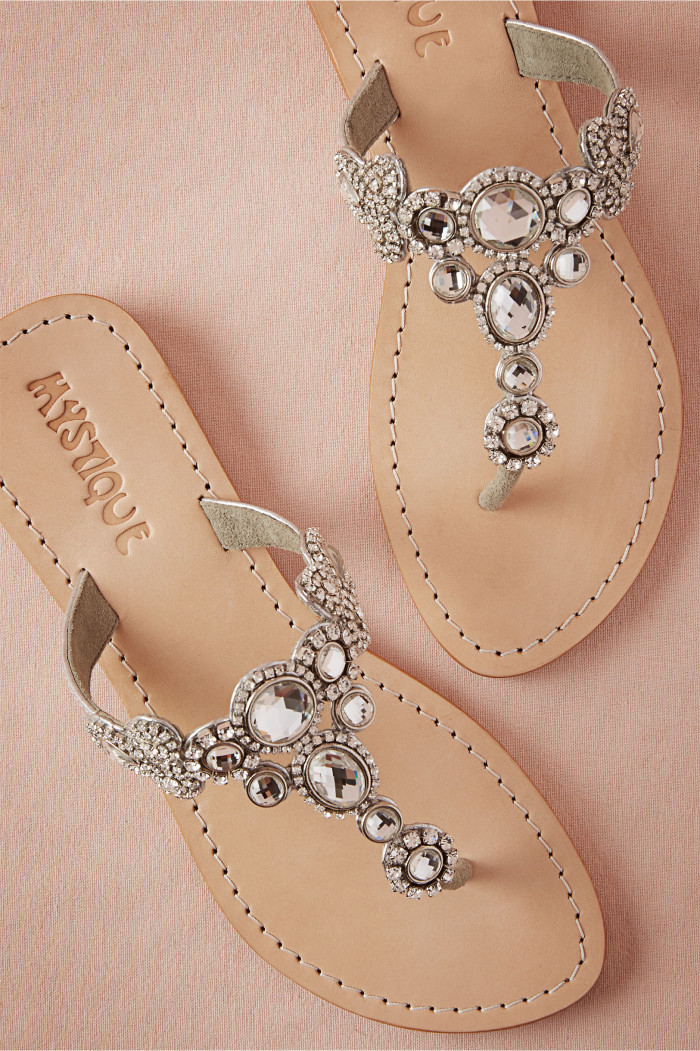 Lucent Sandals from BHLDN, part of  Swept Away, their new line of beach and destination wedding dresses and accessories!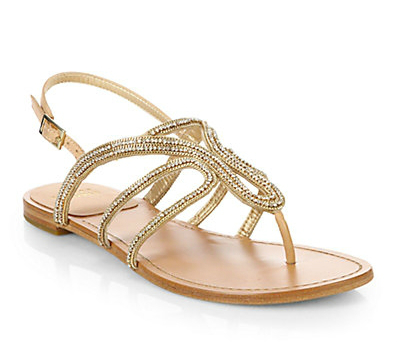 These golden sandals are fit for bridesmaids or beach-goddess brides: Stuart Weitzman Crystal Embellished Sandals from Saks Fifth Avenue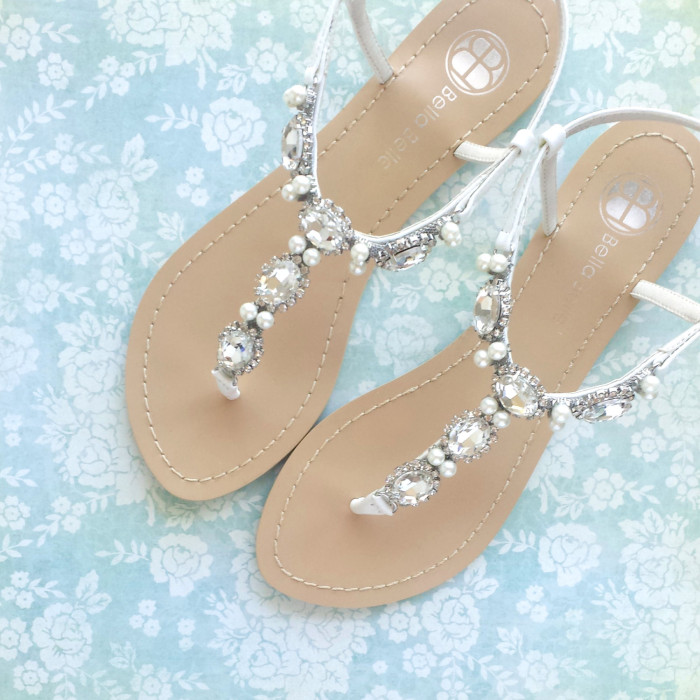 Handmade sandals for beach weddings by Bella Belle Shoe on Etsy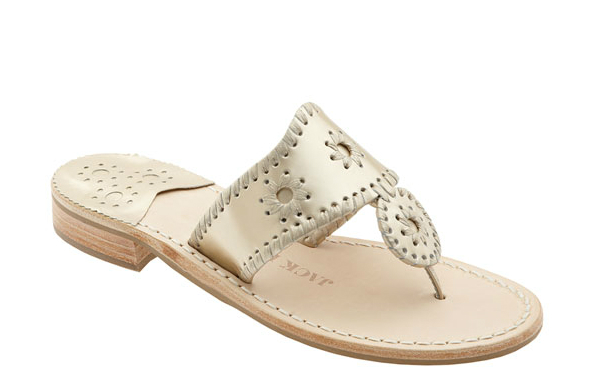 For preppy beach weddings for bridesmaids or brides. Jack Rogers Sandals come in all sorts of wedding-perfect colors!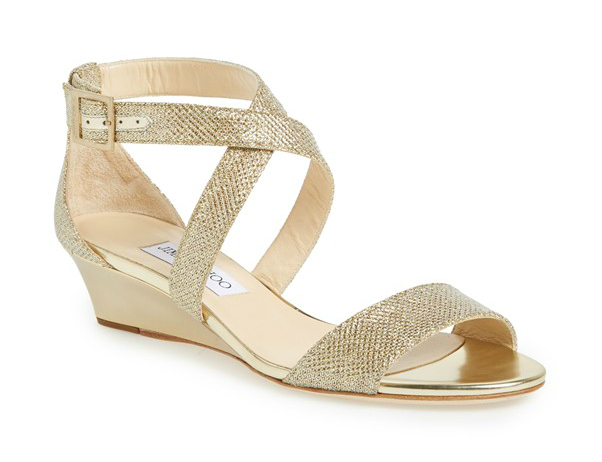 If you want a designer style with a little heel that will still allow you to walk in sand, look to these Jimmy Choo 'Chiara' gold wedges!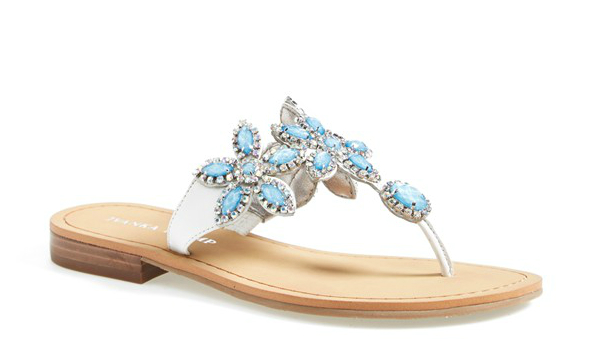 Make these floral sandals from Ivanka Trump your something blue! (also available in a cream and gold combination)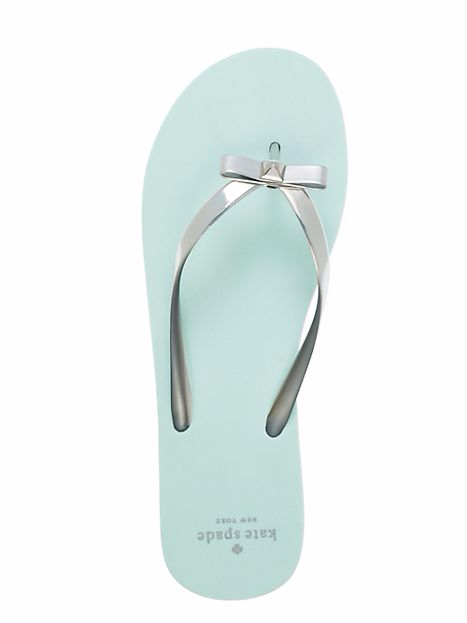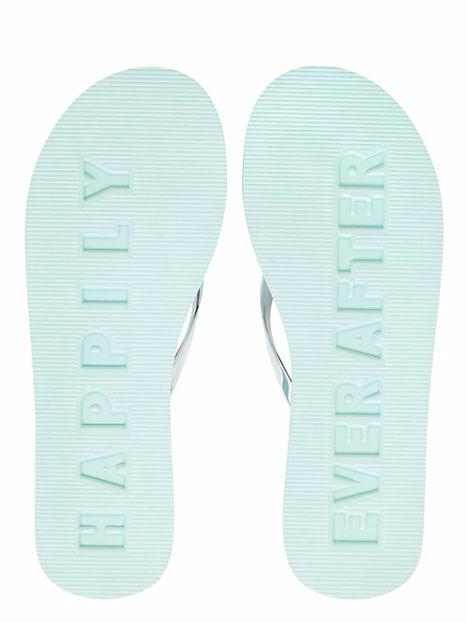 Leave your mark on your wedding day with these sweet 'Happily Ever After' kate spade new york flip flops!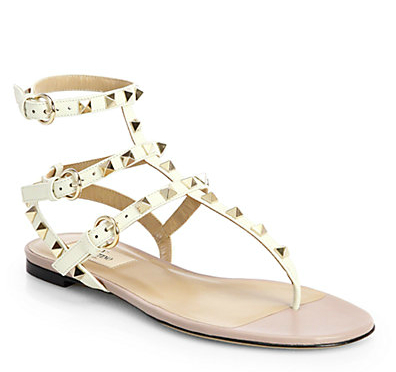 Are you a Valentino Rockstud fan? These flat gladiator sandals will allow you to rock the look at the beach!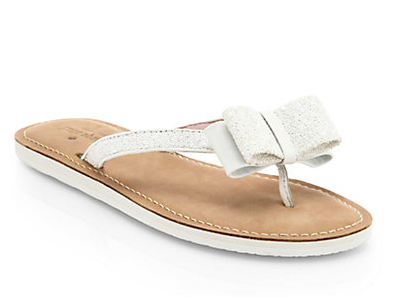 Fun comfy 'Icarda'  flip-flop with a blow and  white glitter – signature touches from kate spade new york, of course!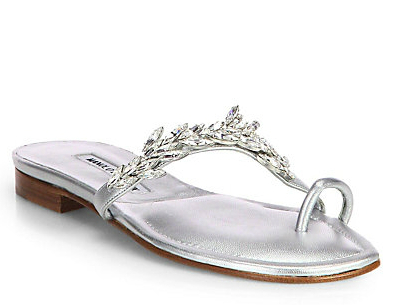 Wedding worthy in any setting! Manolo Blahnik Nadira Jeweled Metallic Leather Sandals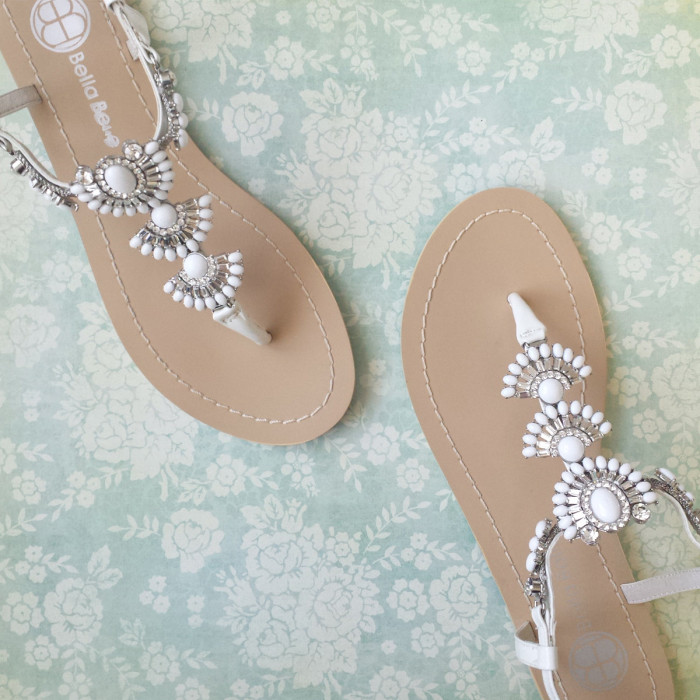 From BellaBelleShoe on Etsy these Art Deco -inspired 'Something Blue' Sole sandals with white jewels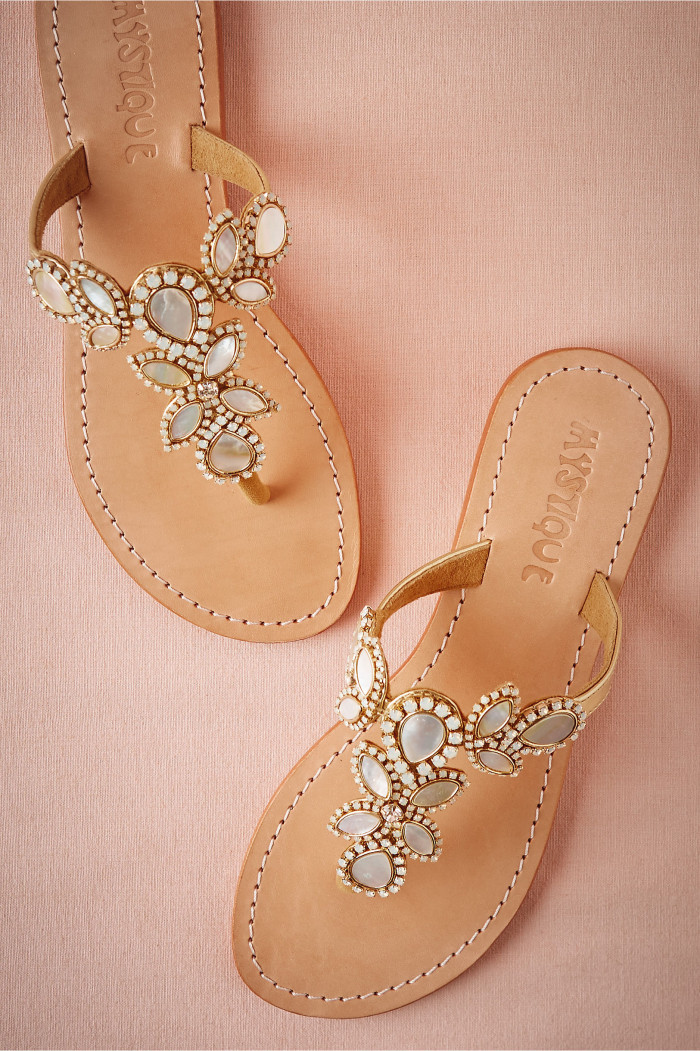 Pretty opal embellishment on these 'Adonia' sandals from BHLDN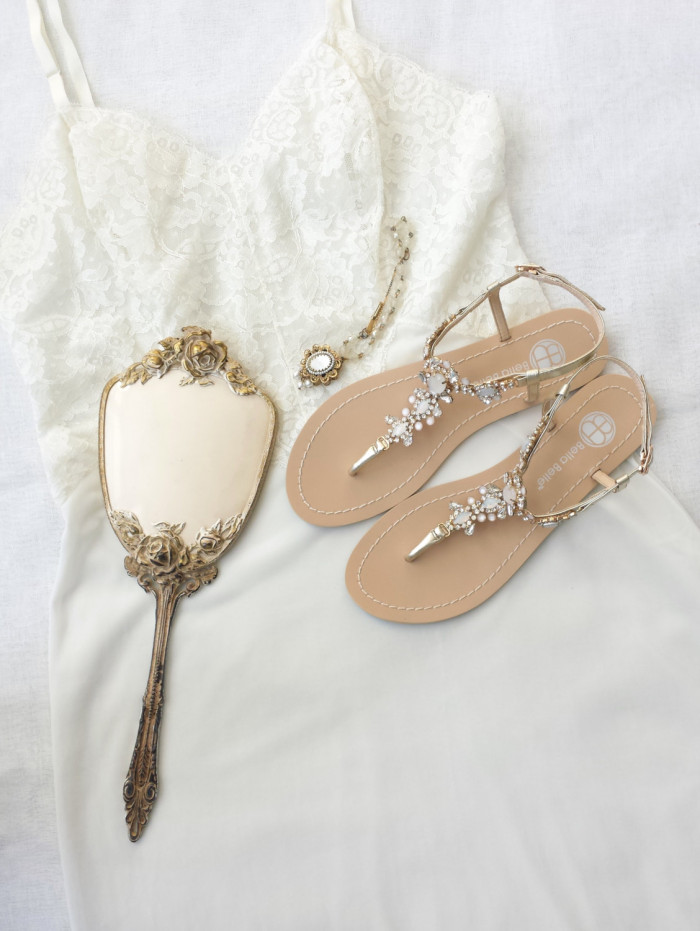 More lovelies from BellaBelleShoes on Etsy with crystal details and blue soles!
You can also find a ton of other beach wedding sandals on Etsy, including the 'barefoot' kind ! You might also want to try bridal flip flops from A Bidda Bing on Etsy, or grab a pair of these fun monogrammed sandals from Michelle Cowart Gifts on Etsy – even if you're not having a beach wedding, they are a great gift for bridesmaids!
Links in italics and in the shop section are from our affiliate retail partners and sponsors, meaning that this blog may earn a small referral commission from these selected shops. This is the way we support running this blog. Happy shopping!