The newest wedding dresses from Jenny by Jenny Yoo for Fall 2019. These new wedding dresses have sorts of options for creating customized wedding dress configurations!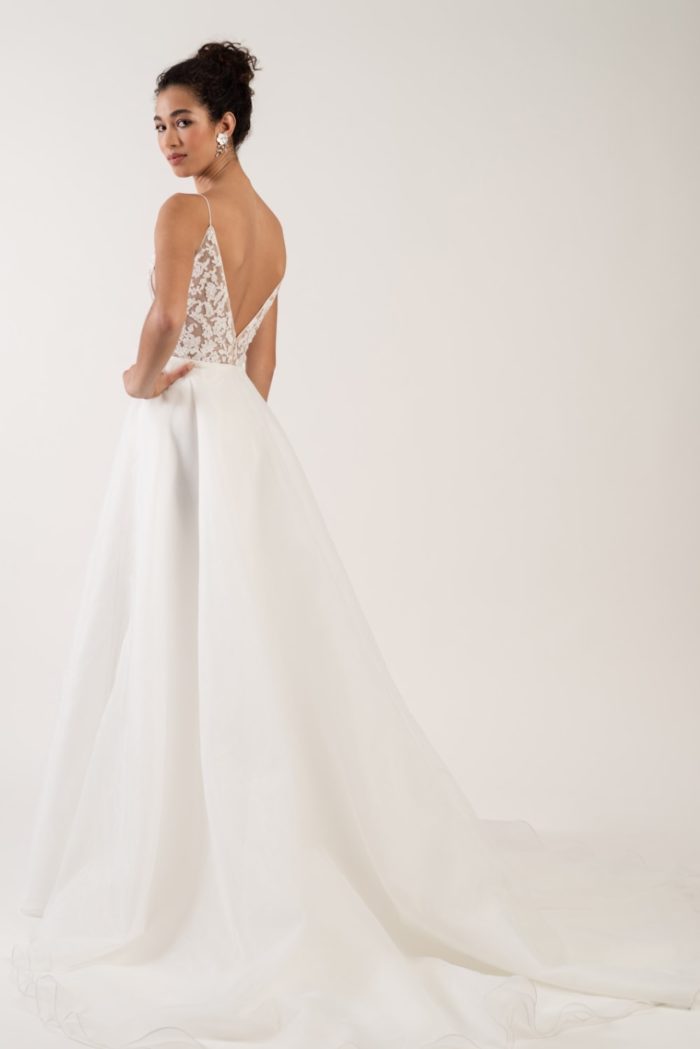 Jenny by Jenny Yoo Wedding Dresses Fall 2019
A few months ago, we showed off the Spring 2019 Jenny by Jenny Yoo Bridal Collection, and now we have the Jenny by Jenny Yoo Fall 2019 Collection for you to delight in! Some of our favorite details include the interplay of beaded and lace textures with solid structured fabrics, as well as plunging necklines, delicate straps, and multi-way options in necklines and overskirts.
Fall 2019 Jenny by Jenny Yoo Bridal Collection
All the gowns in the Jenny by Jenny Yoo bridal collection, collection are under $2,500, with many in the under $1,400 range. Please enjoy these lookbook photos by Marcy Castelgrande. For more information on any of the gowns, or to find out purchasing information, please visit jennyyoo.com
Callie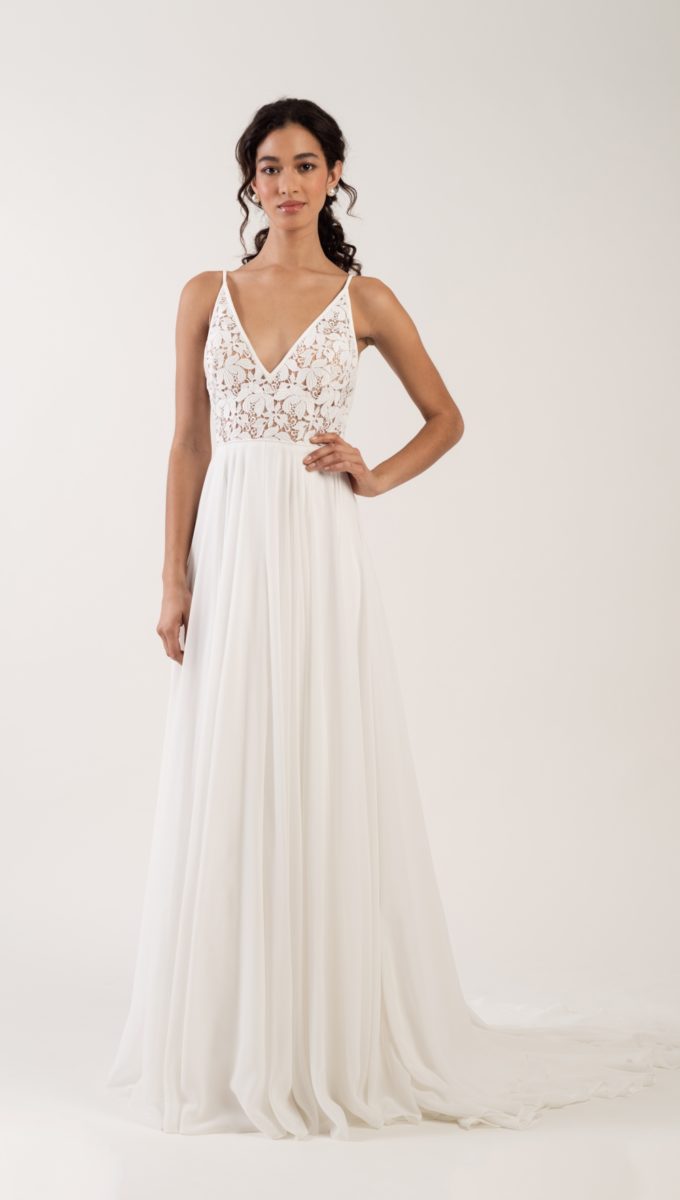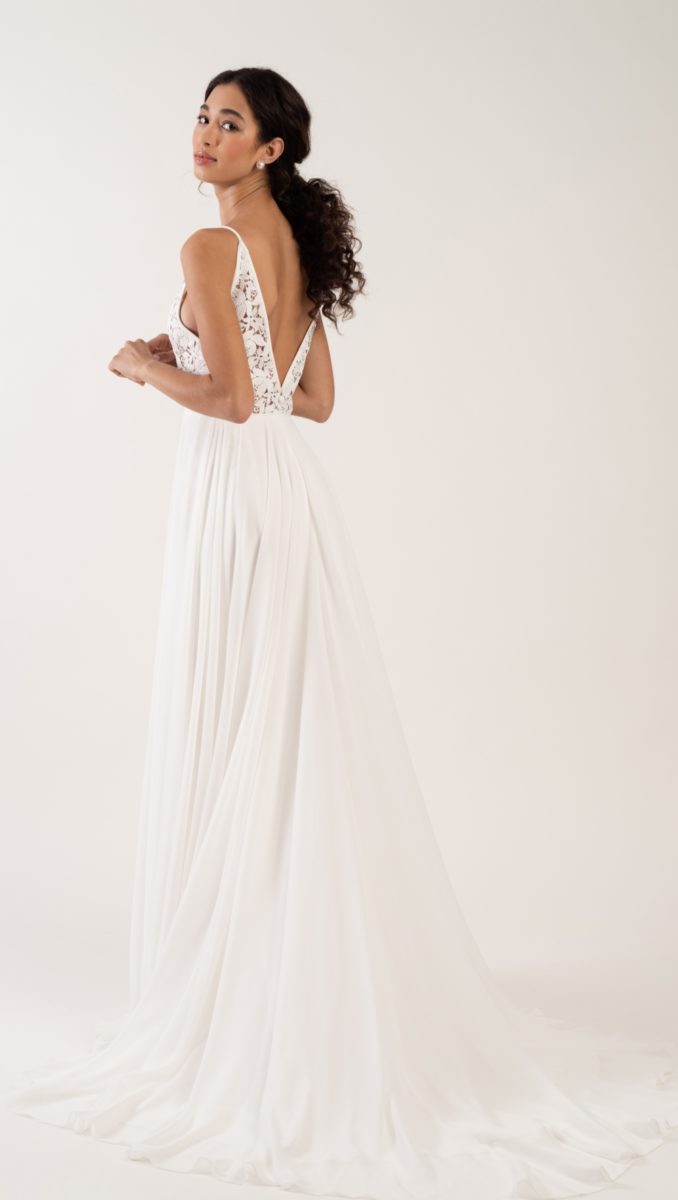 Callie is a soft A line wedding dress with a delicate spaghetti straps and deep V neckline and back in a textured lace.
Carson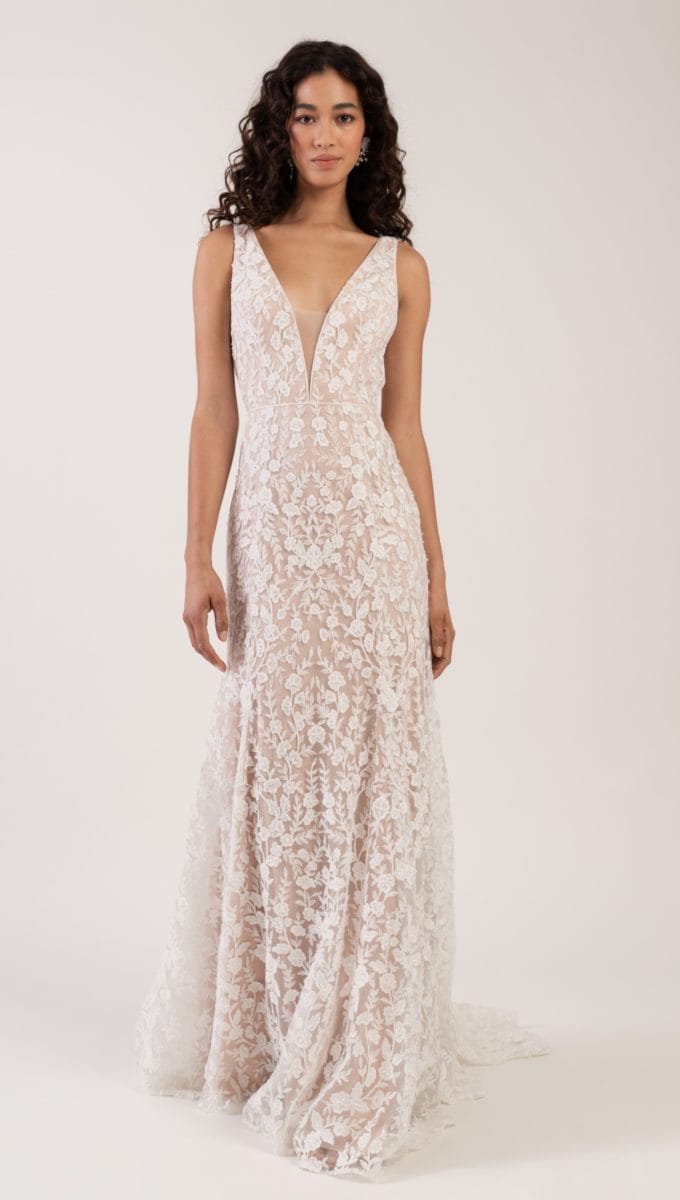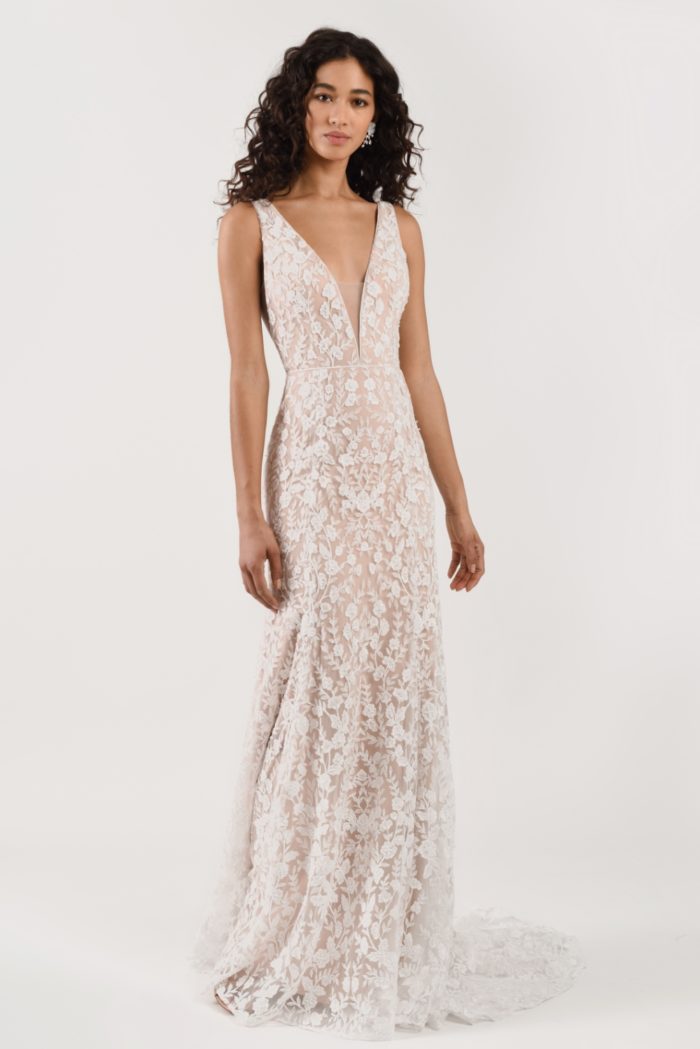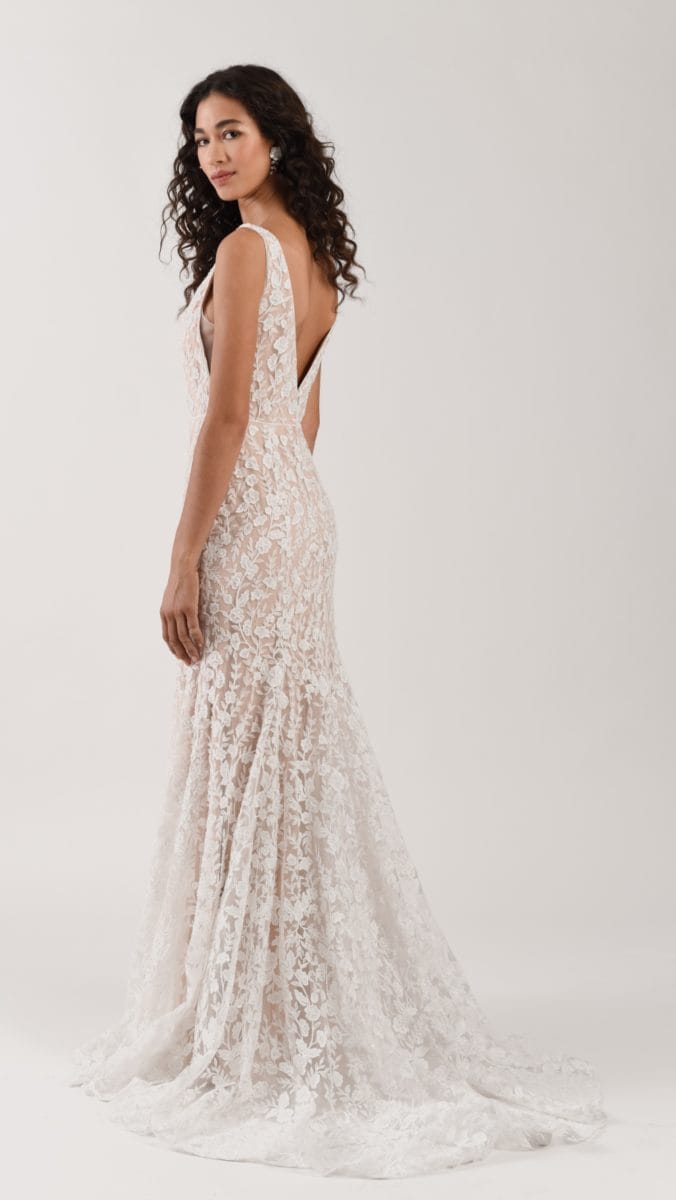 Carson is a full lace fit and flare wedding dress. This plunging V neck gown is available in both a beaded and unbeaded lace version.
Cooper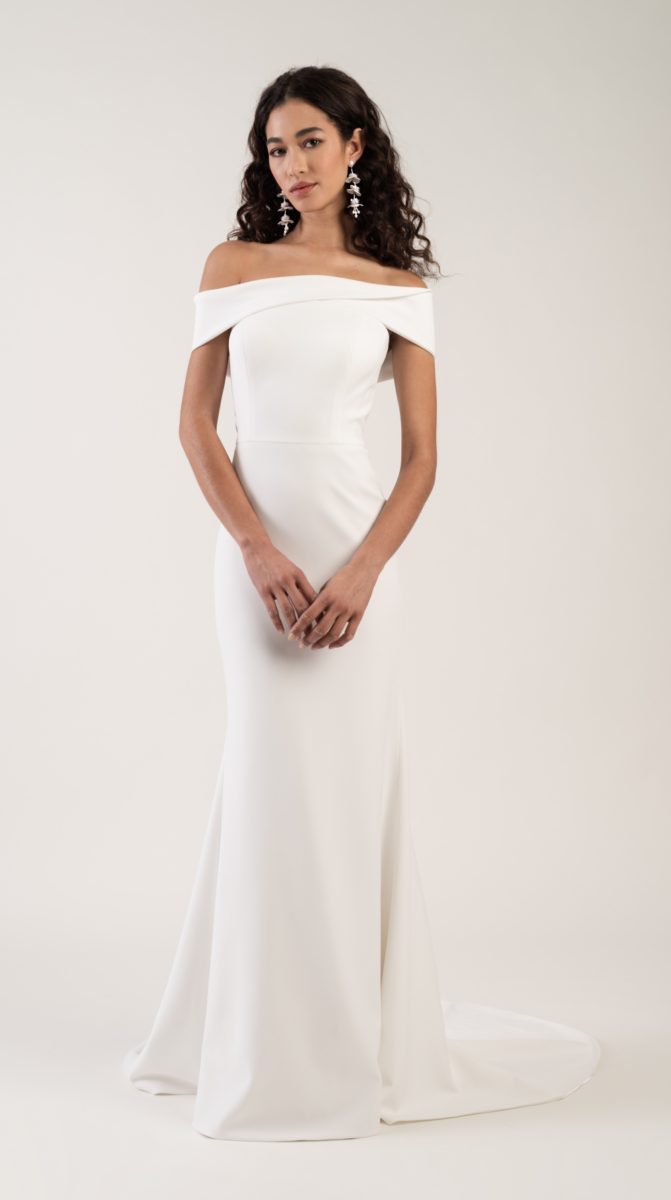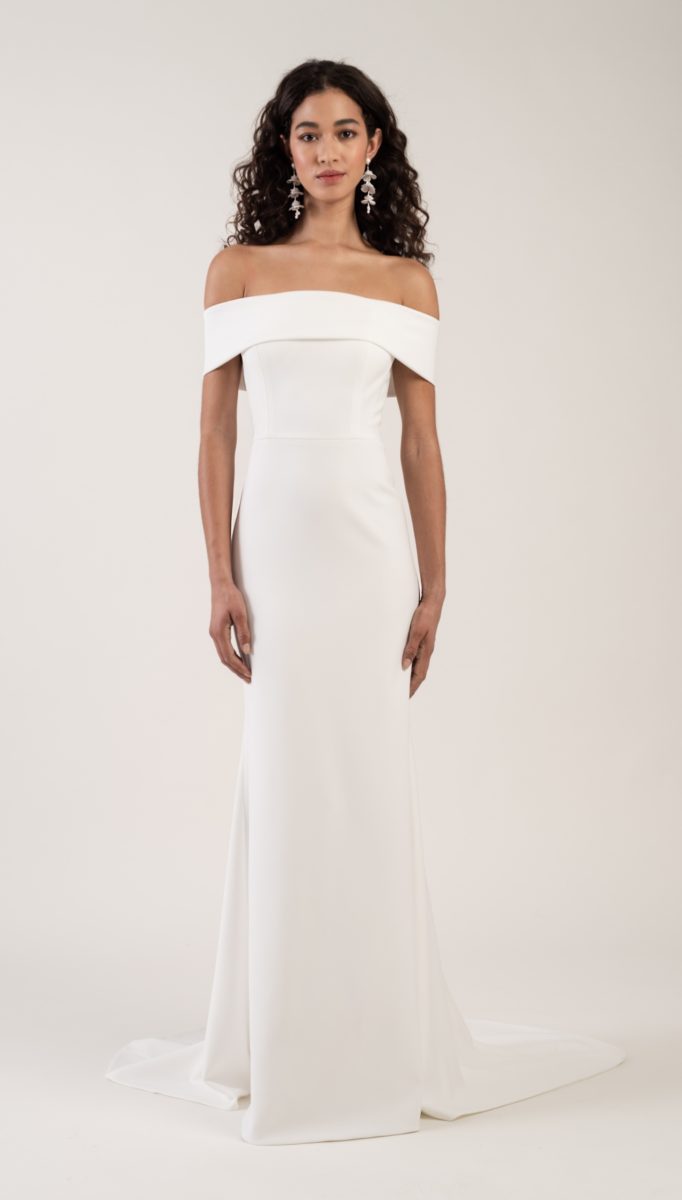 Cooper is a modern off-the-shoulder bridal gown. This sleek fit and flare wedding dress is created in a chic and formfitting knit crepe. The fold over neckline is convertible so you can customize the look.
Evie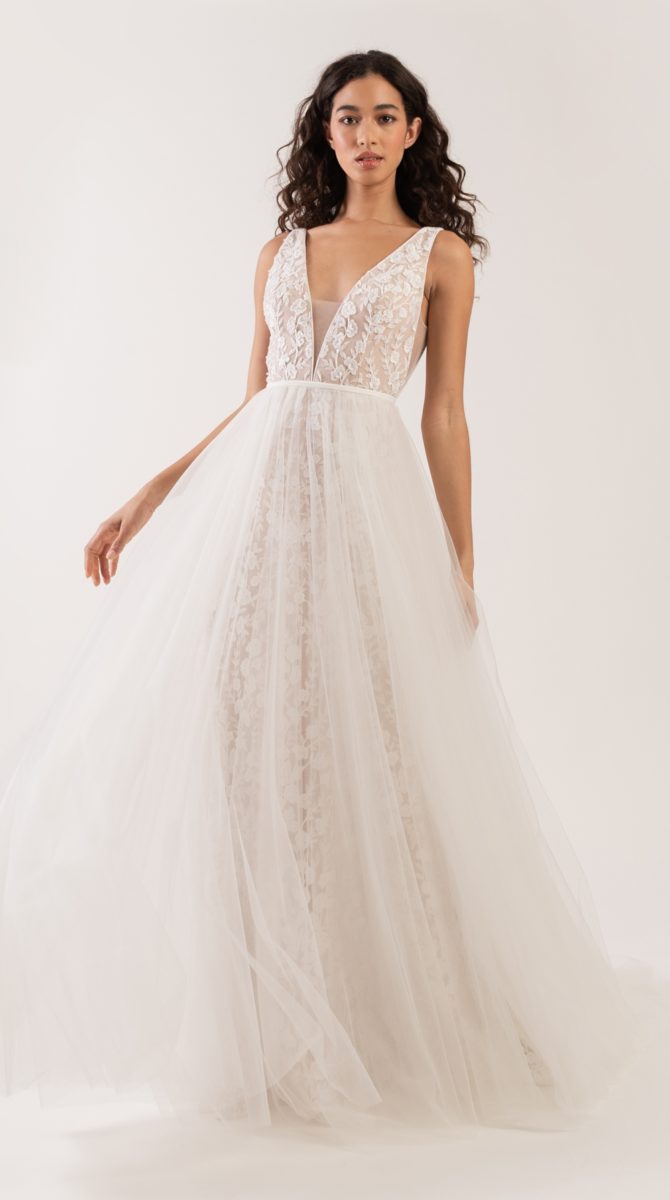 Evie Skirt is a convertible A line over-skirt in our whimsical Soft Tulle. This skirt is designed to be worn over ay Jenny Yoo wedding dress, and features convertible tulle panels can be lifted in different configurations to create a variety of unique necklines. An amazing way to get multiple looks! Here are a few more styling ideas and options below.
Neve Gown with Evie Overskirt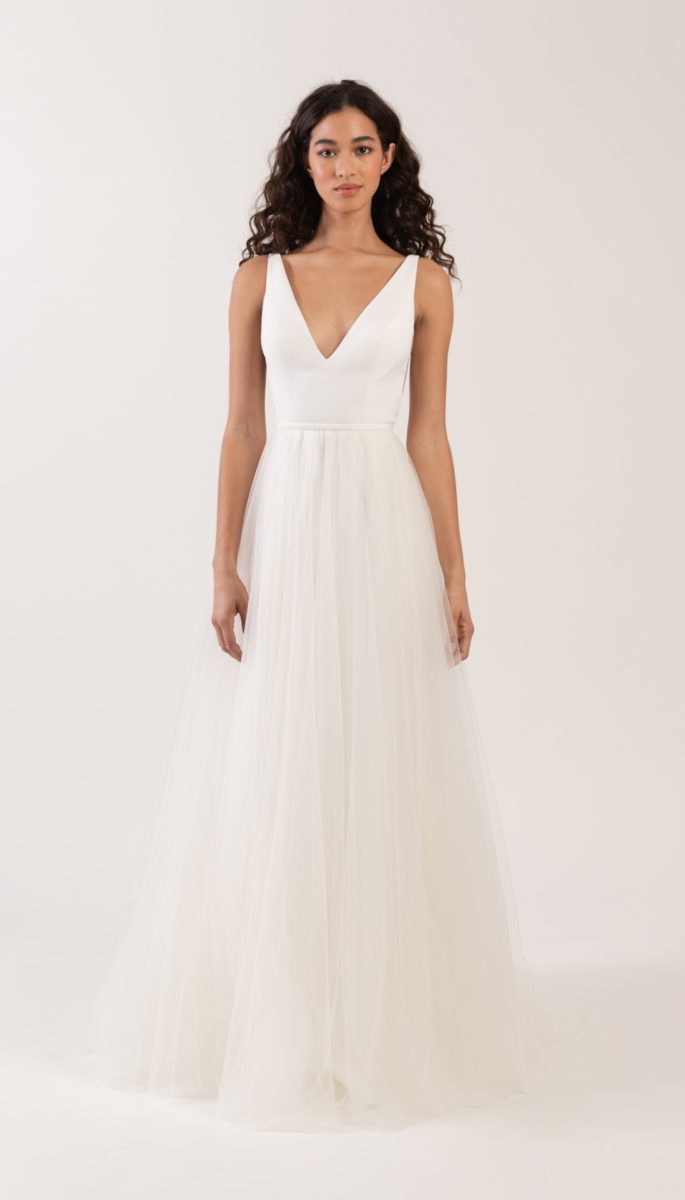 Evie Overskirt Tied Into a Halter Neckline over a Strapless Dress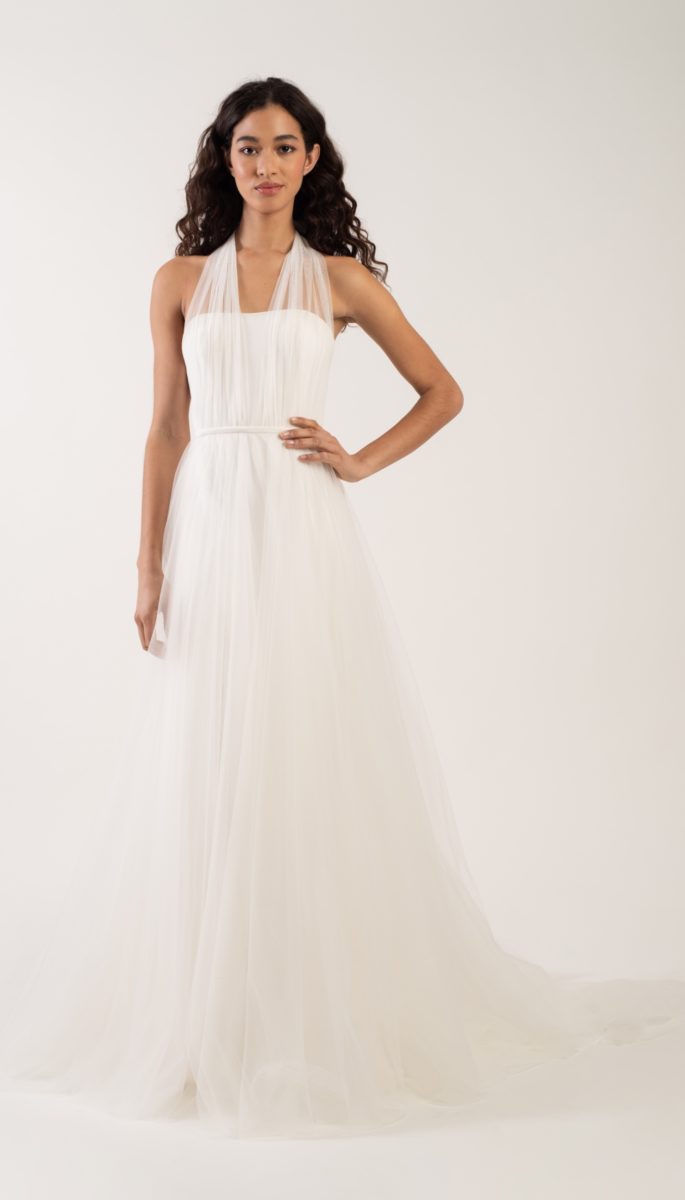 Evie Overskirt Tied For A One Shoulder Neckline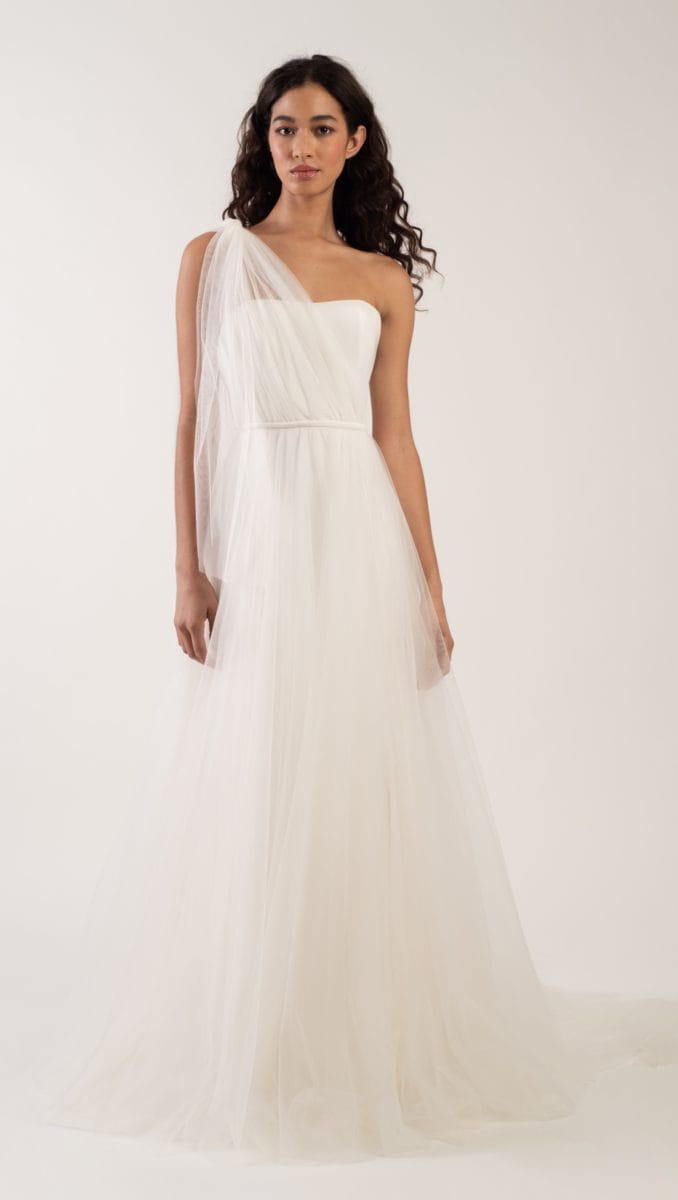 Evie Overskirt Tied Over a Strapless Wedding Dress in Off-the-Shoulder Configuration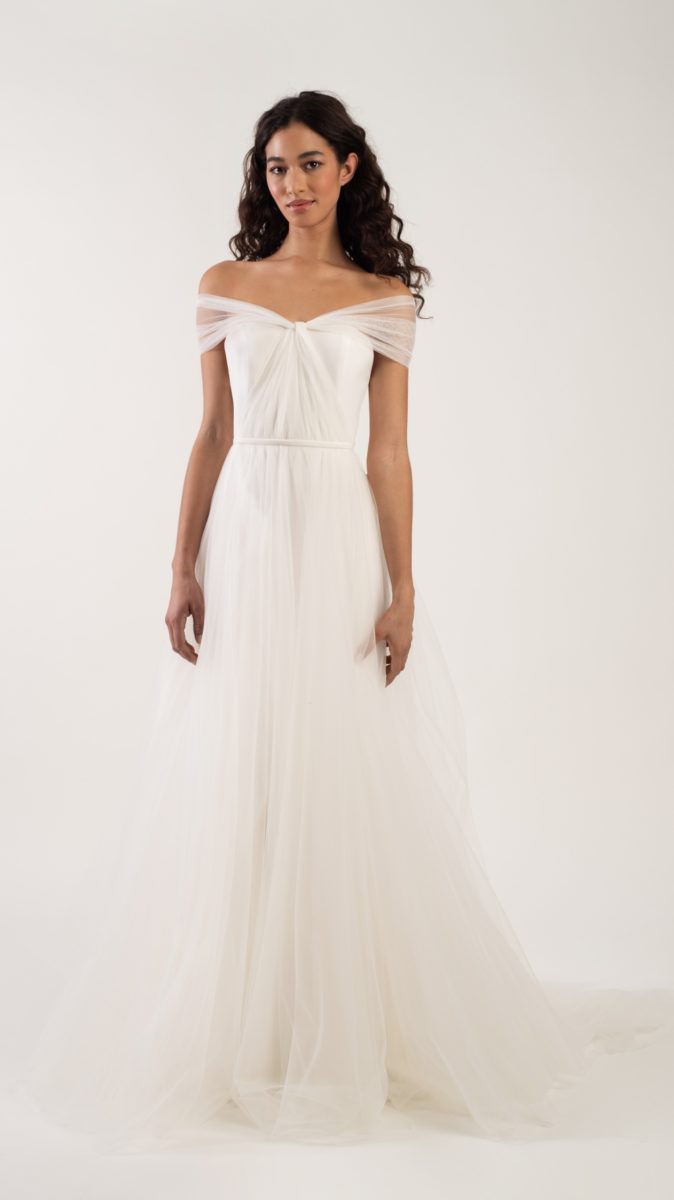 Lawrence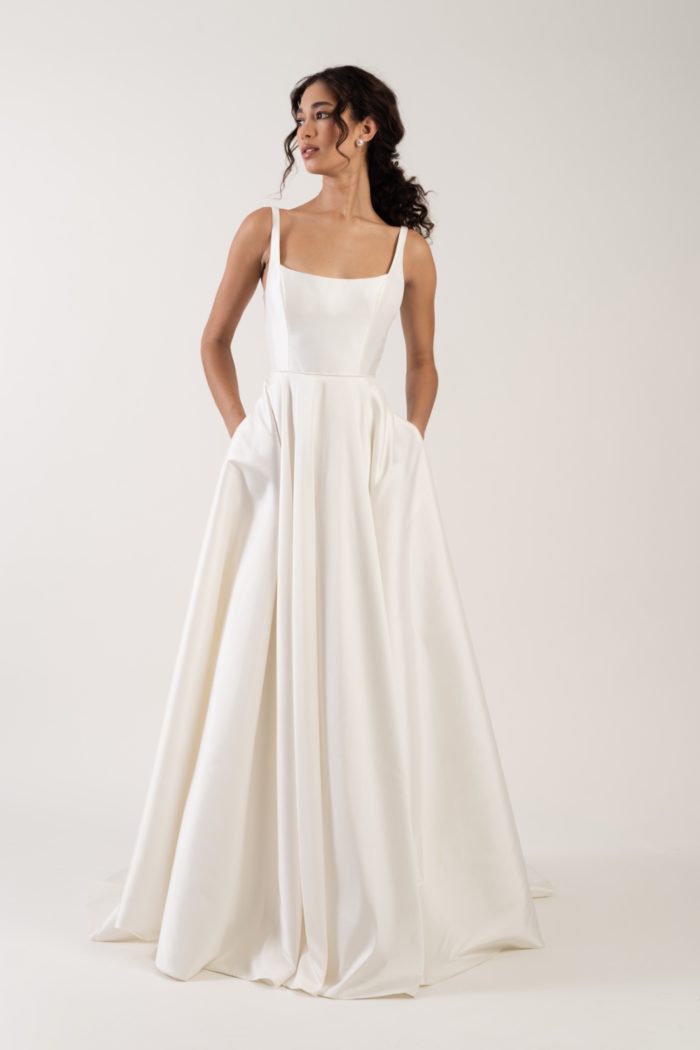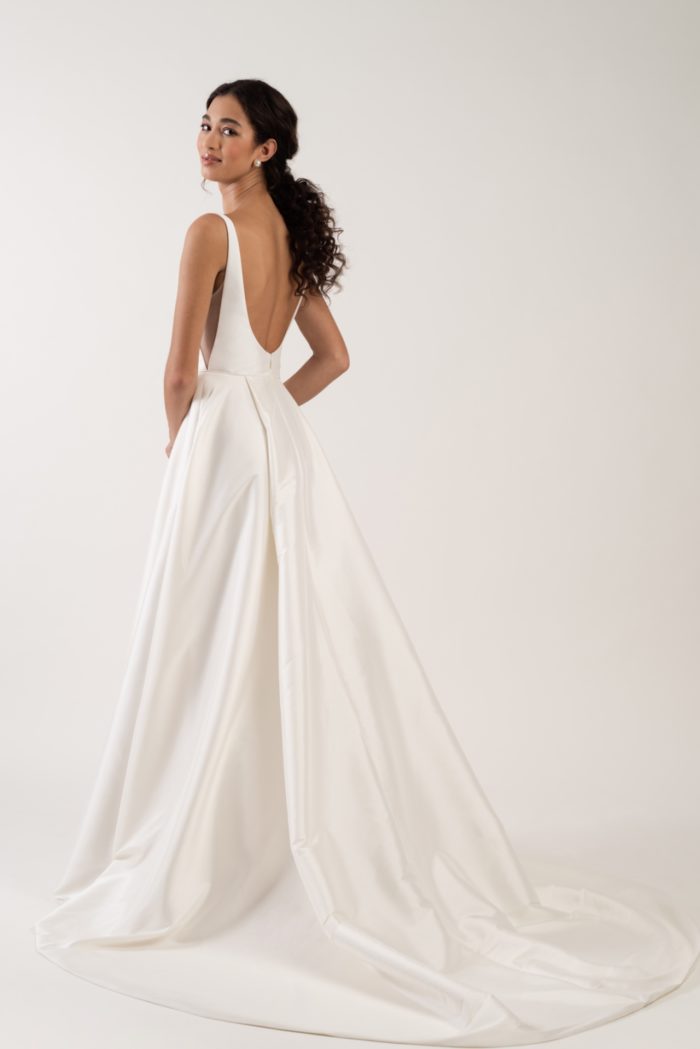 Lawrence is a taffeta wedding dress with a scooped square neckline and a dramatic ballgown skirt with sheer side panels. This dress is now available at BHLDN
Lennon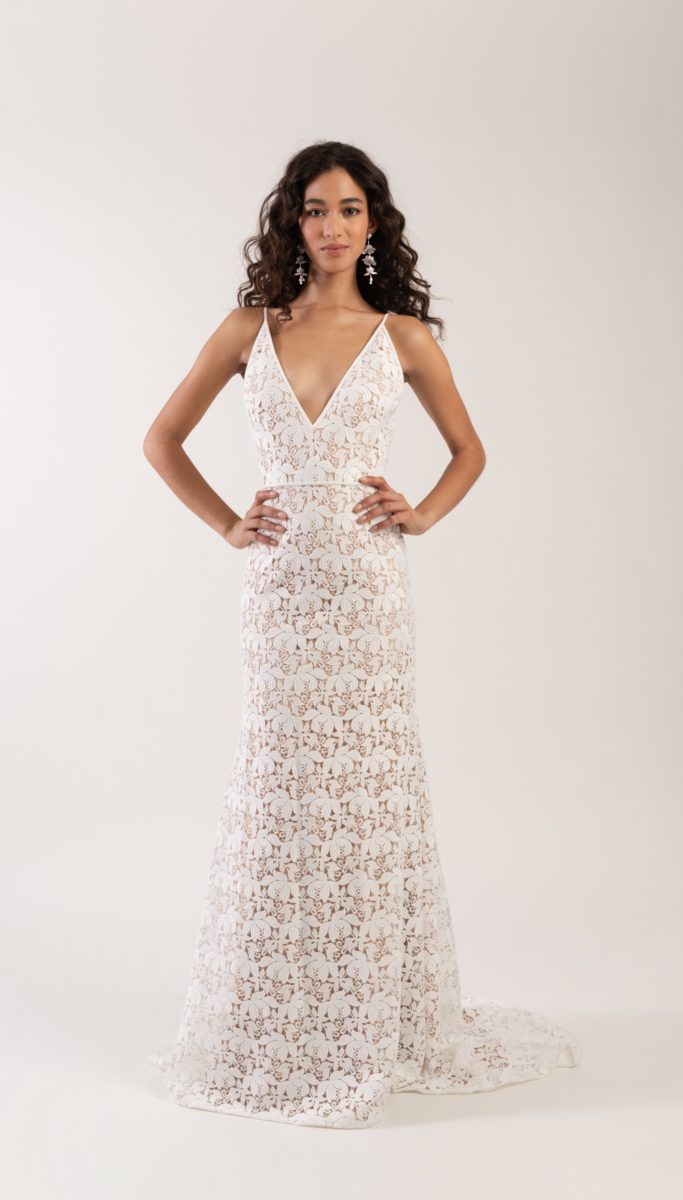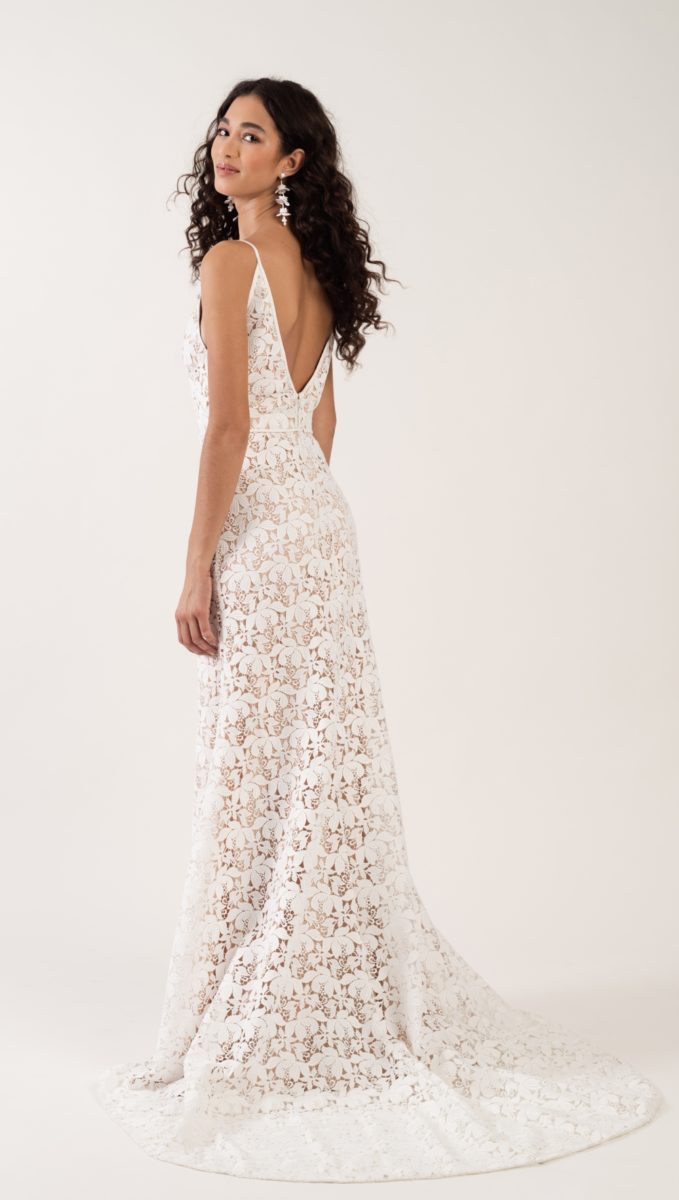 Lennon is a lace fit and flare wedding dress with a deep V neckline.
Lorelei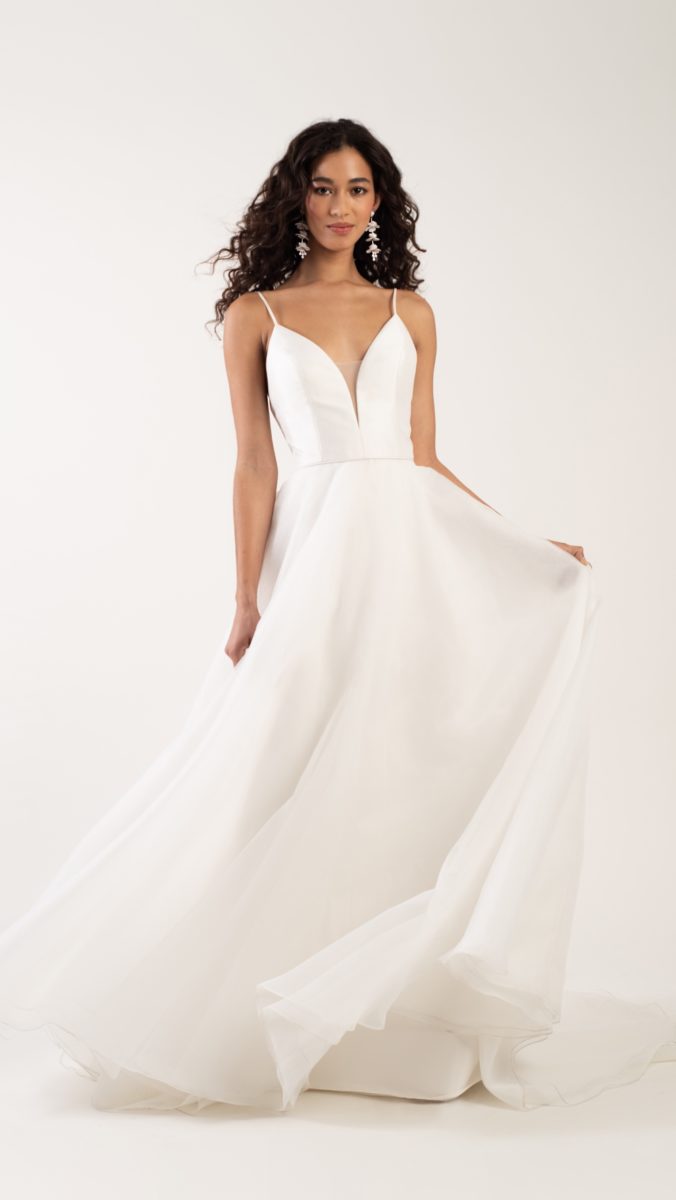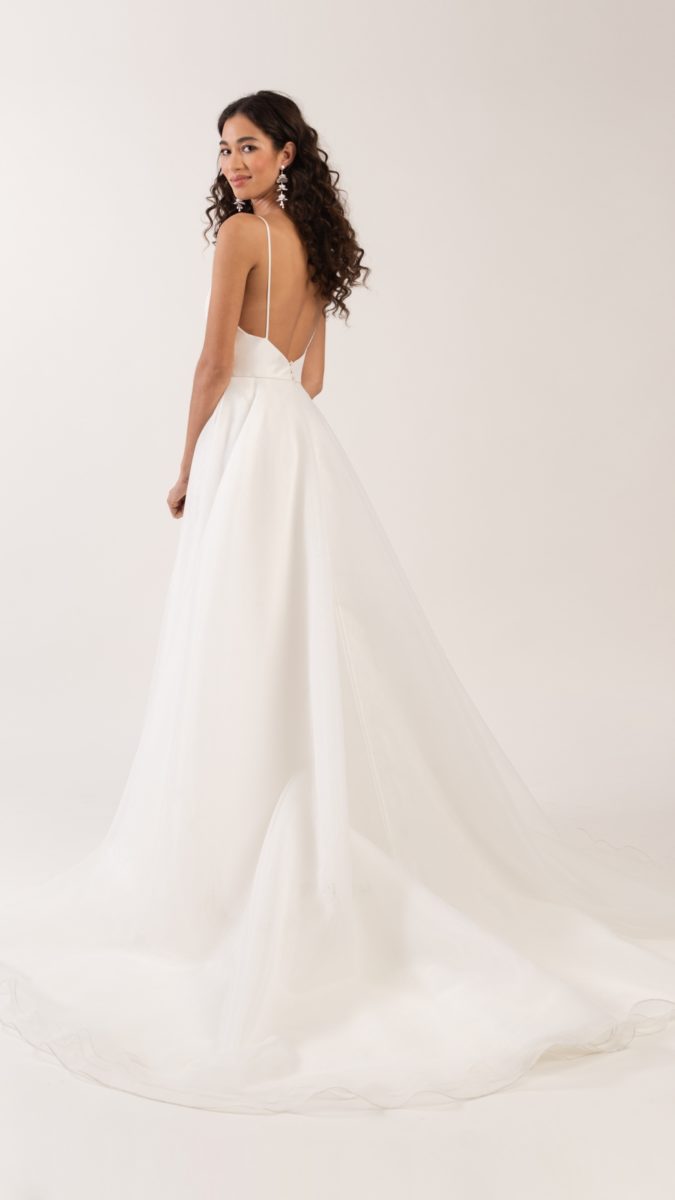 Lorelei is a ballgown wedding dress with a skirt in airy organza, matched with a taffetta v neck bodice and spaghetti straps.
Marley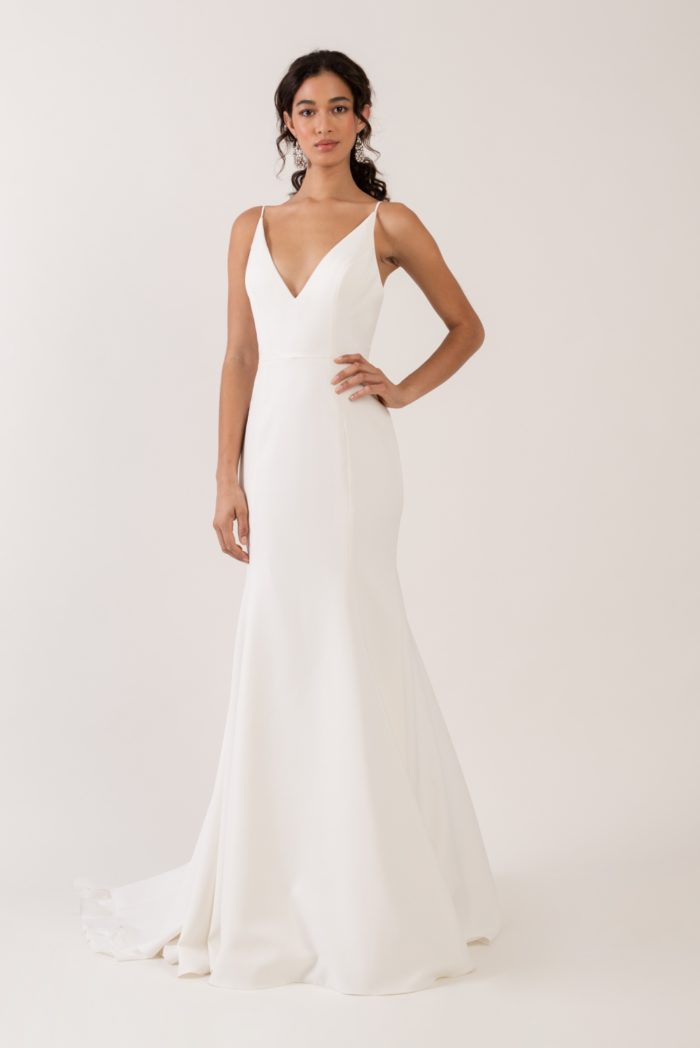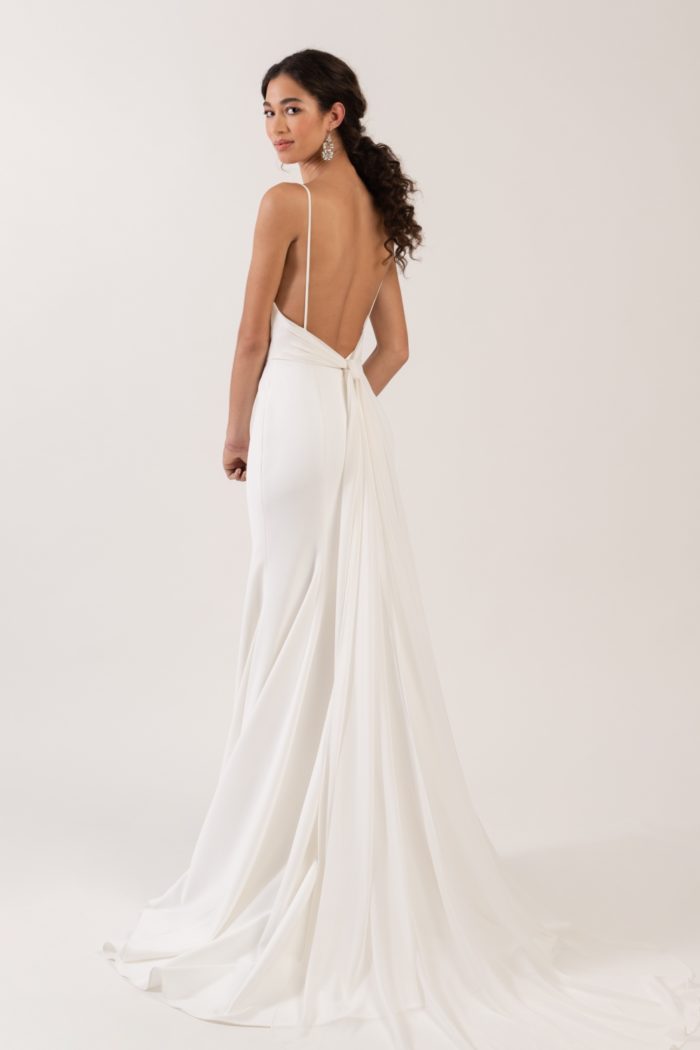 Marley is a modern crepe wedding dress with a deep v neckline, thin straps, fit and flare silhouette, and long train.
Neve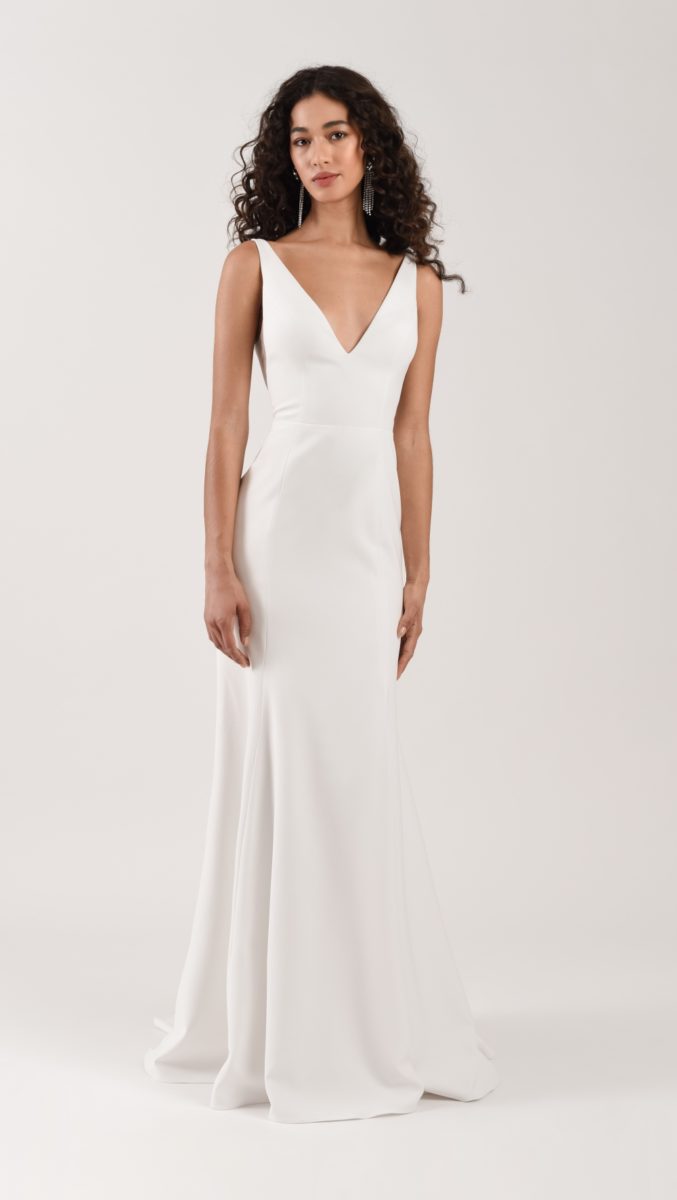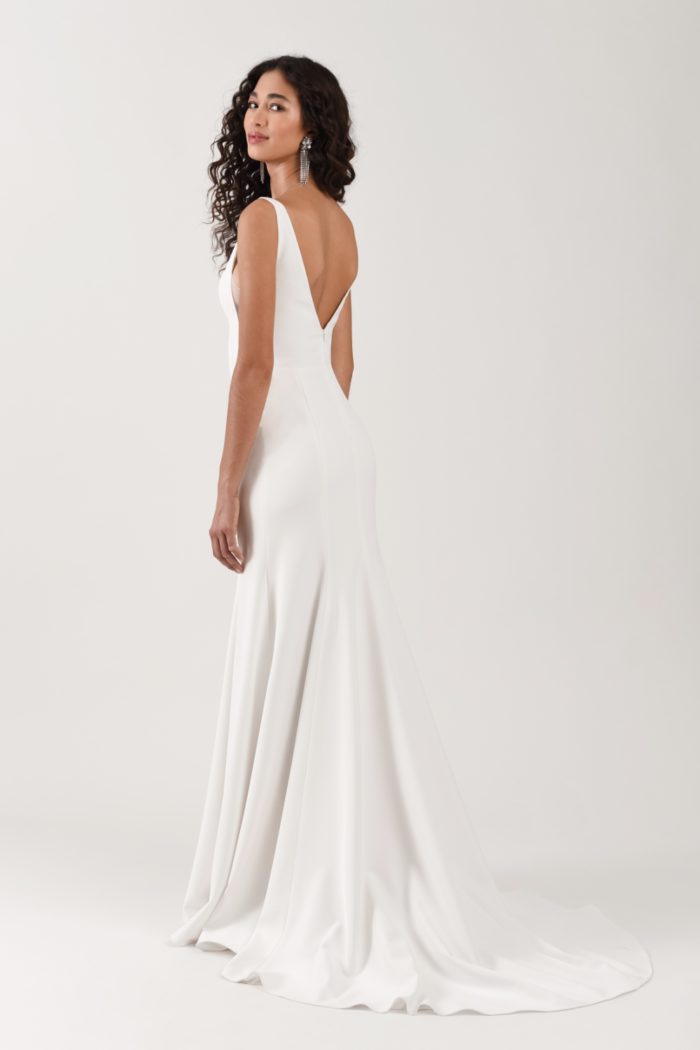 Neve is a clean and simple fit and flare wedding dress with a v neck and side cutouts of illusion tulle.
Rosamund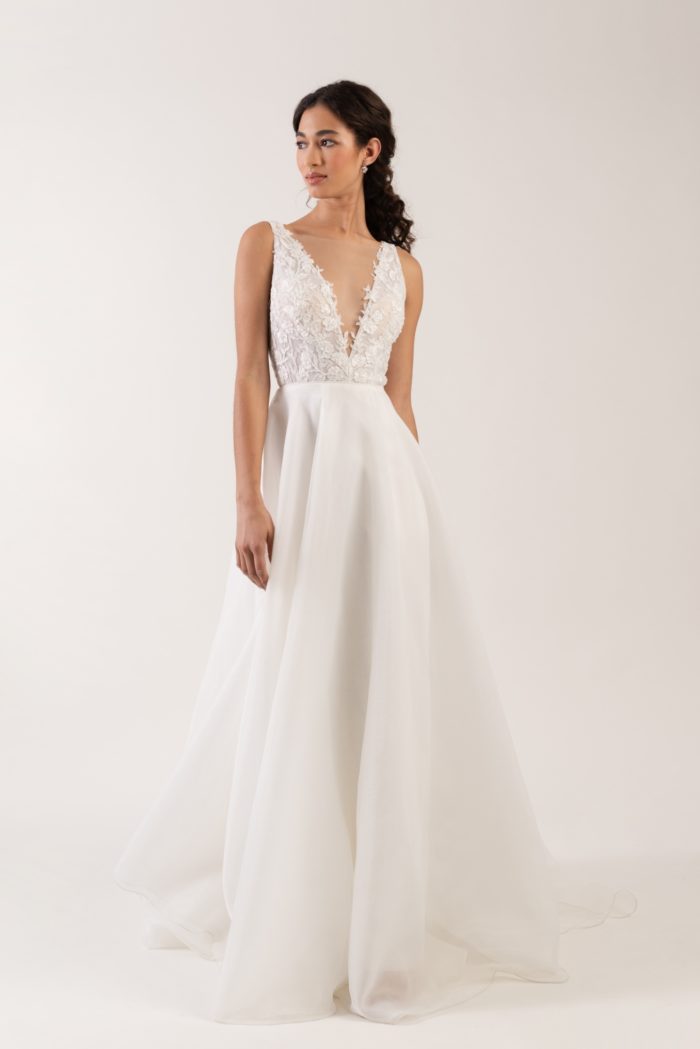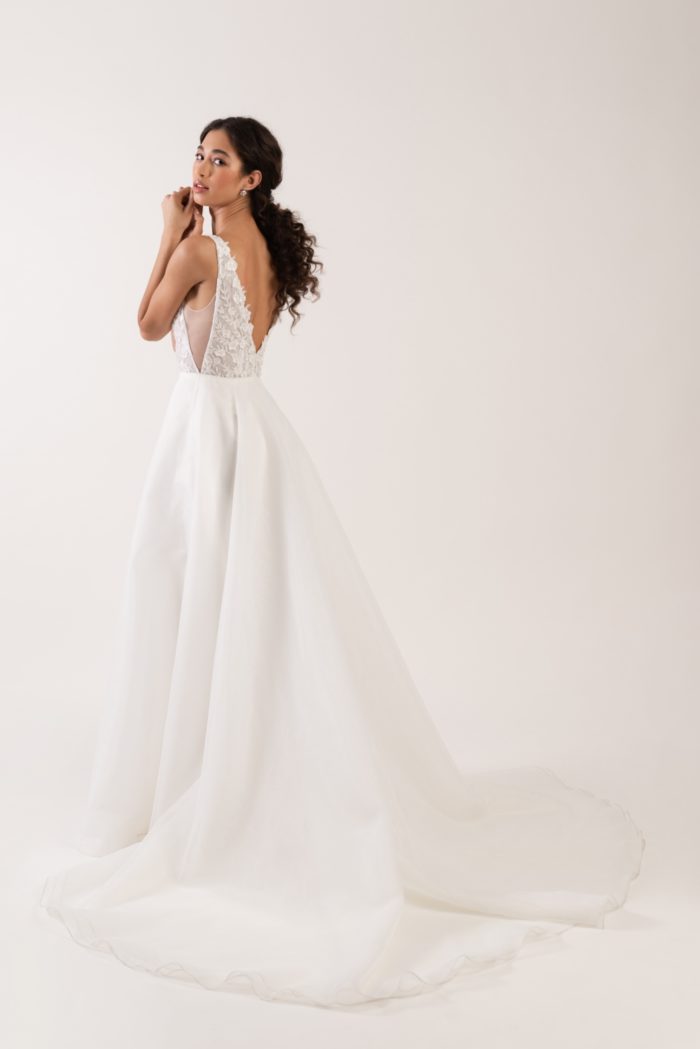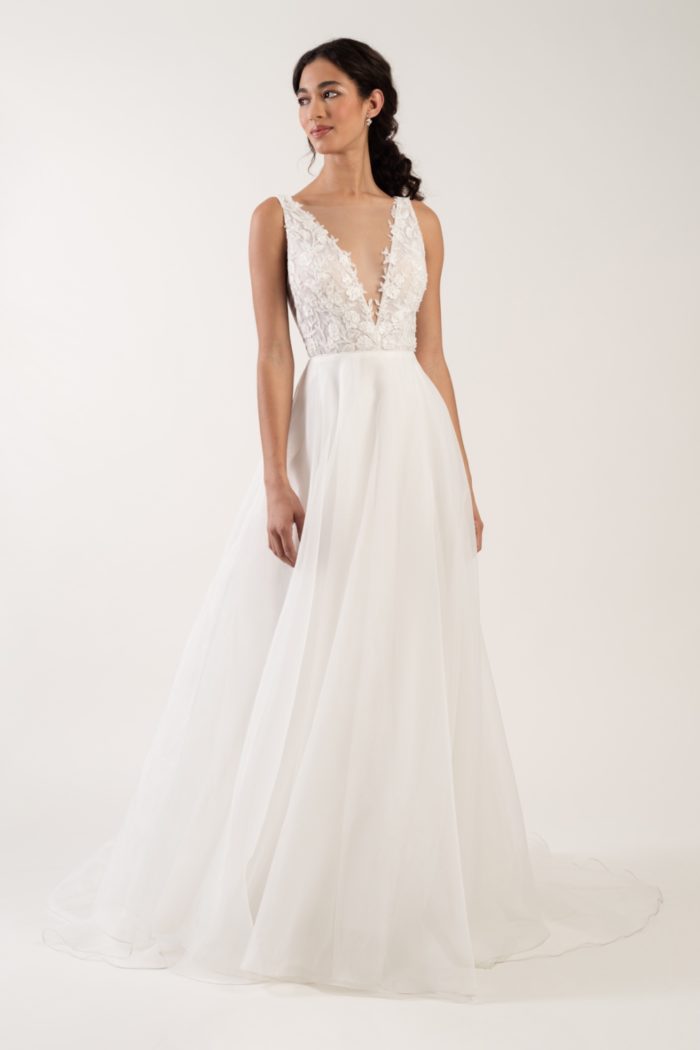 Rosamund is a romantic ballgown wedding dress in airy organza with a beaded lace bodice and plunging illusion V neck neckline.
Wyatt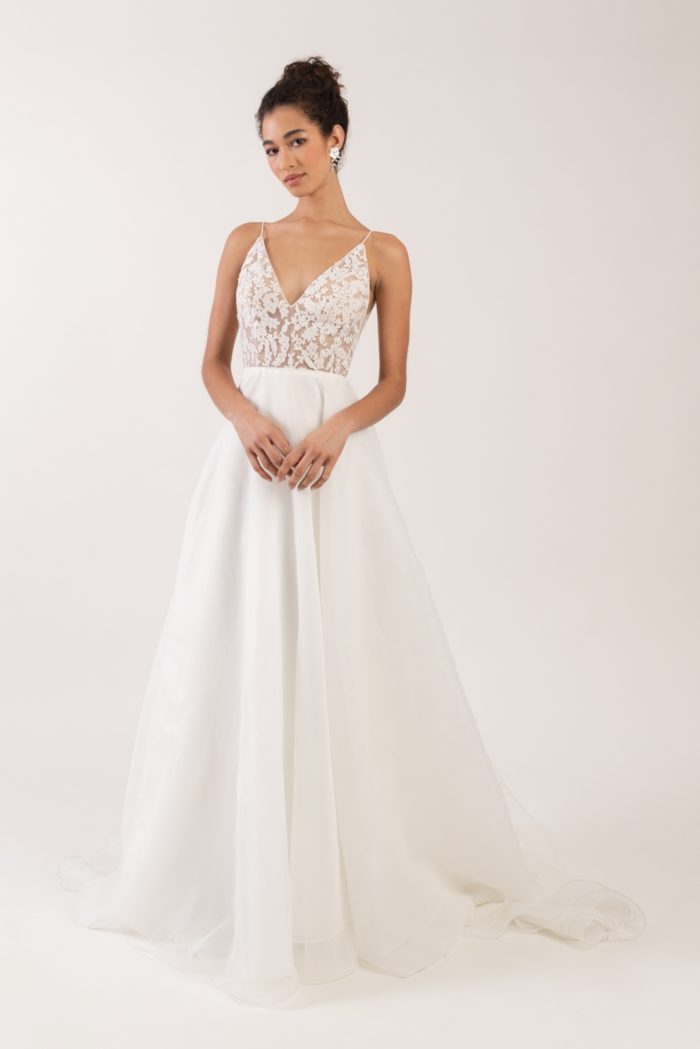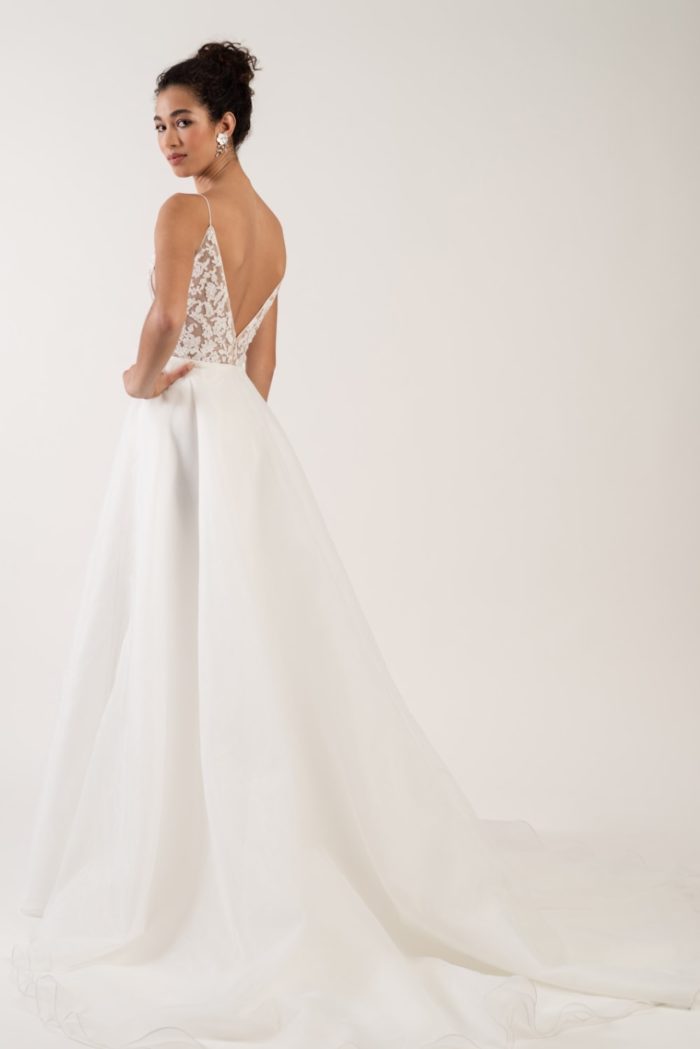 Wyatt is a spaghetti strap ballgown wedding dress with V neckline and semi-sheer lace bodice.
Shop These Looks
Here are some of the latest Jenny Yoo wedding dresses available for sale online at BHLDN and Nordstrom. Affiliate commission links are used in this section.

Inspiration for the Jenny by Jenny Yoo Fall 2019 Collection
From the design house on Jenny by Jenny Yoo, the inspiration for Fall 2019 is described as:
The Jenny by Jenny Yoo bridal collection boasts ultra-chic, airy combinations of unexpected necklines and striking silhouettes. Creating subtle romance, fresh new laces and luminous beading pair effortlessly with the feminine spirit of the bride who wears it. The collection is clean and modern, for the playful bride with sophistication. Jenny designs into soft crepe, lofty chiffon, and voluminous tulle, adding eye-catching details of dainty embroideries and illusion insets. With a focus on fit and structure, each gown is crafted to perfection with carefully placed seams that define the updated aesthetic of the modern bride.
Shapely fit and flares meet their match with the latest addition to Jenny Yoo's highly-regarded convertible collection, the Evie overskirt. Celebrating individuality, the Evie skirt allows brides to customize their neckline with sheer tulle panels. The sculpted, mixed-media, Lorelei gown, integrates soft taffeta with silk organza to deliver a refreshing and youthful twist on the classic A-line. Teaming up with wedding pros BHLDN for another season, Jenny has created a note-worthy and exclusive collection of architecturally-inspired ball gowns and modern fit and flares. Fall 2019 is inspired by contemporary romanticism brought to life by flirtatious details and fresh textural pairings.
For more information on any of the gowns, or to find out purchasing information, please visit jennyyoo.com
Also see our features on Jenny Yoo Bridesmaid Dresses , including the Spring 2019 Jenny Yoo Bridesmaid Collection and the latest Jenny Yoo Wedding Dress Collections. Bridesmaid Dresses by Jenny Yoo for Spring 2020 and Jenny by Jenny Yo Spring 2020o Wedding Dresses
Wear it With
Commission links are used in this shopping section.
This shoppable selection shows recent picks for bridal accessories that you might want to consider to pair with your wedding gown. This section features items not affiliated with the designer or the dresses pictured.