September weddings can range from black tie to casual. If you have a wedding coming up in September that calls for a dressy casual dress code, an outfit like this is a great choice!
The shopping sources in this post about a dressy casual outfit for a September wedding guest uses affiliate links, which means this site may earn a commission if you make a purchase from our links.
Dressy Casual Outfit for a September Wedding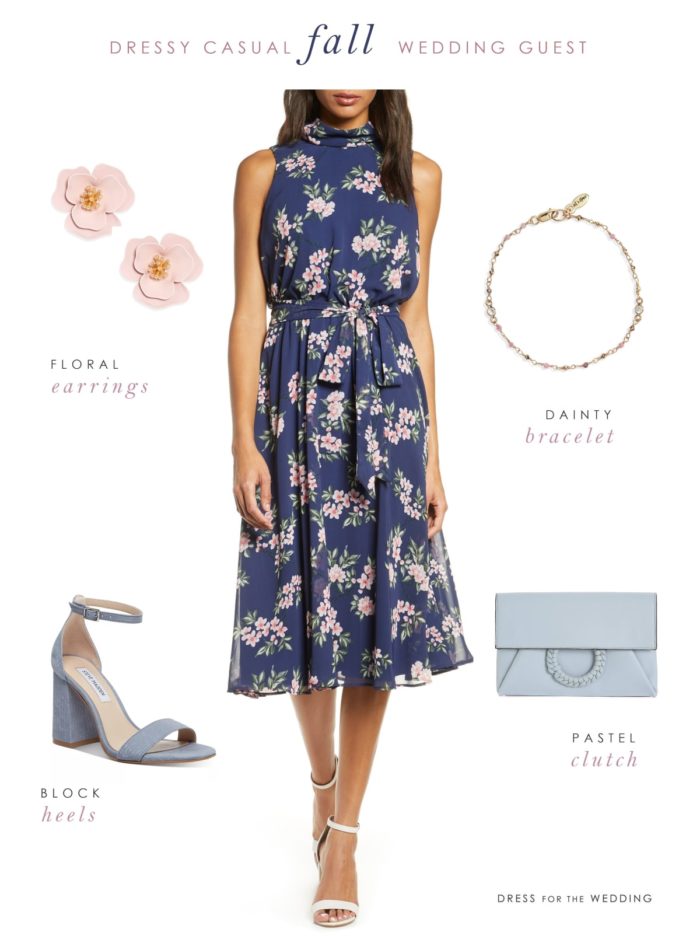 Dress: Eliza J from Nordstrom | Earrings: Vince Camuto from Nordstrom Rack | Bracelet: Nordstrom | Clutch: DSW | Heel: Macy's
Dressy casual and somewhat informal dress code are popular in this late summer into fall season Especially as we see more small gatherings and very casual and informal outdoor weddings during the pandemic, the dressy casual dress code with be a common one. Here is a dressy casual outfit for a September wedding guest, along with more dressy casual dresses for fall weddings.
Shop The Look

Casual Dresses for a September Wedding
Dressy casual is usually a daytime or outdoor wedding dress code. Rustic weddings, backyard weddings and weddings in casual outside settings or informal venues are likely to call for dresses like this! Here are a few of our favorite looks for September wedding guests!

More Casual Wedding Attire
If you are lucky enough to have a semi-casual daytime fall wedding just around the corner, I think this is a great look to wear to attend the wedding. You may even want to consider this for a rehearsal dinner dress, or casual bridesmaid dress in a pretty fall color.
If this doesn't hit the mark for you, we have more picks for what to wear to a casual fall wedding. We also recently updated the shop with more fall wedding guest dresses. Take a peek!
Check out current picks for dressy casual wedding guest dresses. You can also browse more casual attire and outfits for weddings, or search for dresses by color for more wedding guest dress ideas that are currently in stock!
This post was updated on August 17, 2020, and was originally published on August 29, 2013. What follows are the older details from that post, in case you are visiting this page from an old pin or link.
Styling a Dressy Casual Look for a September Wedding
It really set in for me today that when we return from this weekend, we'll be a few days in September! In my usual shop browsing, I recently came across this pretty mulberry wine-colored dress from Loft, which struck me as a lovely color and pretty little dress to wear to dressy casual or daytime weddings next month.
It's a soft and pretty neutral for fall, and I can imagine this color and shape would look great on so many body types and skin tones. It's also one of those simple little dresses that have the tendency to become a wardrobe staple.
For accessories, I found that this color looks great with a deeper cranberry color or warm fall neutrals like this. To make it look special enough for a wedding but still daytime appropriate, I brought in some subtle sparkle in the beaded earrings, the matte brushed golden shoes, and a matte bronze or pewter clutch. This color works wonderfully with gold, pewter, and other neutrals, but it's pretty and muted alternative to pink or purple or red. if you want to dress it up, even more, Loft has this great beaded belt ( shown in the shop section below.)
More style ideas you might enjoy :