Hydrangea Blue Bridesmaid Dresses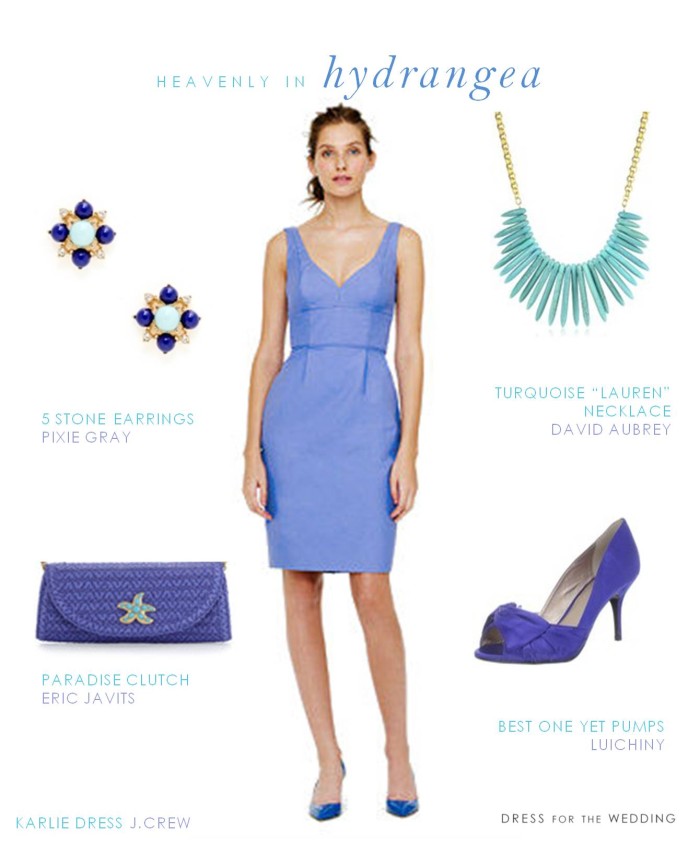 Karlie Dress in Cotton Cady at J.Crew in Bright Hydrangea | Five Stone Earrings in Turquoise and Lapis by Pixie Gray at Gilt | David Aubrey Lauren Turquoise Necklace | Luchiny Best One Yet Peeptoe Pump in Cobalt Blue | Eric Javits Paradise Woven Clutch in Lilac at Neiman Marcus
Remember how I said a few weeks ago that I was trying to bring you more of-the-moment inspiration? And remember how I said I wished there were more periwinkle dresses in weddings? Well, today's post is the perfect example of both of those wishes, if you will -- with an added bonus: these dresses are on sale at J.Crew! Use code GOSHOP and you'll get 30% off.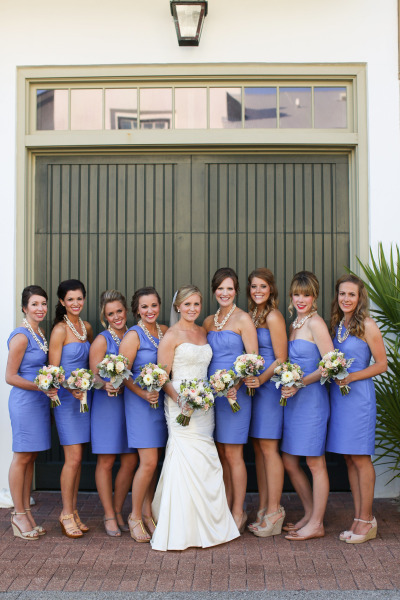 Periwinkle Blue Bridesmaid Dresses by J.Crew as Featured on Style Me Pretty, Photography by Anna K Photography
My morning routine always includes quick Pinterest session. I love waking up to pretty images and there's something about the ritual of pinning that wakes me up in a nice way. I often find a word of inspiration, and almost always find an image that inspires me and a future post. Inspiration may be an understatement here, because I went on a bit of a pinning spree when I saw this image from Style Me Pretty's feature today. These periwinkle bridesmaid dresses are so my style. The color is outstanding, and the fabric -- cotton cady -- is favorite of mine. I desperately wanted cotton bridesmaid dresses for my own mid-summer wedding, and they were so hard to find. If I were to do it again, these dresses would be top contenders for sure!
I absolutely love how this bride styled her maids in all the styles and necklines that this J.Crew color - Bright Hydrangea - comes in. I also completely adore the bright white statement necklace like the ones she chose for her maids. If you wanted a similar look, you could put this necklace from Kenneth Jay Lane with these dresses, and then just have your maids wear some nude or tan heels. ( You know this already, but I think Nordstrom always has a fantastic selection of neutral pumps )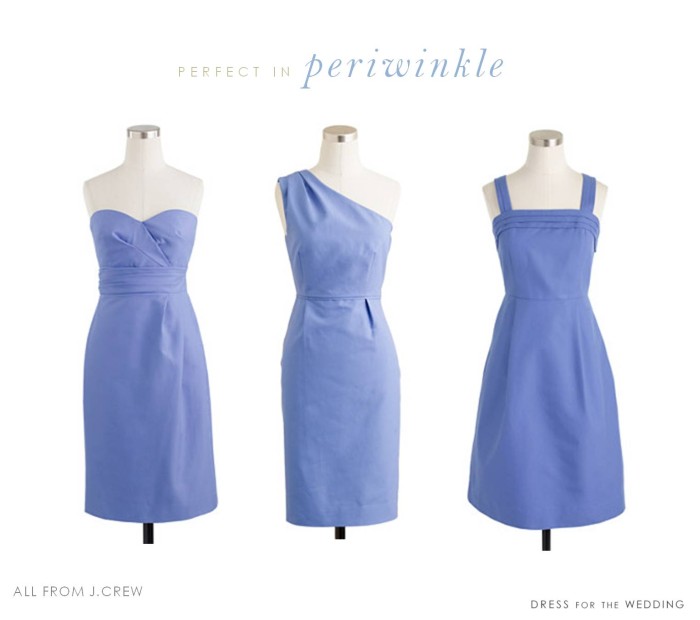 Get the periwinkle look! ( This color is also very similar to violet tulip, one of Pantone's top colors for spring) All dresses from J.Crew. From left to right: Raquel Dress in Bright Hydrangea | Misha Dress in Bright Hydrangea | Marie Dress in Bright Hydrangea
In the interest of giving another option, I've styled my look with a dark cobalt or electric blue and some turquoise touches. It would also be fantastic with, lavender, blush, coral or lime green, but since I just did coral accessories in yesterday's post, and I couldn't find the exactly lime green I wanted, so turquoise it is!
What do you think? Are you as much of a fan of this hydrangea meets periwinkle color? ( No pressure, but you'll break my heart a little if you say no!)
See more shopping ideas:
Blue Mother of the Bride Dresses


This post has links from affiliated and non-affiliated retail partners.