Jade Green Bridesmaid Dress
Somewhere between emerald green and peacock blue, the color jade exists, and, like those exotic green and blue color cousins, it is a beauty! As soon as I saw this lovely silk J.Crew dress I knew I'd have to create a collage for it. It's just one of those lovely colors I can't wait to wear!
The shopping sources in this about a jade green dress use affiliate links, which means this site may earn a commission if you make a purchase from our links.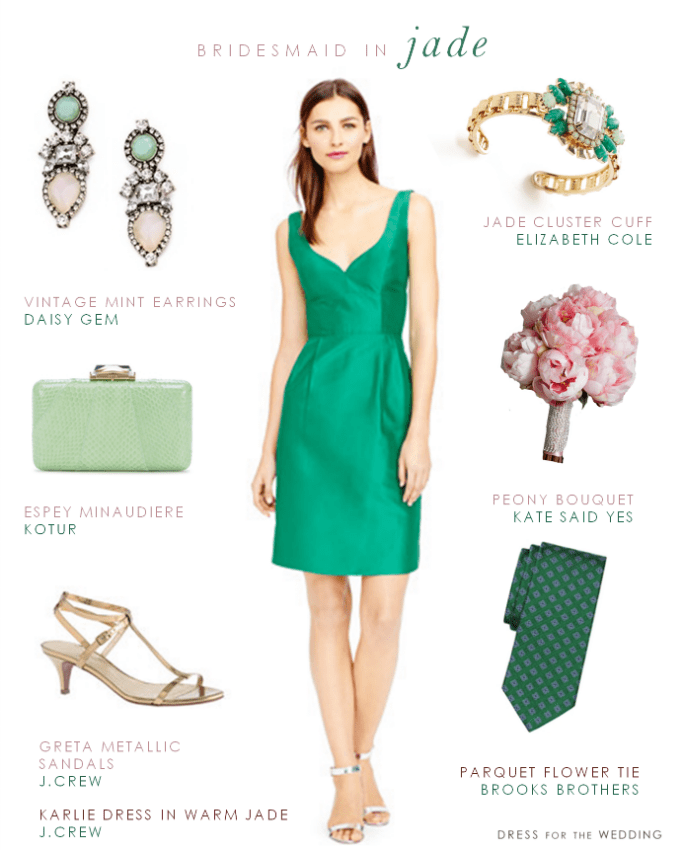 Shopping links use affiliate links from sponsors.
Dress: Karlie Dress in Silk Duponi in Warm Jade at J.Crew  // Earrings: Vintage Mint Earrings by Daisy Gem //  Cuff: Jade Multi Cut Crystal Cuff by Elizabeth Cole  // Bouquet: Peony Bouquet by Kate Said Yes   Sandals: Greta Metallic Sandals J.Crew //  Clutch:  Kotur Espey Minaudiere
Jewel Green Bridesmaid Dresses
A few years ago, emerald green had its heyday, and it took off so much that  it started to get overwhelming to me at one point! But apparently all it takes is a  a softer tint  with a hint of blue, and I'm crazy for the jewel green color family all over again!  This "warm jade" color is J.Crew lovely take on a deep green, and it's ideal  for fall, winter, and even spring weddings.  It's such a sophisticated blend of green, blue, teal. I'm particularly loving it right now when paired with purple, gold,  blush, and pink.  You can put bronze or warm colors for fall or holiday weddings, or pastels for more of a spring or seasonless look.
I'm very taken with variants of pink and green theses days, so I chose to add pastels like the mint and blush shown here. Similar greens like pine green, or forest green also have that lovely rich muted look for a gorgeous wedding party style for a rustic wedding or a holiday wedding. Jade has a connotation with good luck, making it not only a wonderful color but also one that can impart favorable fortune! With that auspicious thought in mind, I hope you'll agree that it is the perfect choice for a wedding!



More Green Dress Inspiration:
Follow my Green Wedding  and Green Bridesmaid Dress Pinterest Boards