Cocktail Dress for an August Wedding Guest
There's no better time than August to get the most out of summer styles and wear some bright, festive colors! This yellow lace cocktail dress is a great choice for those afternoon weddings with receptions and dancing that last until the wee hours!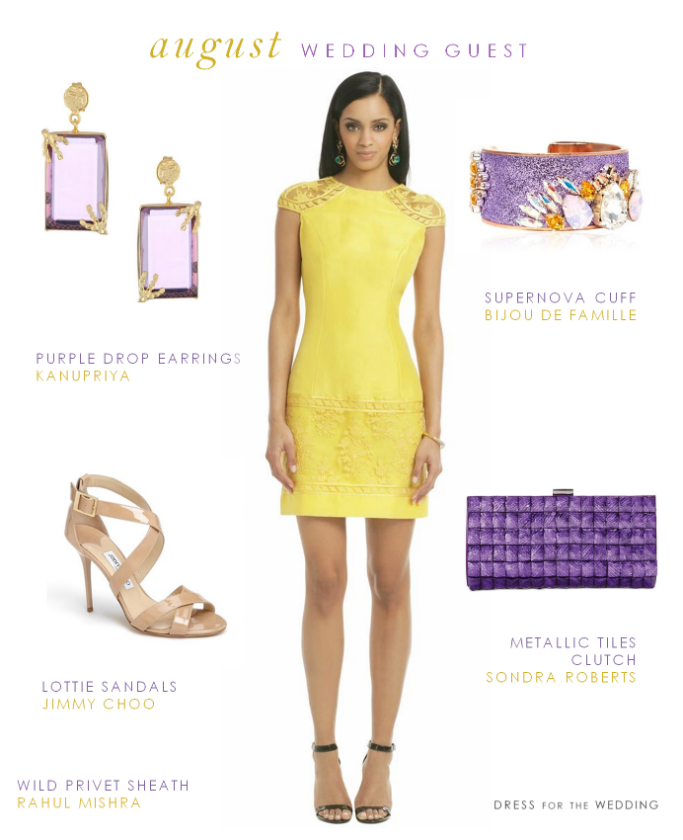 From affiliated sponsors: Dress: Wild Privet Sheath Dress by Rahul Mishra at Rent the Runway // Earrings: Kanupryia Purple Drop Earrings // Bracelet: Supernova Cuff by Bijoux De Famille // Clutch: Sondra Roberts Metallic Tiles Clutch //Shoes: Jimmy Choo "Lottie" Sandals
Yellow Lace Cocktail Dress
Hello my wedding-attending friends! I hope those of you with many, many wedding invitations this summer have been finding some inspiration for what to wear here! Can you believe we're already in August? It has been a mild summer where I live, so thankfully, temperature hasn't totally been the sole deciding factor for what I've been able to wear, and it has given me the opportunity to wear summer colors in a variety of forms without worrying about wilting!
Right now I'm loving sorbet colored lace dresses for wedding guests. They are both festive and formal, and a great pick for what remains of summer weddings, that double as practical investments that you can wear into fall and again next spring and summer. I chose this yellow lace dress because of the pretty lace shoulders, and the easy-to-wear shift style. I thought to change things up, I'd add a little purple with this mix for a fun touch of vibrant color that is unmistakably summery! Let me know in the comments! What do you think of this combo of purple and yellow?
More Dresses to Wear to an August Wedding

More wedding attire ideas:
Ideas for What to Wear to Summer Weddings