Black Evening Gown for Bridesmaids, Guests and Mothers
When I was deciding on today's collage, I was torn between showing a guest look, a bridesmaid look, or a mother-of-the-bride style. As a compromise to my conundrum, I chose this black chiffon evening gown that works for all three types of wedding attendees.
Affiliate links are used in this post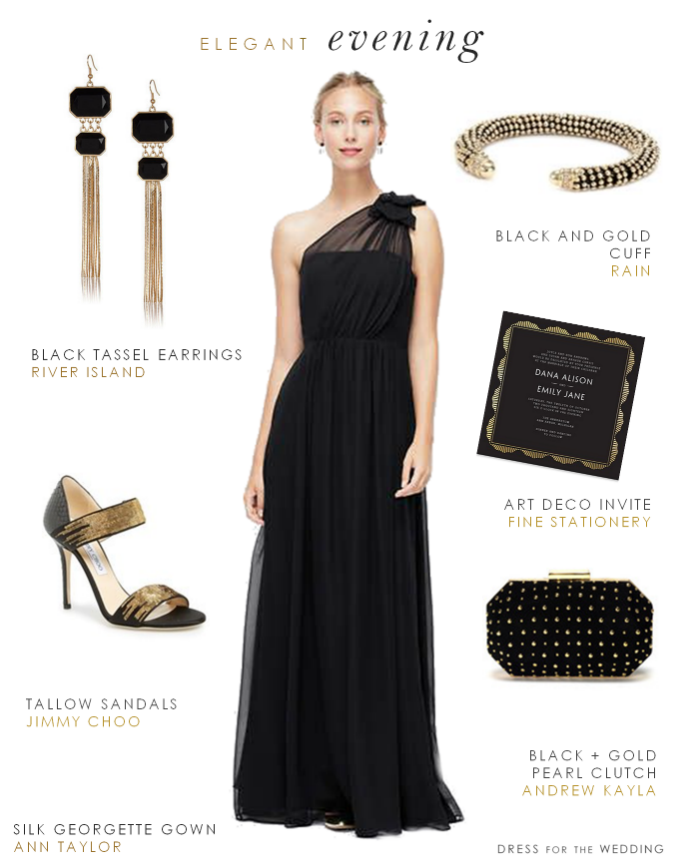 Silk Georgette One Shouldered Gown by Ann Taylor // Black Stone and Gold Tassel Earrings from River Island // RAIN Black and Gold Cuff Bracelet at Amazon // Art Deco Invitation by Fine Stationery // Black and Gold Pearl Clutch by Andrew Kayla // Jimmy Choo"Tallow" Heels in Gold and Black
If you're looking for a timeless wedding color scheme that is both easy-to-achieve and instantly elegant, try black and gold! I've been very drawn to the elegant simplicity of some of the black gowns for bridesmaids, and the clean black and white and gold wedding styles I've collected on this Pinterest board. A black gown like this will simply never go out of style, and the flowy chiffon and the light rosette at the shoulder keeps this gown looking soft, romantic, and wedding-perfect. This Ann Taylor gown is designed for bridesmaids, but a guest of a formal wedding can wear this, and it is also a lovely look for mothers of the bride or groom ( Stay tuned, I'll have a post about choosing the right type of black mother of the bride dresses!) I can't imagine anything more elegant than wearing this in a chandelier-filled ballroom, or a bevy of bridesmaids in these gowns walking down a candlelit aisle.
Accessories are as easy as can be with a black gown like this; any black, silver, gold, or pearl will do nicely to keep this look polished. My favorite find of today's look is that pair of Jimmy Choo sandals that have gold sequins across the top. They are a gorgeous way to dress up your feet if you ask me! If you're looking for the right way to invite your guests and set the tone for a formal event like this, this black and gold invitation from Fine Stationery is a wonderful choice!
So no matter what role you have in the wedding, the classic black evening gown might just be for you!
More Dresses to Wear to Formal Wedding

More inspiration:
Black Mother of the Bride Dresses
More style ideas you might enjoy :